Sublime Antique Vienna Porcelain

At Regent Antiques, we are always on the lookout for the most exquisite and desirable antiques to bring to our clients' attention. In this article, we look at the delightful and elegant antique Vienna porcelain and show you a few very fine examples of this unique and highly sought after style.
To start off, let's introduce you to this established antique decorative art.
Royal Vienna is the generic name given to items made in a particular decorative style reminiscent of Renaissance paintings and sculptures. Strong elements of Greek Classicism are almost always present and the colour palette seems to be dominated by soft hues and romantic vibrancy. Gilding, elaborate border designs – and sometimes even ormolu or metal mounts – were frequent decorative details that enhanced the superb painting and colours of Royal Vienna antiques. Almost all Royal Vienna porcelain was meant primarily for display and adoration, with the notable exception of some super-fine chinaware, reserved for the most auspicious of occasions.
Royal Vienna appears mostly in the form of porcelain such as portrait plates, urns, and vases, as well as elegant chinaware. Most bear a likeness to what is widely referred to in English-speaking countries as the beehive mark, which is actually an upside-down representation of the original Royal Shield found in the centre of the Royal Crest of the Hapsburg Royal Family of 18th Century Vienna, Austria.
The Hapsburg Royal Family mentored the Imperial and Royal Porcelain Manufactory in Vienna that lasted between 1718 to 1864. They produced exceptional porcelain that was second to none and equivalent in quality and artistic craftsmanship to their major contemporary competition such as Meissen and Sevres. Original and authentic Royal Vienna porcelain from the Hapsburg Era is now found only in major museums and very fine private collections. The vast majority of items we now call Royal Vienna were made in the early 19th Century onwards by various companies around the world.
The original and authentic Imperial and Royal Vienna beehive marks on porcelain are never symmetrical and always an underglaze in blue or impressed – with very few exceptions. The vast majority and most desired Royal Vienna porcelain items are those made between 1870 and 1930. This period witnessed the peak of their production by hundreds of companies and porcelain studios.
Today we have selected three examples of antique Vienna porcelain that we are very delighted to be able to offer to our clients. First, this impressive cabaret tray breakfast set, circa 1890 in date.
It comprises a pair of coffee cups with saucers, a cream jug, a sugar bowl with lid, and a cabaret tray. It is all beautifully gilded and painted with gilt-framed classical scenes on a cobalt blue ground, all pieces bearing the underglaze blue beehive mark, the tray also with the impressed mark of Haas & Czjzek in Schlaggenwald 1450.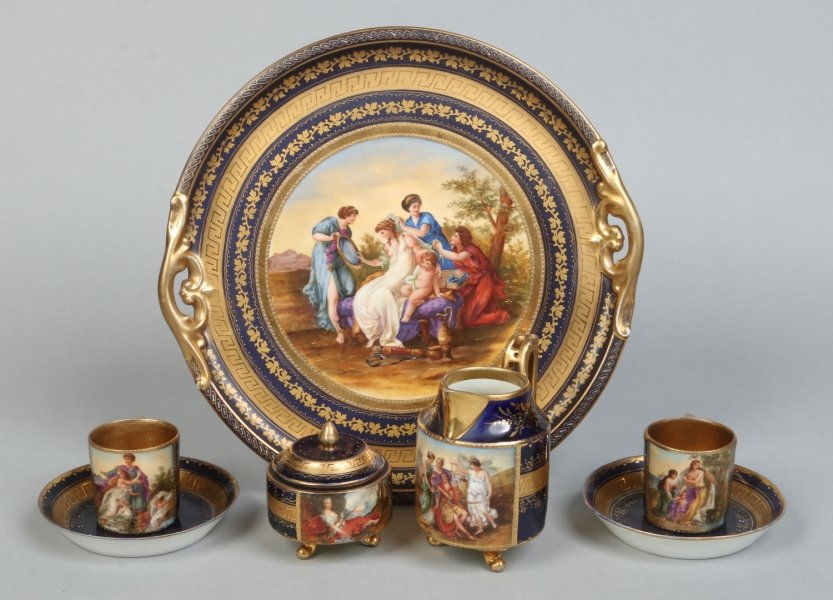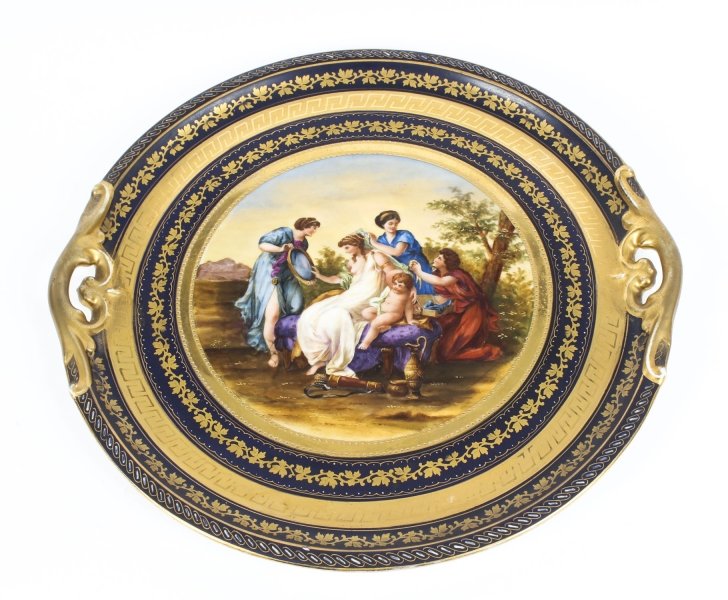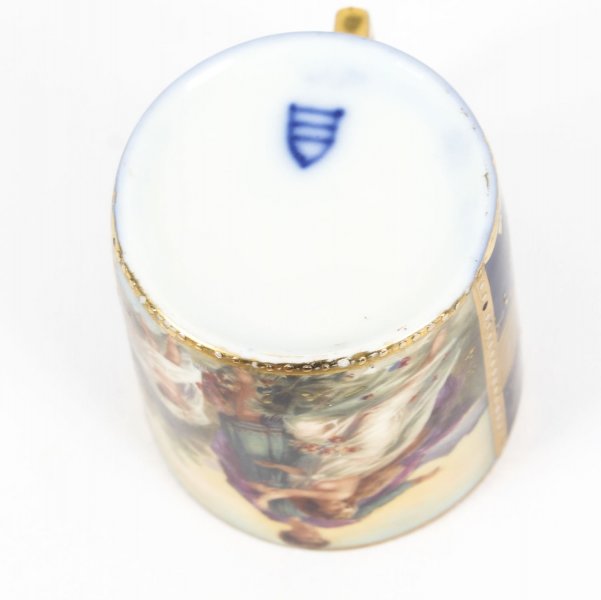 Another fine example can be seen in this wonderful pair of antique Franz Dörfl Vienna porcelain pedestal vases on stands bearing the signature of the artist "J.Gunt" for Josef Gunter, and dating from the second half of the 19th Century.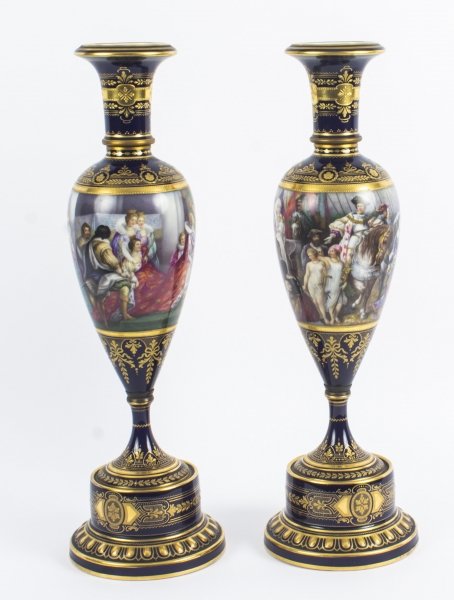 Each vase has a superb hand-painted central band of continuous decoration depicting classical figures upon a cobalt blue ground with heavily gilded decoration. The bodies can be rotated on the bases so as to view all of the decoration without lifting the vases. They bear the blue beehive marks for Vienna and the blue shield for Franz Dörfl.
Beautifully made in porcelain and hand-enamelled with superb gilded decoration, there is no mistaking the unique quality and design, which are sure to make this pair a treasured piece for any discerning collector.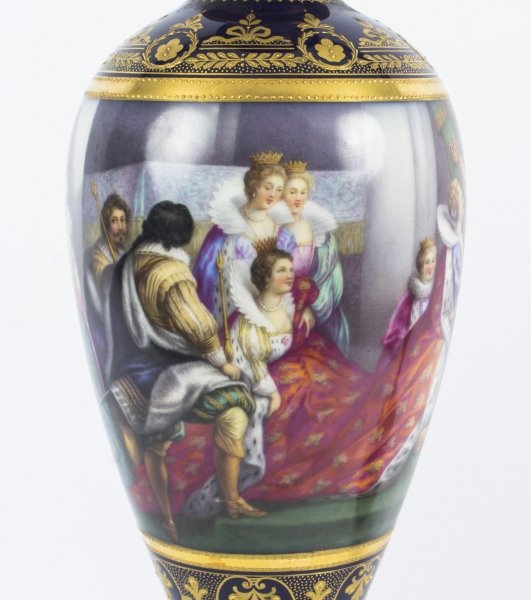 Smaller than the previous items, but no less impressive, largely because of the beautifully hand-painted decoration depicting musicians within an anthemion gilt cartouche. This wonderful antique Vienna porcelain cabinet plate, circa 1880 in date, is of circular form, the rim with six panels with scrolls, foliate and floral ornamentation in raised gilt on a mulberry ground. It bears the underglaze blue beehive mark and the title Riccio.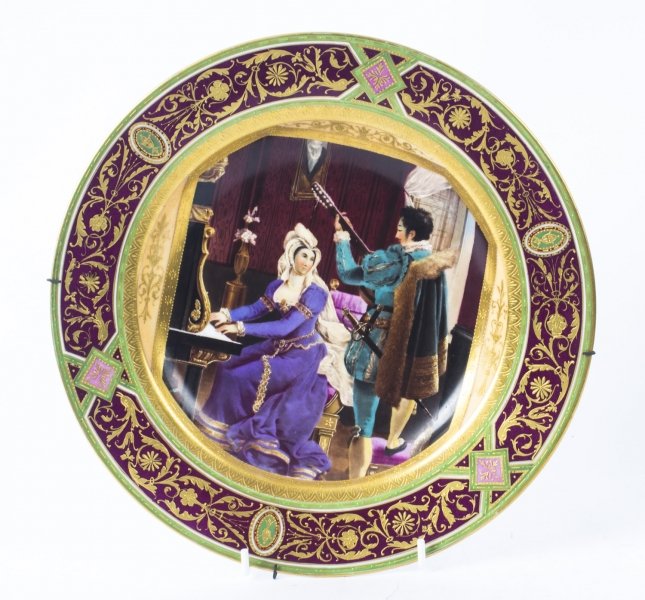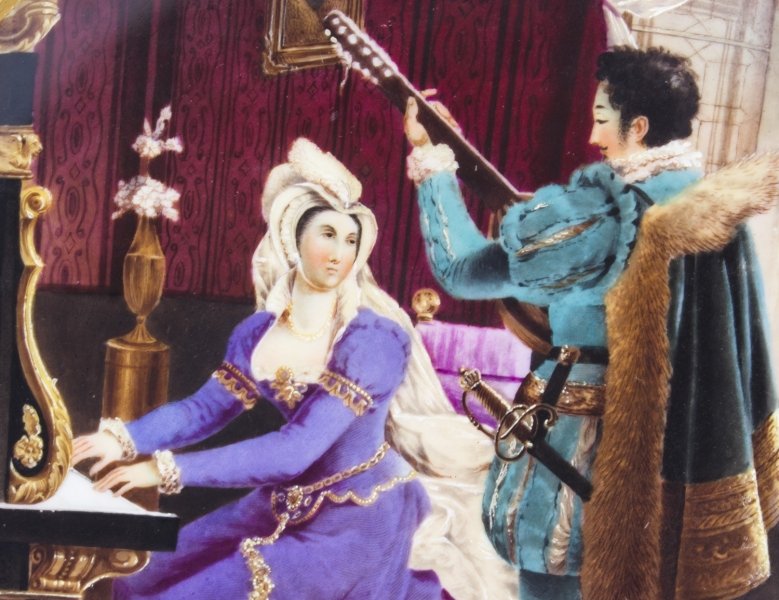 Remember that Regent Antiques will professionally ship any item worldwide and UK Mainland shipping is free of charge. For other destinations – please contact us for a quote.
To see more exquisite antique Vienna porcelain as well as our vast range of antiques, please take a good look at our website or visit our showrooms in North London.
Expert help is always just a phone call away, the number is +44 20 8809 9605 or you can email us at info@regentantiques.com