Review: Antique Cocktail Cabinets and Bars

Cocktails and drinks in general have of course been immensely popular in the UK and in almost every part of the planet for ages. There are, as a result, many people who collect antique drink related items.
At Regent Antiques, we are delighted to be able to offer a wide range of these types of antiques. Our antique cocktail cabinets and bars are practical yet attractive pieces of furniture and our antique decanters, claret jugs, and wine coasters are designed to show off your drinks collection and form the centrepiece of a pleasant evening spent with family or friends. They are functional items which will hold their ground at even the most boisterous social events whilst at the same time serving as a useful and beautiful item which keeps the party going.
Our first item for this review is a fantastic vintage burr walnut cocktail cabinet in Queen Anne style, dating from the mid-20th Century.
Walnut is a hard, dense, tight-grained wood that polishes to a very smooth finish. It is a popular and attractive wood whose colour ranges from near white in the sapwood to a dark hew in the heartwood. Burr walnut refers to the swirling figure present in nearly all walnut when cut and polished, and especially in the wood taken from the base of the tree where it joins the roots. However, the true burr is a rare growth on the tree where hundreds of tiny branches have started to grow. Burr walnut produces some of the most complex and beautiful figurings that you can find.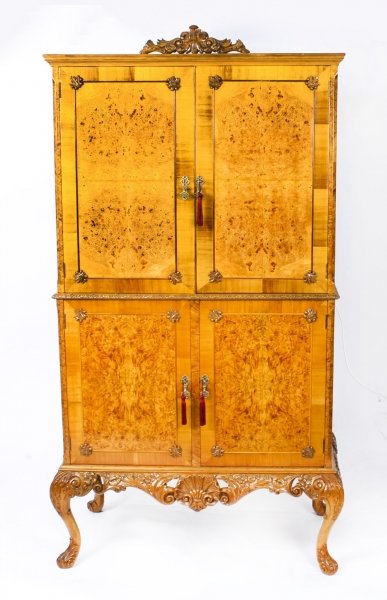 The beautifully figured burr walnut two-tier cocktail cabinet features a scroll-carved crest at the top, the pair of panelled doors feature carved fleur-de-lys plaques to each corner while they open to reveal a contrasting birchwood interior with two glass shelves, a fitted mirror back and a mirrored slide, ideal for serving drinks.
The doors on the base open to reveal a pair of fitted drawers and a pair of cupboards with plenty of space for bottles, etc.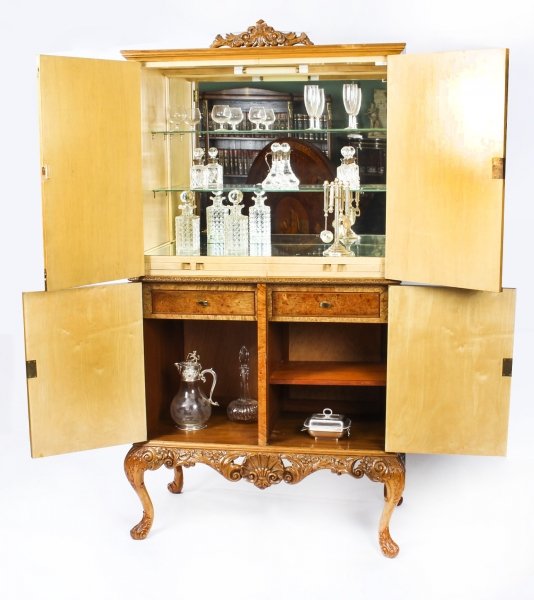 It is raised on a beautifully-shaped and carved apron, decorated with a central shell motif and acanthus leaves. It is raised on carved cabriole legs.
Our next item is this superb antique Victorian golden oak cased three decanter tantalus with inlaid decoration, circa 1880 in date.
Tantalus is a type of liquor decanter in which the bottle stoppers are locked down tightly by a metal bar. This was to prevent the theft of the contents by servants. As the name suggests, the decanters themselves are visible, drawing temptation whilst being unattainable, as a key is required for entry.
Tantalus derived its name from the story of the mythological Greek king Tantalus, mortal son of Zeus and Pluto. To be tantalised is to be tempted with the unattainable, and the king was severely tested. He was condemned to an eternity in Hades for angering the Gods and was forced to stand forever in water that, when he bent to drink, would recede. He was also forced to gaze upon foods he could only reach for but never grasp.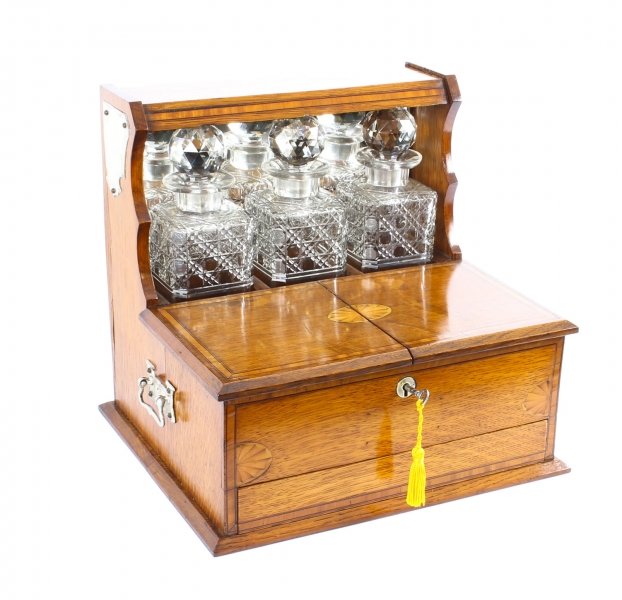 This three decanter tantalus was skillfully crafted in oak with a beautiful conch shell and line inlaid decoration, as well as stylish silver-plated handles. There are three cut crystal glass decanters with stoppers, a mirrored back and a twin lidded compartment for three glasses and playing cards. There is a secret base drawer with the original cribbage board, and a playing cards draughts set. It can be opened by pressing the button which is just in front of the central decanter. Finally, it is completed with the original working lock and key, which locks everything.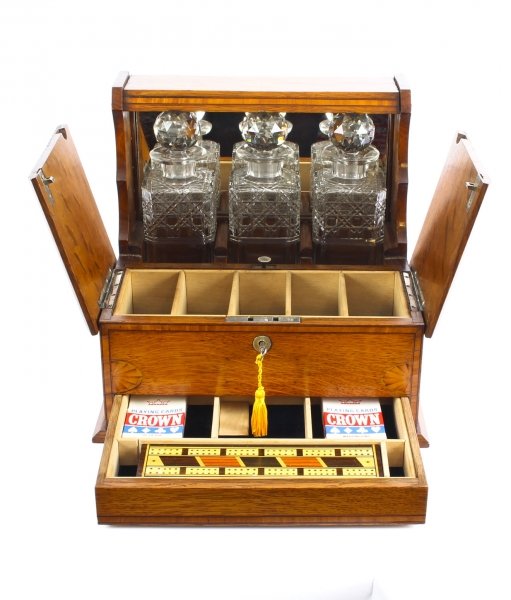 Another striking item is this attractive pair of antique early Victorian silverplate wine bottle coasters, bearing the maker's mark of the renowned silversmith Elkington and dating from circa 1850.
Elkington & Co was a silver manufacturer from Birmingham, England. Over the course of history, it became very successful and was one of the prime producers of silver plating. Elkington received various royal warrants of appointments. One of their most famous pieces is the electrotype copy of the Jerningham Wine Cooler, at the Victoria & Albert Museum.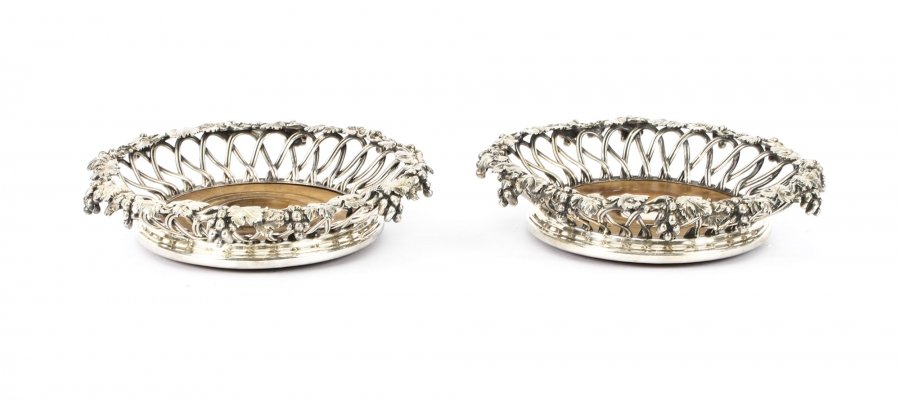 These exquisite coasters feature an attractive cast grape vine design with crisscross fretwork. The coasters have turned wooden bases, with a central silverplate boss, engraved with a family crest containing a kite on an anchor. The wooden bases are covered in green felt and the back.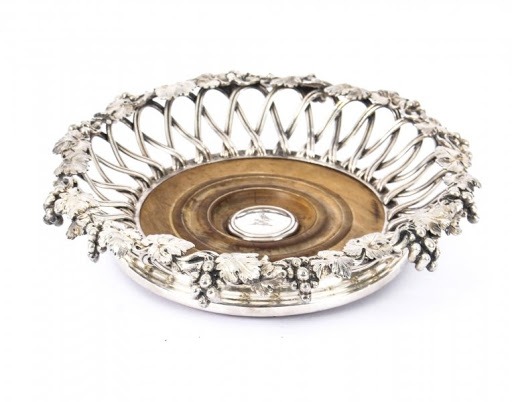 We're ending this review with a wonderful antique Scottish Victorian sterling silver claret jug with hallmarks for Glasgow 1878 and the maker's mark D.C.R, for the renowned Glasgow silversmith David Crichton Rait.
This very fine antique Scottish sterling silver Cellini style claret jug has a ewer shape and a round pedestal foot. It is embellished with applied and chased floral and fauna decoration. It is further embellished with a stunning 'c' scroll handle with a figurehead ornament. It has a vacant oval cartouche to the front. The base has two bands of embossed and chased mask, strapwork and laurel decoration.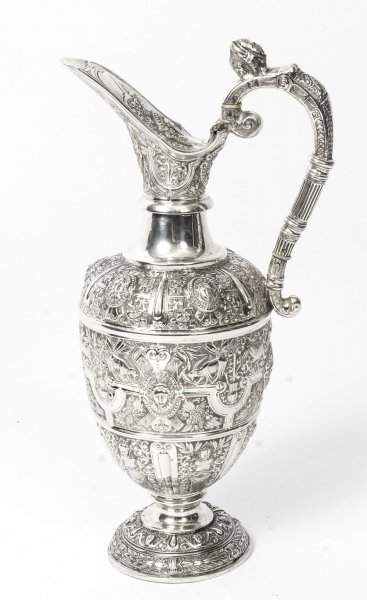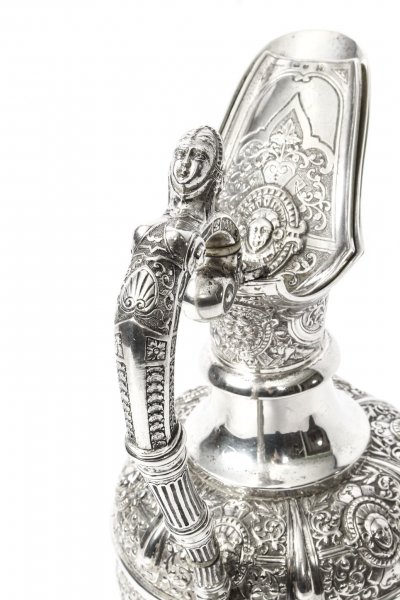 We have many more antique cocktail cabinets and bars, decanters, claret jugs, and wine coasters for you to see on our website or at our showrooms. Call us on +44 20 8809 9605 for help and expert advice or email info@regentantiques.com