These Glamorous Antique Sofas Are Worth investing In

Given the amount of time that we spend sitting throughout our lives, it is certainly worth investing time in finding the best quality and most attractive sofas to sit on and enjoy, privately or during social occasions. It's certainly not a purchase to make lightly or in a rush.
So we thought it was about time that we took an opportunity to show you some of the antique sofas that we are delighted to offer here at Regent Antiques.
Our extensive collection is one of the best around and we are sure you will find something that will add a touch of old-fashioned glamour to your home, office or other special space.
A number of different historical periods are covered within our antique sofa range including Victorian, Edwardian, Louis XV, French Empire and Art Deco.
In many cases, these pieces will have been reupholstered using top quality fabrics in keeping with the original item and its period. As with the upholstery, many of these antique furniture items will be restored by our craftsmen in our own workshops. These are people who believe in using traditional techniques and materials as far as possible in order to maintain the look and feel of the pieces they are sympathetically restoring.
Let's start with this fantastic English antique Victorian walnut love seat, "Sociable Settee" which dates from around 1870.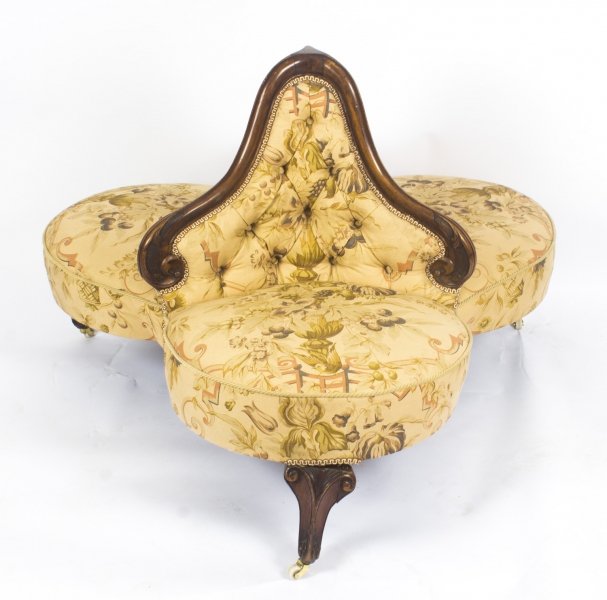 It is of trefoil outline and has three individuals seats with stylish carved arms and frieze. The settee has stunning buttoned upholstery and stands on carved cabriole legs terminating in brass castors.
In Victorian times, conversation sofas were usually placed in the middle of the room for ladies who could freely engage in conversation with other guests.
It is a lovely piece of furniture which is certain to make it a treasured addition to one of the rooms in your home.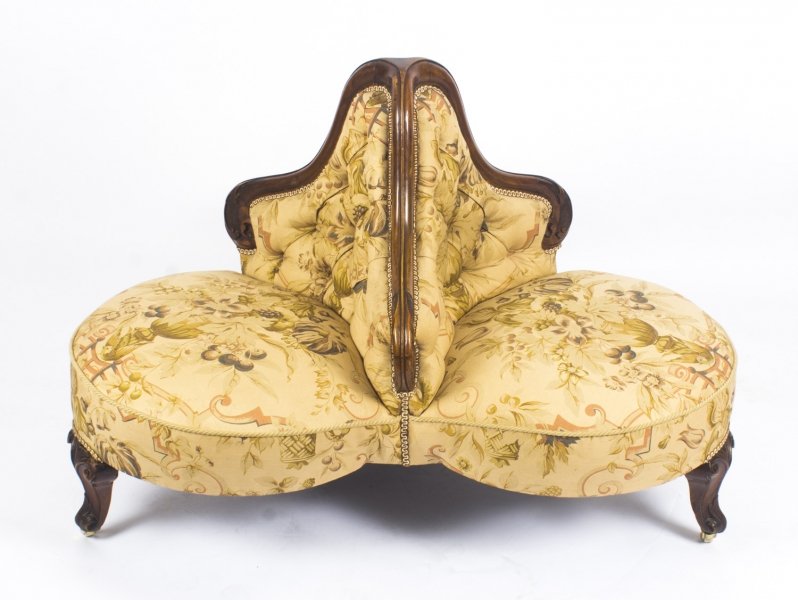 Our second offering is fantastic English antique Victorian walnut framed double chair back settee, circa 1860 in date.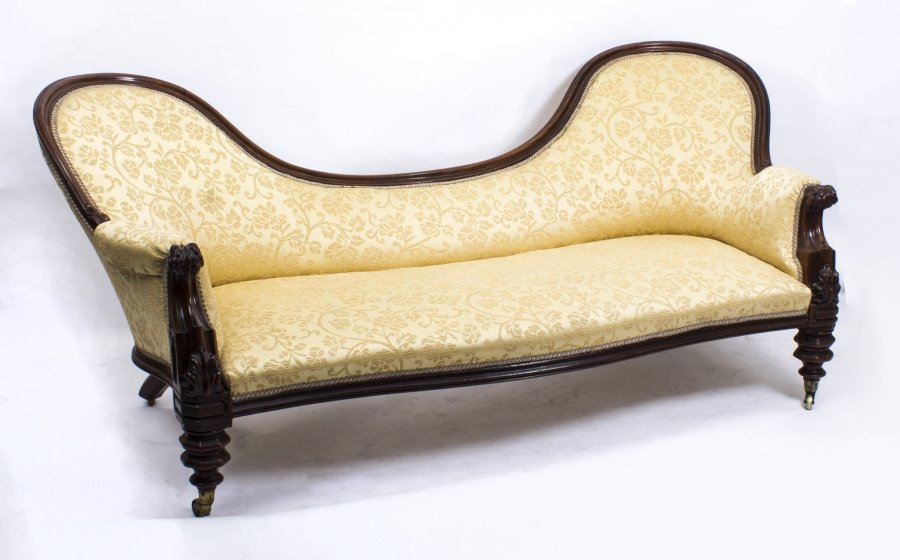 This sofa was made from hand-carved solid walnut. The walnut woods are probably the most recognisable and popular of all the exotic woods, having been used in furniture making for many centuries. Walnut was highly priced and the cost would reflect the 'fanciness' of the wood – the more decorative, the more expensive and desirable.
Our glamorous sofa stands on elegant faceted front legs and rear cabriole legs which terminate in their original brass castors. It has been upholstered in gold foliate patterned fabric, which is in excellent unmarked condition.
Next, this is a stunning large antique French Louis XVI revival four-seater giltwood Canape', circa 1870 in date.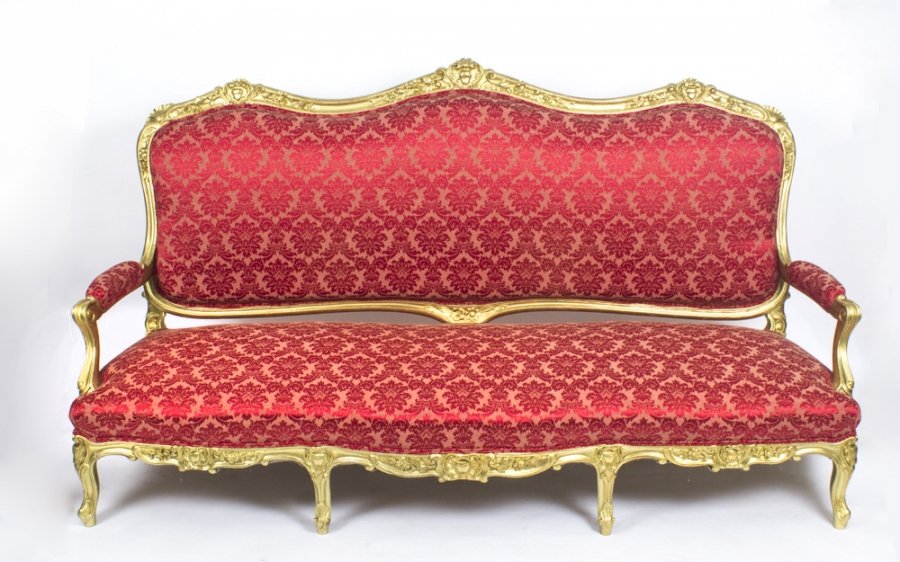 This settee has been beautifully hand-carved and gilded and features trails of foliage and scroll armrests and is raised on short cabriole legs. The padded panel back, seat, and armrests are covered in a deep luxurious red damask.
The quality and craftsmanship here are absolutely superb. It is a beautiful example of French splendour and practicality with provenance: Humewood Castle, Kiltegan, Ireland.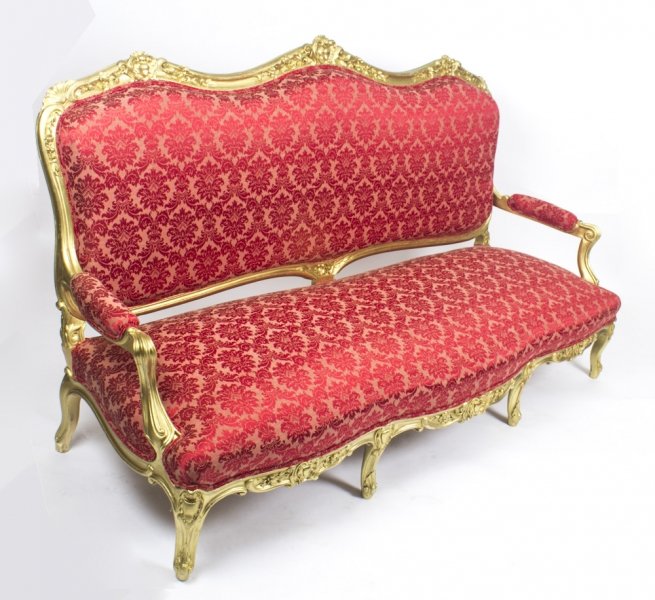 Keeping with the French theme, this is a fantastic and highly decorative antique French Empire three piece salon suite, comprising a sofa and a pair of armchairs, circa 1900 in date.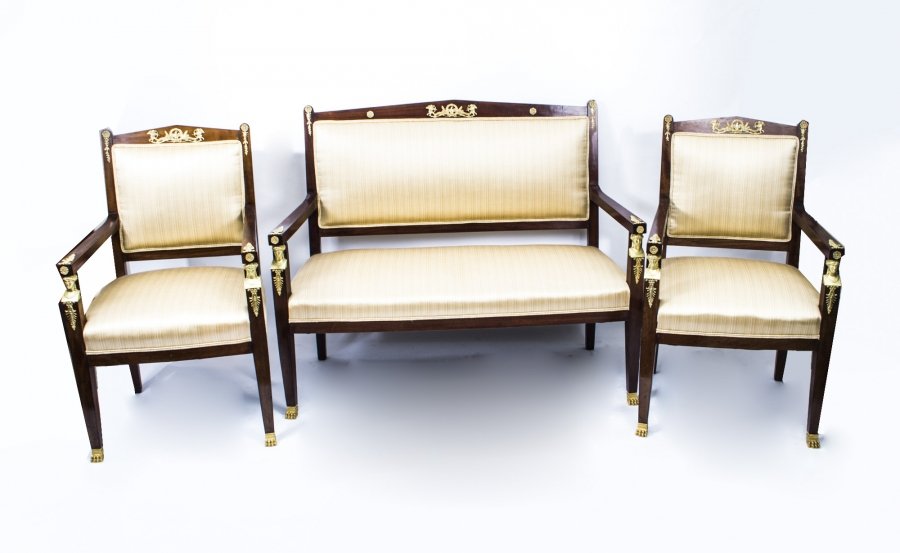 The Empire style is an early 19th Century design movement in architecture, furniture, decorative arts, and visual arts that was followed in Europe and America until around 1830. The style originated in and takes its name from the rule of Napoleon I in the First French Empire, where it was intended to idealize Napoleon's leadership and the French state. The Empire style was based on aspects of the Roman Empire. It is the second phase of neoclassicism. Furniture typically had symbols and ornaments borrowed from the glorious ancient Greek and Roman empires.
The furniture was made from heavy woods such as mahogany and ebony and imported from the colonies with dark finishes – often with decorative bronze mounts. Marble tops were popular as were Egyptian motifs like sphinxes, gryphons, urns and eagles.
This splendid three piece salon suite has been crafted from fabulous solid mahogany and is smothered in high-quality ormolu mounts reminiscent of the Empire style with Egyptian motifs such as sphinxes, urns, laurels and Napoleonic symbols.  
The arms terminating in classical female masks and standing on elegant tapered legs with ormolu sabots. It has been reupholstered in a fabulous fabric.
This gorgeous antique suite has been reupholstered in a fabulous ivory coloured fabric and will be a wonderful addition to one special room in your home.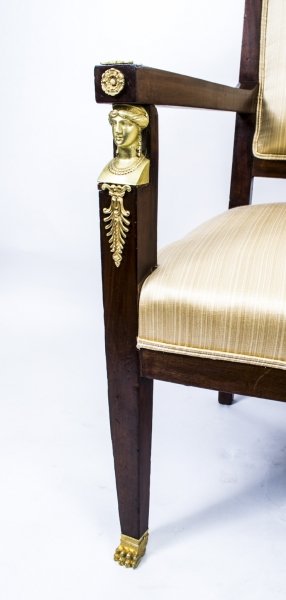 Finally, we are delighted to be able to offer this absolutely gorgeous French giltwood duet stool in the Louis XV style.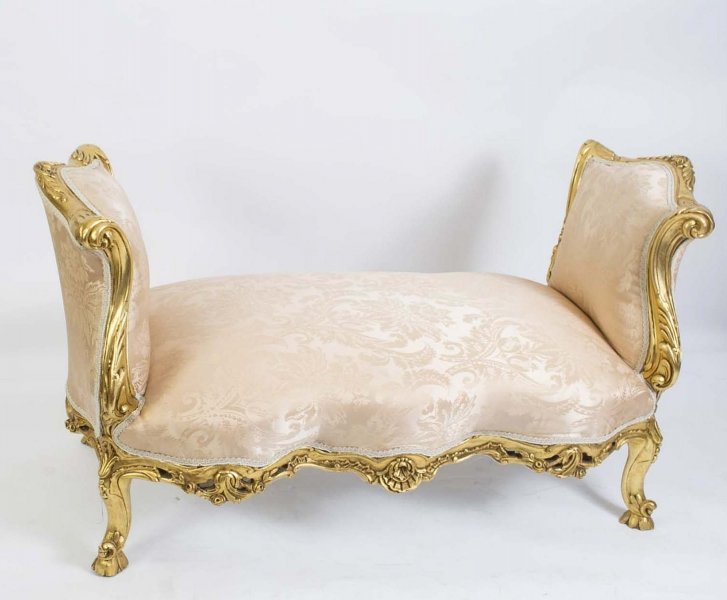 The piece features elaborate carved decoration and is upholstered in a fine cream damask. The stool combines usefulness and elegance all in one and we are sure it will add a touch of sophisticated style to a special place in your home.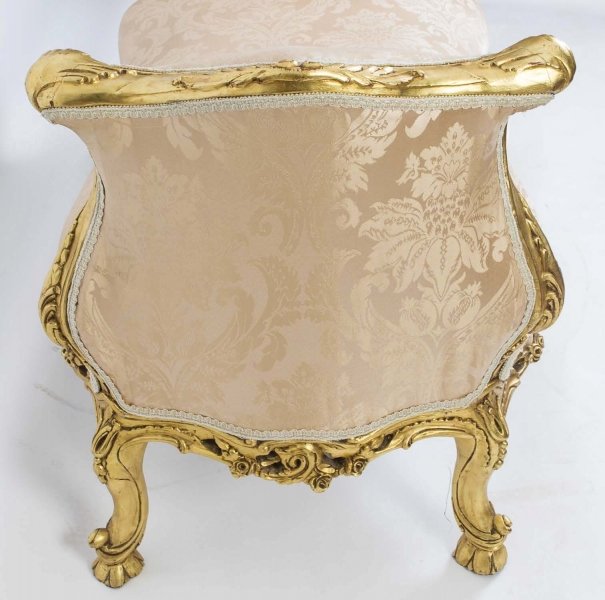 If you are interested in any of the items we reviewed in this article, or if you see any other antique sofa on our website that you would like to consider for purchase, please be reassured that our specialist teams will pack them very carefully and ship to almost any destination worldwide. Do please request  a shipping quotation before making a purchase unless you are located in the UK Mainland where we are able to ship your purchases to you completely free of charge.