Spotlight on Extraordinary Marquetry Dining Tables

At Regent Antiques, we always aim to have an excellent collection of contemporary bespoke marquetry dining tables available in a variety of sizes.
What makes these tables truly special is the highly detailed marquetry decoration that has been expertly applied to the stunning surface of these works of art. 
Marquetry is the process of inlaying carefully cut out designs from top quality wood into the surface of a table or other item of furniture. It is still practiced to this day and is done using techniques that are in many cases generations old. Although some power tools are used these days, the bulk of the work is still done by hand.
The intricate designs applied to our marquetry dining tables feature a variety of shapes and symbols that have been meticulously cut out and inlaid into the table's surface. Once that is complete, the entire surface is French polished to accentuate the fine marquetry work and lovely grain of the wood.
Today we would like to take you through some great examples of marquetry dining tables that we offer for sale.
Bespoke Handmade Marquetry Dining Tables from Regent Antiques
We start off with this gorgeous handmade bespoke burr walnut and floral marquetry dining table.
This exceptional table features exquisite hand-cut marquetry decoration, including bouquets of flowers, vases, swirls and geometric designs.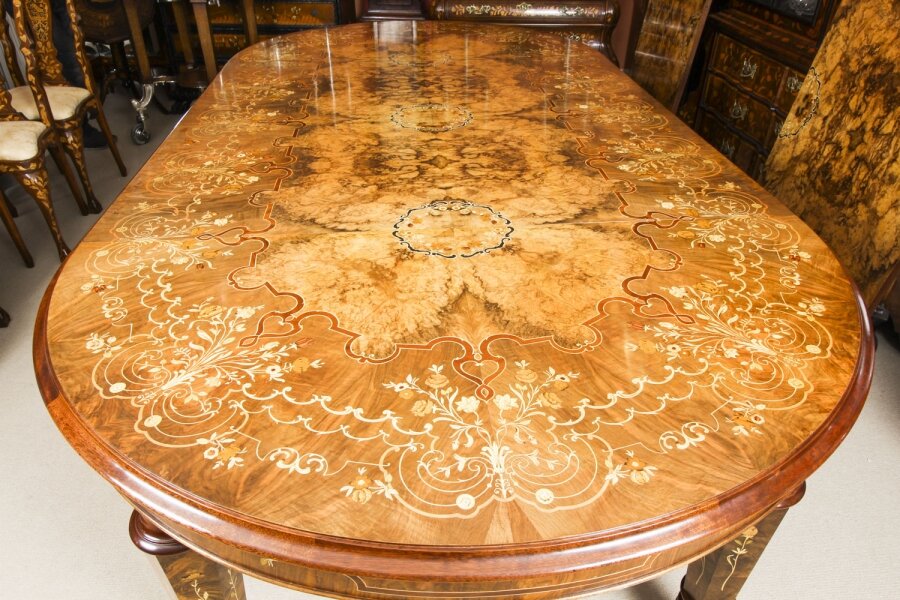 It has been expertly French polished in our workshops to highlight the marquetry work, as well as the beautiful grain of the wood.
It is a rather flexible and versatile table as it has four leaves which can be easily added or removed by a special double wind out mechanism. It is raised on six elegantly carved legs that give the table its superb stability.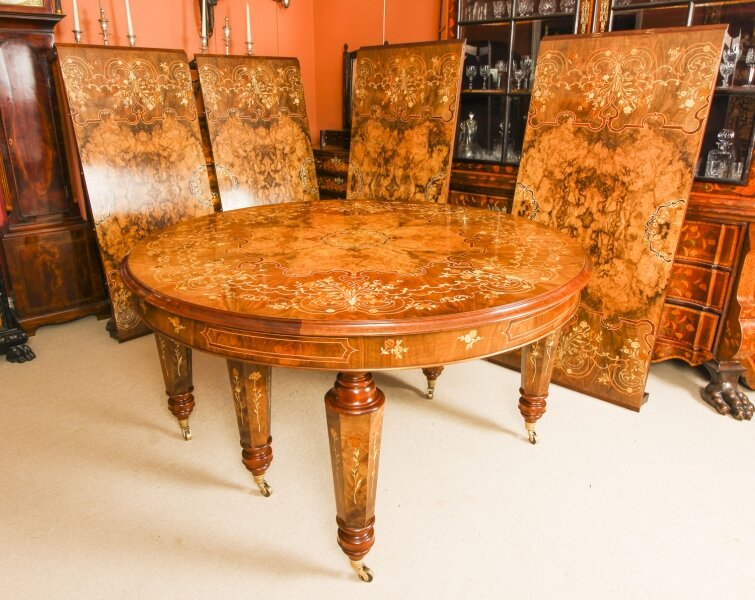 Perfectly suited to both dining and conference rooms, this superb table is sure to receive the maximum amount of attention wherever it is placed.
Next, we would like to present to you this spectacular and highly decorative handmade Victorian style bespoke dining table.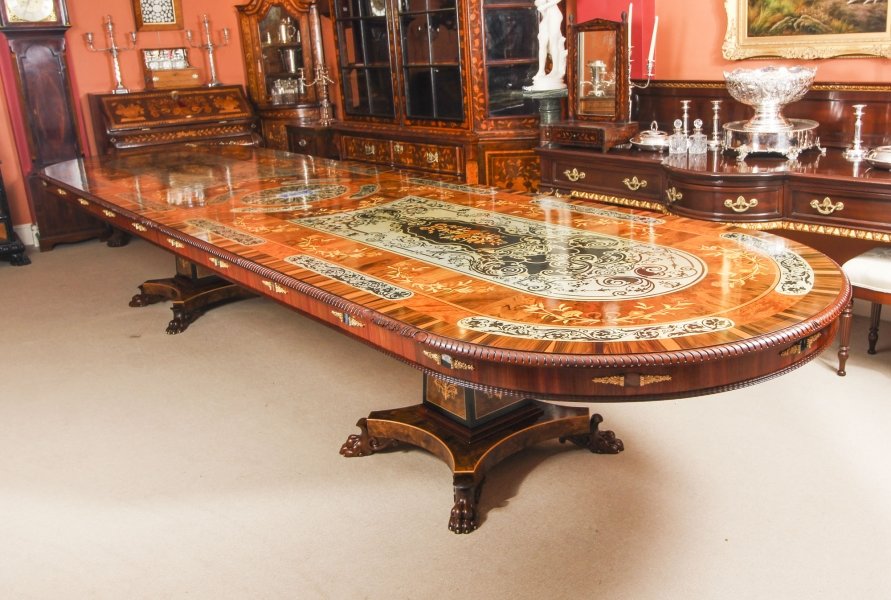 This remarkable table is beautifully crafted from the finest burr walnut and it features exceptional quality marquetry with pewter, lapis lazuli and agate.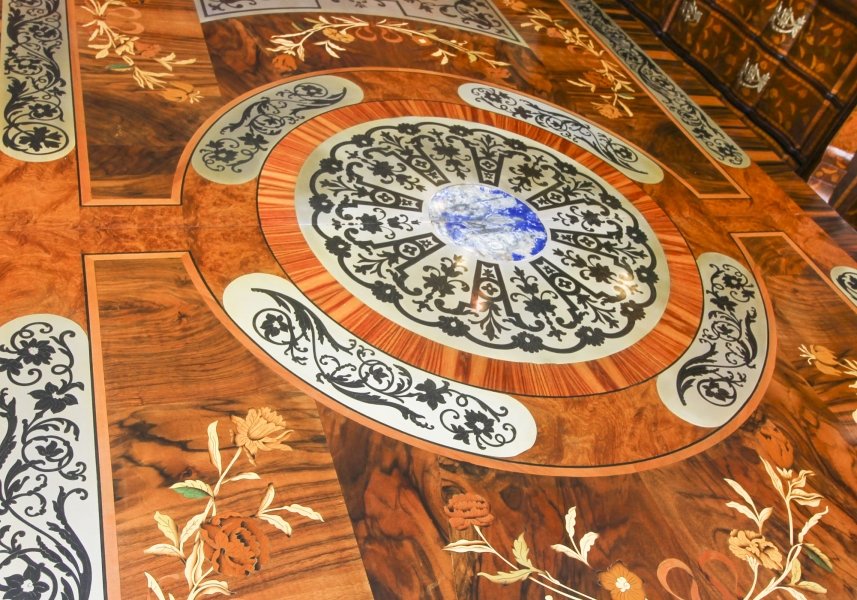 To highlight the natural grain of the wood and the excellent artistry of the marquetry, we have French polished this large dining table by hand. The skirt of the table is decorated with ormolu mounts inset with agate.
It is raised on two burr walnut ebonised and inlaid pedestals that are mounted on hand-carved solid mahogany lion's paw feet.
This is a quite large table and can seat sixteen people in great comfort, which makes it also appropriate for a conference room or any commercial space.
It is an absolutely amazing piece of furniture and must be seen to be believed.
As you can imagine, making such fine large dining tables is a complex process involving numerous stages that require a great deal of skill and craftsmanship.
If you would like to find out more about how our marquetry dining tables are made, take a few moments to watch our video which explains the process.
Last but not least, we would like to show you this fabulous handmade bespoke dining table in the Victorian style.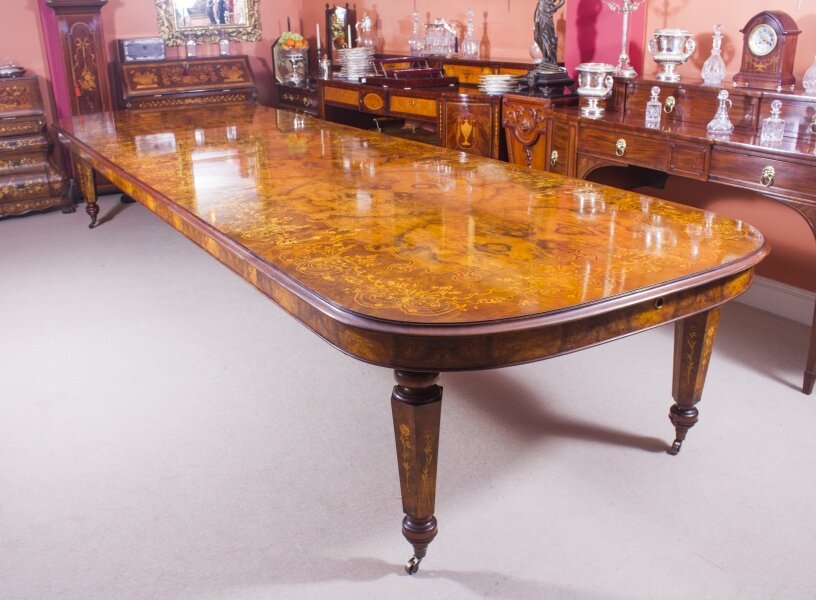 It has been crafted in burr walnut and further embellished with superb inlaid marquetry decoration featuring urns, ribbons, flowers, vases and birds. The gorgeous hand-cut inlaid marquetry decoration is cut from different wood veneers of various colours.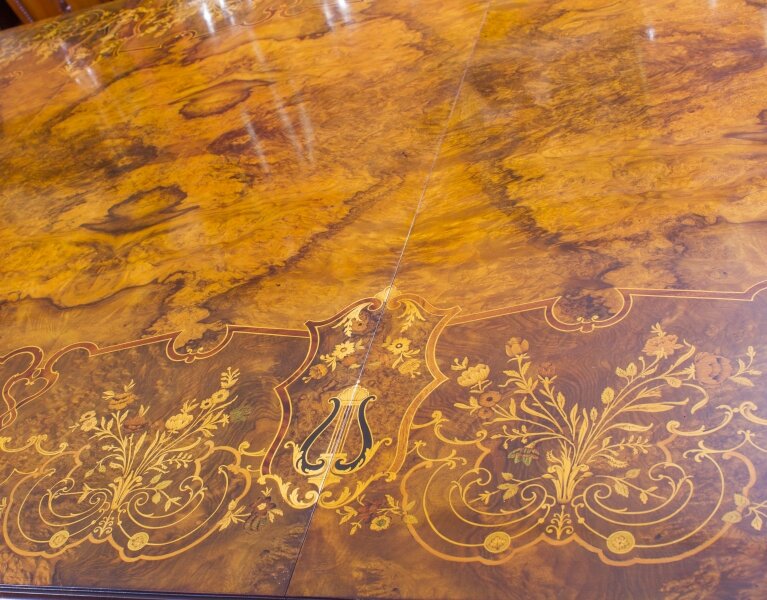 This superb bespoke dining table has four leaves which can be added or removed to vary the length of the table using a special double winding mechanism. This gives the table a great flexibility enabling it to be adjusted as required.
As a large dining table it needs extra stability and therefore stands on six masterfully carved legs which terminate with brass cap castors to facilitate ease of movement.
Seating eighteen people in regal comfort, this is an extraordinary piece of furniture which will add splendour to any room. 
We can supply tables of varying sizes according to your needs. Moreover, the marquetry designs can be personalised to suit your requirements. This would enable you to incorporate a company logo or brand motifs or perhaps a family crest or coat of arms into your marquetry dining table, making it truly unique and special.
If you would like to enhance your home or work space with one of these fine marquetry dining tables, feel free to get in touch with our in-house antiques consultants either by sending an email to info@regentantiques.com or calling at +44 20 8809 9605.
You may also want to take a look at our collection of stunning antique dining tables. Whatever your taste, you may well find just the one that you are looking for.