Delightful Partners Desks from Regent Antiques

If you are looking for practical and versatile desks that can be used by more than one person, then partners desks could be just right for you.
Finished on both sides, partners desks enable two people to sit and work at them on either side facing each other. Another advantage is that they can be placed anywhere in a room and not necessarily against a wall, since they usually have drawers or cupboards on both sides.
This piece of furniture was first conceived in UK banking institutions where there was a need for people to work in close proximity whilst still having a fully functional desk of their own, with cupboards and drawers close to hand.
Here at Regent Antiques, we have assembled a lovely collection of fabulous antique partners desks for you to choose from. Today we would like to take you through some of the most exceptional models. 
Functional and Stylish Partners Desks
Available for sale at Regent Antiques is this stunning antique George III mahogany partners pedestal desk.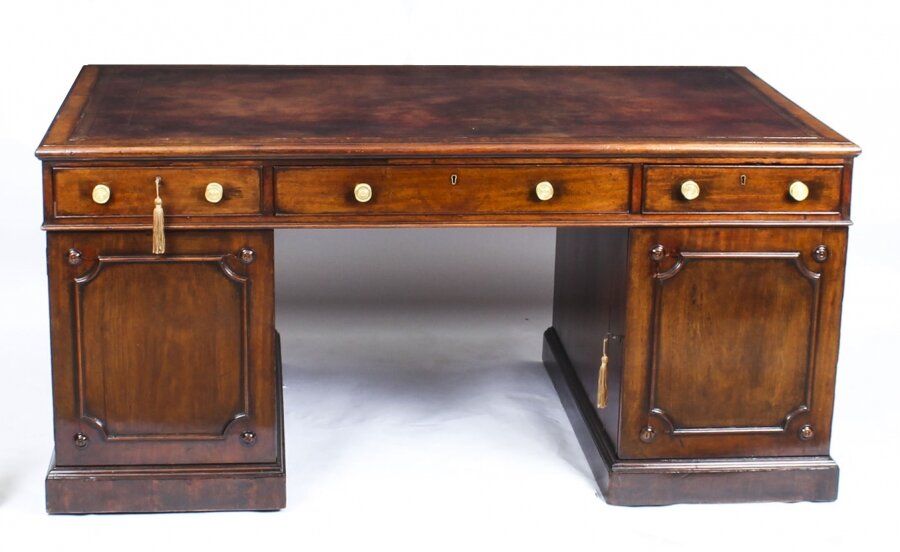 This fantastic partners desk is fitted with three useful frieze drawers and three further graduated drawers in each pedestal on one side, plus three frieze drawers with a cupboard in each pedestal on the other. The drawers are oak lined and fitted with their original brass knob handles.
The rectangular top features an inset brown and gilt tooled leather writing surface. The desk is raised on a plinth bases with concealed castors and is complete with working locks and keys. 
This superb partners desk is sure to add a touch of classic charm to your home and become the centrepiece of your furniture collection. 
Our second featured item is this splendid antique Victorian flame mahogany pedestal partners desk, dating from circa 1850.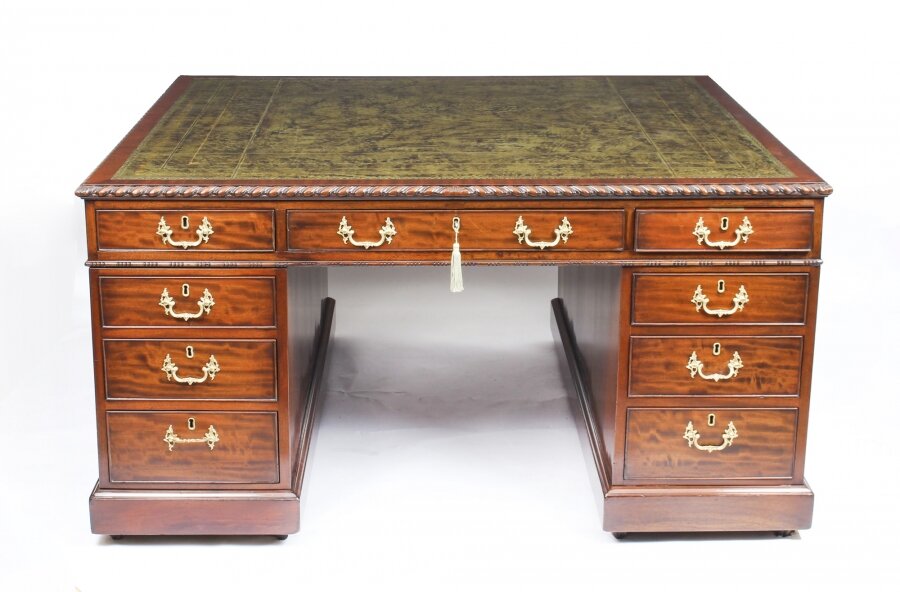 Being a partners desk, this gorgeous desk is the same on each side – fitted with three frieze drawers and six further drawers in the pedestals, all fitted with the original stylish brass handles.
Each pedestal is mounted with decorative carved rosettes, and the desk is raised on plinth bases. It comes with the original brass locks and keys.
The rectangular top features a decorative gadrooned edge and is inset with a green gold tooled leather writing surface, which not only looks beautiful but is also a joy to write on.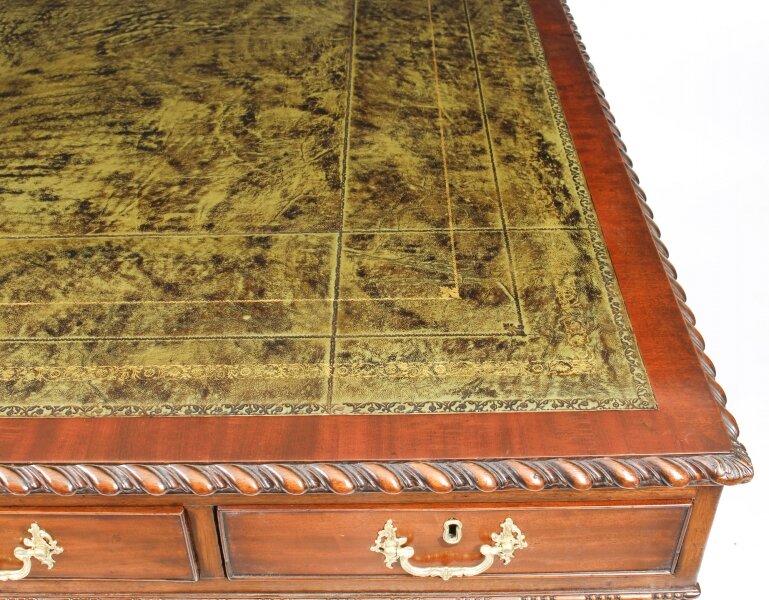 An interesting fact is that this large Victorian partners desk was gifted by the Coombe Bank estate of the late Sir Robert Ludwig Mond (1867-1938). The 'Company' is Brunner-Mond, the company founded by his father, the German-born industrialist Ludwig Mond (1839-1909), of which Sir Robert became a Director. It was later merged with Imperial Chemicals Industries (ICI). Sir Robert, a chemist and archaeologist, had a passionate interest in Egyptian archaeology, organising and personally financing various expeditions. He bequeathed his extensive collection of Egyptian and Classical antiquities to a large number of museums across Britain including the British Museum and numerous other museums including the Ashmolean, Liverpool, Sheffield, Royal Museum of Ontario and Institute of Jamaica. 
This high quality piece is available to purchase and would make a stylish addition to any home or office.
Next, we would like to bring to your attention this remarkable antique early Victorian partners desk.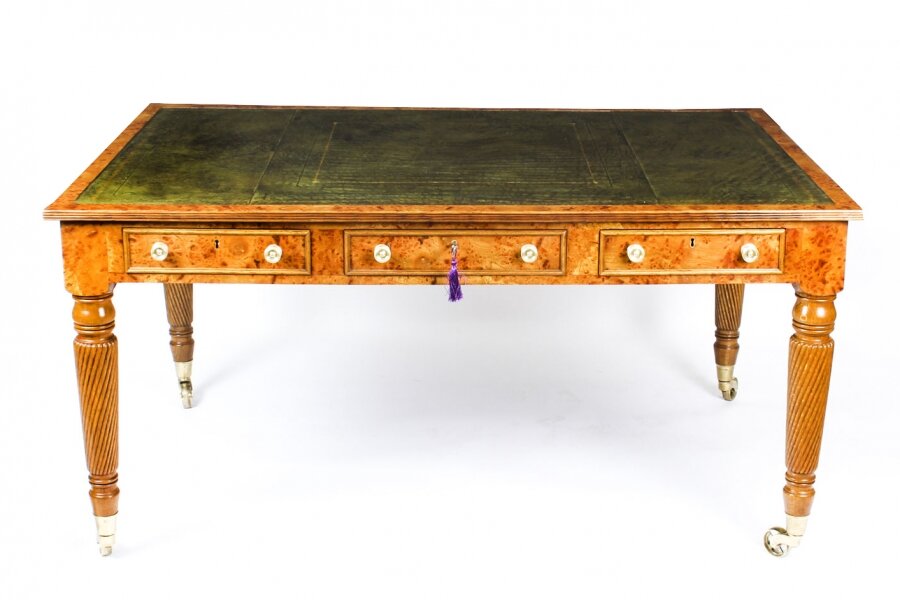 This lovely desk is crafted from beautiful pollard oak and features a striking olive green inset leather writing surface that has splendid hand tooled gilt decoration.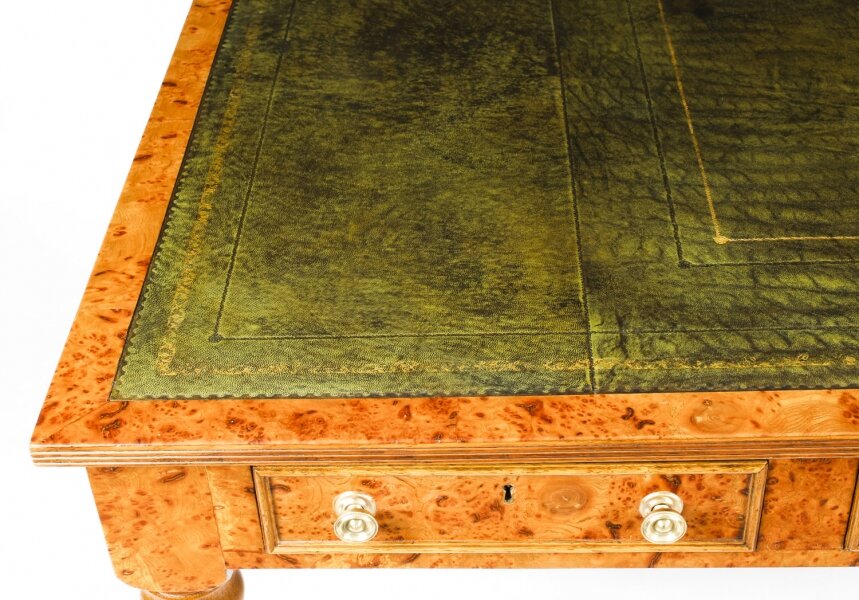 This magnificent desk is finished on all sides so that it can stand freely in the middle of a room. As a partners desk, it has six drawers – three on each side. They are all oak lined, have hand-cut dovetails and are perfectly sized for all the stationary you could possibly need, making this desk not just a symbol of refinement but a practical furnishing as well. 
When you have found the perfect desk that fits the bill, we come to the question of chairs. Matching a desk with the right chair is what makes all the difference. If you cannot sit comfortably at it for long periods of time, you won't get the best from any desk. 
At Regent Antiques, we have a great range of antique desk chairs as well as bespoke leather armchairs, all of the finest quality, comfort, and design. 
If you need a stylish yet comfortable chair or sofa to sink into and relax after a hard day's work, you might also want to check out our collection of antique leather sofas and chairs.
We are always delighted to answer any queries or questions you might have. Please feel free to get in touch with our in-house antiques consultants either by sending an email to info@regentantiques.com or calling at +44 20 8809 9605.