Stunning Bespoke Leather Sofas from Regent Antiques

Here at Regent Antiques, you will find a range of carefully-selected antique and bespoke leather sofas suitable for daily use in the home, office, or in a commercial setting.
If you want to add a touch of glamour to your home, or just need something soft to relax in while at work, then our bespoke leather sofas could be just what you are looking for.
Today we would like to take you through some great examples of bespoke leather sofas that we currently have in stock. 
Comfortable and Stylish Bespoke Leather Sofas
Probably the most memorable and iconic design for an antique leather sofa is the Chesterfield. The Chesterfield sofa design is often attributed to the Lord Phillip Stanhope, the 4th Earl of Chesterfield (1694-1773), who is alleged to have commissioned the first leather Chesterfield settee with its characteristic, iconic, and very distinctive deep buttoned leather upholstery combined with a low seat.
As the demand for antique Chesterfield sofas often outstrips supply by a considerable margin, the demand has to be met via other channels. That's where our bespoke Chesterfield range comes into its own. Made by craftsmen who still use traditional materials and techniques, these items of contemporary bespoke furniture will capture the attention of just as many of your guests as their antique counterparts.
One such example is this fabulous bespoke leather Chesterfield sofa in a beautiful olive green colour, handmade in England with materials of the finest quality.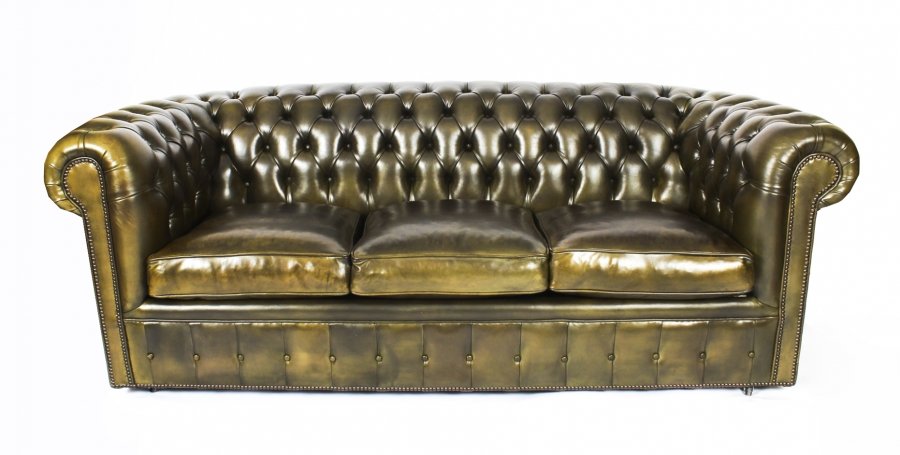 It features sumptuous button back leather that is upholstered in top quality Scottish cow hide which has been hand-dyed and antiqued. Since it is hand-dyed, there is a possibility to finish the leather to any colour requested.
The unique antique patina is achieved by the special walnut-based stains that we use in the process. The hand-dyed russet hide bears all the hallmarks of natural leather including scars, stretch marks, grain and texture variation.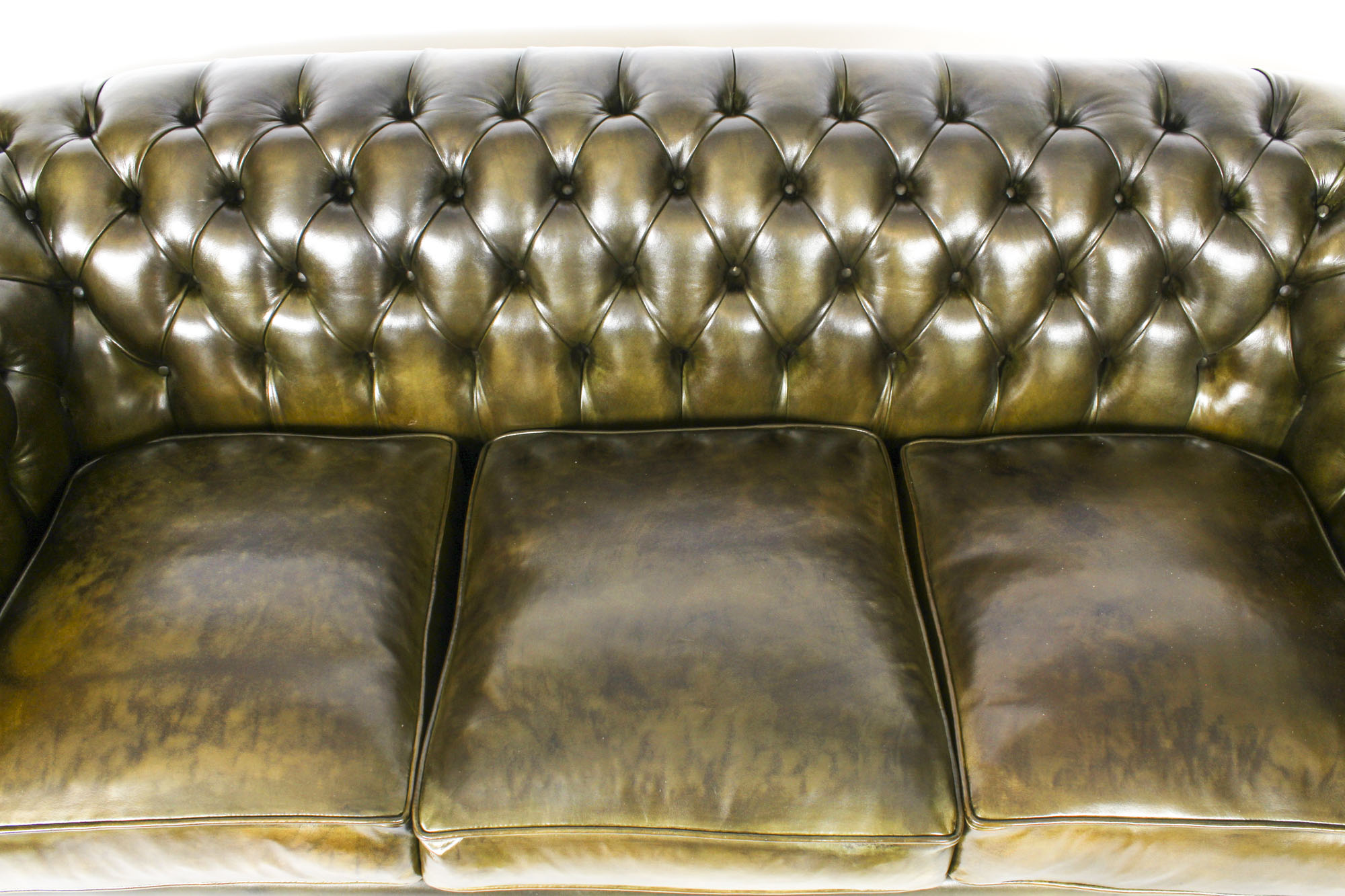 Additional advantage of this lovely sofa is that it can be easily turned into a double bed as it is fitted with a pull out mattress. If you have the need for an occasional bed to put up a guest then this could be the solution – a lovely piece of iconic furniture by day and a very comfortable place to sleep when the lights are out.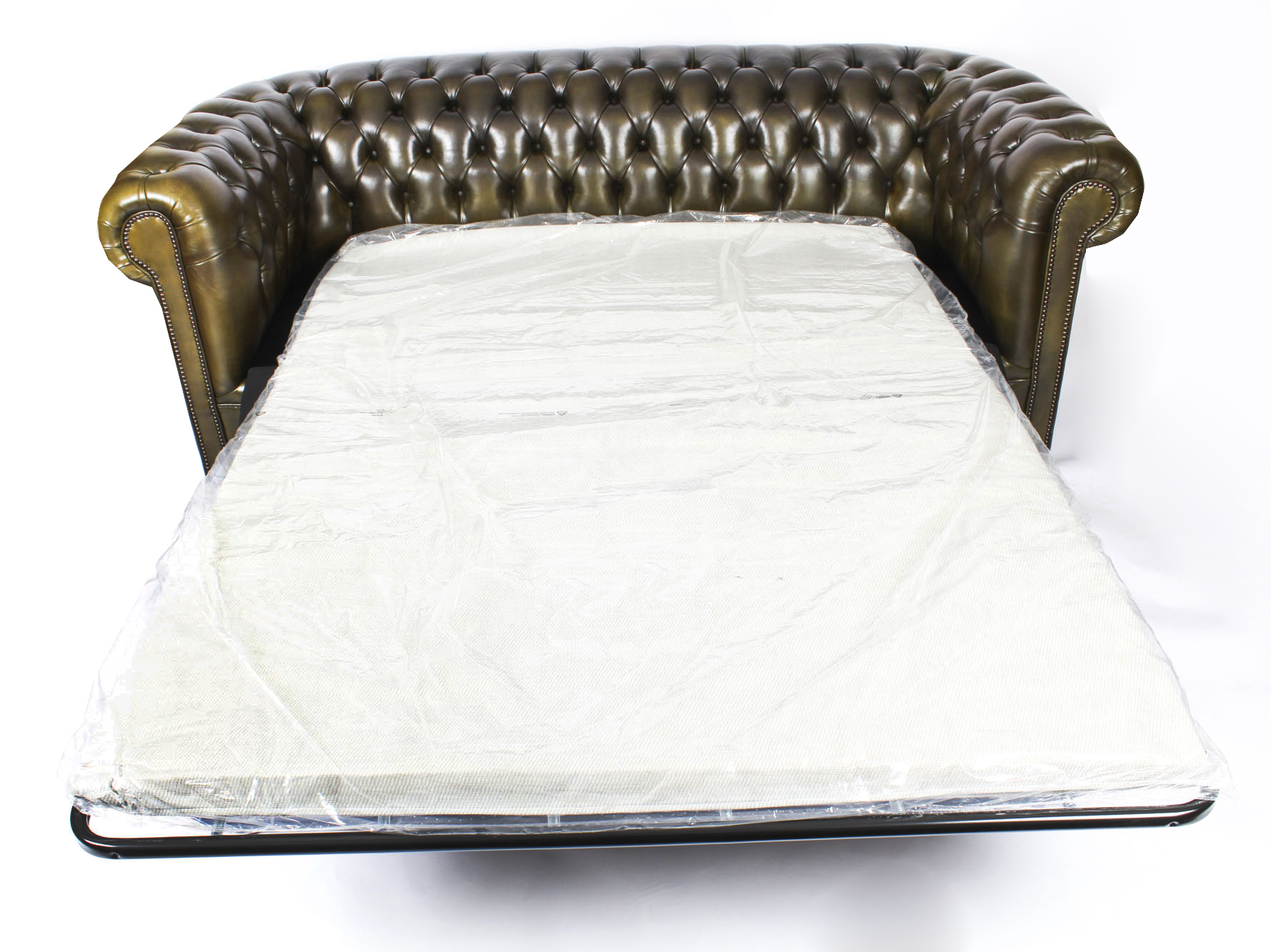 Next, we would like to show you this stunning bespoke new leather 'club settee' in a lovely bruciato colour.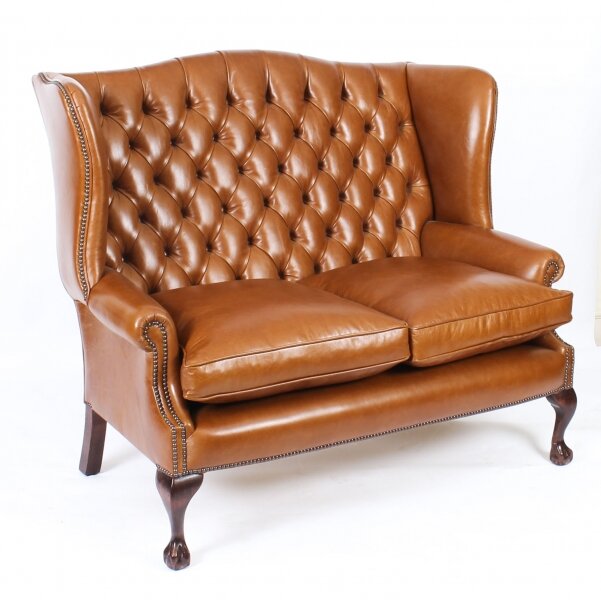 Offering the ultimate in both style and comfort, this lovely sofa features fantastic Chippendale style ball and claw legs and sumptuous leather upholstery.
'Old English' is an aniline-finished leather that is tanned to ensure a pleasing distressed or 'aged' finish from new. Extra fat liquors are applied during tanning to give the leather a slightly waxy feel. These leathers are designed to allow the natural marking variations of the leather to show through to the finish coat.
Another remarkable example is this superb bespoke new leather suite comprising a pair of Queen Anne style wingback armchairs and a 'club settee' in a beautiful chestnut brown colour.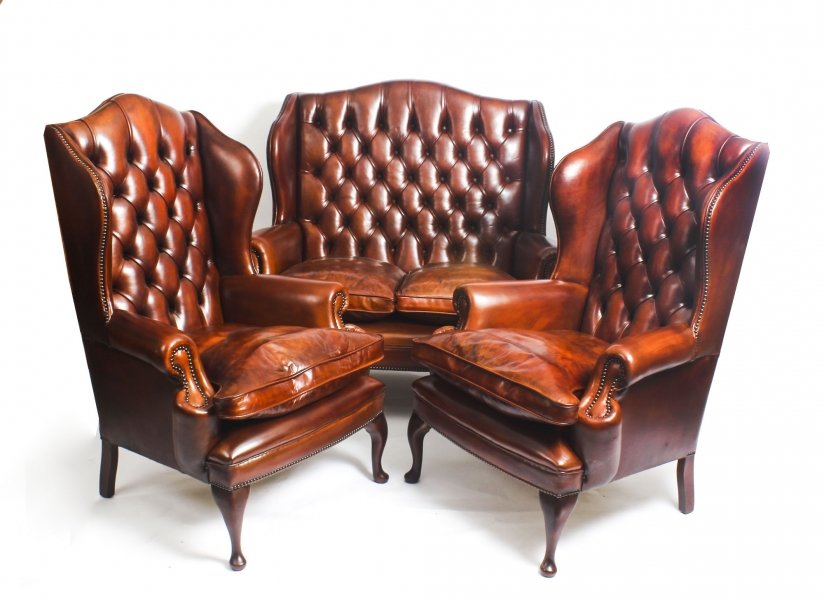 The suite features fantastic Queen Anne style legs and beautiful leather upholstery.
The studding is achieved with close individual nails or studs – not by using strips – and each nail is individually hammered in by hand.
The fine quality leather upholstery has a character and quality feel about it that simply cannot be found in any other material and, if well cared for, these sofas can last for many years, getting more and more attractive the older they get, as the leather develops that lovely "worn in" look.
Please note that all these items are available in a range of different upholstery finishes and colours. This range can be ordered in the exact configuration you require and we can accommodate most requests for particular colours.
Along with a fine range of antique and bespoke leather sofas, we also offer a great selection of bespoke leather armchairs and bespoke dining chairs.
Don't forget to sign up for our regular notification service which means we will send weekly notifications of new arrivals in your categories of interest.