Recently Sold Treasures by Regent Antiques

It's always fascinating to see what catches the eye of our customers and there have been some very interesting antiques that have found good homes over the last few weeks.
None could be more delightful than this superb quality antique Italian Pietra Dura mounted gilt bronze basket, dating from the late 19th Century.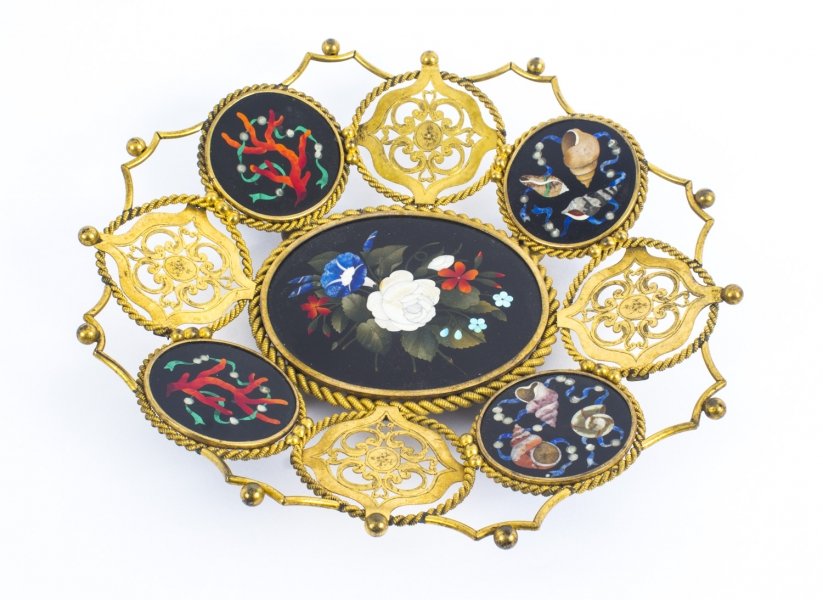 It is of striking pierced form set with four highly-decorative pietra dura roundels depicting various corals and sea crustaceans, and it is centred with a beautiful large oval floral bouquet pietra dura panel.  
You can see a video of this stunning item here.
'Pietra dura' is a term for the inlay technique of using cut and fitted highly-polished coloured stones to create images. It is considered a decorative art.
Pietre dure is an Italian plural meaning "hard rocks" or "hard stones;" the singular pietra dura is also encountered in Italian. In Italian, but not in English, the term embraces all gem engraving and hardstone carving, which is the artistic carving of three-dimensional objects in semi-precious stone, normally from a single piece, for example in Chinese jade.
The traditional convention in English has been to use the singular pietra dura just to denote multi-coloured inlay work. However, in recent years there has been a trend to use Pietre Dure as a term for the same thing, but not for all of the techniques it covers, in Italian.
Our next featured recently sold item is this stunning antique French Kingwood and Vernis Martin, ormolu mounted bombe' side cabinet, circa 1870 in date.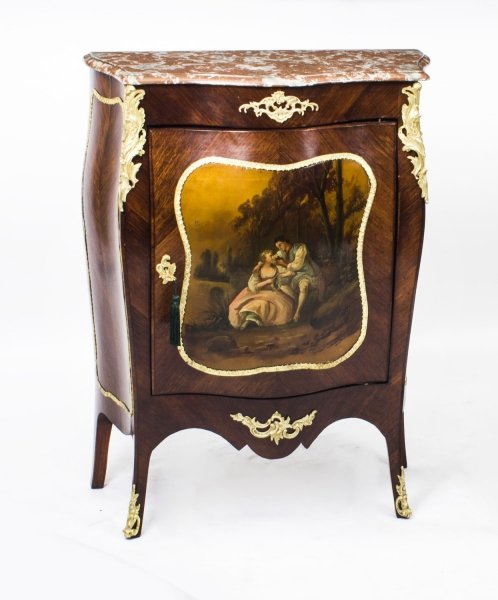 Vernis Martin is a lustrous lacquer substitute widely used in the 18th Century to decorate furniture and such personal articles as brisé fans, snuff boxes and clocks. The process of adding bronze or gold powder to green varnish was perfected by the French brothers Guillaume and Etienne-Simon Martin, hence its name "Vernis Martin," as Vernis is French for varnish. It is said to have been made by heating oil, copal, and amber, and then adding Venetian turpentine.  
The Martin brothers perfected the process with inclusions in the varnish, sprinkling spangles of silver plated copper wire into the wet varnish ground. Highly praised by Voltaire, it was developed to imitate East Asian lacquerware which was being imported into France during the Louis XV period. Vernis Martin was made in several colours, green, black and a golden red being the most characteristic.
This lovely piece has a stunning serpentine "Breche d'Alep" marble top above a bombe' door with a central panel that has been painted with a beautiful painting depicting a courting couple, and it bears the signature of the artist, lower right.
The door opens to a velvet lined interior with a central shelf, above a shaped apron and raised on splayed legs that are beautifully decorated with gilt ormolu mounts.
Next, we were delighted to find a new home for this magnificent Regency Old Sheffield silver plated samovar which is dated around 1830. With beautiful embossed and engraved foliate and folate decoration it also bears the marital arms of the families Coulthurst and Temple of Yorkshire, England.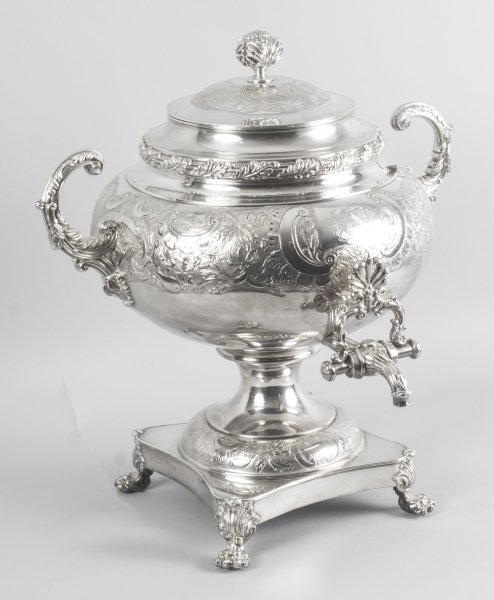 The design of this beautiful silver plated samovar follows the traditional one comprising a large metal container with a tap near the bottom and a metal pipe running up vertically through the middle. The pipe is filled with water and the iron element is heated and dropped into the pipe, heating the water and thus keeping the contents of the samovar warm.
The particulars of the marital coat of arms and crest which are engraved on this silver-plated samovar can be seen in the photo gallery. This piece undoubtedly commemorates the marriage of John Nicholas Coulthurst (1791-1862) to Catherine Mary Tempest (1802-1836) on 25th July 1825 at Gargrave in Yorkshire. Sadly Catherine died at the young age of 34 but they managed to have four sons and two daughters from their short marriage.
The marital coat of arms and crest which are engraved on this silver-plated samovar commemorates the marriage of John Nicholas Coulthurst (1791-1862) to Catherine Mary Tempest (1802-1836) on 25th July 1825 at Gargrave in Yorkshire.
Finally, we also said farewell this elegant antique George III Regency dining table, dating from circa 1825.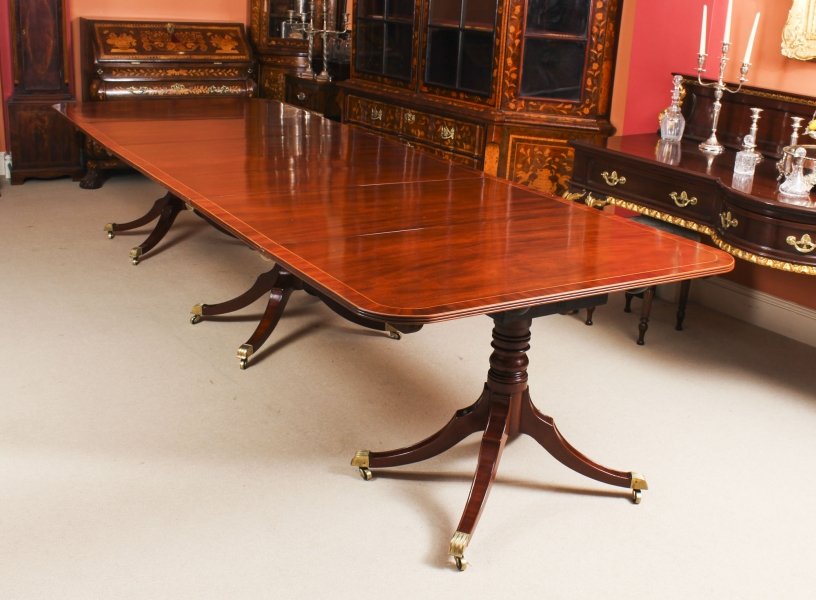 The table is raised on three bases each with turned pillars, four hipped and swept square legs terminating in brass caps and castors. It has two leaves which can be added or removed as required to suit the occasion and can comfortably seat fourteen.
The table top is of beautiful flame mahogany. 18th Century furniture designer Thomas Sheraton once characterised mahogany as "best suited to furniture where strength is demanded as well as a wood that works up easily, has a beautiful figure and polishes so well that it is an ornament to any room in which it may be placed."
Matching his words to his work, Sheraton designed much mahogany furniture. The qualities that impressed Sheraton are particularly evident in a distinctive pattern of wood called "flame mahogany." The flame figure in the wood is revealed by slicing through the face of the branch at the point where it joins another element of the tree.
This handsome table is crossbanded and inlaid with boxwood stringing.
We are delighted that this finely crafted dining table has become a treasured addition to the new owner's furniture collection, and we are certain it will be a talking point with guests at meal times.
Our final item selected from the sales over the last few weeks is this beautiful antique oil on canvas painting of a young woman, signed and dated lower right by the renowned artist John Horsburgh, Edinburgh, 1881.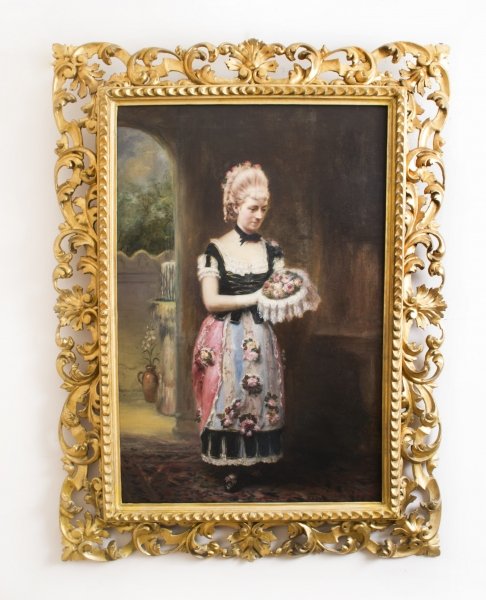 John Horsburgh (1835-1924), was born at Prestonpans, near Edinburgh, and studied drawing at the Trustees' Academy. At the age of fourteen, he was apprenticed to Robert Scott the engraver and worked for him for some years.
Horsburgh engraved plates after J. M. W Turner, for England and Wales, William Bernard Cooke's Southern Coast of England, and Walter Scott's works, and other publications. He engraved several single plates, including Prince Charlie reading a Despatch, after William Simson, Sir Walter Scott, after Sir Thomas Lawrence, and another portrait of Scott after John Watson Gordon.
This lovely painting depicts a young woman wearing a beautiful dress with floral decoration and concentrating on her embroidery while she walks. On the background, there is a garden with a fountain and a vase with flowers next to it. The canvas has a superb antique Florentine giltwood frame which is decorated with hand carved floral and leaf motifs with the beautiful original gilding.
There is no mistaking the new owner of this fine oil painting has acquired something of great visual appeal.
That's it for this roundup of items recently sold by Regent Antiques, online or from our London showrooms.
Be sure to check our website to see many more items that have not yet been sold – who knows, you may find something you will want to own and treasure.