Antique English Regency Old Sheffield Silver Plate Samovar C1830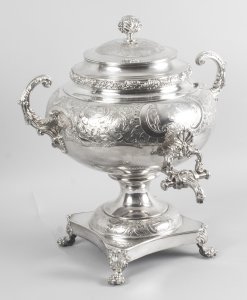 Click on image to zoom
For weekly notifications of new arrivals in your categories of interest please click HERE.
Our London showrooms
Open Mon to Fri 10am - 5pm
Open Sat 28th April 10am - 4pm
This is a wonderful antique Regency Old Sheffield silver plated Samovar, Circa 1830 in date.

It is silver plated on copper and has beautiful embossed and engraved foliate and floral decoration.
A traditional samovar consists of a large metal container with a tap near the bottom and a metal pipe running vertically through the middle. In this case the pipe is filled with water and the iron element ( see photo ) is heated and dropped into the pipe, heating the water, and thus keeping the contents of the samovar warm.
It bears an intersting Coat of Arms which Ihave had researched:
The Marital Arms of Coulthurst and Tempest
The armorial bearings as engraved upon this George IV/William IV Old Sheffield Plate Samovar dating to circa 1830 are those of the family of Coulthurst1 impaling Tempest. These armorial bearings denote the marshalling of a marital coat showing on the dexter (the heraldic right on the left as you view the piece) the arms of the husband and on the sinister (the heraldic left on the right as you view it) the arms of the wife.

They may be blazoned as follows:
Arms:

(on the dexter) Quarterly 1st and 4th Argent a fess between two horses passant sable (for Coulthurst) 2nd and 3rd Gules a chevron between three garbs or (for Reed)
(on the sinister) Argent a bend between six martlets sable (for Tempest)
Crest: A horse passant sable
These armorial bearings undoubtedly commemorate the marriage of John Nicholas Coulthurst (born 9th October 1791died 1862), of Gargrave House in the County of Yorkshire and Catherine Mary Tempest (born 6th October 1802 died 23rd March 1836). John and Catherine were married on the 25th July 1825 at Gargrave. John was the eldest son of John Coulthurst and his wife, Margaret Reed, the daughter and co-heiress of William Reed, of Holywell in the County of Durham; whilst Catherine was the fourth daughter of Stephen Walter Tempest, of Broughton Hall, Skiptonin-Craven in the County of Yorkshire and his wife, Francis Olive Meynell, the third daughter of George Meynell, of Aldborough and West Dalton in the County of Yorkshire. Sadly, Catherine died at the relatively young age of 34. Nicholas and Catherine had four sons and two daughters from their short marriage.
This samovar is of fabulous quality and will add an Imperial look to your surroundings.

There is no mistaking its unique quality and design, which is sure to make it a treasured piece by any discerning collector.
Condition:
In really excellent condition, please see photos for confirmation.
Dimensions in cm:
Height 42 x Width 41 x Depth 35
Dimensions in inches:
Height 1 foot, 4 inches x Width 1 foot, 4 inches x Depth 1 foot, 2 inches
Old Sheffield Plate - or 'fused plate' as it is sometimes known, was the first commercially viable method of plating metal.
The material was accidentally invented by Thomas Boulsover, of Sheffield's Cutlers Company, in 1743. While trying to repair the handle of a customer's decorative knife, he heated it too much and the silver started to melt. When he examined the damaged handle, he noticed that the silver and copper had fused together very strongly. Experiments showed that the two metals behaved as one when he tried to reshape them, even though he could clearly see two different layers.
Boulsover set up in business, funded by Strelley Pegge of Beauchief, and carried out further experiments in which he put a thin sheet of silver on a thick ingot of copper and heated the two together to fuse them. When the composite block was hammered or rolled to make it thinner, the two metals were reduced in thickness at similar rates. Using this method, Boulsover was able to make sheets of metal which had a thin layer of silver on the top surface and a thick layer of copper underneath. When this new material was used to make buttons, they looked and behaved like silver buttons but were a fraction of the cost.
The technique Boulsover developed was to sandwich an ingot of copper between two plates of silver, tightly bind it with wire, heat it in a furnace and then mill it out in to sheet, from which objects could be made.
Samovar (Russian: самовар); literally "self-boiler" is a heated metal container traditionally used to heat and boil water in and around Russia, as well as in other Central, South-Eastern, Eastern European countries, Kashmir and in the Middle-East. Since the heated water is typically used to make tea, many samovars have a ring-shaped attachment around the chimney to hold and heat a teapot filled with tea concentrate.

Though traditionally heated with coal or charcoal, many newer samovars use electricity to heat water in a manner similar to an electric water boiler. Antique samovars are often displayed for their beautiful workmanship.

Samovars are typically crafted out of plain iron, copper, polished brass, bronze, silver, gold, tin, or nickel. A typical samovar consists of a body, base and chimney, cover and steam vent, handles, faucet and key, crown and ring, chimney extension and cap, drip-bowl, and teapot. The body shape can be an urn, krater, barrel, cylinder, or sphere. Sizes and designs vary.
Angelica Kauffman, RA (1741 - 1807)
was a Swiss-born Austrian Neoclassical painter who had a successful career in London and Rome. Though born as "Kauffmann", Kauffman is the preferred spelling of her name in English; it is the form she herself used most in signing her correspondence, documents and paintings.
While Kauffman produced many types of art, she identified herself primarily as a history painter, an unusual designation for a woman artist in the 18th century. History painting, was considered the most elite and lucrative category in academic painting during this time period. Under the direction of Sir Joshua Reynolds, the Royal Academy made a strong effort to promote history painting to a native audience who were more interested in commissioning and buying portraits and landscapes.
Despite the popularity that Kauffman enjoyed in British society and her success as an artist, she was disappointed by the relative apathy that the British had towards history painting. Ultimately she left Britain for the continent, where history painting was better established, held in higher esteem and patronized.
The works of Angelica Kauffman have retained their reputation. By 1911, rooms decorated with her work were still to be seen in various quarters. At Hampton Court was a portrait of the duchess of Brunswick; in the National Portrait Gallery, a self-portrait. There were other pictures by her at Paris, at Dresden, in the Hermitage at St Petersburg, in the Alte Pinakothek atMunich, in Kadriorg Palace, Tallinn (Estonia).
Satinwood
is a hard and durable wood with a satinlike sheen, much used in cabinetmaking, especially in marquetry. It comes from two tropical trees of the family Rutaceae (rue family). East Indian or Ceylon satinwood is the yellowish or dark-brown heartwood of Chloroxylon swietenia.
The lustrous, fine-grained, usually figured wood is used for furniture, cabinetwork, veneers, and backs of brushes. West Indian satinwood, sometimes called yellow wood, is considered superior. It is the golden yellow, lustrous, even-grained wood found in the Florida Keys and the West Indies.
It has long been valued for furniture. It is also used for musical instruments, veneers, and other purposes. Satinwood is classified in the division Magnoliophyta, class Magnoliopsida, order Sapindales, family Rutaceae.
Our reference: 08803
Please feel free to email or call us (+44 20 8809 9605) to arrange a viewing in our North London warehouse.
Shipping:
We ship worldwide and deliver to Mainland UK addresses free of charge.
A shipping cost to all other destinations must be requested prior to purchase.
To request a shipping quote for the items in your cart, please click HERE.
Delivery and return policy:
We require that someone be home on the agreed delivery day if applicable, otherwise a redelivery fee will apply.
In accordance with Distance Selling Regulations, we offer a 14-day money back guarantee if you are not satisfied with the item.
The item must be returned in its original packaging and condition.
Unless the item is not as described in a material way, the buyer is responsible for return shipping expenses.
Buyers are fully responsible for any customs duties or local taxes that may be incurred on items sent outside of the European Union.