Stunning Bespoke Furniture from Regent Antiques

While we have long provided our clients with unique and exceptional antique furniture items, we also offer an extensive range of beautiful bespoke furniture.
Large marquetry dining tables are the centrepiece of our bespoke furniture range. We also specialise in bespoke dining chairs, desks and desk chairs, sideboards, and sofas. Third generation master craftsmen at our workshop in Italy apply the marquetry decoration and other bespoke finishes, with the option for you to incorporate your own design as well as choose the upholstery.
These stunning bespoke furniture pieces are all hand made using traditional methods, making use of the very best materials available.
Bring the magic of marquetry into your dining room
Here we have a stunning bespoke handmade burr walnut and marquetry dining table and chair set comprised of a large table and ten matching dining chairs.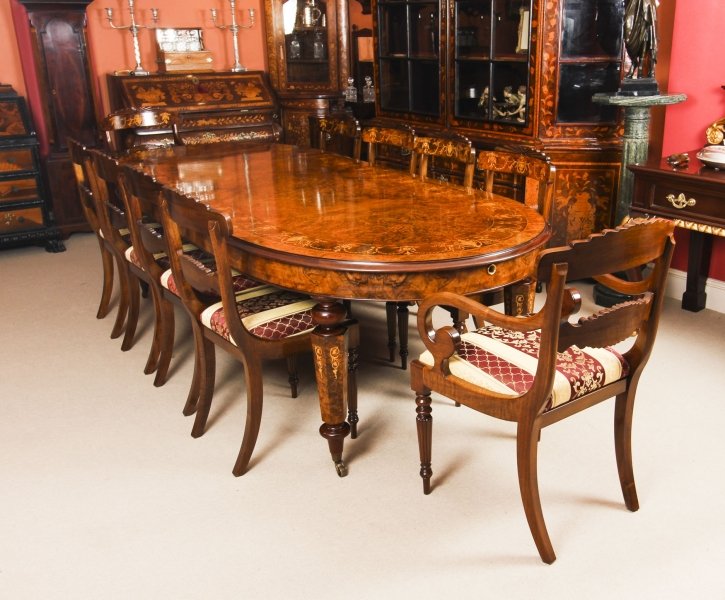 The marquetry designs can be personalised to suit your requirements at an additional cost. This would enable you to incorporate a company logo or brand motifs or perhaps a family crest or coat of arms into your marquetry dining table, making it truly yours.
This striking handmade bespoke oval dining table features an array of intricate hand-cut marquetry decoration comprising vases, ribbons, urns and decorative garlands. The main timber used for the construction of the table is French burr walnut, a wood that features a detailed and beautiful grain. To emphasise that grain, this table has been French polished by hand to a high gloss thereby bringing out the fine grain of the burr walnut as well as the inlaid marquetry decoration.
Versatility is assured when you take into account that this table can be extended or retracted as required by adding or removing one or two of the two expansion leaves. This is easily done by using the winding mechanism that is incorporated into the table.
Although primarily described as a dining table this set could be equally at home in a boardroom or conference room. This large and substantial oval dining table needs proper support and to that end, is mounted onto four beautifully carved legs which terminated with brass cap castors to facilitate ease of movement.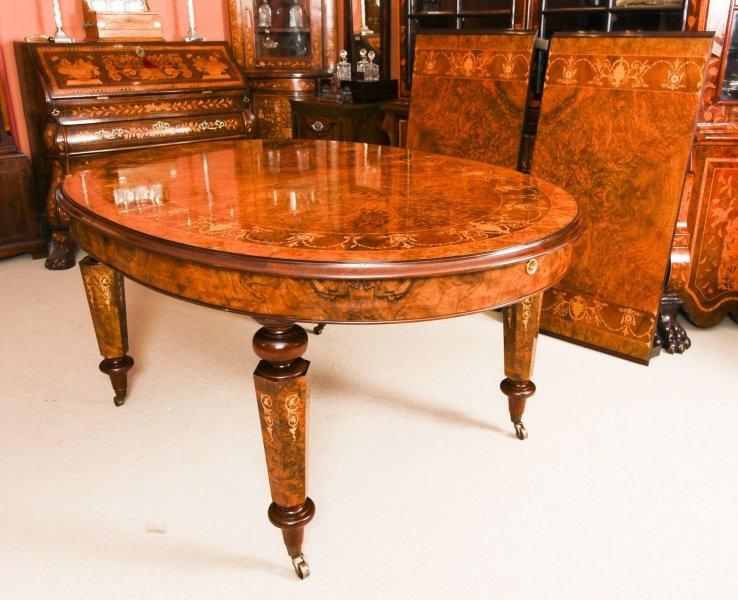 This fine table is supplied with a total of ten burr walnut and inlaid marquetry chairs which complement the table beautifully. The set comprises a pair of armchairs along with a total of eight side chairs. The chairs are made from solid walnut and also feature marquetry decoration along the same lines as the table.
For your seating comfort, the chairs in this set have been beautifully upholstered and feature drop-in seats which can quickly and easily be removed leaving the cane seats below available to provide a cooler seating option in warmer weather.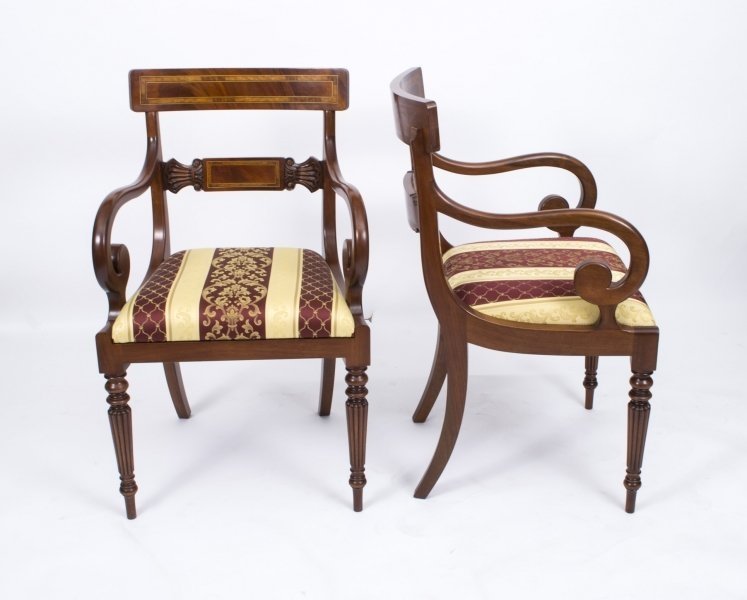 Find inspiration from magnificent 19th century Sevres porcelain
Another exquisite example of bespoke furniture is this pair of burr walnut and thuya wood pier cabinets.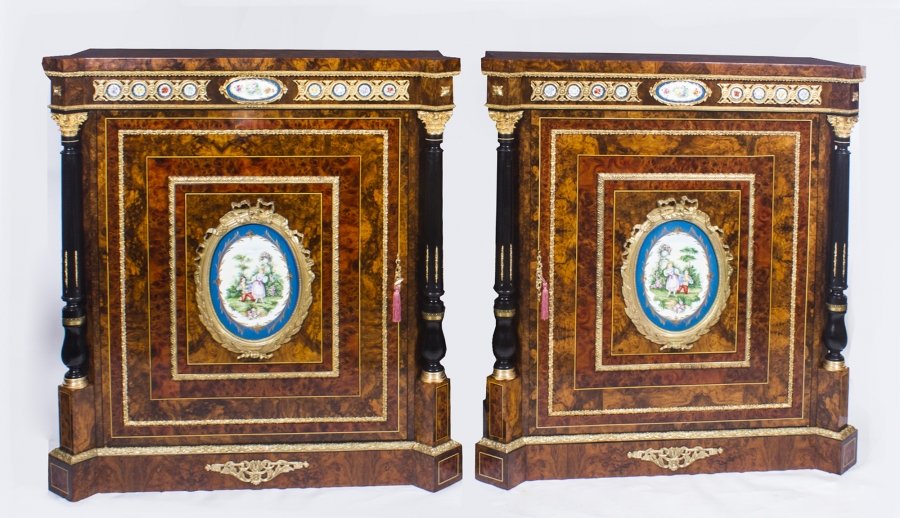 These cabinets really are worth a closer look. They were inspired by the 19th-century porcelain work of Sevres near Paris, France.
The cabinets feature shaped burr walnut tops each above a decorative frieze set with fabulous gilded ormolu mounts enclosing porcelain plaques hand-painted with flowers.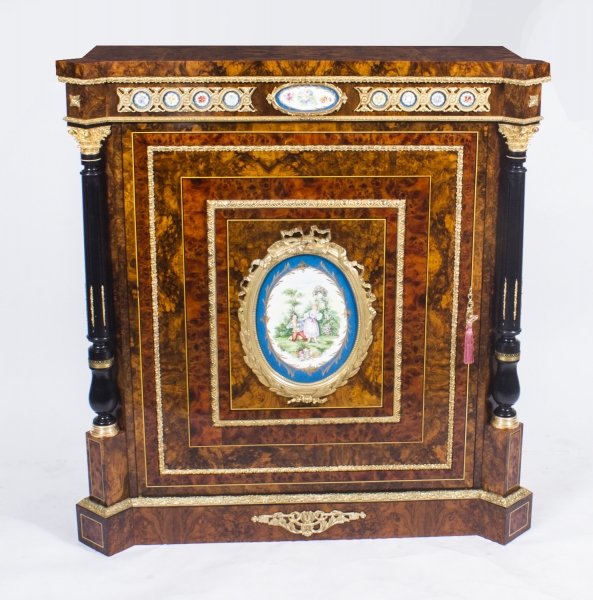 Each cabinet has a central door that has fabulous raised ormolu bordered panels, the centre set with a large oval ormolu-mounted porcelain plaque, hand-painted with romantic scenes. Each door is bordered by a striking pair of ebonised reeded columns mounted with ormolu capitelli.
Each door opens to reveal a capacious cupboard with a central shelf that has been superbly lined in a beautiful silk fabric. The doors open to reveal a flame mahogany interior with two kingwood-faced adjustable shelves. There is no mistaking their unique quality and design and they will soon become the centrepiece of your furniture collection.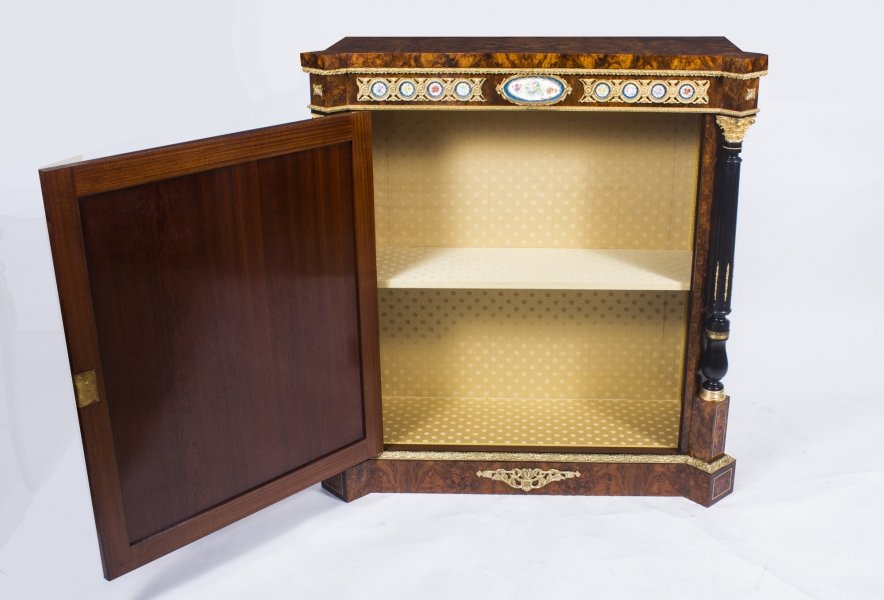 The finest leather of all – sit in comfort
Next, we would like to show you this absolutely stunning bespoke leather 'Chesterfield Sofa Bed' in a beautiful olive green colour, handmade in London, England with materials of the finest quality.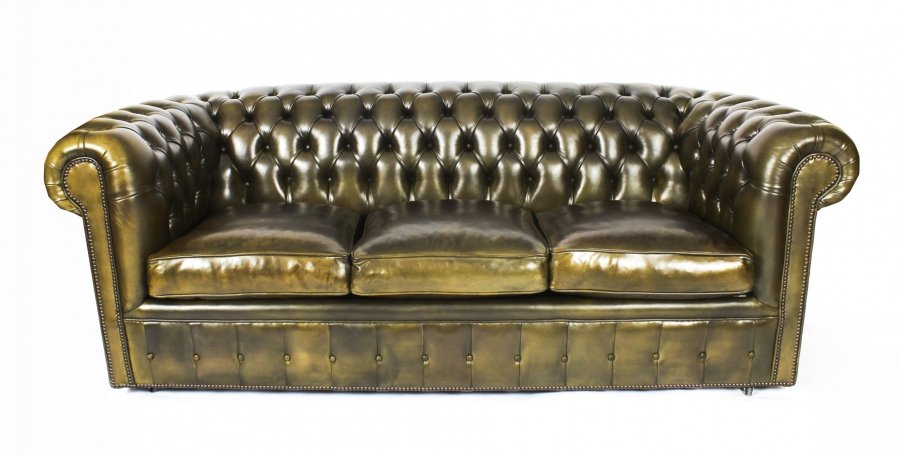 This sofa features sumptuous button back leather that is upholstered in top quality Scottish cowhide which has been hand-dyed and antiqued. Because it is hand-dyed, we can finish the leather to any colour requested, and the beautiful antique patina is achieved by the special walnut-based stains that we use in the process. The hand-dyed russet hide bears all the hallmarks of natural leather including scars, stretch marks, grain, and texture variation.
The studding is achieved with close individual studs not by using strips, and each nail is individually hammered in by hand. The frames are made from solid beech, as we only use hardwoods.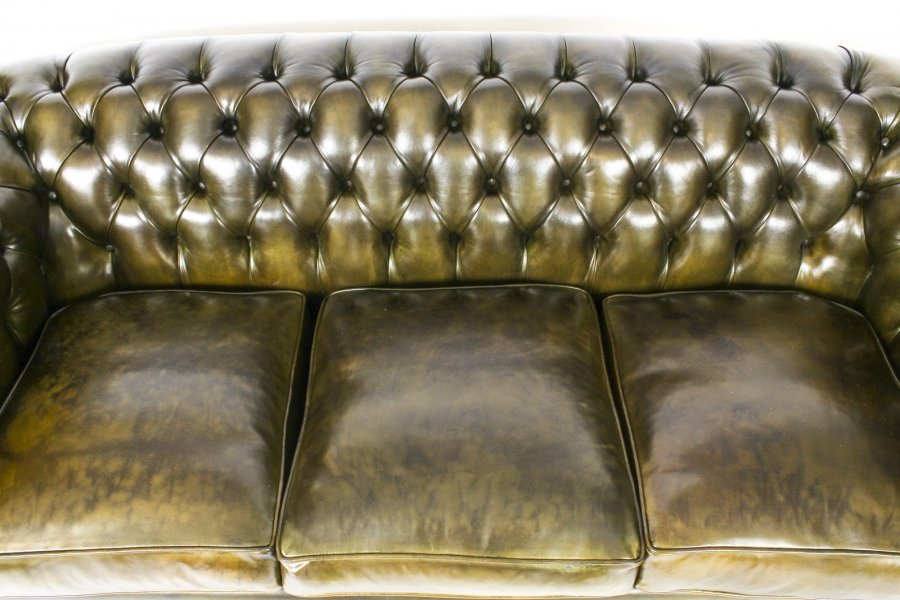 The seat has individual double cone hand springing, and each spring is hand sewn to the beechwood frame. The filling is canvas, fibre and felt. The effect can be very pleasing although bear in mind that hand-dyed leather can fade in direct sunlight.
Handmade English furniture of this quality can last for generations if well-cared for. It is also fitted with a pull out double bed and mattress.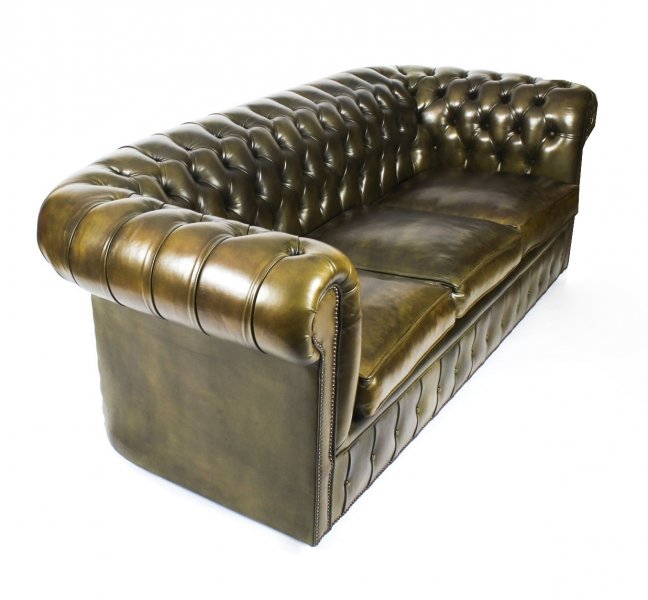 Elegant Sheraton style furniture
Finally, a beautiful bespoke open bookcase in the Sheraton style, with adjustable shelves, made in our workshops by third generation master craftsmen.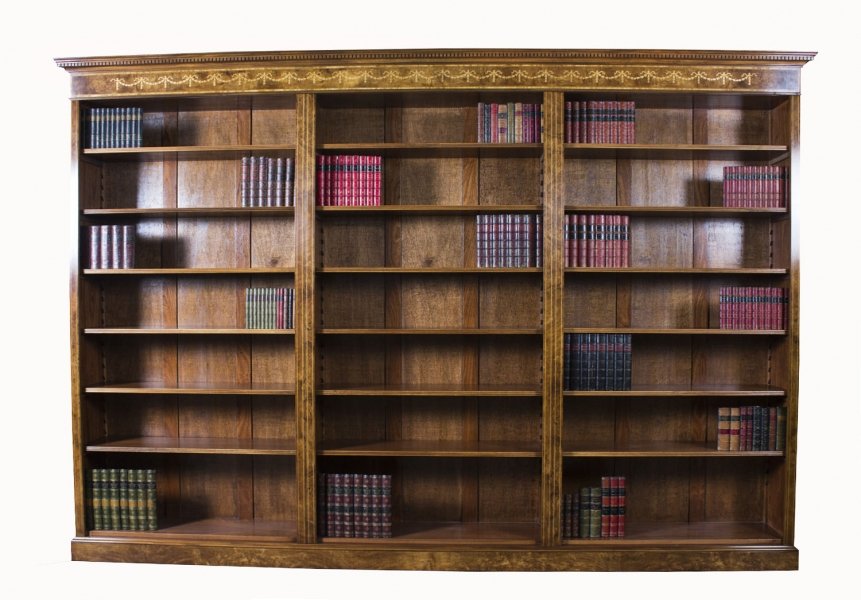 This stunning piece has three sections each with six adjustable shelves, is made from burr walnut and has superb satinwood inlaid marquetry decoration.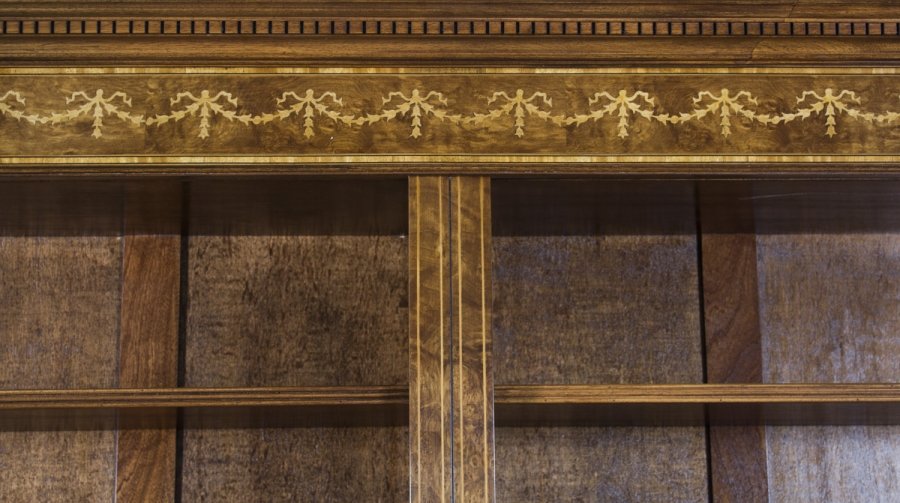 Ask for bespoke furniture at Regent Antiques
The sky's the limit with bespoke furniture that is made to order from Regent Antiques. If you can envisage a bespoke piece in your mind, then the chances are that we'll be able to make it a reality for you.
Our team regularly take on such bespoke furniture commissions. So please just let us have an idea of what you are looking for together with any artwork or designs that you might have and we will provide you with an estimate of the cost and time required to carry out the work.