In Praise of Antique Bedroom Furniture

At Regent Antiques, we always aim to have an excellent and varied range of magnificent antique bedroom furniture for you to choose from. Today, we are looking at some of the finest examples.
Antique bedroom furniture offers ambience and charm to a home thanks to its timeless beauty. More and more people today also recognise that antique bedroom furniture can also be a quality investment given the timeless elegance and superb craftsmanship on display on the finer pieces.
A truly beautiful antique wardrobe of neoclassical design
Antique wardrobes can give a lovely decorative boost to a bedroom. Apart from being large and impressive and constructed from impactful materials such as satinwood, burr walnut, or mahogany, an antique wardrobe is a statement on its own. Placing such a fine piece of antique bedroom furniture into a room lends it character and importance.
This is a large and impressive English antique Edwardian satinwood and hand-painted bow-front wardrobe, circa 1900.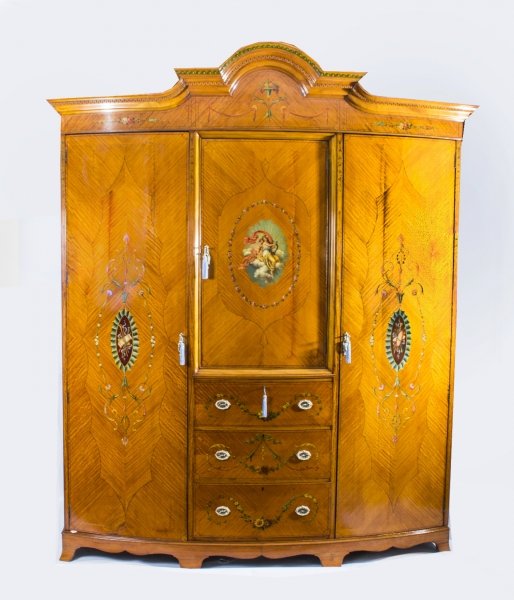 It is of neoclassical design and is beautifully painted in the manner of Angelica Kauffman with a basket of fruit, musical trophies, cherubs, and a maiden with a harp seated on a cloud and ribbon and floral swags.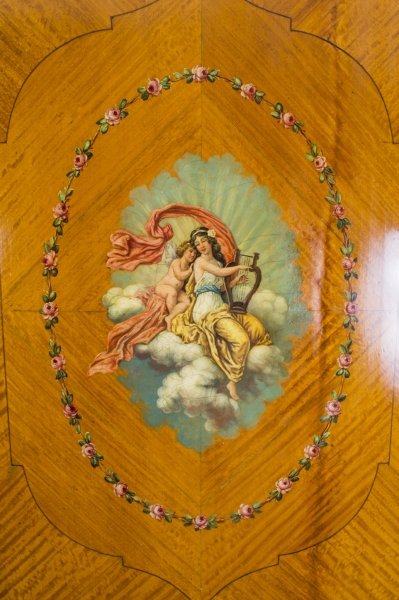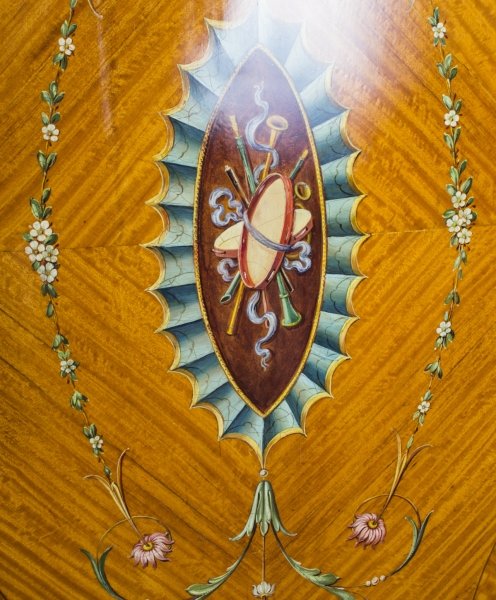 The central section has a cupboard door that opens to reveal a cupboard with two shelves above three spacious drawers. It is flanked by two doors, each opening to reveal a larger cupboard with hanging space. The inside of the doors are fitted with mirrors.
It is surmounted with a beautiful shaped and moulded cornice which is decorated with painted swags and flowers and stands on elegant splayed bracket feet. This stunning piece also features original brass handles, working locks, and keys. It is a truly beautiful wardrobe which is also very spacious.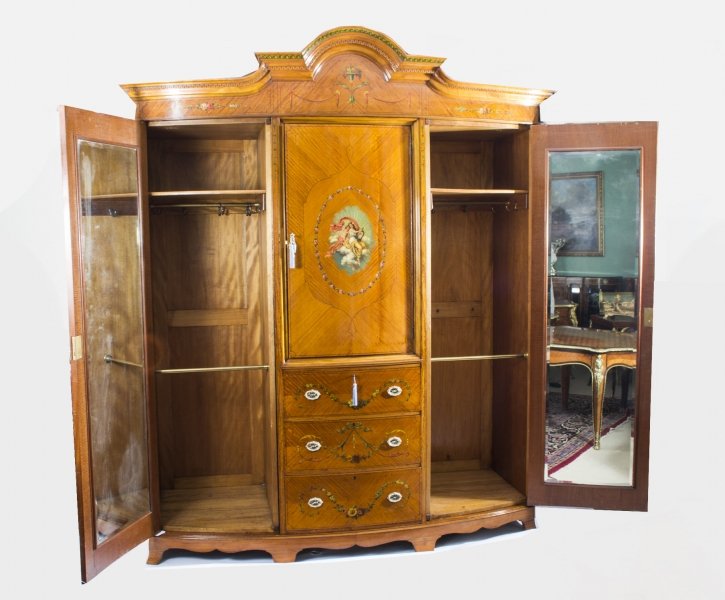 Antique dressing tables – a must have for a woman's bedroom 
Most women will appreciate a nice antique dressing table. Somewhere to do all the necessary daily grooming where everything needed can be kept close to hand. Usually, but not always, with a mirror.
At Regent Antiques, we always make an effort to keep a good selection of antique dressing tables in stock.
This is a totally magnificent antique satinwood dressing table with marquetry and parquetry inlaid decoration, the locks stamped 'Gillow Lancaster,' the drawer stamped 'Warings,' circa 1880 in date.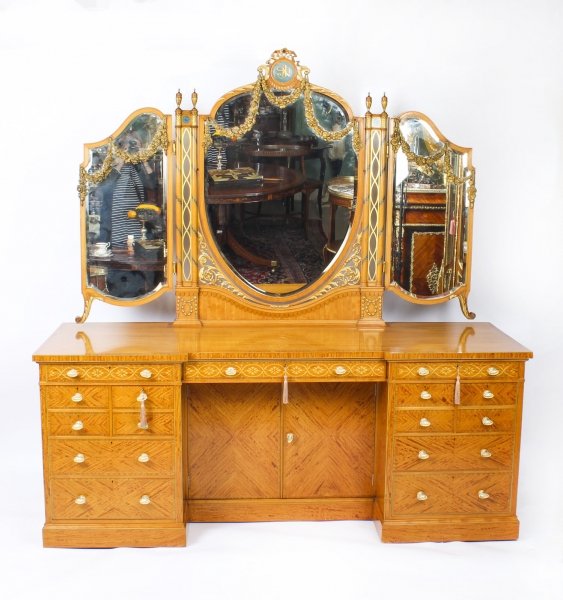 It has an adjustable triple mirror, with gilt swagged and painted detail, bearing the monogram 'SJN.' There are three drawers in the frieze as well as six further drawers in each pedestal and a pair of cupboard doors in the centre.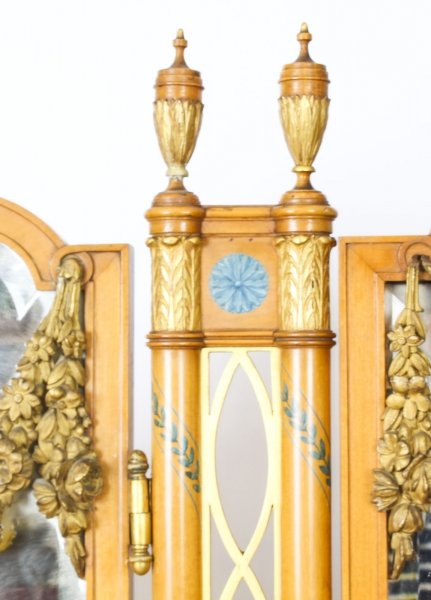 It features fabulous marquetry inlaid decoration and original locks, keys, and handles. There is no mistaking its superb quality and fantastic design, which alone is certain to become a treasured addition to any woman's antique bedroom furniture.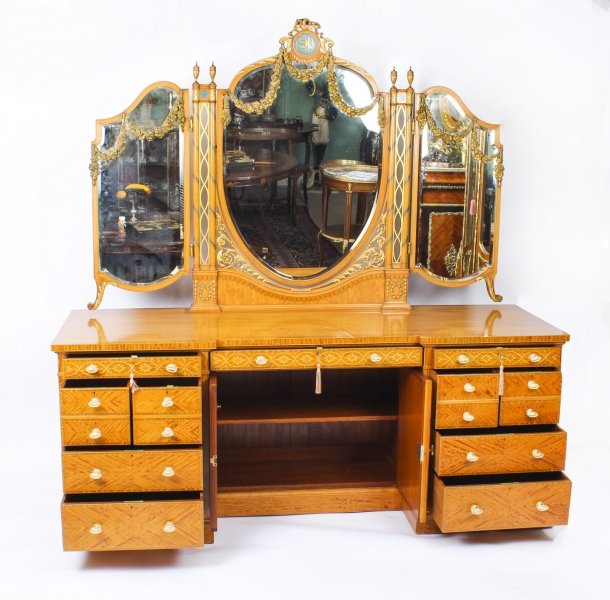 The most used item of antique bedroom furniture – the bedside cabinet 
With the exception of the bed itself, probably the most often used item of furniture in many people's bedroom is the bedside cabinet. That is why at Regent Antiques, we aim to provide our clients with an extensive range of antique bedside cabinets, usually offered in pairs, from well known manufacturers such as Gillows. 
This is a superb antique pair of French cylindrical bedside cabinets, circa 1870 in date.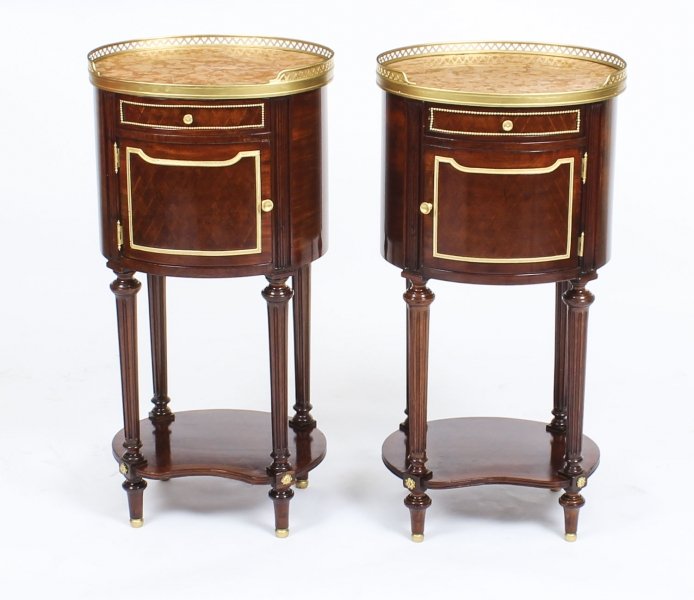 The oval tops are inset with peach coloured marble surmounted with pierced brass galleries over a single drawer with a cupboard below. Both are inlaid with stunning diamond-shaped parquetry and decorative ormolu mounts.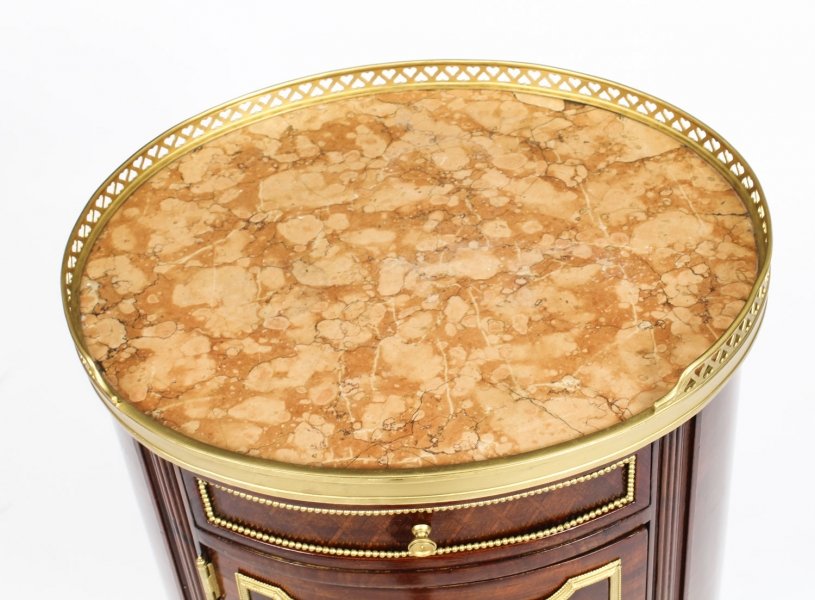 Each table is raised on four tapering fluted legs conjoined by kidney shaped stretchers.
Another excellent example is this stunning pair of antique Edwardian English Gonçalo Alves and marquetry bedside chests, circa 1890 in date.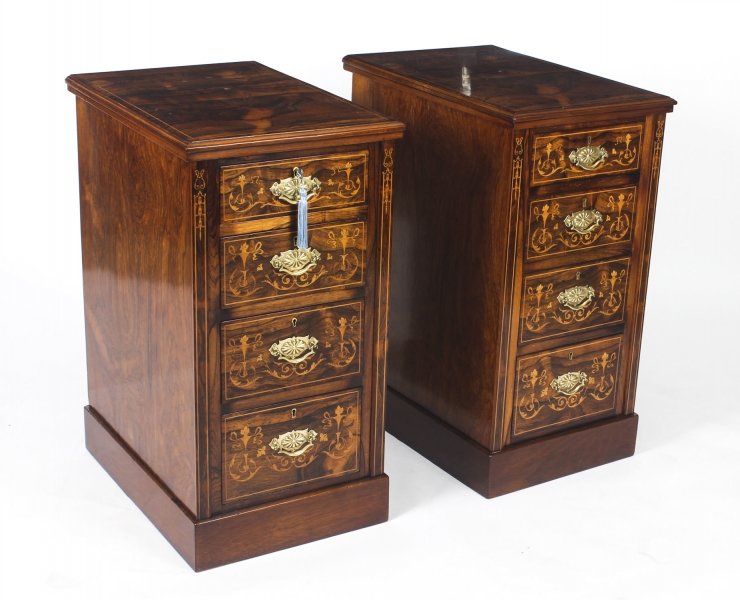 They are crafted from solid mahogany which has been veneered in the most beautiful Gonçalo Alves. They feature exquisite boxwood banded decoration to the tops, the banks of four graduated drawer fronts feature fine foliate marquetry decoration with flaming torches and ribbons. They are fitted with the original and exquisite brass drop handles that have embossed backplates and are raised on plinth bases.
You are sure to add an elegant touch to your antique bedroom furniture with this lovely pair.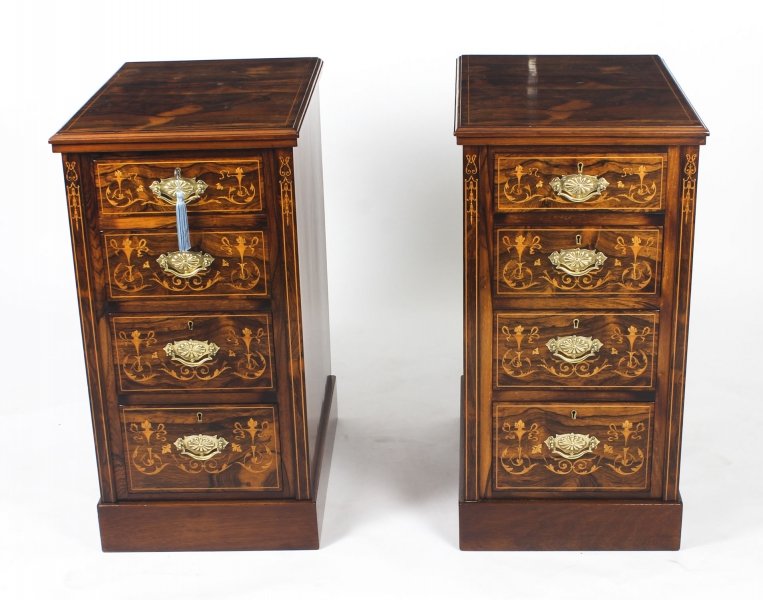 Find the antique bedroom furniture of your dreams at Regent Antiques
Whether you are equipping the main bedroom of your house or searching for antique bedroom furniture to put into an upmarket boutique hotel, Regent Antiques should definitely be on your list of places to visit, online or in person.
Whether you are looking for a fine antique four poster bed, an antique wardrobe, a period dressing table, or an antique bedside table or bedside cabinet, we always aim to have an excellent and varied range for you to choose from.