Your Guide to Victorian Furniture

In terms of furniture, the Victorian Period (1837-1901) was largely one of reproduction and imitation and was influenced by a range of styles – sometimes to be found together in one piece. Eclectic style, lots of ornamentation, dark finish, and generously upholstered furniture – these are all typical of furniture of the period. So, how do you identify Victorian antique furniture? Here are a number of features to look out for.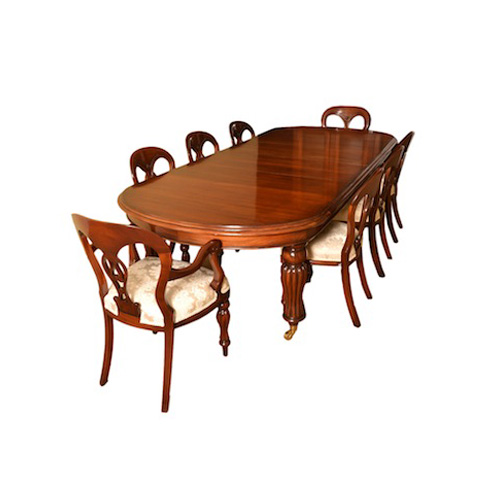 Appearance
Victorian furniture can often appear quite sombre and formal, although with some elaborate details. Chairs, for instance, will often have curved arms and a balloon-shaped back which is round at the top and tapers to the seat. Chair legs can vary and be round, straight, or with multiple turnings. The seat shape is often curved, horseshoe-shaped with a rounded front, or square. You can also find horseshoe-shaped seats with a serpentine front. The foot on chairs and other pieces is often a ball and claw design, a small round foot, or whorl. Simpler pieces don't have a foot as such, and the leg is instead straight.
Upholstery
The Victorians were generous when it came to upholstery. They liked plump seats to sit on that were cushioned and covered with fabric. Colours were usually rich, dark and lush. In terms of fabric, braid was popular, as was hair cloth – camel or horse hair – which feels stiff, or even quite coarse, to the touch. Other fabrics to look out for include velour, velvet, plush, and tapestry. Tapestry is usually heavier in weight and typically includes intricate patterns or design.
Ornamentation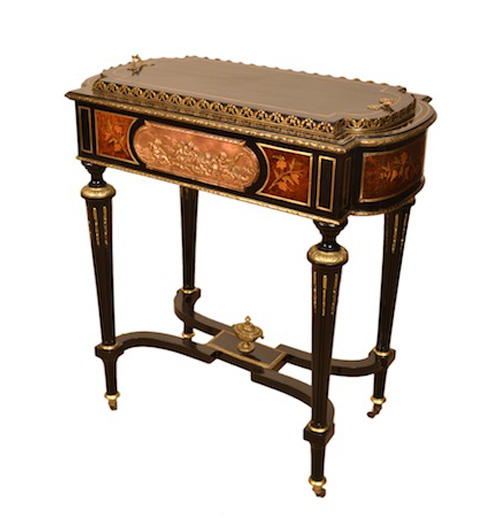 Look for motifs such as leaves or foliage, vines, and sometimes animals. Compared to the Art Nouveau movement, which came later and had similar ornamentation, the Victorians preferred angular lines and shapes. Scroll motifs were also popular. Intricately carved designs in the wood – in typically Gothic forms – is a common Victorian feature, but also fretwork, inlays of contrasting material, and turned pieces, or spindle, that are often attached to the front of case furniture.
Tassels, embossing, and layers of richly-textured material are other giveaway features – the Victorian loved frills!
Wood
Dark woods such as mahogany, rosewood, and walnut were the most common types of wood used to make Victorian furniture, although oak and ash were also sometimes used. Replicas of Victorian furniture are invariably stained to resemble the rich hues of Victorian furniture. The dovetail joint was the most popular method used to join sections of wood together.
Drawer and Door Pulls
Drawer pulls can be very elaborate, such as a carved wooden handle in the shape of leaves or fruit, and can be between 4 and 7 inches wide. Wooden, mushroom-shaped knobs are also fairly typical, but these can also be found made from glass. Glass pulls are also rosette-shaped, or round, and can be clear or iridescent. Brass rosette-shaped pulls are also typical in Victorian furniture.
Style
Victorian furniture styles were heavily influenced by Gothic designs, so look for spires, arch, and trefoil features. The Renaissance influence is to be found in the use of inlaid panels, gilt and animal motifs, and the Rococo influence can be seen in the use of shell and flower motif.