In Safe Hands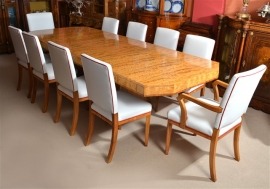 Regent Antiques is always happy to hear from those who have purchased our fine antique furniture items. As such, it pleased us greatly to receive the following message from John and Janey from the East Midlands who recently bought an antique Art Deco walnut dining table and ten chairs from our London antiques store:
'What an amazing find Regent Antiques has turned out to be. After fruitlessly searching for ages – on foot and online – for the perfect Art Deco dining suite, we were convinced it could not possibly be out there. Well, it was, and here!
Having never made such a major purchase 'remotely' before, and of course not having seen it in real life, we nevertheless took the plunge and rang and spoke to Tino, the MD. What a gentleman! He explained everything we wanted and needed to know with patience, courtesy and aplomb. We knew we were in safe hands. Tino dealt with us from start to finish, keeping us informed at every stage, including arranging first class transportation with Williams & Hill.  Simply the best we have ever experienced!
When the suite was delivered it was a 'pinch me, I'm dreaming' moment as not only is it incredibly stylish and even more beautiful in real life, it was in the most wonderful, pristine condition.
In a nutshell, this purchase is the best we've made in a very long time.
Roll on Christmas!"
This Art Deco dining set was created by Waring & Gillow, a renowned UK cabinet maker, in the 1920s. Carefully restored by our expert craftsmen, these pieces should provide many more decades of enjoyment. Boasting cream leather upholstery and beautiful French-polished blonde satin walnut, this set will be a fine addition to their home. The extra leaves on the dining table will also increase the sets flexibility for entertaining guests.
Art deco furniture is typically dominated by rich colours and bold shapes. The style originated in France and became popular during the 1920s, 30s and 40s. Furnishings made in the Art Deco style featured symmetry and geometry rather than designs that were natural or curved.
Regent Antiques stocks several of these antique pieces which, as you can see from our website, are vastly different to the flowery, organic designs of the Victorian period. Given the way that they mix classic and futuristic design, Art Deco furniture is suitable for both modern and traditional households.