Functional and Stylish Antique Coffee Tables

At Regent Antiques, you will find comfortable, functional, and beautifully-crafted antique coffee tables of various styles and designs. Whatever your taste, you may well find just the one that you are looking for.
Making the right function and design-driven choice when it comes to choosing your antique coffee table is key. It must be suitable for your living room and also go hand in hand with any sofa. At Regent Antiques, we take such things into consideration and would like to put forward the following key guidelines.
Rectangular Antique Coffee Tables 
You might consider a rectangular shape if you have a standard sofa or an extra-long sofa with chaise so that everyone can have easy access to their coffees. In that case, this magnificent luxury antique French steamer trunk on the stand/ coffee table can be the answer. This is also a great choice if you have a narrow space with minimal walk-around clearance. This stunning antique steamer trunk was made by the world-famous Parisian trunkmaker Au Départ, founded in Paris in 1834. Made in sumptuous leather and beautifully brass bound, it is in absolutely superb condition for its age and makes a strong statement. The inside of the trunk has the original Au Départ label "Malletier Depuis 1834." It comes with its original stand, making it ideal to be used as a chic coffee table. A superb luxury piece which will look stunning as a centrepiece in any living room.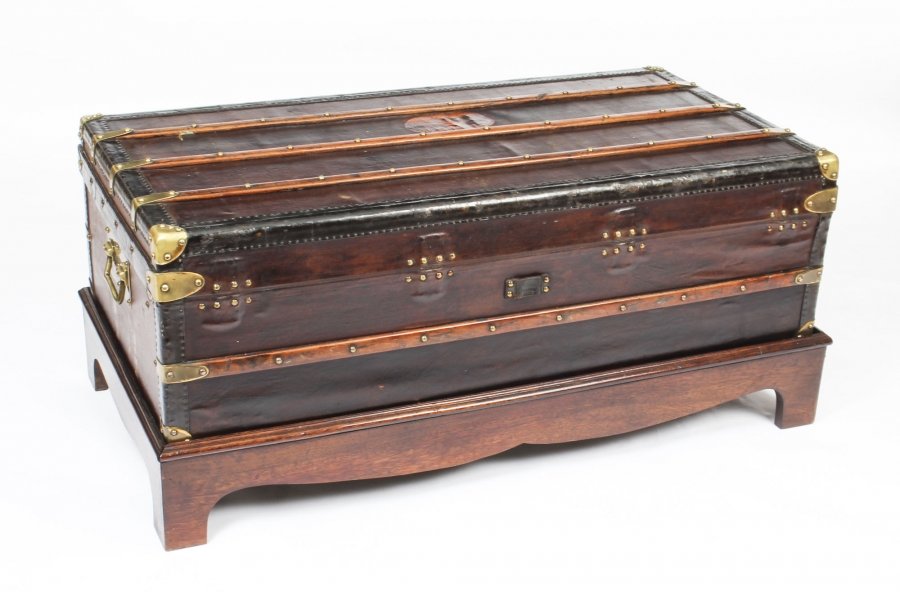 If you have a large living room, a rectangular coffee table like this exquisite vintage ormolu-mounted walnut and kingwood marble top coffee table is a great option to balance the space. This wonderful coffee table has four elegant and stylish tapering fluted legs. The frieze features stunning circular porcelain plaques that depict various romantic scenes of courting couples set in highly decorative ormolu frames. The top of the coffee table has a magnificent white marble top which adds extra splendour to this stunning piece of furniture. You are sure to add a touch of unparalleled opulence to a special room in your home with this impressive coffee table.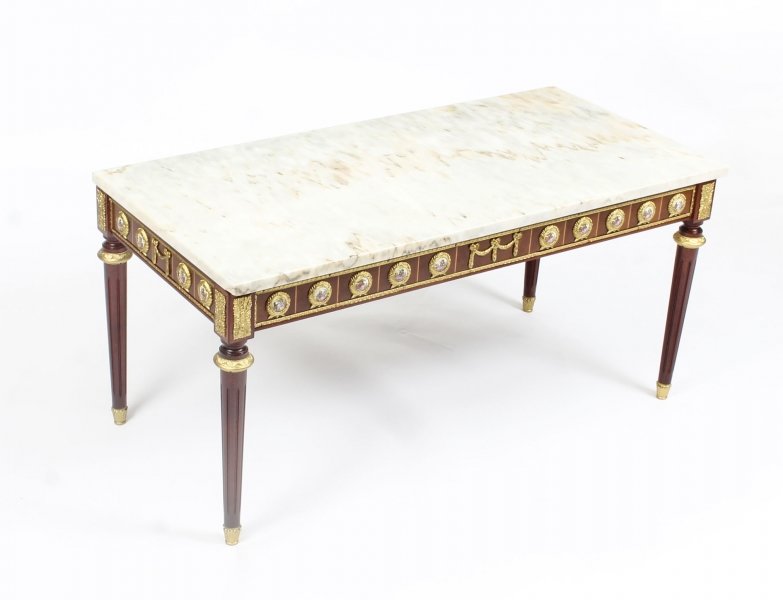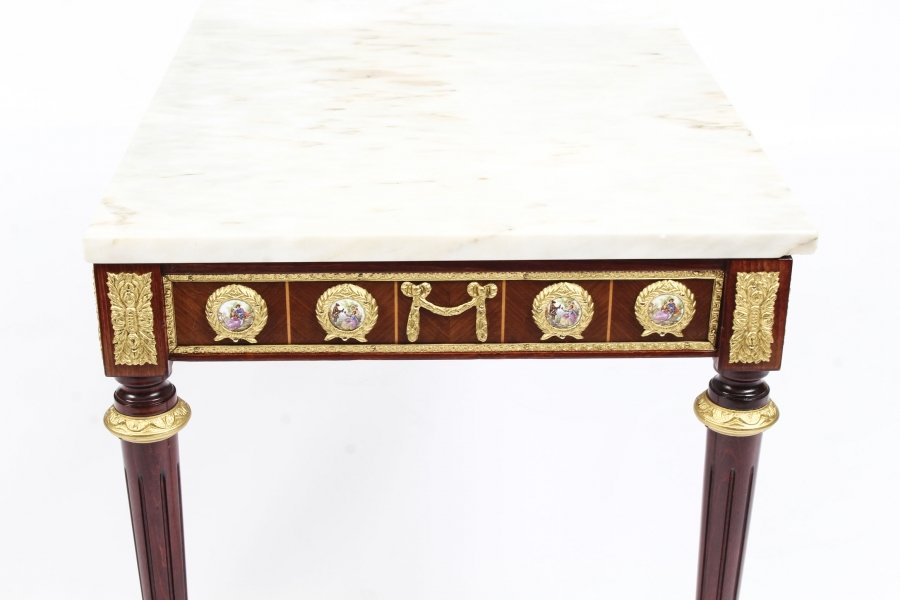 Coffee Tables to Impress – The Hollywood Regency style
If you're into making a bit more of a statement, you can still be impressed with what you can find at Regent Antiques. Consider, for example, this truly stunning Hollywood Regency plate glass and giltwood coffee table in timeless classical style, dating from the middle of the 20th Century. Hollywood Regency, sometimes called Regency Moderne, is a design style that describes both interior design and landscape architecture characterised by the bold use of colour and contrast often with metallic and glass accents meant to signify both opulence and comfort. It is a style meant to feel frivolously overdone and pleasantly and extravagantly unbalanced – yet sleek and modern. Our coffee table in particular features a clear glass top which helps things appear more visually open – all on a pair of giltwood and painted winged Sphinx supports.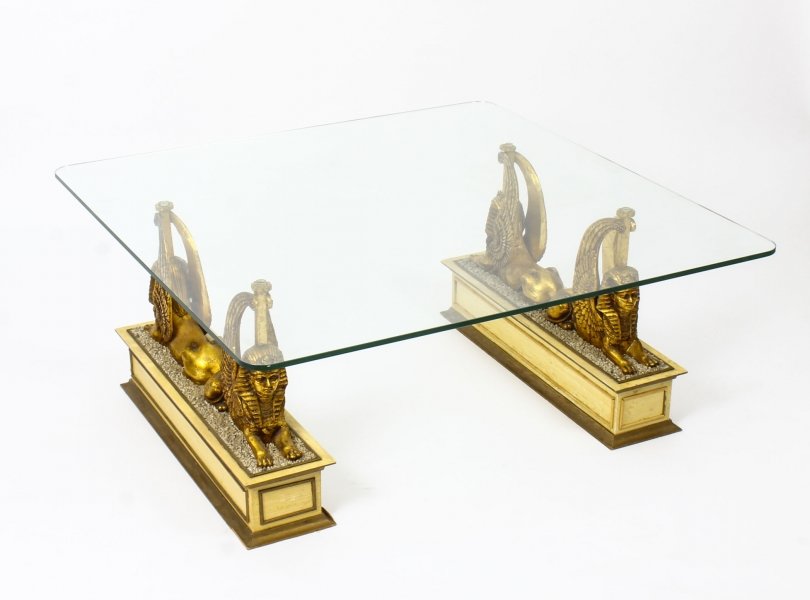 Not just antique coffee tables…
Sometimes it just isn't possible to find exactly what you need in an item of antique furniture. Perhaps you need something a bit larger or smaller than usual, or a piece with an unusual design. Maybe you would like a bespoke item. For example, if you look for a coffee table which is great for putting in your favourite curiosities and trinkets but still having plenty of surface area for your coffees, you may well consider having something like this beautiful bespoke contemporary burr walnut coffee table with two useful and spacious drawers. Featuring a large surface with a beautiful finish, this coffee table has two oak-lined drawers for convenient storage with a full-sized open shelf at the base for storing magazines and books. There is no mistaking its unique quality and striking design, which is certain to make this table a talking point in your home, adding sparkle to your reception room.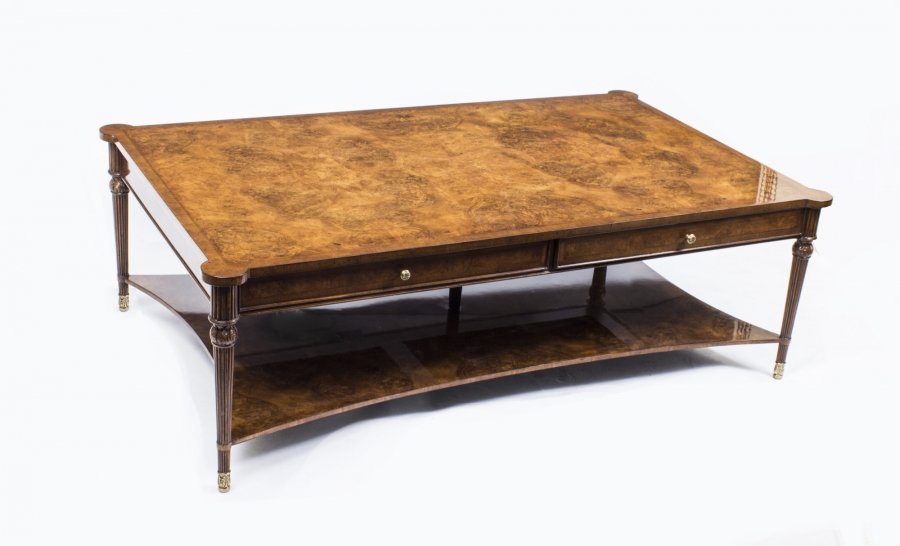 Finally, if you regularly eat in front of your TV whether by choice or because you don't actually have a formal dining area, a bespoke leather buttoned stool could be very useful as a beautiful and comfortable coffee table. It features fantastic turned mahogany legs that terminate in brass castors and sumptuous leather upholstery in a beautiful colour that we call caramel.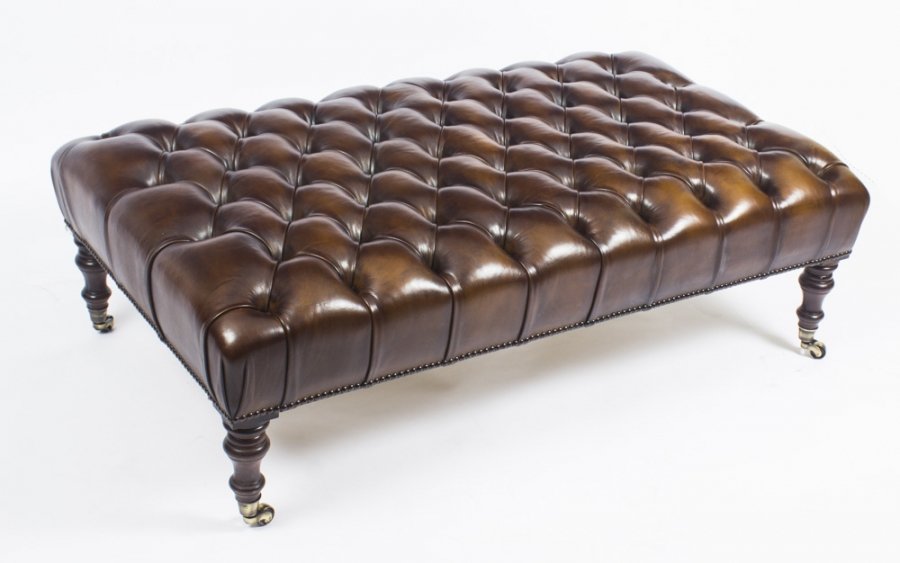 At Regent Antiques, we do also offer a wide range of the finest antique console tables – typically placed against a wall, often in situations where space is at a premium. They could be a great alternative to the traditional coffee table. 
And, if you like to taste your coffee in bed in the morning, consider something like a pair of bedside tables. Something like these large marble-topped bedside tables in stunning Empire style could be just perfect to hold your serving trays and cups while enjoying your breakfast!