Choose from a Wide Range of Antique Desk Chairs

Whether you need a stylish yet comfortable antique desk chair or something soft to relax in while at work, Regent Antiques have the perfect antique desk chair for you.
Our desk chairs are sturdy and well-built using choice materials that looked good when first made, look great now, and will still look good in hundreds of years with just a little care and attention. A perfect example is this truly spectacular Empire tub back desk chair, circa 1820 in date. It is made of solid mahogany and has beautifully carved spiral scroll arms, with a solid curvaceous back. The seat is upholstered in a fabulous sage green sumptuous leather with brass studs. The front legs have a gentle scroll while the back legs have their original brass and porcelain castors.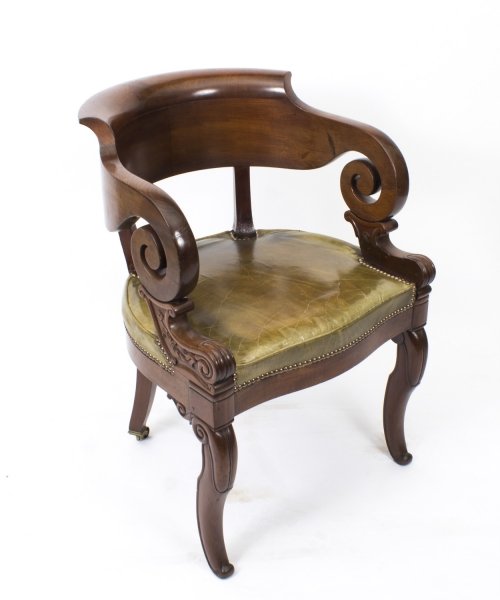 Antique Desk Chairs Skillfully Reupholstered
At Regent Antiques, you can select from a wide range of beautiful antique desk chairs, many of which have been skillfully reupholstered and restored by craftsmen in our own well-equipped workshops. Take for example this beautiful antique Louis Revival mahogany armchair, dating from the late 19th Century, which has been skillfully carved from solid mahogany and beautifully reupholstered in gold damask.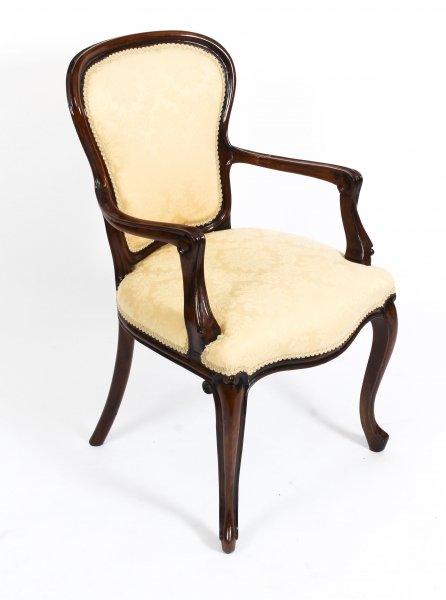 If you look for that regal look, you may be interested in something like this splendid pair of Empire Revival mahogany armchairs dating from the second half of the 20th century.  The mahogany is a beautiful rich colour and has been embellished with striking ormolu mounts. The chairs have been upholstered in a sumptuous burgundy and gold patterned damask.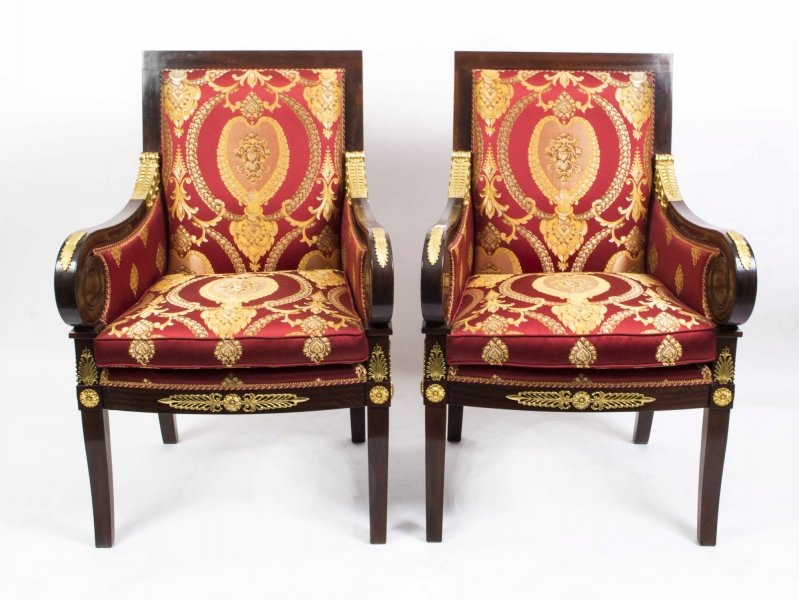 To keep with the regal and golden theme, you could prefer something like this wonderful antique pair of Napoleon III style mahogany and giltwood Empire Revival armchairs, late 20th century in date. What is special about this pair is that the mahogany is beautiful in colour and has been embellished with striking gilded highlights The seats have been beautifully upholstered in a striking golden silky fabric and the chairs are raised on turned, reeded and tapering front legs, with sabre legs to the rear.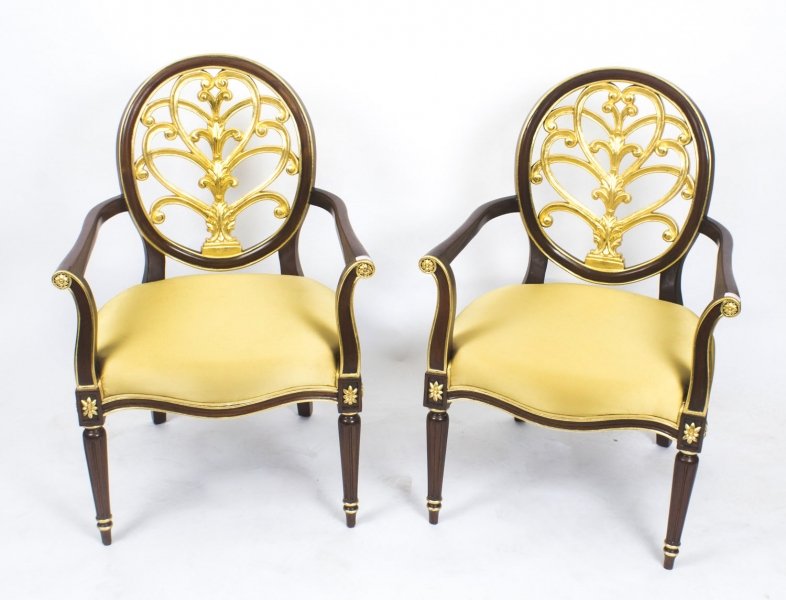 Magnificent Library Chairs
If you require special chairs to go to a study room setting, a superb pair of large leather library chairs like these could be the answer. These chairs have been masterfully crafted in beautiful solid mahogany, featuring hand-carved birds of prey decoration and are beautifully upholstered in olive green leather. The arms terminate in carved eagle heads and they are raised on mask carved cabriole legs that terminate in claw and ball feet. Indeed, they will enhance any study room in which they are placed.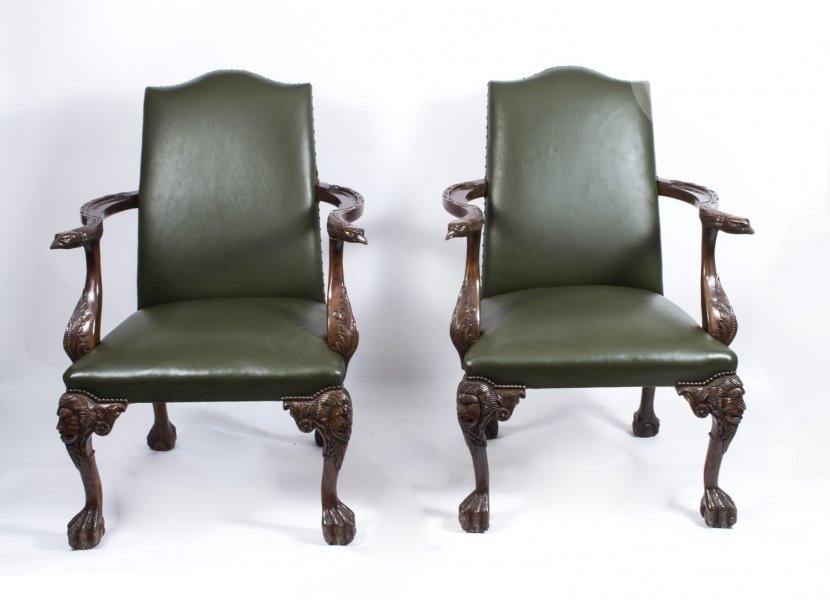 You can always be sure to find something rare and wonderful at Regent Antiques.  As an illustration, here is an impressive pair of William IV Cuban flame mahogany library elbow chairs, circa 1830 in date. Each chair has a stylish shaped and curved top rail with an interlaced scroll splat with downswept arms that have a wonderful curve above a leather serpentine seat. They are raised on cabriole front legs with outswept rear legs. The fabulous grain of the flame mahogany blends very well with the sumptuous leather seat.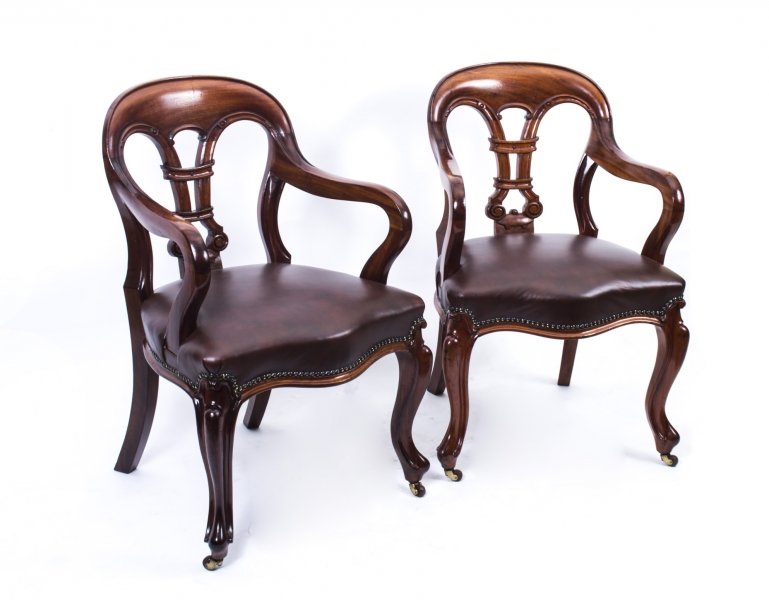 English handmade leather Captains chairs
As we set out at the beginning of this post, the range of desk chairs available at Regent Antiques is extensive. We provided above some fine examples of different styles, periods and design of antique desk chairs, but that indeed is just a little taste.
One of our most popular ranges of chairs is our English handmade leather Captains chair and other new leather upholstered office chairs. If you are looking for a super comfortable and imposing office chair then you need look no further than these beauties. All are handmade and assembled by craftsmen in England and available in a number of different colours of leather. The sumptuous leather Captains chair is a particular favourite although others such as the leather Directors chair and the leather Gainsborough chair also appeal to many of our customers and are available in a variety of leather colours.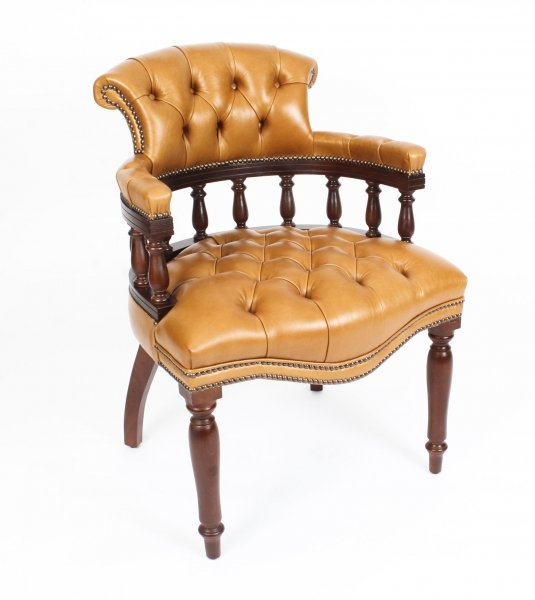 (An absolutely stunning bespoke leather Captains chair in a beautiful buckskin colour)
To Sum It All Up
As you will probably spend quite a lot of time sitting and working at your antique desk on a daily basis, we appreciate that you need to have the right desk chair, something that actually makes you want to work. It is with that in mind that we are proud to offer for sale such a wide variety of desk chairs, all of the highest quality, comfort, and attractiveness.