Fine Antique Writing Tables Offer Comfort and Elegance

At Regent Antiques, we offer an impressive range of antique writing tables to suit authors, copywriters, journalists and anyone else who just wants to write a letter.
These days of course you're much more likely to be composing an email than writing with an old fashioned pen. Whatever your preference, we aim to provide you with an inspiring, comfortable, attractive and versatile writing surface on which to compose your literary masterpiece or perhaps just your shopping list.
Where you write is as important as what you write
We take huge pleasure in presenting this beautiful mahogany, satinwood and marquetry antique Carlton House writing table by the renowned London retailer and cabinet maker Druce & Co, dating from around 1880.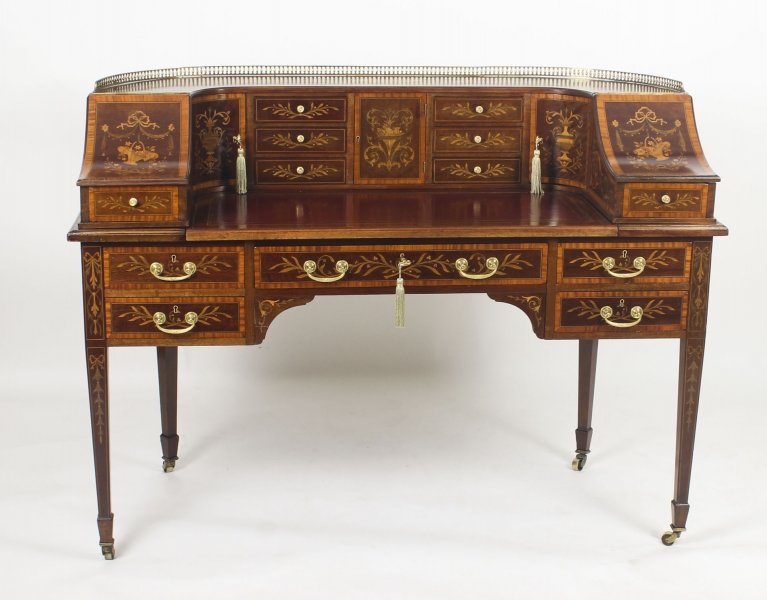 The top of this antique Carlton House writing table is surmounted with a decorative brass gallery and inlaid with stunning marquetry of baskets of flowers, swags and swirls, a musical trophy, and scrolling foliage. The decoration extends right around to the back of the piece, which features classical urns and a prominent scallop shell.
Matching functionality with elegance, this antique Carlton House desk has plenty of storage compartments to accommodate all of your stationery. In addition to the eight smaller drawers and five cupboards on top of the desk, there are five larger drawers below. To complete the piece, the top has been expertly refined with a fine quality gilt-tooled oxblood leather inset sliding writing surface. The central drawer bears the embossed brass trade label of Druce & Co.
This antique Carlton House desk stands on four elegant tapering legs that terminate in their original brass castors. Its authenticity is unimpeachable, and all the locks, handles, keys and castors are present and original. Better still, it is finished all around so it can be displayed in pride of place anywhere in your home.
This astonishing piece, redolent with history, is as useful as it is beautiful and is sure to prove the centrepiece of your collection, attracting admiring looks wherever it is displayed.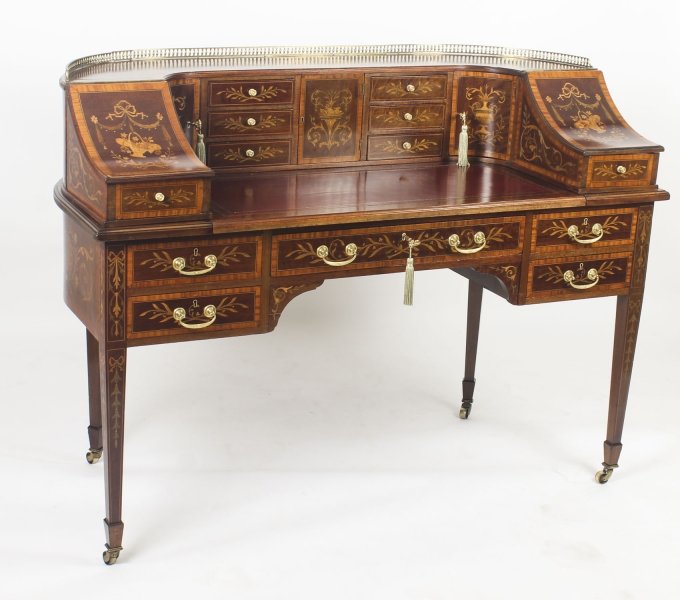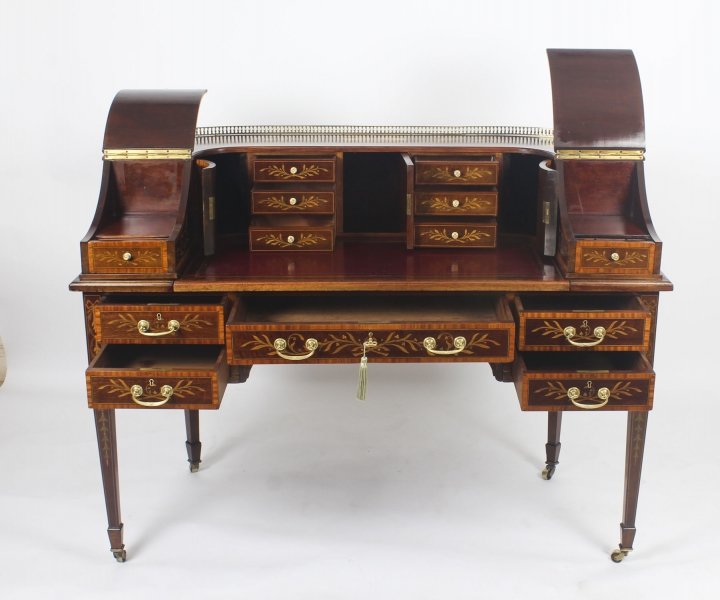 Pick a French writing table for all-around elegance
Secondly, we're going to take a look at this fine antique French writing table with porcelain plaques which dates from around 1780.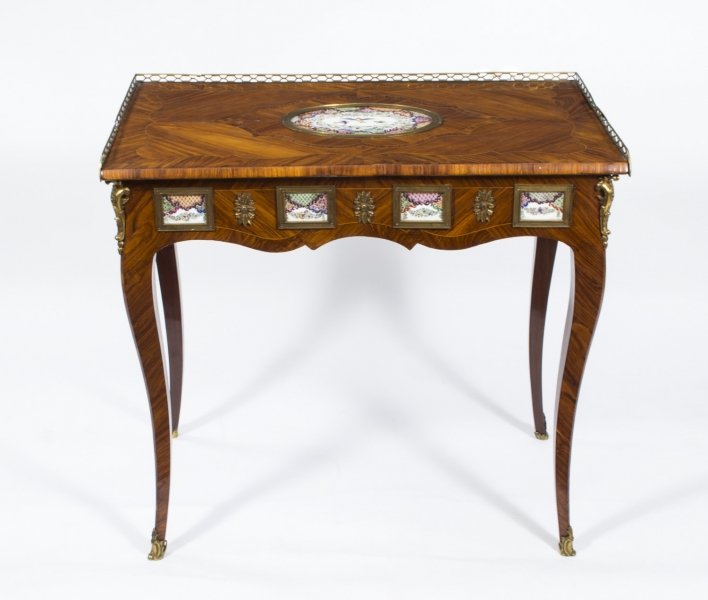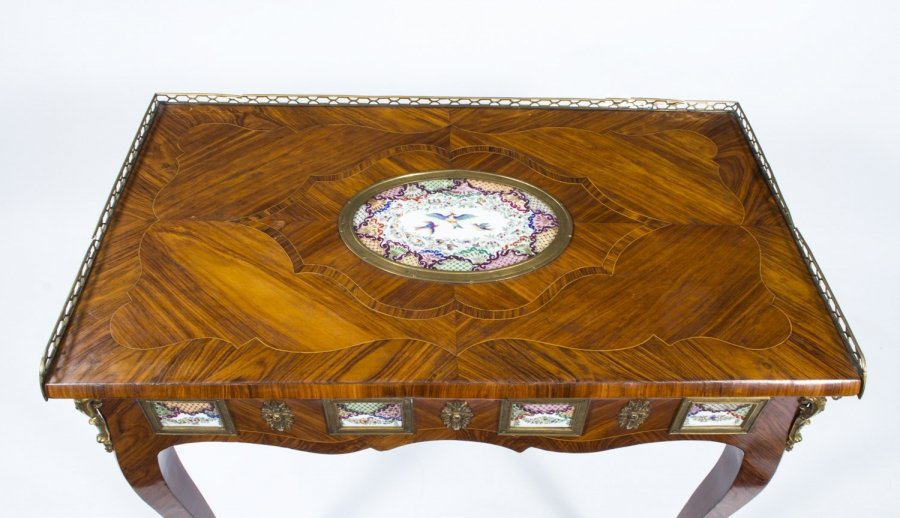 This late 18th-century antique French kingwood writing table has been beautifully decorated with lovely ormolu mounts and also features a number of attractive Sevres style hand-painted porcelain plaques as shown in the photographs we have provided.
The writing table top is rectangular and has been fashioned in kingwood. It is fitted with a very attractive three quarter brass gallery. Furthermore, it has line inlay, rosewood crossbanding, and a delightful centrally-mounted porcelain plaque.
This French writing table has a frieze drawer fitted to one side but please note that it is finished all around, with all four sides being similarly decorated with the Sevres porcelain plaques which are set in attractive ormolu mounts.
The all-around finish means, of course, that this writing table does not need to be placed against a wall. Instead it can be situated anywhere in a room and admired from any direction. A versatile and very practical item of furniture, we are sure you will agree.
The writing table is mounted on elegant and very sturdy cabriole legs, each of which have ormolu mounts situated on the knees and terminating in ormolu sabots.
This antique French writing table is in truly excellent condition as the photographs confirm. It is offered for sale at a very reasonable cost and is sure to attract attention wherever it is placed. This compact and elegant item of antique furniture does not take up too much space yet provides a lovely space in which to work. The storage space is also very welcome, even on a fairly small piece such as this.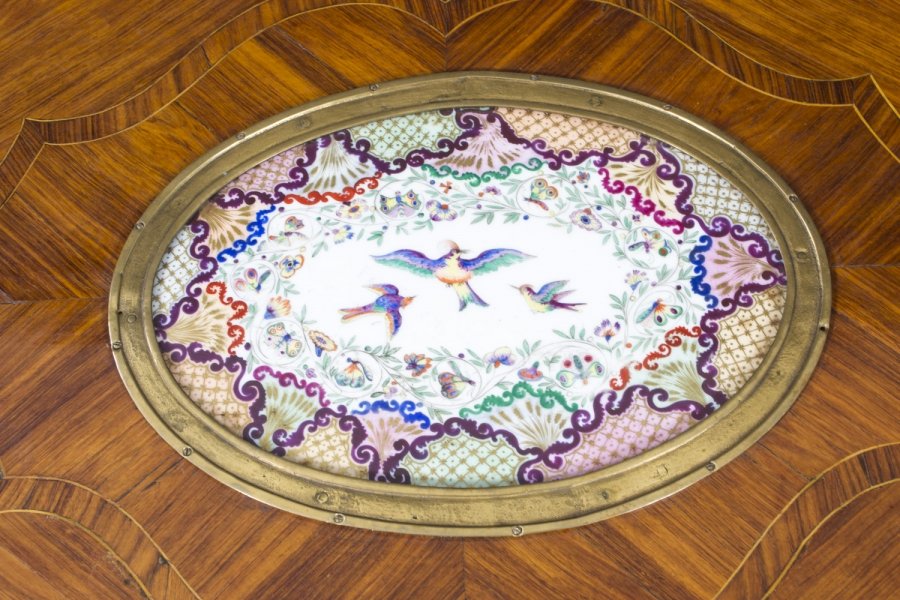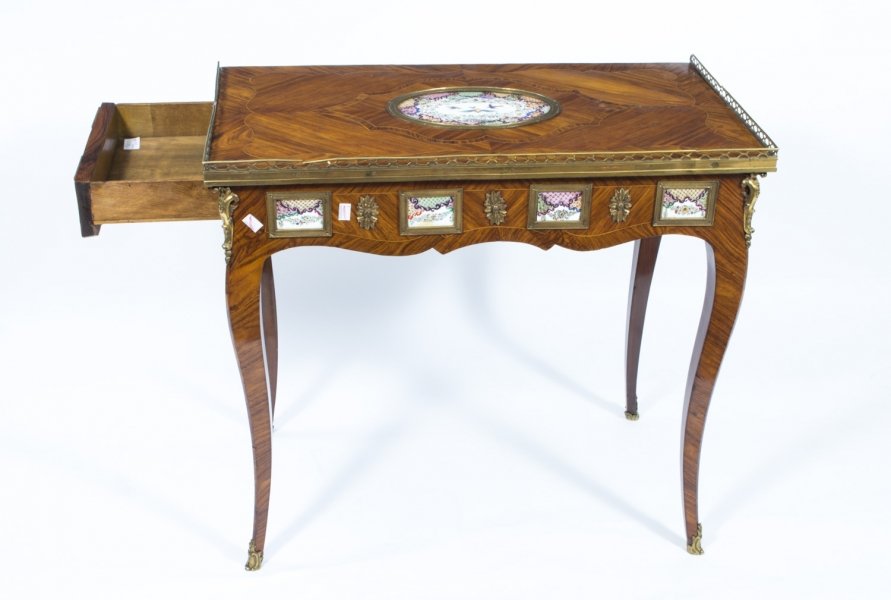 Next, another simply stunning French antique writing table, crafted from burr walnut and positively dripping with exquisite and intricate marquetry, dating from around 1850.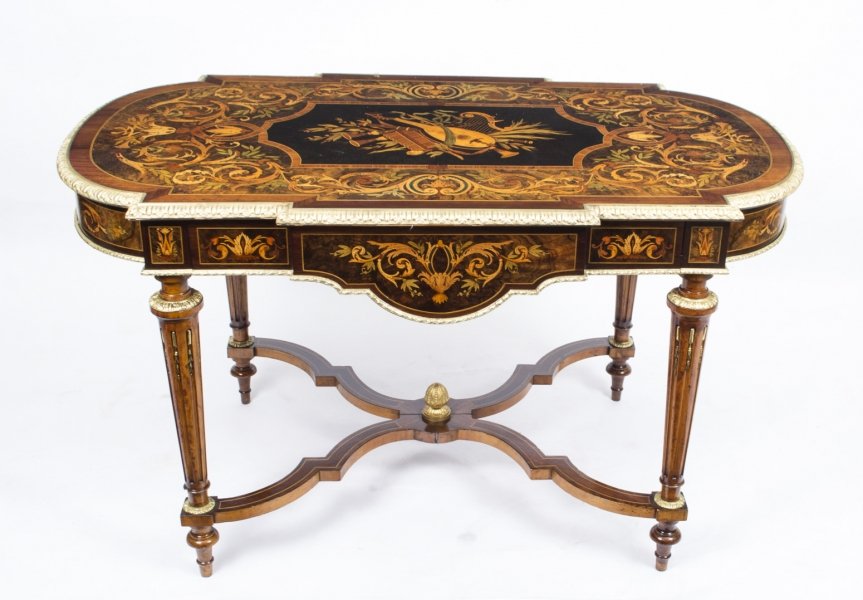 This truly astonishing antique writing table features beautiful marquetry decoration of kingwood, rosewood, tulipwood and purple heart with elegant ormolu borders. The central panel is beautifully inlaid with musical instruments on a flower-filled ebony ground. But beauty does not come at the expense of functionality, as the table also has a useful and capacious frieze drawer which is fitted with the original working lock and key.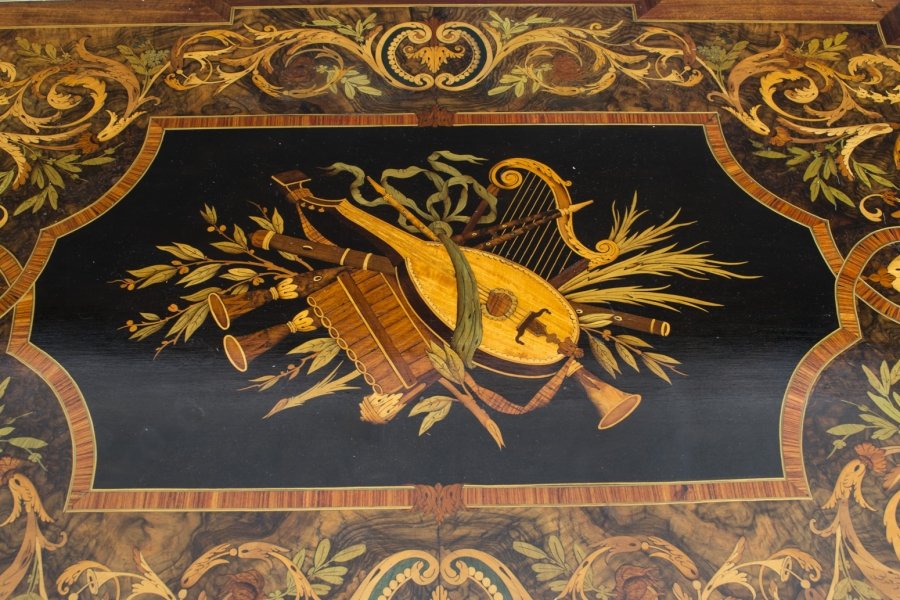 The table stands on turned and reeded legs joined by inlaid X-stretchers with striking central ormolu mounted turned finials. Words really cannot do justice to the breathtaking beauty of this antique bureau plat. It will render your guests simply speechless!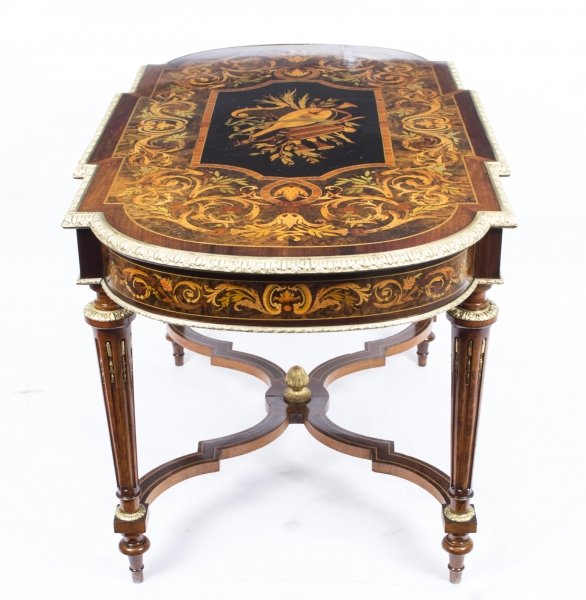 Victorian writing tables – Among the many things the Victorians did for us
Lovers of Victorian furniture look no further. We are delighted to be able to offer for sale this fantastic antique writing table dating from the 19th Century. This Victorian library centre table is oval in shape and fashioned from beautiful flame mahogany which has been polished to perfection.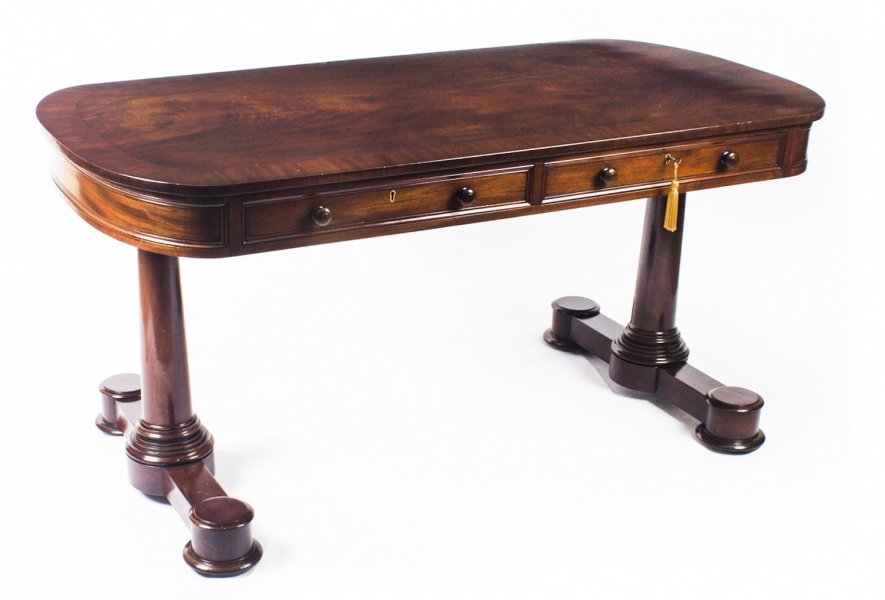 The top of this lovely antique writing table features a border that has crossbanded decoration. This Victorian library centre table rises on two plain columns and stands on four circular-shaped pad feet. This gives a very sturdy feel and one can well imagine it stacked high with precious books, yet leaving enough room for writing space.
It also has two spacious drawers accessed from one side, with dummy drawers on the other side, and comes complete with working locks and key. This design ensures that this antique writing table can be placed in any part of a room, including the centre. At 153cm (5ft), its size means that it can be placed in most rooms without overwhelming the space.
Flame mahogany has been the wood of choice for master cabinet makers and craftsmen throughout the centuries. Thomas Sheraton in the 18th century extolled the virtues of the wood: strong, worked easily and with beautiful figuring that could be polished up well enough to be 'an ornament in any room in which it's placed.' This can certainly be seen from this gorgeous Victorian library centre table. The flame element of mahogany is revealed by slicing through the part of the branch that joins with another part of the tree.
This fantastic antique writing table is sure to be a talking point in any room that you place it, especially one that has a Victorian-inspired decor and ambience as it really typifies the excellent craftsmanship of the era.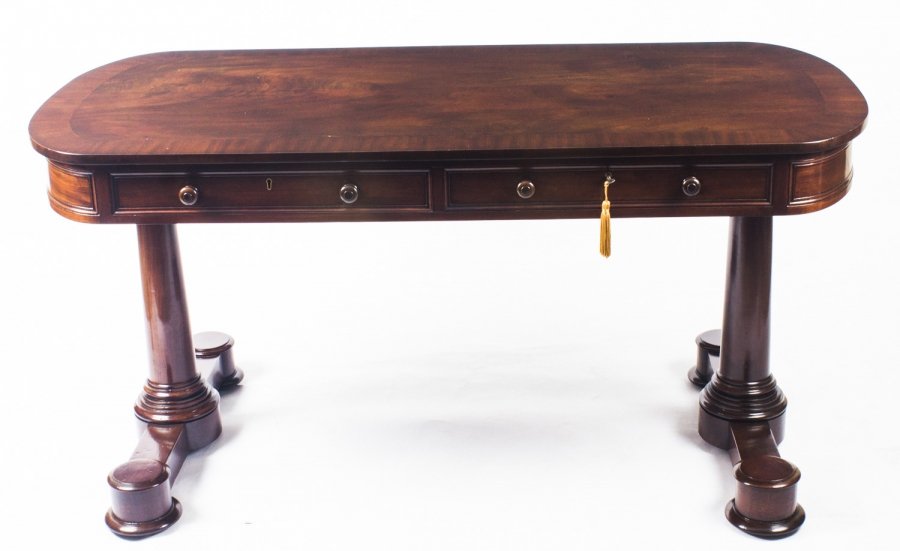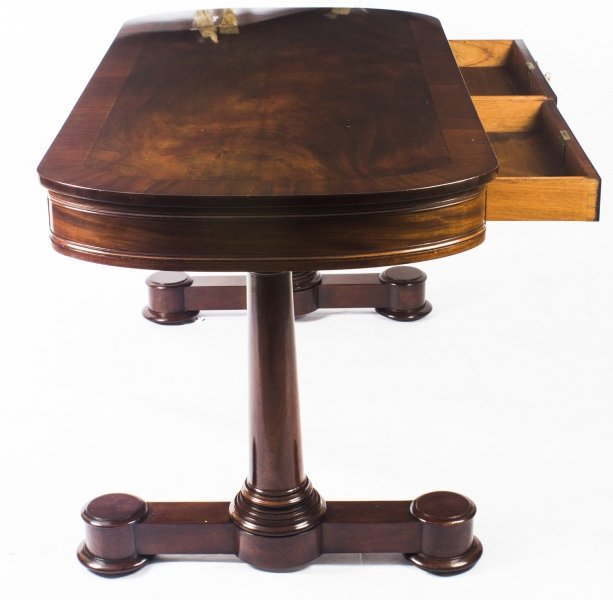 Our fifth and final piece is this fabulous Victorian kidney-shaped writing table of burr walnut and amboyna wood, with fabulous decorative ormolu mounts, dating from around 1850. It is stamped with the name of the world famous cabinet maker and designer Gillow.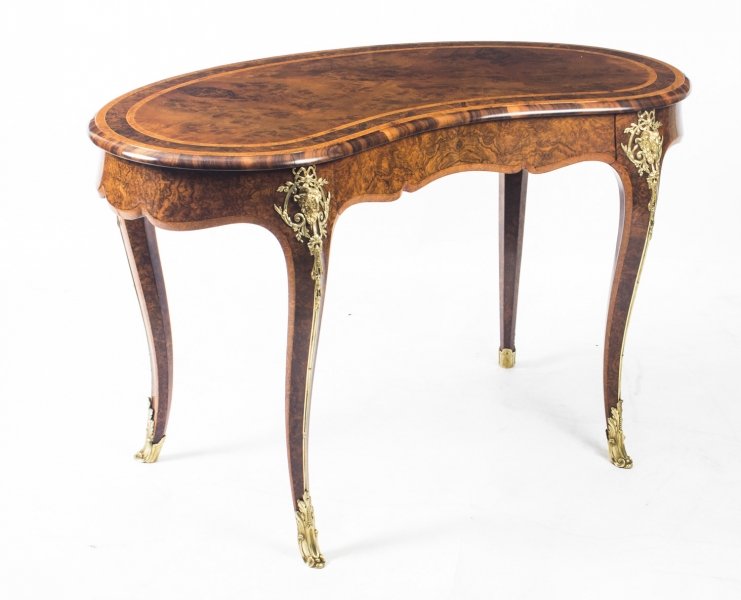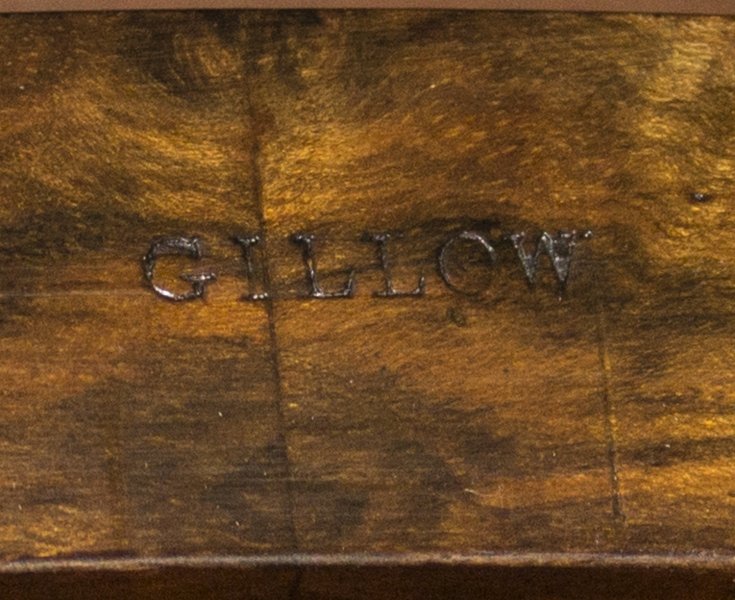 A Gillow antique bureau plat of this quality is rare indeed, and this Victorian kidney-shaped writing table is elegance personified. It features fabulous decorative ormolu mounts, amboyna crossbanded decoration and a single drawer, where you can find the stamp of the renowned cabinet maker and designer Gillow. To finish, the table is raised on elegant and impossibly slender cabriole legs that terminate in ormolu sabots.
This really is the work of a master craftsman, with the burr walnut complemented by the superb intricate gilded ormolu mounts which adorn this piece. As if that weren't enough, this Gillow antique bureau plat is finished on all sides so that it can stand freely in the middle of a room and attract admiring looks.
This Victorian kidney-shaped writing table is in exceptional condition having been beautifully cleaned and polished in our workshops. Please take a few moments to look at the images we have provided to assure yourself.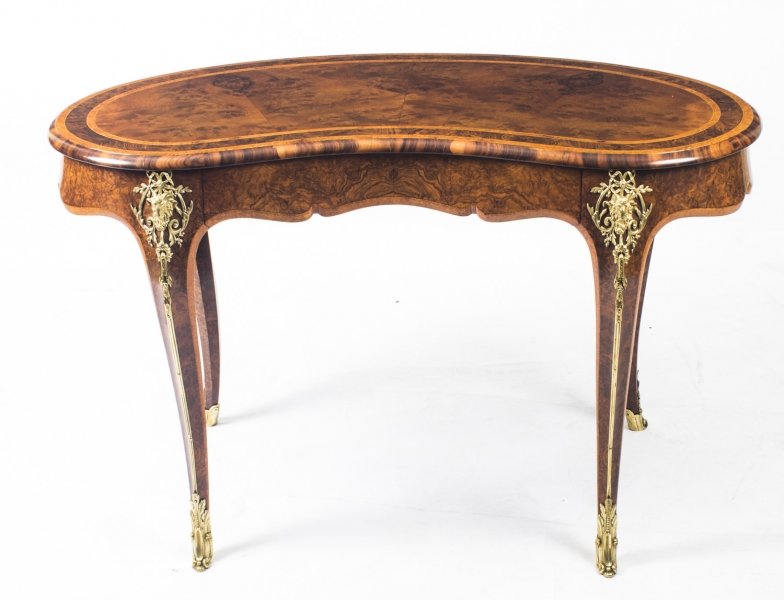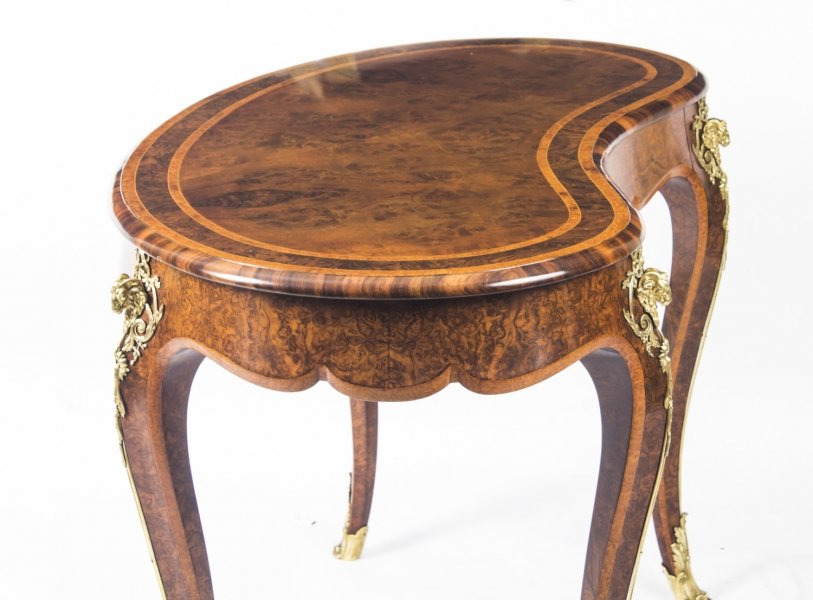 View these beautiful antique writing tables personally
We're certain you will agree that it's a good idea to see important items such as these antique writing tables face-to-face prior to buying. Being mindful of this, we are always happy to greet you at our North London showroom so you can have a look at these pieces for yourself. Whilst you are here you will also be able to review our wide range of other excellent products and also talk over any questions or points that you might have. Our team are available to you to reply to queries, not simply about these writing tables but also regarding antiques and collectibles more generally. They've got quite a bit of expertise and are always happy to advise.
However, if you are unable to travel to us, then we are always pleased to respond to any requests you may have by email or telephone. We will be pleased to support you with any aspect of your intended purchase, so why not take the opportunity to get more information? When you contact us please don't forget to give the item reference number so we know which of our various pieces you are speaking about.