The Timeless Allure of Art Deco

In this post, you will discover the irresistible allure of Art Deco design and find some stunning examples to introduce into a special place in your home.
Art Deco is a visual arts style that became popular in the 1920s, 30s, and 40s before waning after the Second World War. Its name is short for 'Arts Decoratifs' and was taken from the Exposition Internationale des Arts Decoratifs et Industriels Modernes (International Exposition of Modern Decorative and Industrial Arts) held in Paris in 1925.
The style is characterised by bold geometric shapes, rich colours, and lavish ornamentation that combines craft motifs with machine age imagery and materials. It emerged from the interwar period where art and culture were being transformed by rapid industrialisation.
In its heyday, it came to represent glamour, exuberance, and luxury together with faith in technological and social progress.
We at Regent Antiques stay true to this mantra when selecting Art Deco furniture, mirrored furniture, or decorative objects to offer for sale in our showrooms or on our website.
Stylish Art Deco Cloud Back Armchairs
We are thrilled to be able to provide this unusual and noteworthy pair of white leather Art Deco Cloud Back Armchairs, dating from around 1930. They were made by the well known London-based designers Epstein.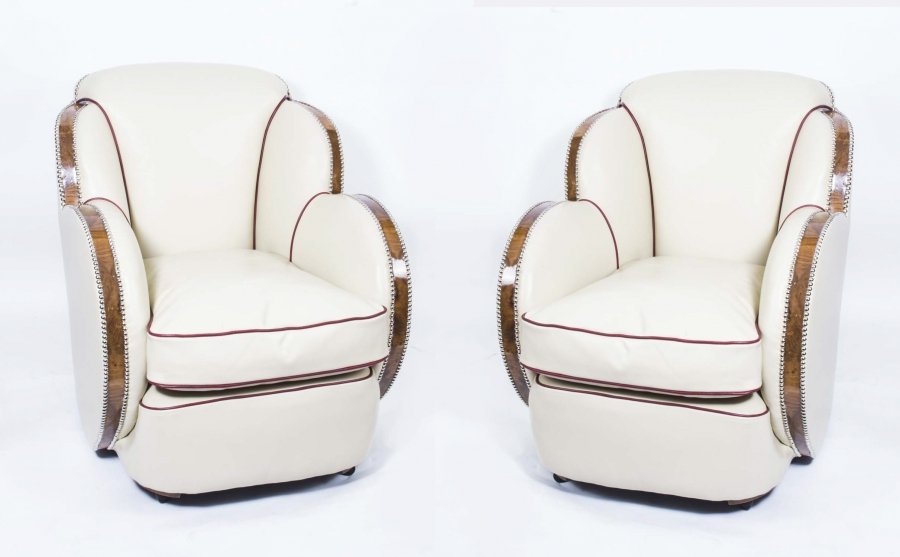 Each of these Art Deco Armchairs is made in the characteristic cloud shape of the period with a comfortable cushion seat and finished in gorgeous burr walnut show wood.
Having been stripped back in order to return to the original bare frame, these two wonderful Art Deco chairs have been professionally reupholstered in a delightful cream coloured leather decorated with red leather piping and individual chrome studs. All the studs are individually hammered by hand and the filling is canvas, fibre and felt.
All lovers of antique Art Deco furniture as well as collectors of Epstein pieces will surely appreciate these Art Deco chairs. You are encouraged to take a close look at the gallery of photographs we have provided to fully appreciate these items.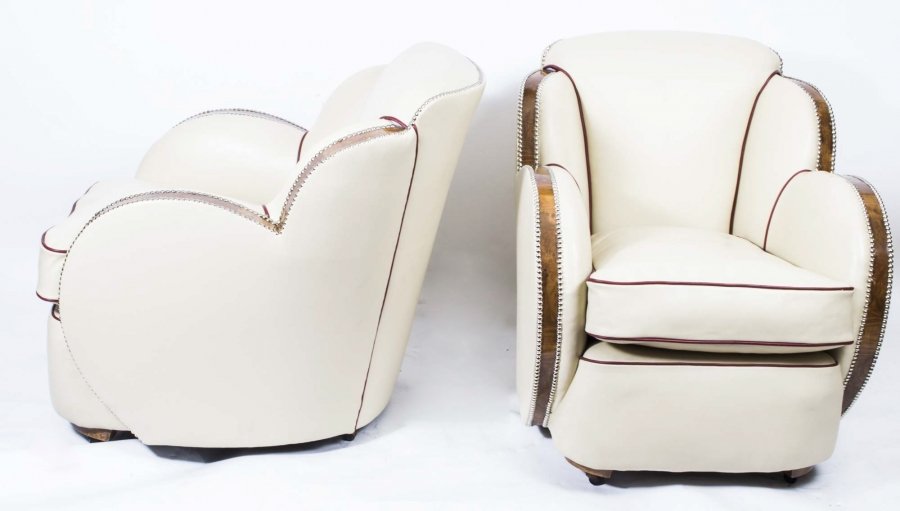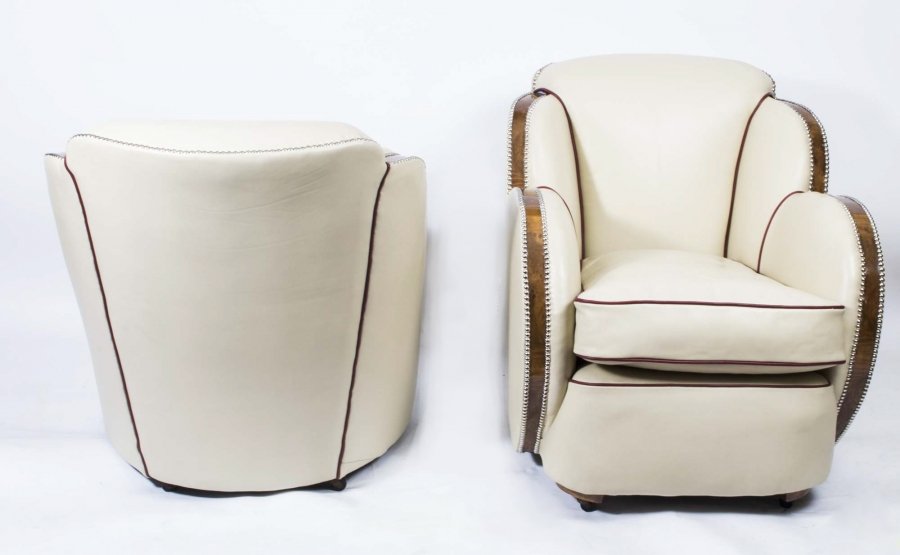 A functional and very attractive cocktail cabinet
Another fantastic example is this antique Art Deco burr walnut bow-fronted cocktail cabinet, circa 1930 in date and in the manner of Epstein.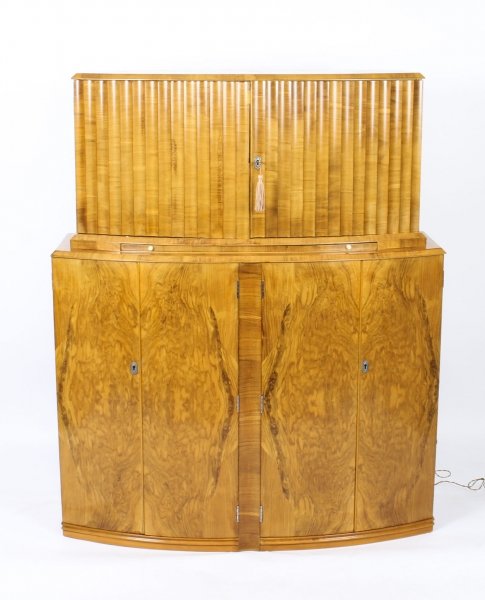 This beautiful cabinet's upper part comprises a pair of ripple-panelled doors enclosing a striking fitted mirrored interior above a pull out mirrored mixing shelf. The lower part has a four-door cupboard that opens to house bottles. It is fitted with lights that have been rewired so as to be in working order.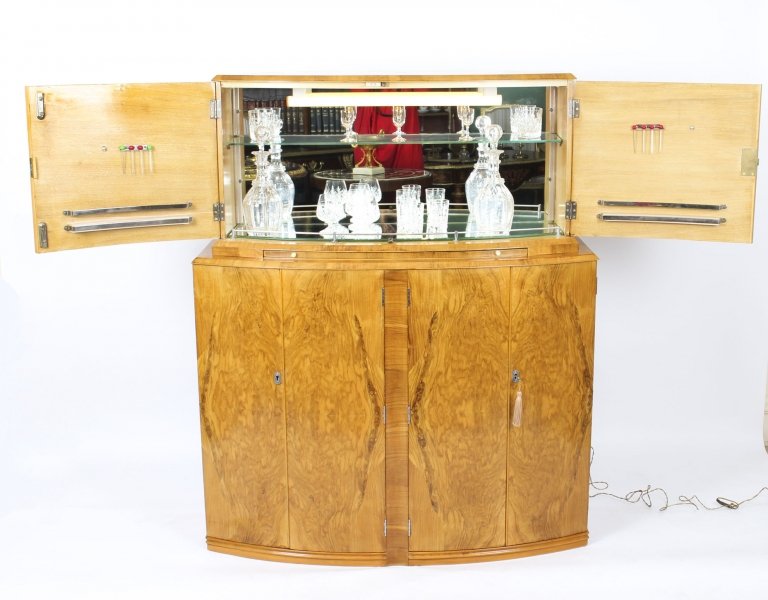 There is no mistaking the timeless appeal of this highly collectable item. This cocktail bar would be a wonderful addition to your lounge or family room and is sure to get noticed wherever it is placed. Please note that the glasses are not included.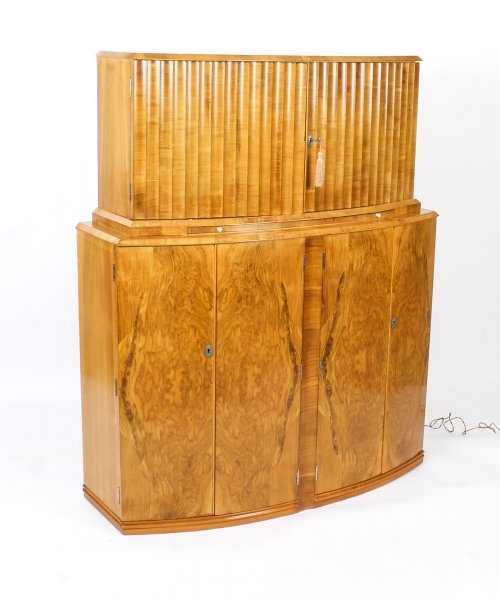 A stunning black lacquer Westminster chiming longcase clock
Our third choice for today's review of Art Deco items is this elegant English black lacquer Westminster chiming longcase clock made in London, circa 1935 in date.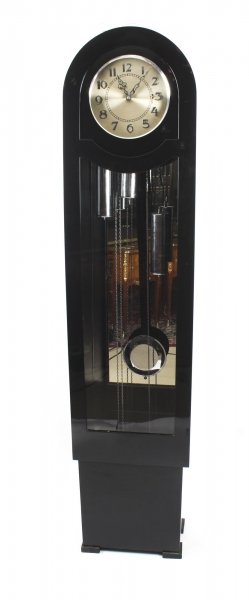 The clock features a hinged glazed door on a boxed frame and a burnished silvered dial with chrome numerals.
It has three cylindrical chrome weights and a chrome pendulum, and the clock is wound by pulling the three chains. It strikes at the quarter, half, and full hour and plays the Westminster chimes.
The movement bears the patent no. 554 626 which was taken out in 1932 by Joseph Kieninger of Aldingen, and refers to the Westminster chiming mechanism. The movement also bears the serial number 25925.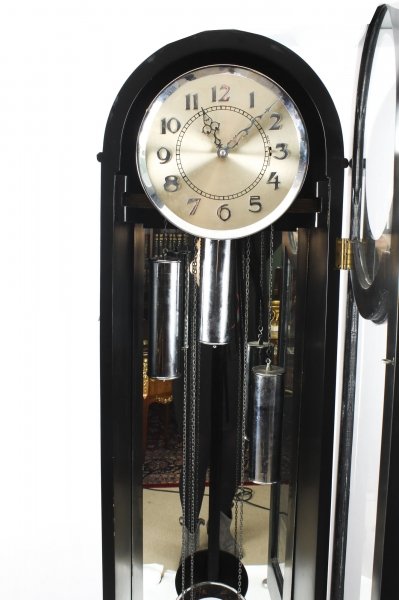 It's tea time!
This is a wonderful antique Art Deco English tea set made by Grindley of Stoke, England, circa 1925.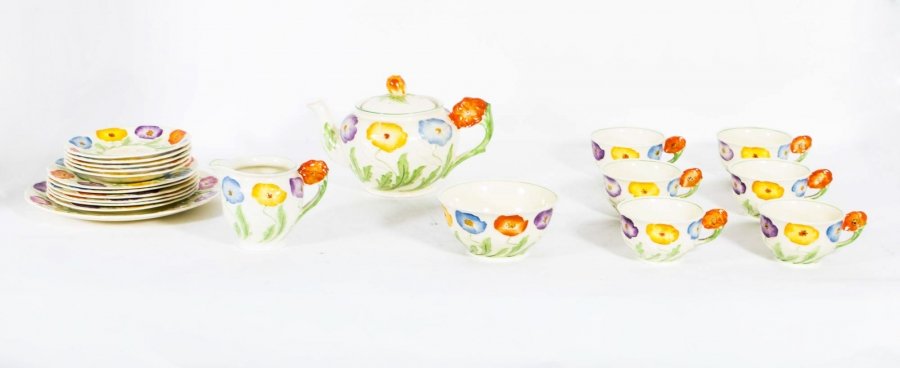 Grindley is, regrettably, no longer in existence but this set lives on to serve as a memory to the once great ceramic and pottery industry in the Stoke-on-Trent area of the UK.
This Grindley Art Deco tea set comprises six cups and five saucers and six side plates. In addition, there is a larger serving plate, a cream jug, and a sugar bowl to complete the set. They are decorated with a multi-coloured pansy design that was typical of Grindley's work from the period. All the pieces of the set are in excellent condition and will be a nice addition to your Art Deco collection.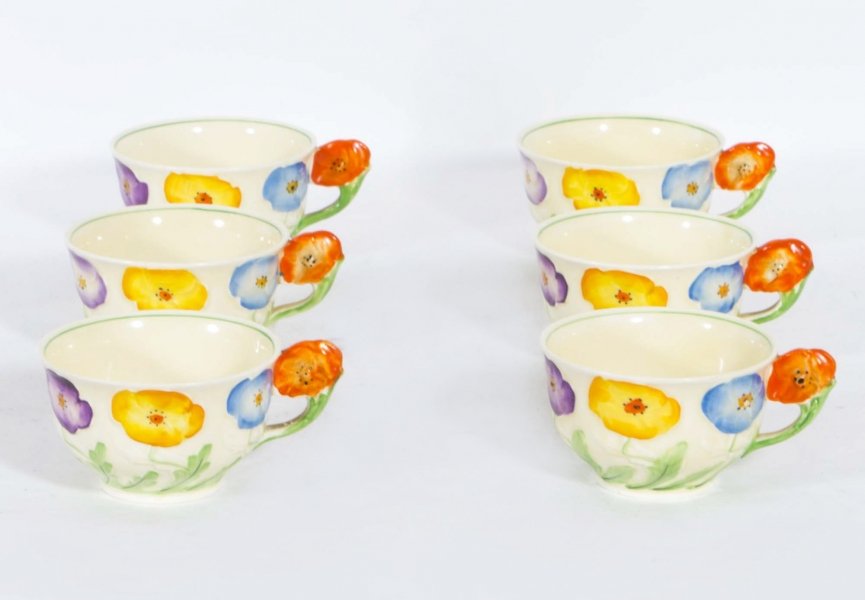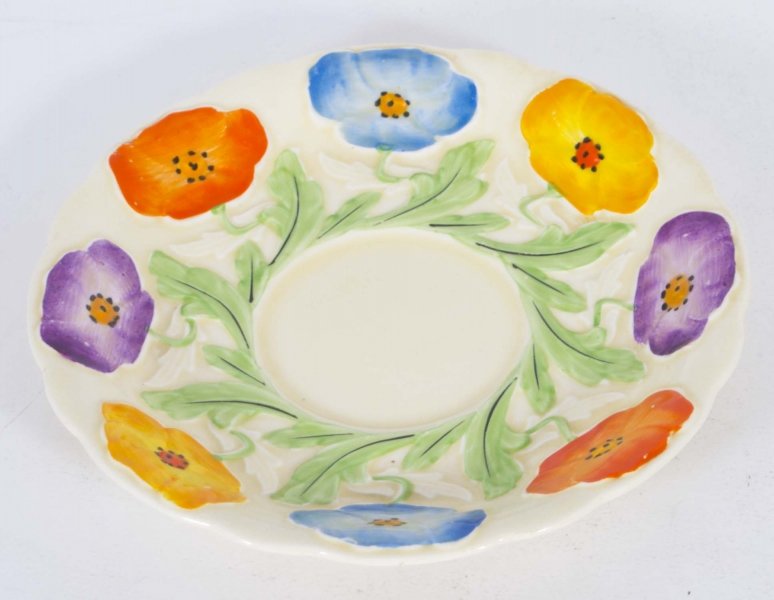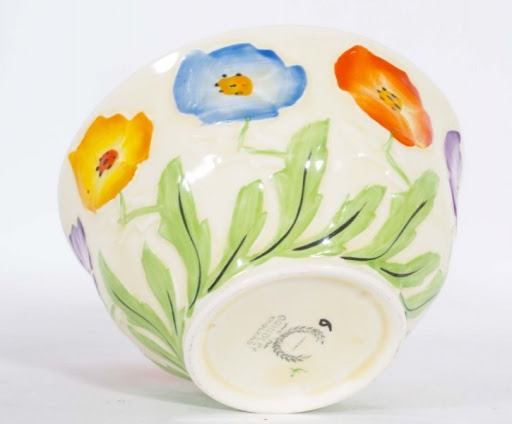 Back in time for dinner
No Art Deco collection would be complete without at least one Art Deco dining table and we always try to keep a few of these fast-moving items in our inventory.
This is a lovely antique Art Deco dining table that dates from 1930, crafted in burr walnut, which can comfortably seat six people.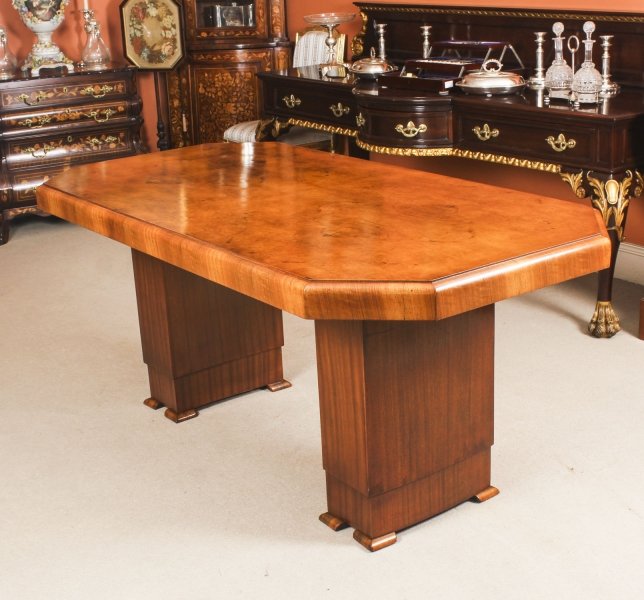 Standing on twin pedestal supports, this table is crafted from lovely burr walnut. With canted corners, this antique dining table has been French polished to bring out the full beauty of the burr walnut grain.
Take a look at the photographs and dimensions supplied in order to satisfy yourself that this stunning Art Deco table is worthy of a place in your collection.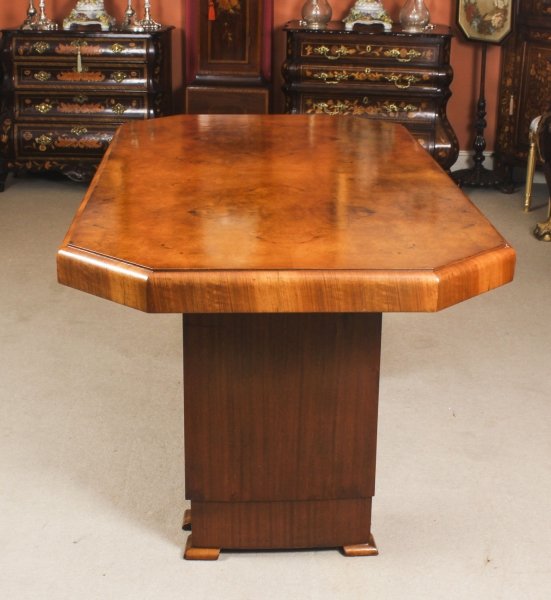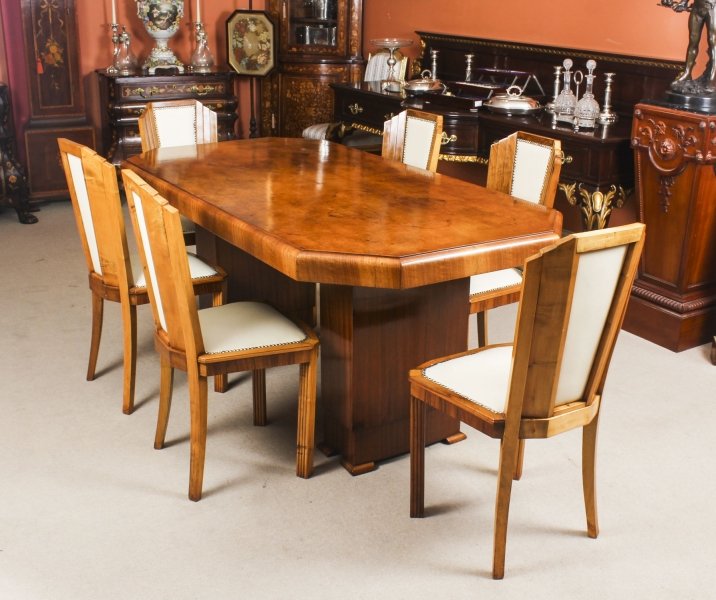 Find your special Art Deco item
The Art Deco period saw items being produced for all sorts of purposes, not just decorative. At Regent Antiques, we even stock Art Deco clothes stands and cocktail shakers.
Our stock of Art Deco furniture and other decorative items changes fairly rapidly and if you miss a piece that you like there is no guarantee that another will come along anytime soon. So it is important to take action promptly if you see an item of Art Deco furniture, Art Deco sculpture or any other Art deco item that catches your eye.
As with any antique or collectible item, the best way to see it is in the flesh at our London showrooms, but if you can't manage that and have questions please contact us using the details shown on every page.
Sign up to receive free weekly notifications of new arrivals in your categories of interest, including Art Deco.