Featured Category – Vintage Prints and Paintings

As well as a fine range of antique paintings, we at Regent Antiques also enjoy offering more recent – but not quite contemporary – works of art to our discerning clients.
Paintings and prints dating from the early to mid twentieth century are classed as vintage and, as in the case with artworks generally, can often be just as collectable, if not more so, than their antique counterparts.
Our vintage oil paintings, watercolour, and prints categories contain many pieces that would be high on many people's list of desirable items to hang in their home, or indeed any special place. So today we would like to show you some fine examples which are all available for sale.
A classic scene of Roman ruins
To start off, this is a beautiful oil painting in the Palladian style of a classical scene of Roman ruins, with a family fishing in the shadows, dating from the second half of the 20th century.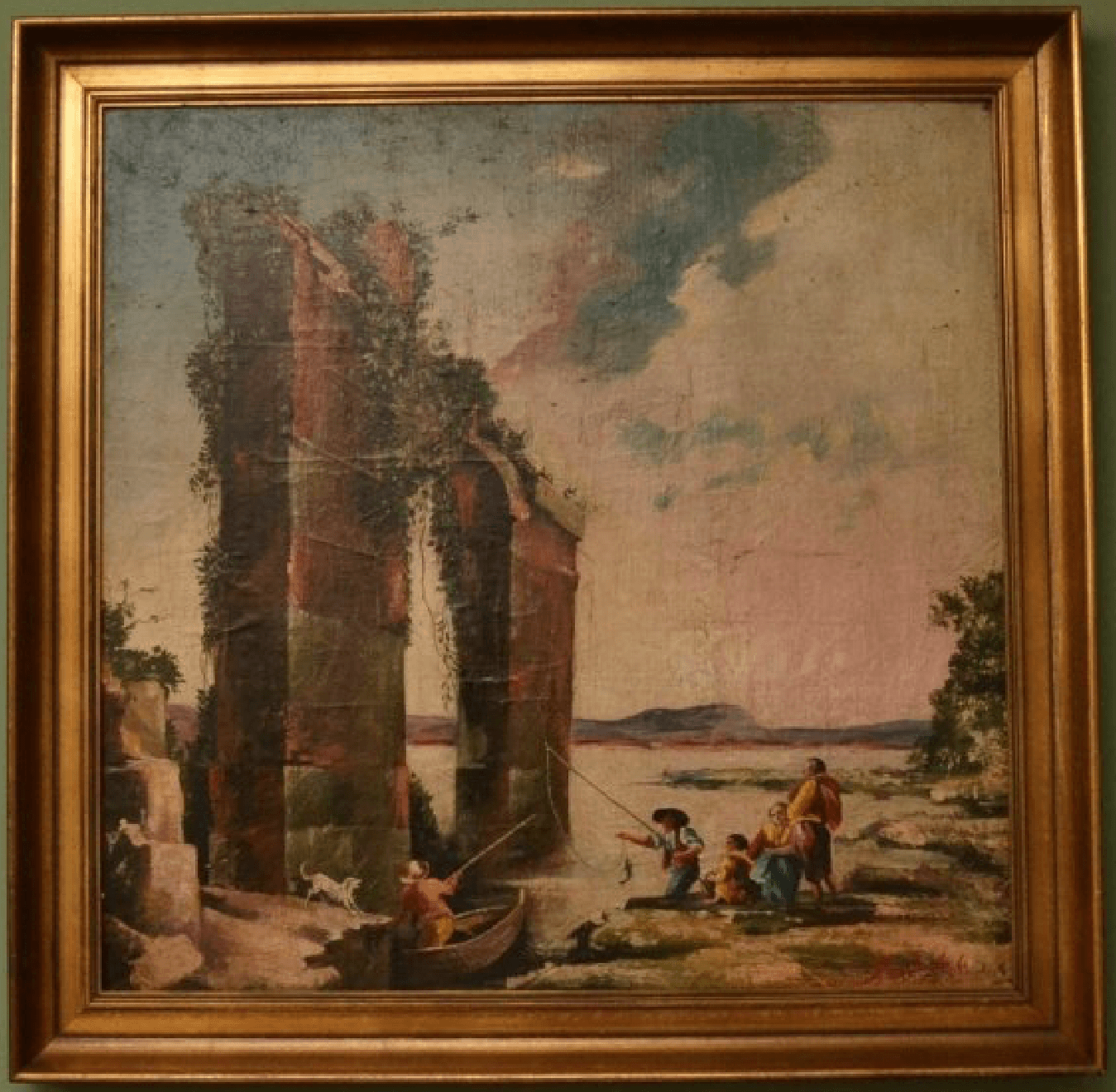 It is a delightful and tranquil picture which has been masterfully painted and set in a superb giltwood frame. It is signed on the front lower right by the artist Giancarlo Drovandi. This painting was bought from a home in Highgate, London, from a family that were friends of the artist.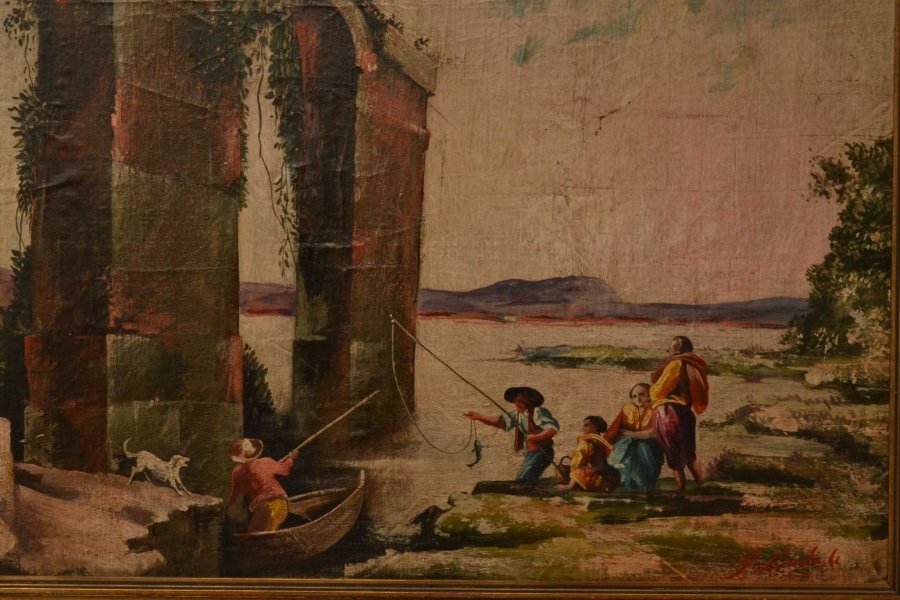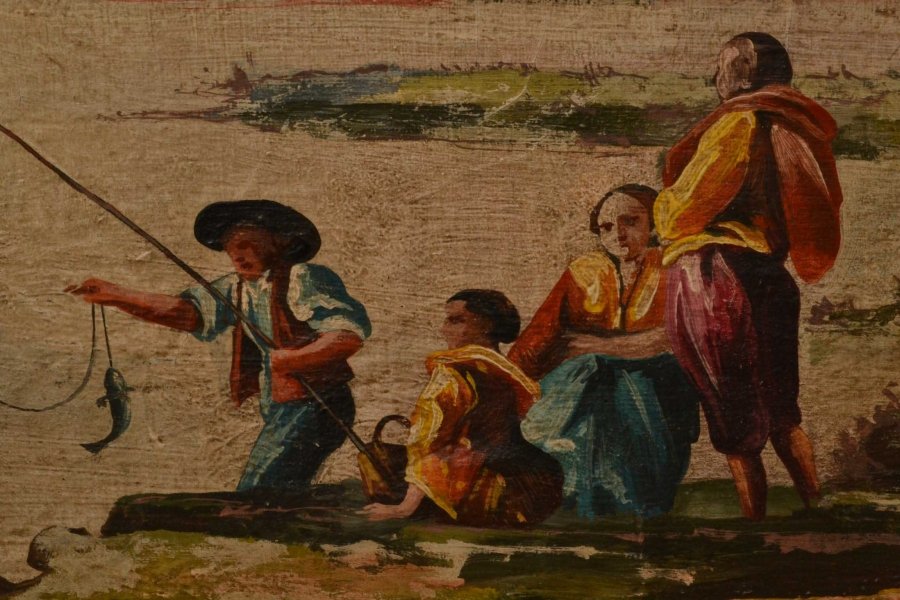 The beauty of the impressionist style
Secondly, this is a very attractive and lively pair of vintage Spanish oil on canvas paintings, signed and dated 1990.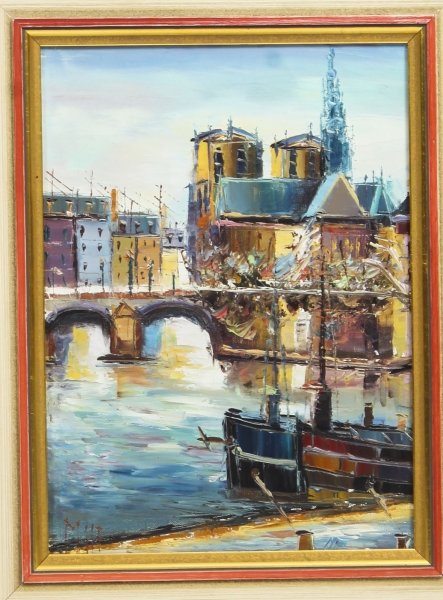 This impressionist style pair of paintings features two views of a seaside town with boats, buildings, and church steeples. They are housed in their original gilt frames decorated with fluting bands. You are sure to add some bright colour to your home with this beautiful pair.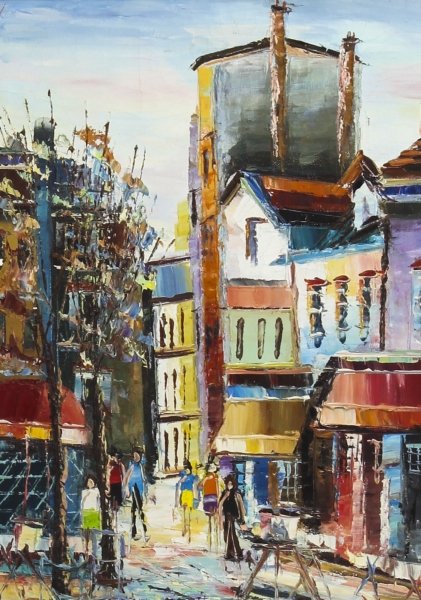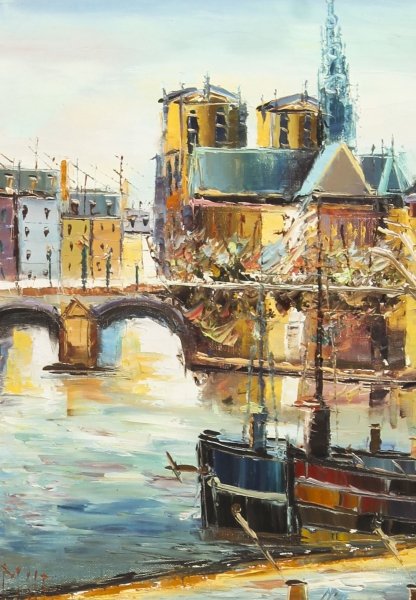 Another lovely and beautifully-executed painting is this vintage landscape oil painting on board with a view through a pair of trees looking over a field into a distant hillside town, dating from the last quarter of the 20th century.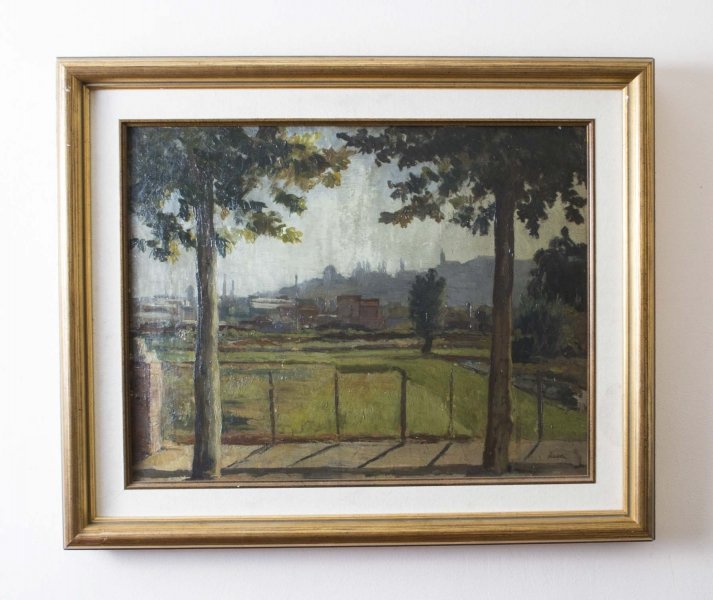 Painted in an impressionist technique, it is housed in an elegant double giltwood frame with a central hessian panel which finely complements the subject of the painting.
The painting is stamped on the back: Taller De Las Artes, Marcos Galeria Renda.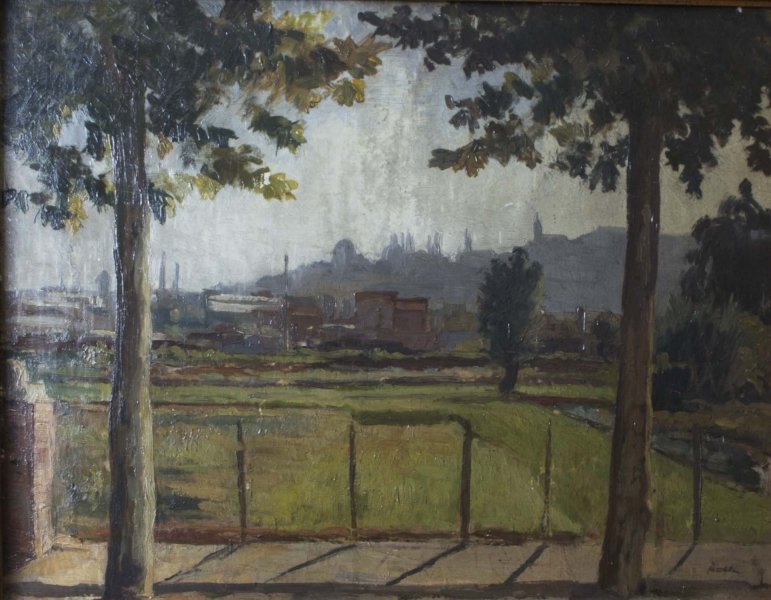 Two sentimental vintage prints: 'Forgiven' and 'Too Late'
Our fourth choice for today's review of vintage artworks is this delightful pair of mahogany-framed vintage equestrian coloured prints entitled 'Forgiven' and 'Too Late,' after Heywood Hardy, and dating from the late 20th Century.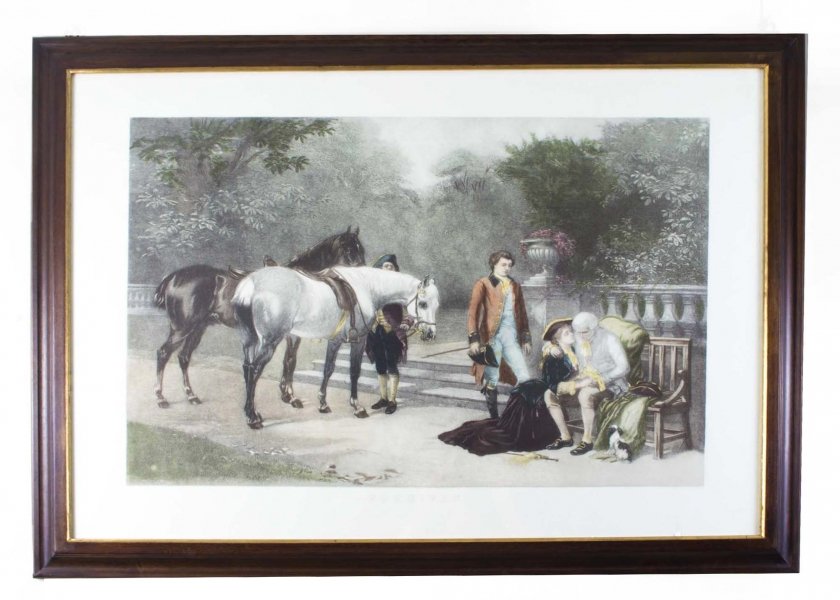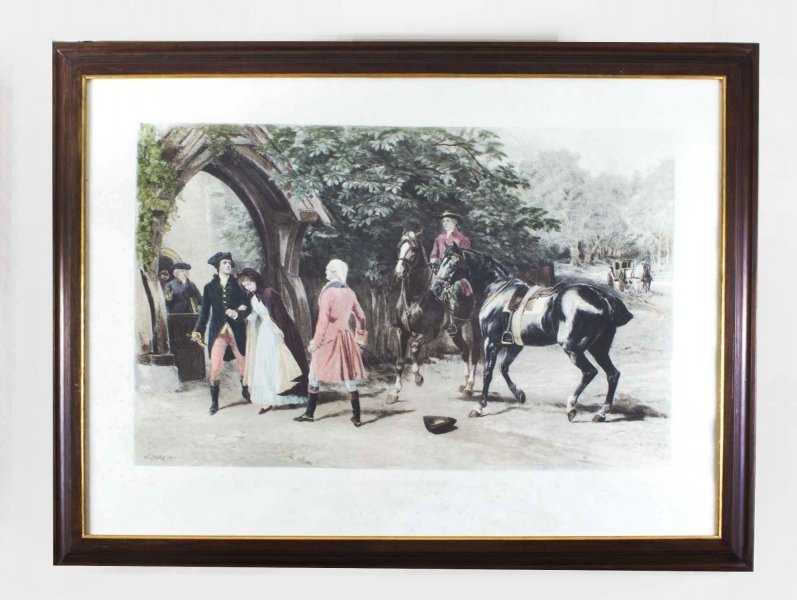 Heywood Hardy (1842-1933), was an English painter and graphic designer of the late Impressionism style. He was known for his animal paintings and genre painting of riding and hunting scenes dating from the 18th century, but was also an excellent portraitist.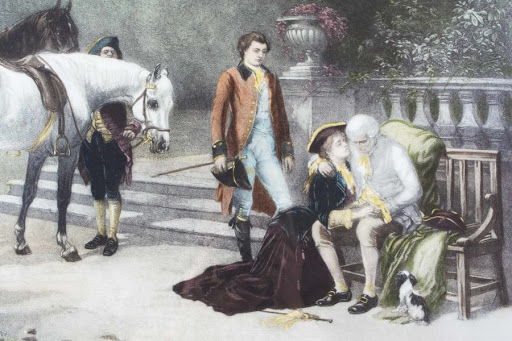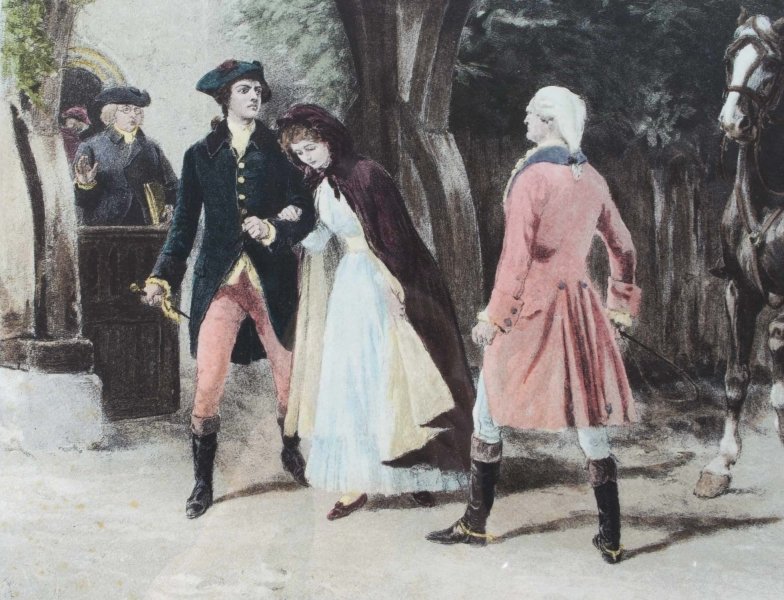 The knife grinder at work
Finally, this is a beautiful watercolour which depicts an Edwardian travelling knife grinder, dating from the mid 20th century.
John Berry was one of the artists who illustrated the Ladybird books, which have entertained generations of children at the same time as teaching them to read. Between 1961 and 1978, Berry illustrated some 35 books for Ladybird. These included the "People at Work" series, featuring jobs such as policeman, fireman, postman, potter, nurse, coal miner, farmer and engine driver. The series forms an almost complete record of British industry as it was at the time.
This brightly coloured watercolour features a knife grinder, sharpening knives in the street surrounded by curious children, signed at lower left Berry. It is double framed in a simple golden frame which matches the background perfectly. There is an inscription on the back of the painting which confirms the name of the artist as well as additional names which are difficult to decipher.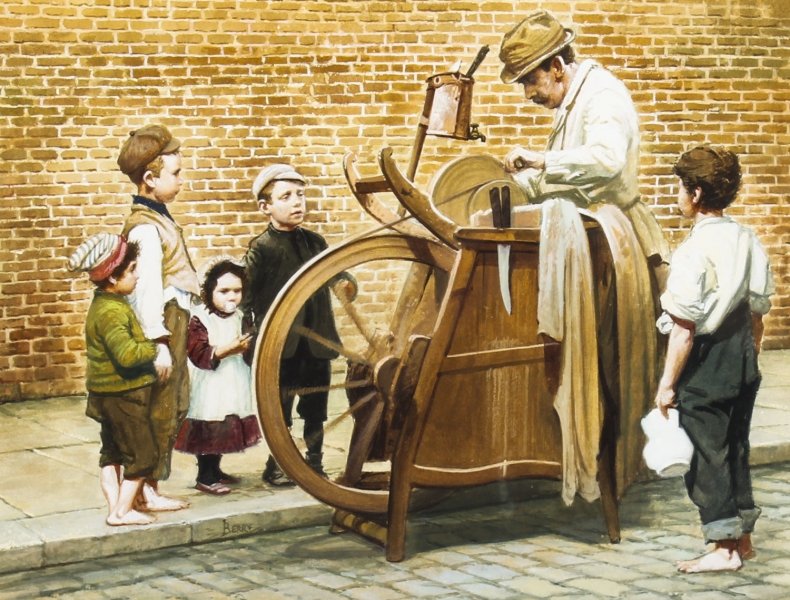 When collecting vintage artworks, as with antiques generally, you are generally advised to buy only those pieces that you would enjoy looking at every day, regardless of value or investment potential.
A beautiful painting or print lifts the spirits and cheers you up as nothing else can. We invite you to enjoy our collections and if you find something you like, please don't delay as they tend to sell quite quickly and are usually unique. So remember to check these categories out regularly together with the antique paintings category.