Diving into Beautiful Antique Bronze Statues

Since ancient times, there has always been one thing which represents the world of antiques better than anything else, and that is the bronze statue. So we thought that it's about time we gave you a quick tour of some of the fine antique bronze statues that we are pleased to offer.
Just arrived into stock, this is a superb Italian Grand Tour School brown patinated bronze figure of the Boy with Thorn, also called Spinario, dating from the mid-19th century. It is a stunning piece which we know will attract a lot of interest.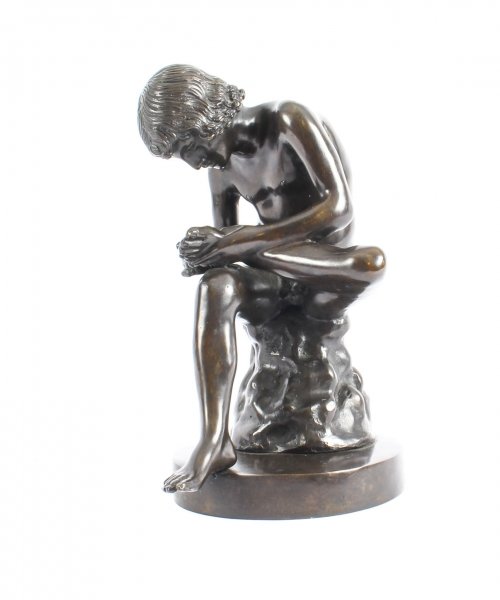 This fine brown patinated bronze figure was made after the antique Greco-Roman Hellenistic bronze sculpture of Spinario, now in the Palazzo dei Conservatori in Rome.
The bronze features a naked boy sitting on top of a rock and withdrawing a thorn from the sole of his foot.
This high-quality bronze figure was produced by using the traditional "lost wax" process, otherwise known as the "cire perdue" method. Sometimes called by the Latin name, 'cera perduta' is the process by which bronze is cast from an artist's sculpture. In industrial uses, the modern process is called investment casting. An ancient practice, the process today varies from foundry to foundry, but the steps which are usually used in casting small bronze sculptures in a modern bronze foundry are generally quite standardised.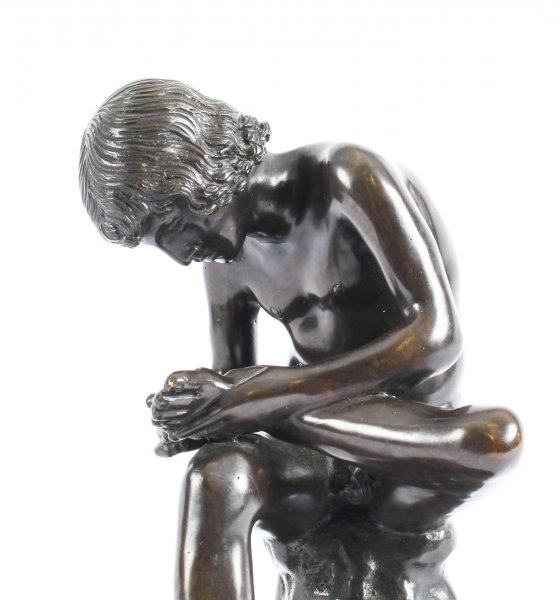 We move on to our next item, namely this superbly cast antique French bronze figure of a maiden and cherub by Emile Pierre Eugene Herbert (1828-1893), circa 1850 in date.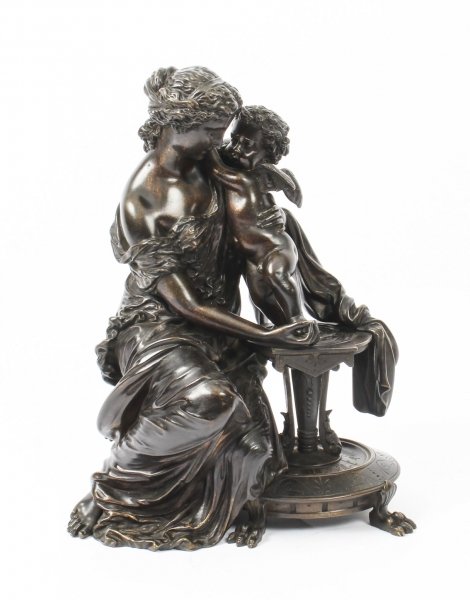 This dark brown patinated bronze features a seated maiden dressed in a classical flowing gown, bathing a winged cherub's feet on a pedestal font with claw feet, inscribed E Herbert Sculpt. Michel edn.
Pierre-Eugène-Emile Hébert (1823-1893) was a renowned 19th Century French sculptor. A versatile artist, Herbert produced romantic bronzes and marbles, as well as furniture and decorative pieces in the Neoclassical and Egyptian Revival styles.
The son of sculptor Pierre Hébert, Emile studied under the guidance of his father and sculptor Jean-Jacques Feuchère. Hébert exhibited at many important 19th Century exhibitions, including the Exposition Universelle in Paris in 1855 and the Great Exhibitions in London of 1862 and 1867. At the latter, the sculptor was awarded a gold medal for his work. Hébert was one of the few sculptors to work with the famous bronze fondeur Georges Servant, and their artistic collaboration resulted in exceptional pieces in the Neo-Grecian and Egyptian Revival style.
Today Hébert's works are housed in the collections of prestigious public institutions such as the National Gallery in Washington D.C. and the Musèe D'Orsay in Paris.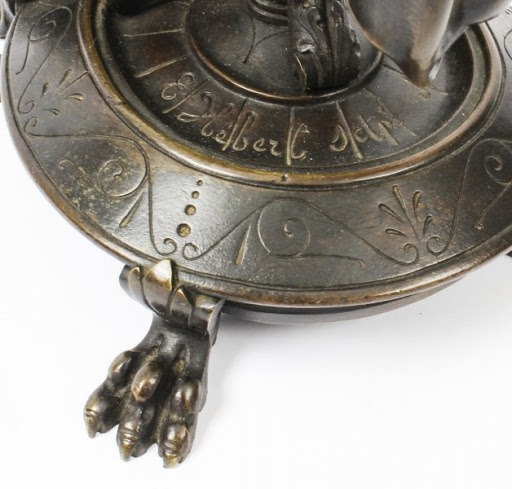 Similarly to Spinario, this high-quality hot cast solid bronze was produced by using the traditional "lost wax" process.
The craftsmanship is second to none throughout all aspects of this sculpture which is sure to add an unparalleled touch of elegance to your home.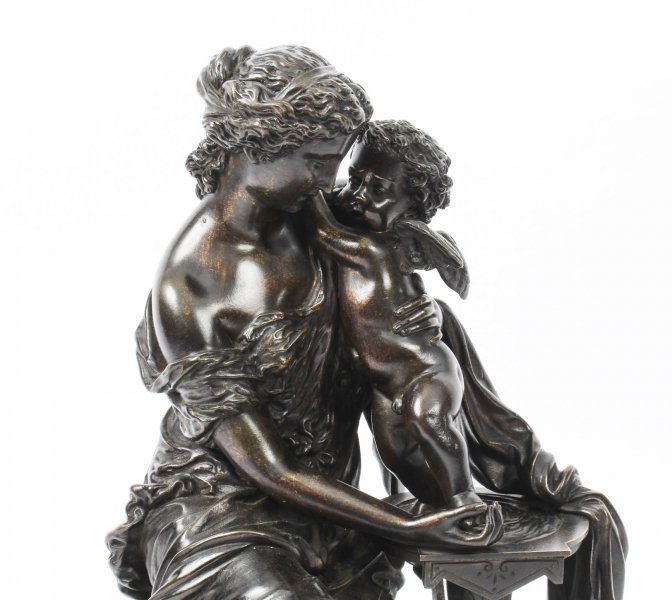 Our third offering is this very fine and lifelike French bronze sculpture of an Irish Setter dog on the hunt by the French sculptor Hippolyte Peyrol, circa 1880 in date.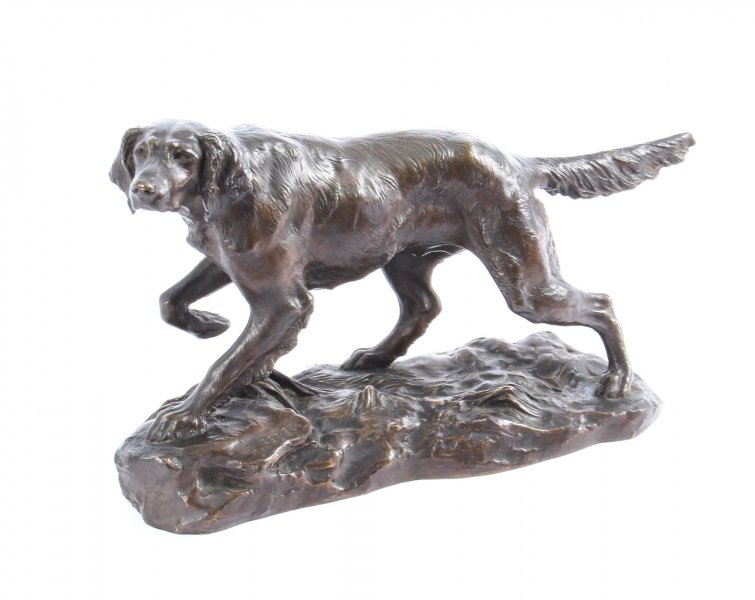 Francois Auguste Hippolyte Peyrol was born in 1856. He studied under Isidore Bonheur as well as Tabard and Frenne, first exhibiting at Salon in 1880. He was awarded honourable mention at the Salon des Artistes Francais in 1883, 1886 and 1892, achieving a second-class metal in 1892 and first class in 1894. In 1908 he was awarded the Chevalier of the Legion d'Honneur. Much of his work was focused around animal subjects.
This charming Irish Setter dog is standing in a stalking pose on a naturalistic base which is signed H. Peyrol, and features finely detailed cast with a dark brown patina.
The craftsmanship and attention to detail are absolutely fantastic. A truly special piece that will be the centre of attention wherever it is placed.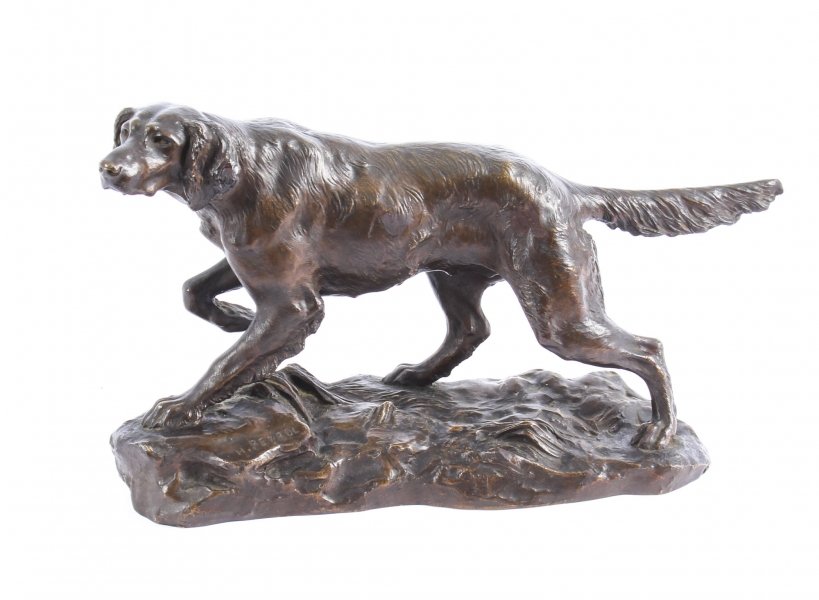 Sticking with animals, we have a very rare French bronze animalier sculpture of a stag by Christopher Fratin, circa 1840 in date.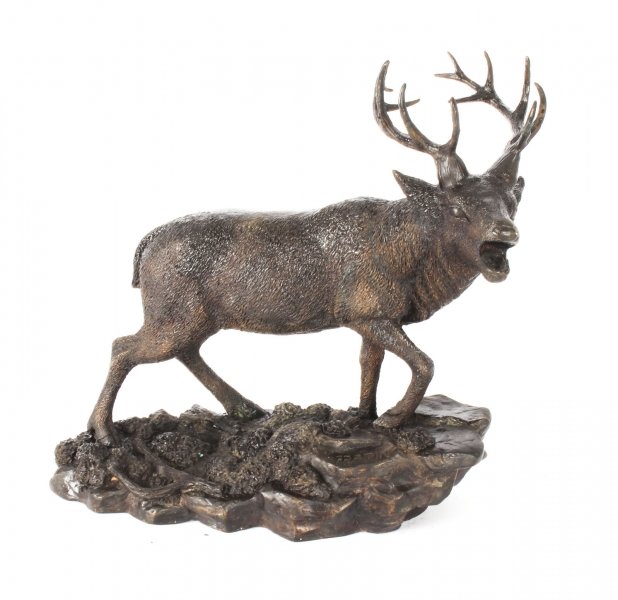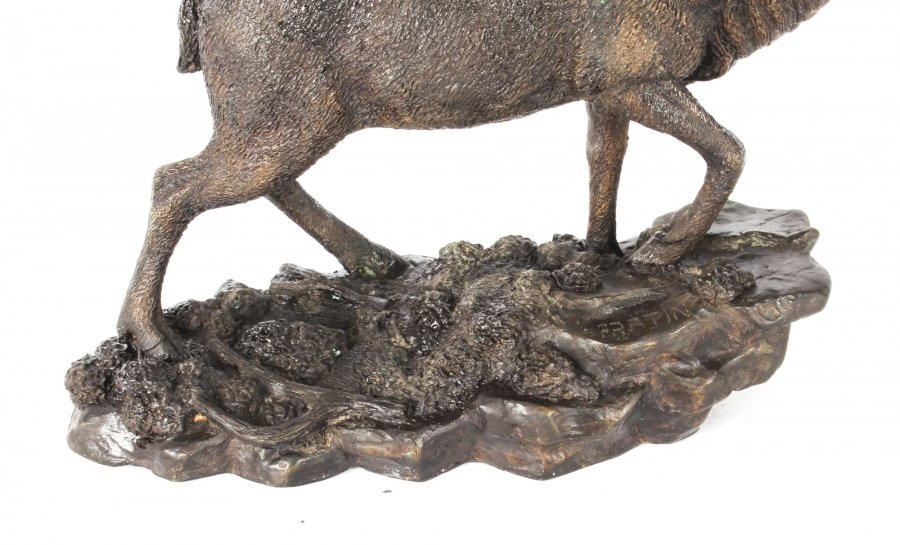 The superbly modelled and cast bronze bellowing stag is standing alert and ready to charge. It features a finely detailed naturalistic base and has a dark brown patination and is signed FRATIN.
Christopher Fratin (1801 – 1864), also known as Christophe Fratin, was one of the earliest French sculptors to portray animals in bronze.
Fratin was born in Metz, Moselle, France, the son of a taxidermist. He first studied drawing under Pioche in Metz and later worked in Paris at the studio of Théodore Géricault.
He exhibited at the Paris Salon from 1831–1842 and 1850–1862, as well as at the Great Exhibition in London in 1851. Fratin never signed his bronzes but instead used a stamp showing his last name in straight block letters (as in our bronze here).
Fratin received monumental commissions in France and elsewhere, including the Deux Aigles Gardant Leur Proie (Eagles and Prey, created 1850) displayed since 1863 in New York City's Central Park. Today, Fratin's sculpture is on permanent display in the Louvre, the city museums of Metz, Lyon, Strasbourg, Nîmes and at the Peabody Institute in Baltimore, Maryland. The Georg Eisler archive in Vienna also has on display works by Fratin.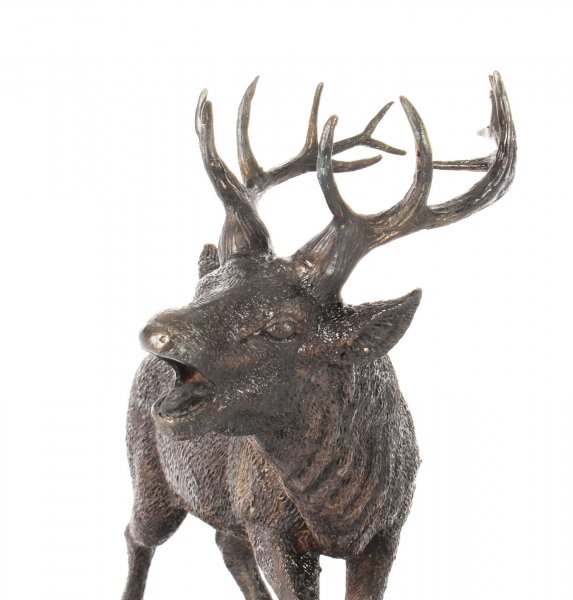 Finally, we would like to show you this striking and finely patinated bronze sculpture of 'The Triumph of Bacchus', signed Clodion to the base, circa 1840 in date.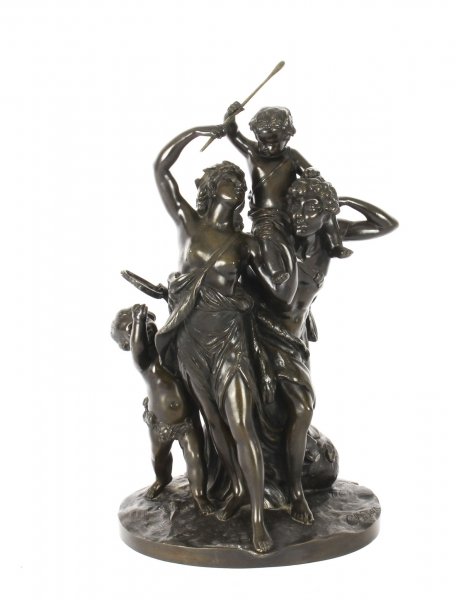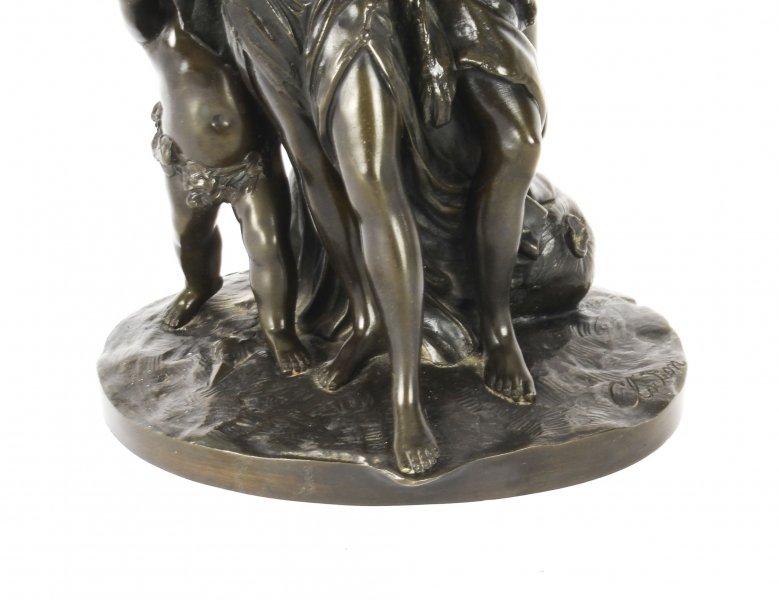 Clodion, whose original name was Claude Michel (1738 – 1814), was a French sculptor whose works represent the quintessence of the Rococo style.
In 1755, Clodion went to Paris and entered the workshop of Lambert-Sigisbert Adam, his uncle. On his uncle's death, he became a pupil of J.B. Pigalle. In 1759 he won the grand prize for sculpture at the Académie Royale de Peinture et de Sculpture, and in 1762 he went to Rome. Catherine II was eager for him to come to St. Petersburg, but he returned to Paris in 1771. There he was successful and frequently exhibited at the Salon.
Clodion's most preferred subject matter were nymphs, satyrs, bacchantes, and other Classical figures sensually portrayed.
Our sculptural figural group is in the form of Bacchus, a semi-naked maiden with a pair of cherubs one holding a tambourine and the other holding a stake, standing on a rustic base.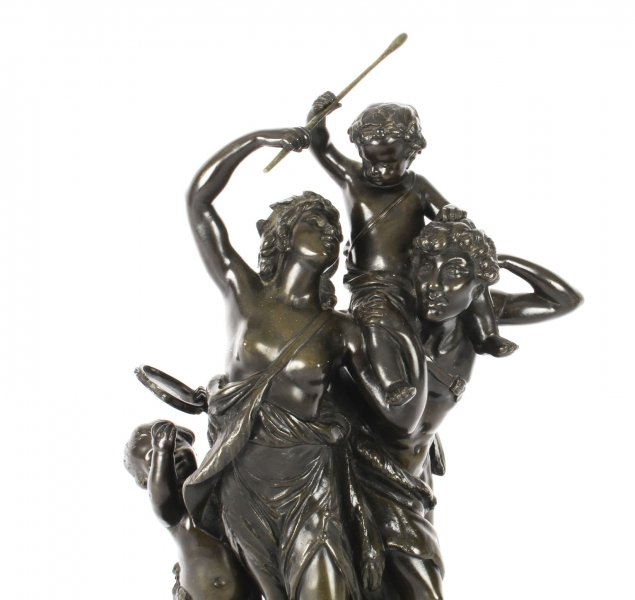 The most renowned depiction of The Triumph of Bacchus was painted by Diego Velázquez and commissioned by Philip IV of Spain in 1620 and is now housed in the Museo del Prado in Madrid.
Add some unmistakable drama to your home with this magnificent sculpture.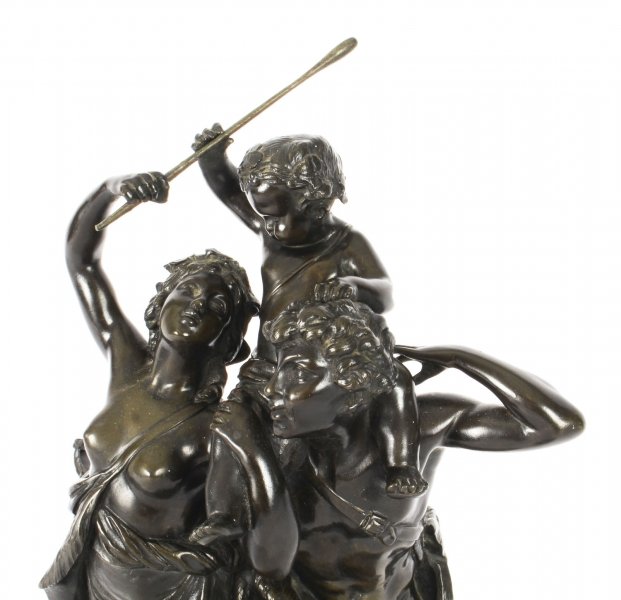 Please check back regularly to see more of our antique bronze statues. Our expert staff are on hand to answer your questions and advise on other aspects such as shipping.