Candelabra & Chandeliers – a Spotlight on Vintage Lighting

Lighting is an essential part of any interior, (and sometimes, exterior), decoration scheme and finding the right lights for the job can often be a problem. That's why here, at Regent Antiques, we strive to offer our customers a wide and varied range of antique lighting fixtures, vintage lighting fixtures, candelabra and chandeliers. In this review we have chosen a few examples of the very best in antique and vintage lighting fixtures to show to you – you can see them all by clicking this link.
First off, we have a beautiful vintage cast brass three Light chandelier in the Art Nouveau style comprising of attractive glass snow drop shades decorated with characteristic curved lines which reflect the syncopated rhythm and asymmetrical shape of French Art Nouveau style popular at the turn of the twentieth century.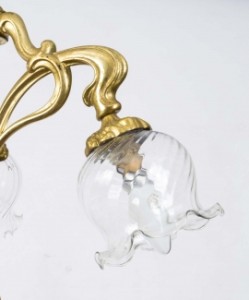 This chandelier is in excellent condition, having been dismantled and professionally cleaned. It measures 55cm in height x 52cm wide and 52cm deep which is, in inches: Height 1 foot, 10 inches x Width 1 foot, 8 inches x Depth 1 foot, 8 inches.
Staying with the Art Nouveau theme for a moment, next we take a closer look at this  Vintage Art Nouveau Glass Hanging Light Lamp:
Dating from the second half of the twentieth century, this is a vintage hanging light complete with a bronze chain and pendant. It feautres a white opaque glass shade which is made in the form of a multi petaled flower and styled in a timeless Art Nouveau fashion. This lamp measures 40cm high x 36cm wide and 36cm deep, (Height 1 foot, 4 inches x Width 1 foot, 2 inches x Depth 1 foot, 2 inches).
Changing styles now, we turn to this Vintage Porcelain & Brass 4 Light Chandelier which will complement many a traditional decorative scheme:
Purchased from the hallway of a large 1920 period house, this beautiful vintage porcelain and brass brass four light chandelier is decorated with garlands of flowers which are presented in the Dresden style. The l;amp is believed to date from the mid 20th Century. It measures 40cm x 36cm x 36cm which is equivalent to Height 1 foot, 4 inches x Width 1 foot, 2 inches x Depth 1 foot, 2 inches. The chandelier has been fully dismantled and cleaned.
We will ship any of these items to any worldwide destination, please request a shipping quote. UK customers living on the mainland will get free shipping. To speak to an expert, please call +44 20 8809 9605 or email info@regentantiques.com. If you can make the trip, you would find a visit to our north London showroom well worth your while.