Antique Dining Tables – Selected Pieces for You to Enjoy

You don't buy antique dining tables everyday so take time to look at one of the best selections anywhere in the UK – at Regent Antiques, of course.
Take a short "virtual" walk around our London showroom and see the carefully selected range of antique dining tables and antique dining chairs we have to offer.
First, let's take a look at this Antique Regency Mahogany Extending Dining Table dating from around 1820.
This lovely antique English Regency dining room table, Circa 1820 in date, can comfortably seat six people and will take eight people when the occasion demands.
The functional and very attractive table is made from lovely solid flame mahogany and has a pull out mechanism with two leaves that can be added or removed as required. It has beautiful reeded legs in the manner of Gillows, and sits on its original brass castors. The table is offered for sale at just £2750.
Our next table is this Antique 10ft Burr Walnut Queen Anne Dining Table which dates from around 1920.
Burr walnut is a most desirable and attractive wood and is widely used by leading furniture makers for its attractive grain.This table has four beautiful cabriole legs which have been masterfully hand carved with shells and rosettes in the Queen Anne style. They terminate in hairy paw feet that sit on their original brass castors which makes it easy to move when required.
The eye-catching burr walnut table top is crossbanded with walnut bearing carved decoration around the edge. This table is in excellent condition, having been  French polished in order to revive it and emphasis the beautiful grain of the burr walnut.
The table is 300cm wide, (9ft 10 inches), and can comfortably seat ten people. There is a winding mechanism that can be used to accommodate two additional leaves if required.
Offered at a very attractive £2950 and sure to find a loving new home very soon.
We finish this review of our "trio of tables" with this 12ft Victorian Burr Walnut Marquetry Dining Table.
This is an impressive and imposing 12ft wide dining table made in the Victorian style and able to accommodate up to 12 persons very comfortably making it equally suitable for use as a conference table as well as a dining table.
Of particular interest is the lovely marquetry, as can be seen in the following photograph, and which features superb inlaid decoration of ribbons, urns, flowers and vases.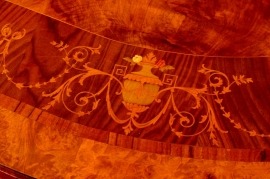 Measuring some  80 cm in height x 360 cm wide with a depth of 130cm, fully extended, this table is a force to be reckoned with and will soon find a new home, or boardroom, to be magnificent in. We are offering this lovely table for just £6250.
That's it for now, see many more antique dining tables and chairs on the site or in our London showrooms – we ship worldwide and UK delivery is free of charge.