Another Fine Antique Desk To Write Home About

Many authors believe that where you write is as important as what you write; the belief being that the actual surface that you write on and the space in which it is situated are contributory the the finished item.
Children's author, Michael Morpurgo, for example, used to write on his bed, finding it to be conducive to the process, whereas former poet laureate Ted Hughes would often write whilst standing at a lectern.
Wherever you like to write, or work, the chances are that you will find the process much more agreeable if you have a nice desk to do it on, situated in a nice room and surrounded by things that you treasure or admire.
At work in a modern open-plan office that isn't always possible but for those who work from home some or all of the time, finding a nice desk is important – so here at Regent Antiques we decided to try to help.
We've just acquired this lovely Antique Victorian Inlaid Mahogany Pedestal Desk which dates from around 1860:
As you can see, it is very attractive, still sporting its original tooled leather insert and elegant ogee moulded edge. Although not a small desk, at some 4ft wide, (122cm) and 2ft 5in deep, (75cm), it should fit comfortably into most home offices or studies.
Each of the two pedestals houses three useful drawers plus a further three drawers along the frieze. The handles and locks (working), are also original and keys are supplied.
We have restored this fine desk to its former glory and are now offering it for sale at just £2950 with shipping being possible to most destinations worldwide – please ask for a shipping quotation.
If you are looking for a suitable chair we have a wide range to choose from, such as this English Hand Made Leather Captains Desk Chair, follow the link for more information: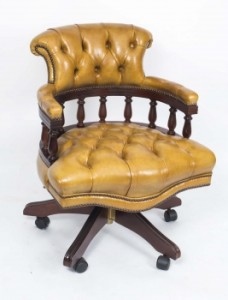 If a Victorian flame mahogany desk is not for you, how about this Victorian Style Burr Walnut Kidney Partner's Desk, currently offered for just £1950:
Somewhat larger than the flame mahogany desk shown above, this beauty stands at around 5ft 3in wide, (160cm) and is 2ft 8in or 82cm deep. Finished in the finest burr walnut, this partner's desk is complete with a gold tooled leather inset top in a typical Victorian style.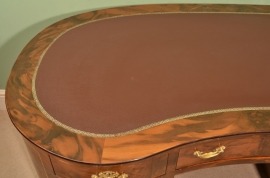 The desk has nine drawers on one side and a pair of cupboards on the other thus enabling it to be used at both sides simultaneously, hence the name "partners desk". The desk is fitted with elegant brass drop handles, stands on a plinth base and has a 'modesty panel' at the rear. It is finished all round so it is free standing thus enabling it to be placed anywhere in a room and not necessarily against a wall. It is supplied with working locks and keys.
These desks are available for viewing at our north London showroom or you can speak with one of our experts by calling: +44 20 8809 9605 or by emailing: info@regentantiques.com