Antique Dining Tables – Available In Small, Medium & Large, (and XL too)

When it comes to supplying dining tables, whether they be antique dining tables or craftsman-made contemporary pieces made in popular vintage or period  styles, we have learned that one size most definitely does not fit all!
From a small multi-purpose or dining table intended to fit into a modestly proportioned room, through to a dining, conference or meeting room table capable of seating almost 40 people, we have many examples available to view in our north London showroom, here are a few examples for you to consider:
Seating six people in comfort, this is an Antique Art Deco Burr Walnut Dining Table dating from round 1920. The table is 168cm, or 5ft 6in wide and stands at some 76cm high, (2ft 6in). The depth of the table is 92cm or 3ft.
Art Deco  styling is popular in furniture and decorative arts and that makes this table attractive both for its Art deco credentials and for its functionality, compact size and robust construction.
The table is offered at £1900, please note that this does not include the chairs shown in the photograph which are available separately if required.
If you prefer a round table then we have something for you too – here for example is a Vintage Regency Round Dining Table 7ft in a Most Attractive Mahogany:
This table was acquired from one of the beautiful conference rooms at Rothschild Bank in the City of London when they were having their renovations and is offered in beautiful condition for just £5750 and will seat ten people comfortably. The chairs are not included in this price but are available separately if required.
The beautiful flame mahogany table top is presented in a sunburst pattern and has a crossbanded border with an inlaid line separating it.
The fabulous centre base is reminiscent of George Bullock's work and the central column stands on a shaped base with four beautifully carved lion's paw feet with recessed brass castors.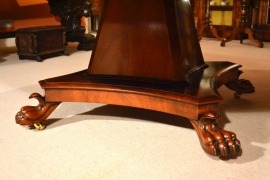 Another increase in size and seating capacity sees us now turning to this 10ft Marquetry Burr Walnut Victorian Dining Table:
This larger table can accommodate ten people comfortably and is some 10ft, (305cm) in width at its widest configuration – the width being variable by way of three removable leaves which can be added or removed as required. In it's smallest configuration the table is a compact 5ft 1in wide.
Burr walnut has an extraordinarily beautiful appearance and this table certainly does not disappoint, just take a look at this lovely table top for confirmation of that: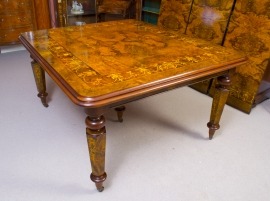 The hand cut inlaid marquetry decorations of flowers, urns and vases have been meticulously hand cut from different veneers which are of various colours. To highlight the marquetry, as well as the natural grain of the burr walnut, this table has been French polished by hand.
We are offering this lovely table, minus the chairs you see in the photograph, for just £5750 delivered free of charge in mainland UK – other destinations on request.
OK, now it's time to go large – here is a table for those with a large dining room and lots of friends or guests. It is, of course, far more likely that this Goliath of a dining table will find its home in a conference room, boardroom or indeed a hotel or restaurant:
This is a Victorian style burr walnut dining room table with outstanding inlaid marquetry decoration. It has eight leaves with which to extend it in stages to its maximum length of 35ft and will comfortably fit as many as thirty six people. The table has been lovingly French polished.
The table is priced at £37,500 and is available with matching chairs if required – please call us to discuss your options.
So when it comes to antique dining tables and contemporary pieces in period styles, Regent Antiques are clearly well worth a call – the number is +44 20 8809 9605 and we are ready to take your call. If you prefer to email, please use: info@regentantiques.com.
We ship worldwide and invite you to contact us to request a shipping quotation to your part of the world.
Our stock of tables is large and inclusive – you will find that a visit to our north London showrooms will be rewarding in many ways but not least because you will be able to inspect these beautiful tables for yourself.