An Antique Boardroom Table That's Bound To Impress

Today we are taking a peek at a very large and impressive Antique Boardroom Table, or Conference Table, which is supplied with 16 matching chairs and which will grace the boardroom, meeting room or conference room of any organisation.
Antique furniture says something about its owner. It can say "here is a person with taste who appreciates beautiful things" or "here is someone who likes to preserve and care for beautiful objects" or any variation of the above.
In an office, however, antique furniture is less commonplace. It is quite difficult to preserve the condition of a piece of furniture that lives its life in the hustle and bustle of a busy office and for that reson, offices tend to be furnished with strong, resilient and easily replaced furniture.
Until, that is, you stroll into the boardroom, or conference room. These are places where you only go for meetings, presentations and other special occasions and they tend to be furnished to a higher standard than is the case in the general office areas.
A boardroom is a place where you might take visitors, maybe potential customers, people that you want to impress and to whom you want to give the impression that you are a solid, reliable organisation upon which they can place their trust.
Where better then, than a boardroom, to make use of the very impressive qualities of an antique boardroom table?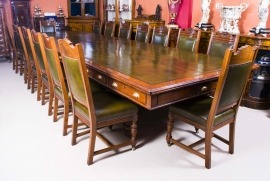 Now, some antique boardroom tables are, in fact, just very large antique dining tables but this one is different in that  it has a solidity and robustness that makes it really look like a place to do business and is a product of renowned cabinet maker Thomas Turner of Manchester and bears his mark.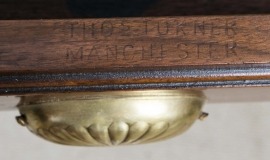 This table is supplied with its original set of matching boardroom chairs, each of which has been restored and re-upholstered with fine quality Scottish cow hide which has been treated to match the leather surface of the table.
The table measures as follows: Height 79cm x Width 488cm x Depth 154cm or 2 feet, 7 inches x Width 16 feet, 0 inches x Depth 5 feet, 1 inch if you prefer. It has 6 very substantial legs to support the weight of the table top, fitted with castors to facilitate ease of movement.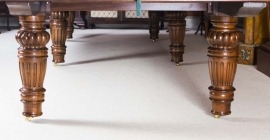 The table itself is carved from solid walnut and the table top has been expertly relined with a pair of green hand dyed Scottish hide insets. It is fitted with eighteen frieze drawers, each having solid mahogany linings and being supplied with a brass lock and key,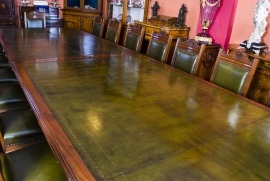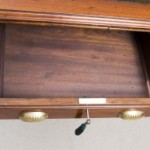 This table has been expertly restored and is in excellent condition. It is offered for sale, with the chairs, for £25,000 and can be shipped worldwide upon request. To speak to one of our experts please call: +44 20 8809 9605 or email: info@regentantiques.com.
The table can be seen in our north London showroom where you may also inspect many other fine tables, antique and contemporary, if you wish. alternatively, just visit the website at regular intervals as we are always adding new stock to replace those which are sold.