If You Like Motor Sport – You'll Love This Juan Carlos Ferrigno Print

Motorsport is of course immensely popular in the UK and worldwide and the success of Formula 1 is a phenomena in almost every part of the planet thanks to widespread television coverage of the sport. There are, as a result, many people who collect F1 memorabilia and artwork and there is one name that has become synonymous with Formula 1 art, that being Juan Carlos Ferrigno.
We are delighted to be able to bring you this hand-signed and numbered print by Ferrigno:
This limited edition framed print is numbered 142/500. It bears the title "Phil Hill World Champion" and depicts racing driver Phil Hill with his Ferrari 156 F1 in the Belgian Grand Prix at Spa, also with the signature of Phil Hill.
American born Phil Hill was something of a legend in motor racing circles and became the first American driver to win the 24 hours of Le Mans endurance race in 1959 – a feat that he repeated on two further occasions in 1961 and 62. Hill then went on to drive F1 for Ferrari and won numerous grand prix and became the first American driver to win the F1 driver's championship.
Juan Carlos Ferrigno is a well known Argentinian artist who has specialised in producing pictures of motorsport subjects since the 1970s, especially Formula 1, and whose work is becoming increasingly collectable. His works are in the collections of such notables as Mick Jagger, Keith Richards, David Coulthard, Eddie Jordan and Sir Stirling Moss. In 2000 a book entitled "The Motorsport Art of Juan Carlos Ferrigno" was published and served to enhance his reputation considerably.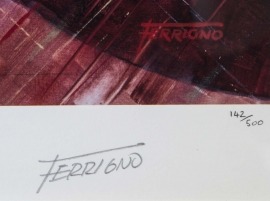 The dimensions of this limited edition signed Juan Carlos Ferrigno print are, inclusive of the frame:
Height 69 x Width 60, or in inches, Height 2 feet, 3 inches x Width 2 feet.
The very reasonable asking price of £275 is likely to make this a very popular item on many of our customers shopping lists so we would advise anyone interested to act quickly. You can see more pictures of the print here or, better still, visit our north London showroom where we have several other nice examples of motorsport art on offer.
We can ship this print anywhere in the world – please contact us for a shipping quotation to your destination. UK mainland shipping is free of charge. If you would like to talk to one of our experts, the number is: +44 20 8809 9605 or you can email us at: info@regentantiques.com.