Just Arrived – Antique Silver by Hester Bateman & Paul Storr

We are always pleased to be able to offer our customers antique silver from two of the UK's most celebrated and sought after silversmiths – Hester Bateman and Paul Storr.
Today we are able to bring to you two pieces, just arrived into stock, one from each of the above makers.
First, let's take a look at this Antique Sterling Silver Oval Salver by Paul Storr dating from 1805:
Paul Storr silverware enthusiasts will love this wonderful English antique sterling sterling oval salver which has clear hallmarks for London 1805 and the makers mark of Paul Storr.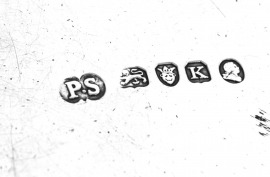 The salver is 28.5cm wide x 20.5cm deep and weighs 21 troy oz (.65 kg). Imperial measurements are 11 inches wide x 8 inches deep.
Offered for just £2500 this piece is sure to attract attention and can be shipped worldwide on request.
Our next item is by the equally desirable and celebrated silversmith, Hester Bateman:
This time is is a particularly fine Antique Silver Coffee Pot which was made in London by Hester Bateman in 1777. The piece bears the hallmarks to confirm this, as follows:
This coffee pot is in excellent condition and measures 29cm in height  x 22cm in width and is 12cm deep.  The item weighs 29 troy oz or .9Kg. It is offered for sale at just £3500 and is available to be shipped worldwide, please ask for a shipping quotation.
There are lots more photographs available for both these pieces and our experts are always happy to answer your questions – please call: +44 20 8809 9605 or Email: info@regentantiques.com. You are also encouraged to visit our north London showroom if possible where we always have a good selection of antique English silver, and other silverware on display.