4 Things to Consider When Buying Antique Dining Table and Chair Sets

Antique dining table and chair sets make an excellent addition to a home, offering elegance and sophistication. A range of styles made popular through various eras allow for a wide degree of choice to let you match your personal style, from austere refectory tables to more decorative Victorian dining sets.
Whether you are looking to buy an original antique or more contemporary reproduction dining table and chair sets, here are four key things to take into consideration before making your final purchase: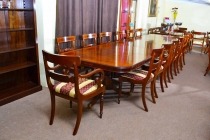 Quality of craftsmanship
Is the dining set hand-carved? Is is made of solid wood? Is the veneer or marquetry inlay consistent throughout and of a sufficient thickness to give lasting durability? Don't be afraid to ask detailed technical questions about the craftsmanship of the furniture – a quality dealer should be able to answer any queries you have.
Look carefully at the details of the dining set. Are the curves uniform and smooth? Have the table and chairs been given a high-quality finish to give them have an overall appealing aesthetic?
Size appropriate
If you are buying a dining table and chairs for a specific room make sure that you know the measurements to ensure you buy a table that will work well within the proportions of the available space.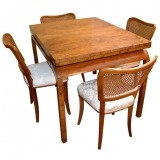 Consider also how many guests you would like your dining set to accommodate. If you are intending to use your new furniture regularly for a smaller number of guests, but want to have seating enough for larger parties or family occasions then perhaps an extending dining table would provide a perfect solution.
Chair comfort
Antique dining sets can include different styles of chairs that vary not only in appearance but in how they feel to sit in. Choose between a straight or curved back, tall or medium height, and a scalloped, curved or straight seat edge. Do you want to opt for luxuriously upholstered chairs or bare wood or cane? Or perhaps enjoy the best of both worlds by choosing a dining set with convenient, drop-in upholstered seats that can be removed during warmer months?
Value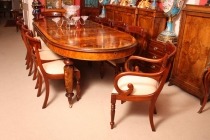 When comparing dining sets, don't get fixated solely on comparing prices. A dining set is a valuable piece of furniture, offering a high amount of usage over a long period of time, so you want to make sure that you invest in the highest quality antique dining table and chairs possible. The dining room can be the location of many memorable social events, so it makes sense not to scrimp on such a central piece of furniture in your home.
While you should always put careful thought into any purchase, don't ignore your instincts when looking at antique dining table and chair sets – your heart will always help you to make a decision that will result in you owning a piece of furniture that you and your family will cherish for many years to come.