Neo-Classical Bronze Two Tier Pond Garden Fountain 20th Century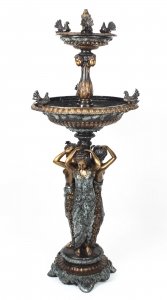 Click on image to zoom
For weekly notifications of new arrivals in your categories of interest please click HERE.
Our London showrooms
Open Mon to Fri 10am - 5pm
Open Sat 30th March 10am - 4pm
This fantastic two-tier bronze water feature fountain is sculpted from bronze in the Neoclassical style and dates from the last part of the 20th century.
This fabulous bronze water feature fountain is superbly decorated with traditional Neoclassical style motifs: grape vines, acanthus leaves and fluting in low relief with cherub masks in high relief. It also has wonderfully detailed doves perched in various places on the fountain which are a lovely touch of detail to this pretty bronze water feature fountain.
The water flows through a central large decorated nozzle into the top tier. It then flows over the tier and into and over the second tier. The second tier is held up by three classically robed semi-nude maidens making this bronze water feature fountain a sculpture as well as a fountain.
Cast from solid bronze using the lost wax (cire perdue) method this gorgeous bronze water feature fountain can be used stand-alone or as a centrepiece to your garden pond. Standing at 178 cm (5ft 10 inches), this is sure to make an eye catching statement wherever you place it in your garden.
The lost wax or cire perdu method of bronze casting goes back thousands of years. It involves making a wax model of the piece to be cast and then making a mould of the model. The mould is then coated inside with wax to the depth of the required bronze cast and the rest of the space within the mould is then filled with a heat proof material. The mould, which has been suitably vented to allow for gases to escape and hot bronze to be poured into it, is put in a kiln and the coating of wax runs off leaving a space between the mould and the inner heat proof material. This is then filled with molten bronze and left to cool. Once cold the mould and inner padding can be removed leaving a wonderfully details bronze cast of the object. The modern version of this is called 'investment casting' and is used extensively for art objects.
More bronze water features, fountains and statues to choose from here.
To See This Bronze Water Feature Fountain In Person
We think it's a good option to view pieces in-person. With this thought please try to travel to our North London showroom to view this bronze water feature fountain, alongside the extensive assortment of other bronze fountains, statues and sculptures we have in stock. If you aim to make a special journey to view this bronze water feature fountain, please contact us first to confirm it has not been sold. Make sure to make a note of the unique item reference number when you communicate with us so we can determine which precise fountain you would like to focus on.
Regent Antiques - Showroom Opening Hours
Our London display room is open Mon to Fri 10am – 5pm for you to look at this bronze water feature fountain. We also open sometimes on Saturdays – but remember to call ahead of time before making a visit on a Saturday to be certain someone will be here.
Visit our homepage to see latest Saturday opening update.
Finding Out More Detail
To ascertain more about this bronze water feature fountain and to make sure you get advice about any points you might have, please do not hesitate to contact our in-house antiques professionals using the contact particulars above. When communicating with us please reference the item number, so we can identify which object you are contemplating acquiring.
Our in house professionals are always completely happy to contribute their insights to you, and not just about the articles you are considering choosing such as this bronze water feature fountain. They are also glad to talk over matters of antiques and collectibles generally and will try to answer any broader questions you might possibly have. Choosing and looking after antiques and treasures is an important subject, and we're always ready to enable you to reap the benefits of your investment in precious items such as this bronze water feature fountain.
Shipping, Delivery and Returns
This is a attractive object that needs specialized packing and transport to ensure it arrives at your desired destination securely. We can send this bronze water feature fountain to almost any location internationally and we will be completely happy to handle the packing for you, but kindly do call or email for the shipping price first, before selecting this bronze water feature fountain so we can satisfy your delivery requests. We ship free of charge to any mainland UK destination.
If you are not happy with the piece, we offer a 14-day money back pledge in compliance with the Distance Selling Regulations. You will be responsible for the return shipping expenses for this bronze water feature fountain, unless we have incorrectly defined the item in some crucial way and you do not obtain the item as described. It's essential to return the piece in its original packaging and condition.
You are also accountable for any customs duties or local taxes that fall due outside the European Union for the transport of this bronze water feature fountain.
Dimensions in cm:
Height 178 x Width 70 x Depth 70
Dimensions in inches:
Height 5 feet, 10 inches x Width 2 feet, 4 inches x Depth 2 feet, 4 inches
Angelica Kauffman, RA (1741 - 1807)
was a Swiss-born Austrian Neoclassical painter who had a successful career in London and Rome. Though born as "Kauffmann", Kauffman is the preferred spelling of her name in English; it is the form she herself used most in signing her correspondence, documents and paintings.
While Kauffman produced many types of art, she identified herself primarily as a history painter, an unusual designation for a woman artist in the 18th century. History painting, was considered the most elite and lucrative category in academic painting during this time period. Under the direction of Sir Joshua Reynolds, the Royal Academy made a strong effort to promote history painting to a native audience who were more interested in commissioning and buying portraits and landscapes.
Despite the popularity that Kauffman enjoyed in British society and her success as an artist, she was disappointed by the relative apathy that the British had towards history painting. Ultimately she left Britain for the continent, where history painting was better established, held in higher esteem and patronized.
The works of Angelica Kauffman have retained their reputation. By 1911, rooms decorated with her work were still to be seen in various quarters. At Hampton Court was a portrait of the duchess of Brunswick; in the National Portrait Gallery, a self-portrait. There were other pictures by her at Paris, at Dresden, in the Hermitage at St Petersburg, in the Alte Pinakothek atMunich, in Kadriorg Palace, Tallinn (Estonia).
Satinwood
is a hard and durable wood with a satinlike sheen, much used in cabinetmaking, especially in marquetry. It comes from two tropical trees of the family Rutaceae (rue family). East Indian or Ceylon satinwood is the yellowish or dark-brown heartwood of Chloroxylon swietenia.
The lustrous, fine-grained, usually figured wood is used for furniture, cabinetwork, veneers, and backs of brushes. West Indian satinwood, sometimes called yellow wood, is considered superior. It is the golden yellow, lustrous, even-grained wood found in the Florida Keys and the West Indies.
It has long been valued for furniture. It is also used for musical instruments, veneers, and other purposes. Satinwood is classified in the division Magnoliophyta, class Magnoliopsida, order Sapindales, family Rutaceae.
Our reference: 09254
Please feel free to email or call us (+44 20 8809 9605) to arrange a viewing in our North London warehouse.