Antique Pollard Oak Marquetry Oval Victorian Dining Table 19th C & 6 Chairs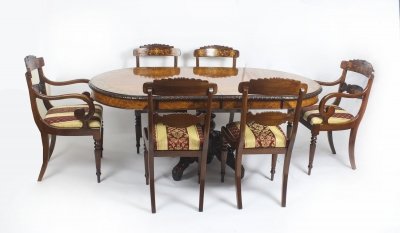 Click on image to zoom
For weekly notifications of new arrivals in your categories of interest please click HERE.
Our London showrooms
Open Mon to Fri 10am - 5pm
Open Sat 30th March 10am - 4pm
There is no mistaking the style and design of this exquisite Victorian pollard oak and marquetry dining set comprising an extending dining table, circa 1880 in date with a set of six bespoke marquetry dining chairs.

This stunning table has two leaves which can be added or removed as required to suit the occasion and can comfortably seat eight.
The top and base has been hand-crafted from solid oak. The top has been veneered in beautiful Pollard oak, which is seen in the intricate burr on the table top, with a decorative band of marquetry on a burr walnut ground with a decorative carved and moulded edge..
The table rests on a heavy turned and carved central column and quadruple supports carved with dragon heads blowing flames raised on dragon's paw feet.

The set of six bespoke walnut and marquetry dining chairs comprises four side chairs and two armchairs.

The chairs have elegantly carved solid walnut frames. They all have drop in seats which are covered in a royal burgundy and gold upholstery. Underneath these upholstered cushions are weaved cane seats. This variation allows for cooler and more comfortable dining in the warmer summer months.

Whatever the function of this gorgeous set, it will make a profound impression on your guests and will receive the maximum amount of attention wherever it is placed.
Condition:

In excellent condition having been beautifully restored in our workshops, please see photos for confirmation.
Dimensions in cm:
Height 80 x Width 193 x Depth 114 - Fully extended
Height 80 x Width 103 x Depth 114 - With both leaves removed
Height 105 x Width 56 x Depth 53 - Armchairs
Height 105 x Width 48 x Depth 46 - Side chairs
Height 53 - Seat Height
Dimensions in inches:
Height 2 feet, 7 inches x Width 6 feet, 4 inches x Depth 3 feet, 9 inches - Fully extended
Height 2 feet, 7 inches x Width 3 feet, 5 inches x Depth 3 feet, 9 inches - With both leaves removed
Height 3 feet, 5 inches x Width 1 foot, 10 inches x Depth 1 foot, 9 inches - Armchairs
Height 3 feet, 5 inches x Width 1 foot, 7 inches x Depth 1 foot, 6 inches - Side chairs
Height 1 foot, 9 inches - Seat Height
Pollard Oak
Pollarding is a pruning system in which the upper branches of a tree are removed, promoting a dense head of foliage and branches. It has been common in Europe since medieval times and is practised today in urban areas worldwide, primarily to maintain trees at a predetermined height. The bole of the tree, constantly cut back over a period of years, will eventually form a lump, or 'burr', which when sawn for veneer, gives a lovely grained, swirling figure.
The effect is similar to that of burr walnut with its distinctive speckled grain. Burrs, or 'burls', are growths which appear on the side of tree trunks, resulting from a tree undergoing some form of stress. They may be caused by an injury, virus or fungus.
During the 19th century great strides were made in the mechanisation of cabinet making. Marc Isambard Brunel [ Isambard Kingdom's father] built the first steam driven saw mill, and invented a circular saw that could be used to cut veneers thinly and evenly for the first time. He also developed the first hydraulic veneer press. The figured wood cut from burrs and pollards is notoriously difficult to cut and lay: the wild grain which makes it so attractive results in a very delicate, brittle veneer. The new machines enabled the Victorian craftsmen to make the most of these beautiful timbers.
Marquetry
is decorative artistry where pieces of material (such as wood, mother of pearl, pewter, brass silver or shell) of different colours are inserted into surface wood veneer to form intricate patterns such as scrolls or flowers.
The technique of veneered marquetry had its inspiration in 16th century Florence. Marquetry elaborated upon Florentine techniques of inlaying solid marble slabs with designs formed of fitted marbles, jaspers and semi-precious stones. This work, called opere di commessi, has medieval parallels in Central Italian "Cosmati"-work of inlaid marble floors, altars and columns. The technique is known in English as pietra dura, for the "hardstones" used: onyx, jasper, cornelian, lapis lazuli and colored marbles. In Florence, the Chapel of the Medici at San Lorenzo is completely covered in a colored marble facing using this demanding jig-sawn technique.
Techniques of wood marquetry were developed in Antwerp and other Flemish centers of luxury cabinet-making during the early 16th century. The craft was imported full-blown to France after the mid-seventeenth century, to create furniture of unprecedented luxury being made at the royal manufactory of the Gobelins, charged with providing furnishings to decorate Versailles and the other royal residences of Louis XIV. Early masters of French marquetry were the Fleming Pierre Golle and his son-in-law, André-Charles Boulle, who founded a dynasty of royal and Parisian cabinet-makers (ébénistes) and gave his name to a technique of marquetry employing shell and brass with pewter in arabesque or intricately foliate designs.
Angelica Kauffman, RA (1741 - 1807)
was a Swiss-born Austrian Neoclassical painter who had a successful career in London and Rome. Though born as "Kauffmann", Kauffman is the preferred spelling of her name in English; it is the form she herself used most in signing her correspondence, documents and paintings.
While Kauffman produced many types of art, she identified herself primarily as a history painter, an unusual designation for a woman artist in the 18th century. History painting, was considered the most elite and lucrative category in academic painting during this time period. Under the direction of Sir Joshua Reynolds, the Royal Academy made a strong effort to promote history painting to a native audience who were more interested in commissioning and buying portraits and landscapes.
Despite the popularity that Kauffman enjoyed in British society and her success as an artist, she was disappointed by the relative apathy that the British had towards history painting. Ultimately she left Britain for the continent, where history painting was better established, held in higher esteem and patronized.
The works of Angelica Kauffman have retained their reputation. By 1911, rooms decorated with her work were still to be seen in various quarters. At Hampton Court was a portrait of the duchess of Brunswick; in the National Portrait Gallery, a self-portrait. There were other pictures by her at Paris, at Dresden, in the Hermitage at St Petersburg, in the Alte Pinakothek atMunich, in Kadriorg Palace, Tallinn (Estonia).
Satinwood
is a hard and durable wood with a satinlike sheen, much used in cabinetmaking, especially in marquetry. It comes from two tropical trees of the family Rutaceae (rue family). East Indian or Ceylon satinwood is the yellowish or dark-brown heartwood of Chloroxylon swietenia.
The lustrous, fine-grained, usually figured wood is used for furniture, cabinetwork, veneers, and backs of brushes. West Indian satinwood, sometimes called yellow wood, is considered superior. It is the golden yellow, lustrous, even-grained wood found in the Florida Keys and the West Indies.
It has long been valued for furniture. It is also used for musical instruments, veneers, and other purposes. Satinwood is classified in the division Magnoliophyta, class Magnoliopsida, order Sapindales, family Rutaceae.
Our reference: 09235a
Please feel free to email or call us (+44 20 8809 9605) to arrange a viewing in our North London warehouse.
Shipping:
We ship worldwide and deliver to Mainland UK addresses free of charge.
A shipping cost to all other destinations must be requested prior to purchase.
To request a shipping quote for the items in your cart, please click HERE.
Delivery and return policy:
We require that someone be home on the agreed delivery day if applicable, otherwise a redelivery fee will apply.
In accordance with Distance Selling Regulations, we offer a 14-day money back guarantee if you are not satisfied with the item.
The item must be returned in its original packaging and condition.
Unless the item is not as described in a material way, the buyer is responsible for return shipping expenses.
Buyers are fully responsible for any customs duties or local taxes that may be incurred on items sent outside of the European Union.