Antique Sevres Royal Bleu Porcelain Pot-Pourri Urn Stamped 1846 19th C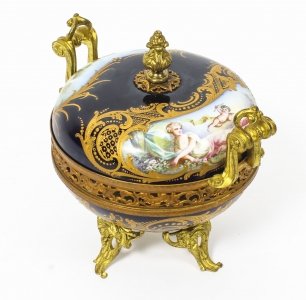 Click on image to zoom
For weekly notifications of new arrivals in your categories of interest please click HERE.
Our London showrooms
Open Mon to Fri 10am - 5pm
Open Sat 30th March 10am - 4pm
A 19TH CENTURY LOUIS PHILIPPE SERVES PORCELAIN POT POURRI decorated with a lady and cherub, having pierced ormolu mounts and feet; fully marked inside the lid 20cm high 18cm high 17cm diameter

This is a beautiful French 19th Century Louis Philippe Sevres porcelain "Royal Bleu" Pot-Pourri urn, date stamped 1846.

The dish is of classical form and features superbly painted panels with a maiden and cherub to one and a country scene to the other, finished with gilded high lights on a cobalt blue ground. It has a decorative ormolu acorn finial, pierced borders with a pair of scroll handles, is raised on four rococo ormolu legs and it bears three Sevres marks on the underside.

It is a delightful object which will compliment any interior.
Condition:
In excellent condition with no chips, cracks or signs of repair, please see photos for confirmation of condition.
Dimensions in cm:
Height 19 x Width 20 x Depth 16
Dimensions in inches:
Height 7 inches x Width 8 inches x Depth 6 inches
Sevres Porcelain traces its roots in France to early craftsmen who had small manufacturing operations in such places as Lille, Rouen. St. Cloud, and most notably Chantilly. It is from Chantilly that a cadre of workers migrated to the Chateau de Vincennes near Paris to form a larger porcelain manufactory in 1738.

French King Louis XV, perhaps inspired by his rumoured relationship with mistress Madame de Pompadour, took an intense interest in porcelain and moved the operation in 1756 to even larger quarters in the Paris suburb of Sevres. Sevres was also conveniently near the home of Madame de Pompadour and the King's own Palace at Versailles.
From the outset the king's clear aim was to produce Sevres Porcelain that surpassed the established Saxony works of Meissen and Dresden. Though the French lacked an ample supply of kaolin, a required ingredient for hard-paste porcelain (pate dure), their soft-paste porcelain (pate tendre) was fired at a lower temperature and was thus compatible with a wider variety of colours and glazes that in many cases were also richer and more vivid. Unglazed white Sevres Porcelain "biscuit" figurines were also a great success. However, soft-paste Sevres Porcelain was more easily broken. Therefore, early pieces of Sevres Porcelain that remain intact have become rare indeed.
The Sevres Porcelain manufactory always seemed to be in dire financial straits despite the incredibly fine works it produced. In fact, the king's insistence that only the finest items be created may have contributed to the difficulties. Only a limited number of European nobility could afford the extravagant prices demanded for such works. King Louis XV and eventually his heir, the ill-fated Louis XVI, were obliged to invest heavily in the enterprise. Ultimately, the Sevres Porcelain Factory produced items under the name of "Royal" and thus the well-known Sevres mark was born. King Louis XV even mandated laws that severely restricted other porcelain production in France so as to retain a near monopoly for his Sevres Porcelain. The king even willingly became chief salesman for the finest of his products, hosting an annual New Year's Day showing for French nobility in his private quarters at Versailles. He eagerly circulated among potential buyers, pitching the merits of ownership and policing the occasional light-fingered guest.
Sevres Porcelain may have indeed given the makers of Meissen and Dresden a run for their money by the end of the 18th Century but for the French Revolution. By 1800, the Sevres Porcelain Works were practically out of business due to the economic devastation of the new French Republic.

About the time when Napoleon Bonaparte named himself Emperor of France (1804), a new director was named for the Sevres Porcelain Manufactory. Alexandre Brongniart, highly educated in many fields, resurrected Sevres Porcelain. Soft-paste porcelain was eliminated altogether thanks to the earlier discovery of kaolin near Limoges. For four decades until his death, Brongniart presided over monumental progress for Sevres Porcelain, catering not only to Napoleon himself, but at last to include the more financially profitable mid-priced market in the emerging middle class.
Ormolu (from French 'or moulu', signifying ground or pounded gold) is an 18th-century English term for applying finely ground, high-carat gold in a mercury amalgam to an object of bronze.The mercury is driven off in a kiln leaving behind a gold-coloured veneer known as 'gilt bronze'.
The manufacture of true ormolu employs a process known as mercury-gilding or fire-gilding, in which a solution of nitrate of mercury is applied to a piece of copper, brass, or bronze, followed by the application of an amalgam of gold and mercury. The item was then exposed to extreme heat until the mercury burned off and the gold remained, adhered to the metal object.
No true ormolu was produced in France after around 1830 because legislation had outlawed the use of mercury. Therefore, other techniques were used instead but nothing surpasses the original mercury-firing ormolu method for sheer beauty and richness of colour. Electroplating is the most common modern technique. Ormolu techniques are essentially the same as those used on silver, to produce silver-gilt (also known as vermeil).
Angelica Kauffman, RA (1741 - 1807)
was a Swiss-born Austrian Neoclassical painter who had a successful career in London and Rome. Though born as "Kauffmann", Kauffman is the preferred spelling of her name in English; it is the form she herself used most in signing her correspondence, documents and paintings.
While Kauffman produced many types of art, she identified herself primarily as a history painter, an unusual designation for a woman artist in the 18th century. History painting, was considered the most elite and lucrative category in academic painting during this time period. Under the direction of Sir Joshua Reynolds, the Royal Academy made a strong effort to promote history painting to a native audience who were more interested in commissioning and buying portraits and landscapes.
Despite the popularity that Kauffman enjoyed in British society and her success as an artist, she was disappointed by the relative apathy that the British had towards history painting. Ultimately she left Britain for the continent, where history painting was better established, held in higher esteem and patronized.
The works of Angelica Kauffman have retained their reputation. By 1911, rooms decorated with her work were still to be seen in various quarters. At Hampton Court was a portrait of the duchess of Brunswick; in the National Portrait Gallery, a self-portrait. There were other pictures by her at Paris, at Dresden, in the Hermitage at St Petersburg, in the Alte Pinakothek atMunich, in Kadriorg Palace, Tallinn (Estonia).
Satinwood
is a hard and durable wood with a satinlike sheen, much used in cabinetmaking, especially in marquetry. It comes from two tropical trees of the family Rutaceae (rue family). East Indian or Ceylon satinwood is the yellowish or dark-brown heartwood of Chloroxylon swietenia.
The lustrous, fine-grained, usually figured wood is used for furniture, cabinetwork, veneers, and backs of brushes. West Indian satinwood, sometimes called yellow wood, is considered superior. It is the golden yellow, lustrous, even-grained wood found in the Florida Keys and the West Indies.
It has long been valued for furniture. It is also used for musical instruments, veneers, and other purposes. Satinwood is classified in the division Magnoliophyta, class Magnoliopsida, order Sapindales, family Rutaceae.
Our reference: 09225
Please feel free to email or call us (+44 20 8809 9605) to arrange a viewing in our North London warehouse.
Shipping:
We ship worldwide and deliver to Mainland UK addresses free of charge.
A shipping cost to all other destinations must be requested prior to purchase.
To request a shipping quote for the items in your cart, please click HERE.
Delivery and return policy:
We require that someone be home on the agreed delivery day if applicable, otherwise a redelivery fee will apply.
In accordance with Distance Selling Regulations, we offer a 14-day money back guarantee if you are not satisfied with the item.
The item must be returned in its original packaging and condition.
Unless the item is not as described in a material way, the buyer is responsible for return shipping expenses.
Buyers are fully responsible for any customs duties or local taxes that may be incurred on items sent outside of the European Union.