Antique Pair Japanese Meiiji Imari Porcelain Vases C1880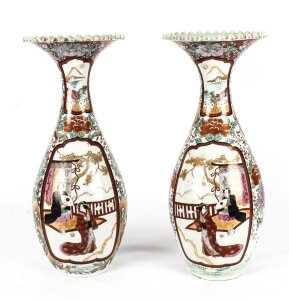 Click on image to zoom
For weekly notifications of new arrivals in your categories of interest please click HERE.
Our London showrooms
Open Mon to Fri 10am - 5pm
Open Sat 30th March 10am - 4pm
A monumental pair of Japanese Meiji period Imari porcelain vases, dating from the late 19th Century.
Each vase features a bulbous shape with the traditional scalloped rim, over the body decorated with reserve panels depicting court garden scenes and smaller shaped panels with views of Mount Fuji on chrysanthemums and peonies background adorned with phoenixes.
Each signed to the base with a three-character mark and on the top of each large panel with a two-character mark.
Instill a certain elegance to a special place in your home with these fabulous vases.

Condition:
In excellent condition, with no chips, cracks or damage, please see photos for confirmation.
Imari ware
Imari ware is a Western term for a brightly-coloured style of Arita ware Japanese export porcelain made in the area of Arita, in the former Hizen Province, northwestern Kyūshū. They were exported to Europe in large quantities, especially between the second half of the 17th century and the first half of the 18th century.

Typically Imari ware is decorated in underglaze blue, with red, gold, black for outlines, and sometimes other colours, added in overglaze. In the most characteristic floral designs, most of the surface is coloured. The style was so successful that Chinese and European producers began to copy it. Sometimes the different overglaze styles of Kakiemon and Kutani ware are also grouped under Imari ware.

The name derives from the port of Imari, Saga from which they were shipped to Nagasaki, where the Dutch East India Company and the Chinese had trading outposts. In the West the multi-coloured or "enamelled" wares became known as "Imari ware", and a different group kakiemon, while blue and white wares were called "Arita ware", in fact, the two types were often produced at the same kilns. Today, the use of "Imari" as a descriptor has declined, and they are often called Arita wares (or Hizen wares, after the old province). Imari ware was copied in both China and Europe and has been continuously produced to the present day.

Early Imari (shoki imari) is a traditional and somewhat confusing term used for very different wares that were made around Arita before about 1650. The porcelains are generally small and sparsely painted in underglaze blue for the domestic market, but there are also some large green celadon dishes, apparently made for the southeast Asian market, in a porcellaneous stoneware.

Arita's kilns were set up in the 17th century after kaolin was discovered in 1616. A popular legend attributes the discovery to an immigrant Korean potter, Yi Sam-pyeong (1579–1655), although most historians consider this doubtful. After the discovery, some kilns began to produce revised Korean-style blue and white porcelains, known as Early Imari, or "Shoki-Imari".

In the mid-17th century, there were also many Chinese refugees in northern Kyushu due to the turmoil in China, and it is said that one of them brought the overglaze enamel colouring technique to Arita. Thus Shoki-Imari developed into Ko-Kutani, Imari, and later Kakiemon, which are sometimes taken as a wider group of Imari wares. Ko-Kutani was produced around 1650 for both export and domestic market. Kutani ware is characterized by vivid green, blue, purple, yellow and red colours in bold designs of landscapes and nature. Blue and white porcelain pieces continued to be produced and they are called Ai-Kutani. Ko-Kutani Imari for the export market usually adopted Chinese design structure such as Kraak style, whereas Ai-Kutani for the domestic market were highly unique in design and are accordingly valued very much among collectors.

Ko-Kutani style evolved into Kakiemon-style Imari, which was produced for about 50 years around 1700. Kakiemon was characterized by crisp lines and bright blue, red and green designs of dramatically stylized floral and bird scenes. Imari achieved its technical and aesthetic peak in the Kakiemon style, and it dominated the European market. Blue and white Kakiemon is called Ai-Kakiemon. The Kakiemon style transformed into Kinrande in the 18th century, using underglaze blue and overglaze red and gold enamels, and later additional colours.

Imari began to be exported to Europe when the Chinese kilns at Jingdezhen were damaged in the political chaos and the new Qing dynasty government halted trade in 1656–1684. Exports to Europe were made through the Dutch East India Company, and in Europe the designation "Imari porcelain" connotes Arita wares of mostly Kinrande Imari.

Export of Imari to Europe stopped in the mid-18th century when China resumed export to Europe since Imari was not able to compete against Chinese products due to high labour costs. By that time, however, both Imari and Kakiemon styles were already so popular among Europeans that the Chinese export porcelain copied both, a type known as Chinese Imari. At the same time, European kilns, such as Meissen and English potteries such as Johnson Bros. and (Royal) Crown Derby, also imitated the Imari and Kakiemon styles.

Export of Imari surged again in the late 19th century (Meiji era) when Japonism flourished in Europe. Thus in the western world today, two kinds of true Japanese Imari can be found: that exported in the mid-Edo period, and that exported in the Meiji era. From the viewpoint of collectors, these two types are completely different, though Kinrande appearances are similar.
Angelica Kauffman, RA (1741 - 1807)
was a Swiss-born Austrian Neoclassical painter who had a successful career in London and Rome. Though born as "Kauffmann", Kauffman is the preferred spelling of her name in English; it is the form she herself used most in signing her correspondence, documents and paintings.
While Kauffman produced many types of art, she identified herself primarily as a history painter, an unusual designation for a woman artist in the 18th century. History painting, was considered the most elite and lucrative category in academic painting during this time period. Under the direction of Sir Joshua Reynolds, the Royal Academy made a strong effort to promote history painting to a native audience who were more interested in commissioning and buying portraits and landscapes.
Despite the popularity that Kauffman enjoyed in British society and her success as an artist, she was disappointed by the relative apathy that the British had towards history painting. Ultimately she left Britain for the continent, where history painting was better established, held in higher esteem and patronized.
The works of Angelica Kauffman have retained their reputation. By 1911, rooms decorated with her work were still to be seen in various quarters. At Hampton Court was a portrait of the duchess of Brunswick; in the National Portrait Gallery, a self-portrait. There were other pictures by her at Paris, at Dresden, in the Hermitage at St Petersburg, in the Alte Pinakothek atMunich, in Kadriorg Palace, Tallinn (Estonia).
Satinwood
is a hard and durable wood with a satinlike sheen, much used in cabinetmaking, especially in marquetry. It comes from two tropical trees of the family Rutaceae (rue family). East Indian or Ceylon satinwood is the yellowish or dark-brown heartwood of Chloroxylon swietenia.
The lustrous, fine-grained, usually figured wood is used for furniture, cabinetwork, veneers, and backs of brushes. West Indian satinwood, sometimes called yellow wood, is considered superior. It is the golden yellow, lustrous, even-grained wood found in the Florida Keys and the West Indies.
It has long been valued for furniture. It is also used for musical instruments, veneers, and other purposes. Satinwood is classified in the division Magnoliophyta, class Magnoliopsida, order Sapindales, family Rutaceae.
Our reference: 09131
Please feel free to email or call us (+44 20 8809 9605) to arrange a viewing in our North London warehouse.
Shipping:
We ship worldwide and deliver to Mainland UK addresses free of charge.
A shipping cost to all other destinations must be requested prior to purchase.
To request a shipping quote for the items in your cart, please click HERE.
Delivery and return policy:
We require that someone be home on the agreed delivery day if applicable, otherwise a redelivery fee will apply.
In accordance with Distance Selling Regulations, we offer a 14-day money back guarantee if you are not satisfied with the item.
The item must be returned in its original packaging and condition.
Unless the item is not as described in a material way, the buyer is responsible for return shipping expenses.
Buyers are fully responsible for any customs duties or local taxes that may be incurred on items sent outside of the European Union.