Antique Royal Worcester Porcelain Still Life Plaque by Chamberlains 19th Century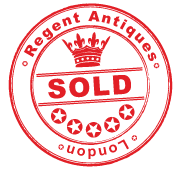 For weekly notifications of new arrivals in your categories of interest please click HERE.
This is a fine and unique antique framed Royal Worcester porcelain plaque by Chamberlains Worcester, retailed by W. P. & G. Phillips, 359, Oxford Street, circa 1840 in date.

The Worcester rectangular plaque with an integral three-dimensional gilded porcelain frame which borders a central painted still life in full colour of a classical vase with summer flowers.

Provenance: the reverse with paper label in ink, A unique piece of "Old Worcester China" finely painted with flowers purchased by Mr Jonathan Phillips 1846, Price Thirty Guineas, painted for W. P. & G. Phillips, 359, Oxford Street.

Add this beautiful item to your collection with this rare and unique piece to your collection.

Condition:
In excellent condition with no chips, cracks or signs of repair, please see photos for confirmation of condition.
Dimensions in cm:
Height 30 x Width 26 x Depth 4
Dimensions in inches:
Height 1 foot x Width 10 inches x Depth 2 inches
Phillips were London retailers of china and glassware - their advertisements state that they were established in 1760. They were retailers of Staffordshire pottery, amongst others.

The business was started by George Phillips at Oxford Street, London - the premises were 'next to the Pantheon' (the elegant prototype of the modern 'hypermarket', which opened in January 1772)

After George Phillips's death, the business was carried on by his two sons, Jacob and Jonathan, at least until the 1830s.

The firm seems later to have continued, first as W.P. & G. Phillips, at 358–359 Oxford Street until 1897 (and also at 155 New Bond Street, c.1858–89), then as Phillips & Co., Mount Street, Grosvenor Square c.1897–1906 and probably finally as Phillips Ltd, 43–44 Bond Street, c.1908–29.

There may well have been a family connection with two firms of Staffordshire potters: Edward & George Phillips, of Longport, Burslem (a firm which flourished 1822–34, and was continued as George Phillips 1834–48), and Jacob Phillips of Shelton, who was in partnership with John Denton Bagster from 1818–25, continuing the firm after Bagster's death until it was closed down in 1828.

It is recorded that George Phillips' widow spent her last years with one of her sons at Hanley in the heart of the North Staffordshire potteries.
Royal Worcester is believed to be the oldest and second oldest remaining English porcelain brand still in existence today (disputed by Royal Crown Derby 1750 year of establishment).

It all started with Dr John Wall, a physician, and William Davis, an apothecary, who developed a unique method for producing porcelain and, in 1751, persuaded a group of 13 businessmen to invest in a new factory at Warmstry House, Worcester, England, on the banks of the River Severn. Dr Wall secured the sum of £4500 from the partners to establish the factory, known then as "The Worcester Tonquin Manufactory"; the original partnership deeds are still housed in the Museum of Worcester Porcelain.

In 1783, the factory was purchased by Thomas Flight—the former London sales agent for the concern—for £3,000. He let his two sons run the concern, with John Flight taking the lead role till his death in 1791. In 1788 George III, following a visit to the company, granted it a royal warrant, and it became known as the "Royal Porcelain Works". Knowledge of this period is largely a result of the excellent diary that John Flight kept from 1785–1791. This is discussed in detail in Appendix III of Flight & Barr Worcester Porcelain by Henry Sandon.
During this period, the factory was in poor repair. Production was limited to low-end patterns of mostly Blue and White porcelains after Chinese porcelain designs of the period. It was also pressured by competition from inexpensive Chinese export porcelains, and from Thomas Turner's Caughley (pronounced "Calf-ley") Factory.
Martin Barr joined the firm as a partner in 1792; porcelains of this period are often identified by an incised capital "B" and, later, by more elaborate printed and impressed marks.

Thomas Flight died in 1800, leaving the factory in the hands of his son Joseph Flight and Martin Barr. Barr's sons Martin Barr Jr. and George Barr were being prepared at that time to run the factory.
In addition to the warrant granted by George III, Royal Warrants were also issued by the Prince of Wales, in 1807,and the Princess of Wales, in 1808.

The factory's former site includes the independent Museum of Royal Worcester (formerly known as the Dyson Perrins Museum'and 'Worcester Porcelain Museum') owned by the Dyson Perrins Museum Trust. The Museum houses the world's largest collection of Worcester porcelain. The collections date back to 1751 and the Victorian gallery, the ceramic collections, archives and records of factory production, form the primary resource for the study of Worcester porcelain and its history.

After the 1976 merger with Spode and due to heavy competition from overseas, the production was switched to factories in Stoke and abroad. 100 staff were made redundant in 2003 and another 100 went in 2005. Fifteen porcelain painters left the Severn Street factory on Friday 29 September 2006, together with 100 other workers. The last trading date for Royal Worcester was 14 June 2009.
The company went into administration on 6 November 2008 and on 23 April 2009 the brand name and intellectual property were acquired by Portmeirion Pottery Group – a pottery and homewares company based in Stoke-on-Trent. As Portmeirion Group has a factory in Stoke-on-Trent, the purchase did not include Royal Worcester and Spode manufacturing facilities.
Angelica Kauffman, RA (1741 - 1807)
was a Swiss-born Austrian Neoclassical painter who had a successful career in London and Rome. Though born as "Kauffmann", Kauffman is the preferred spelling of her name in English; it is the form she herself used most in signing her correspondence, documents and paintings.
While Kauffman produced many types of art, she identified herself primarily as a history painter, an unusual designation for a woman artist in the 18th century. History painting, was considered the most elite and lucrative category in academic painting during this time period. Under the direction of Sir Joshua Reynolds, the Royal Academy made a strong effort to promote history painting to a native audience who were more interested in commissioning and buying portraits and landscapes.
Despite the popularity that Kauffman enjoyed in British society and her success as an artist, she was disappointed by the relative apathy that the British had towards history painting. Ultimately she left Britain for the continent, where history painting was better established, held in higher esteem and patronized.
The works of Angelica Kauffman have retained their reputation. By 1911, rooms decorated with her work were still to be seen in various quarters. At Hampton Court was a portrait of the duchess of Brunswick; in the National Portrait Gallery, a self-portrait. There were other pictures by her at Paris, at Dresden, in the Hermitage at St Petersburg, in the Alte Pinakothek atMunich, in Kadriorg Palace, Tallinn (Estonia).
Satinwood
is a hard and durable wood with a satinlike sheen, much used in cabinetmaking, especially in marquetry. It comes from two tropical trees of the family Rutaceae (rue family). East Indian or Ceylon satinwood is the yellowish or dark-brown heartwood of Chloroxylon swietenia.
The lustrous, fine-grained, usually figured wood is used for furniture, cabinetwork, veneers, and backs of brushes. West Indian satinwood, sometimes called yellow wood, is considered superior. It is the golden yellow, lustrous, even-grained wood found in the Florida Keys and the West Indies.
It has long been valued for furniture. It is also used for musical instruments, veneers, and other purposes. Satinwood is classified in the division Magnoliophyta, class Magnoliopsida, order Sapindales, family Rutaceae.
Our reference: 09088