Antique Victorian Burr Walnut Marquetry Bookcase Display Cabinet 19th Century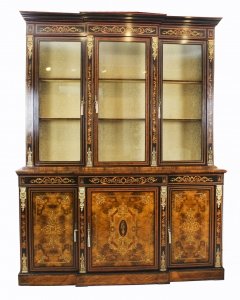 Click on image to zoom
For weekly notifications of new arrivals in your categories of interest please click HERE.
Our London showrooms
Open Mon to Fri 10am - 5pm
Open Sat 30th March 10am - 4pm
This is a stunning antique Victorian burr walnut marquetry ebonised and ormolu mounted bookcase / display cabinet, circa 1860 in date

The piece features a rich and striking grain, has been accomplished in a
burr walnut and ebonised finish with amboyna wood cross banding, colourful floral marquetry panels, with further foliate decoration and stunning gilt ormolu mounts.
The upper section is
enclosed by three glazed panel doors which reveal two
shelves, the bottom section has a central shelf, and it has
has the original shelves, locks and glazing.

The interior has been superbly lined in a decorative yellow silk, and it is complete with working locks and keys.

Instill the elegance of a bygone era to a special place in your home with this fabulous antique bookcase.
Condition:

In excellent condition having been beautifully cleaned polished and waxed, and the interior relined in our workshops, please see photos for confirmation.

Dimensions in cm:
Height 245 x Width 200 x Depth 53
Dimensions in inches:
Height 8 feet, 0 inches x Width 6 feet, 7 inches x Depth 1 foot, 9 inches
Walnut & Burr Walnut

Walnut is a hard, dense, tight- grained wood that polishes to a very smooth finish. It is a popular and attractive wood whose colour ranges from near white in the sapwood to a dark hew in the heartwood. When dried in a kiln, walnut wood tends to develop a dull brown colour, but when air-dried can become a rich purplish-brown. Because of its colour, hardness and grain, it is a prized furniture and carving wood. Walnut veneer was highly priced and the cost would reflect the 'fanciness' of the veneer – the more decorative, then the more expensive and desirable.

Burr walnut refers to the swirling figure present in nearly all walnut when cut and polished, and especially in the wood taken from the base of the tree where it joins the roots. However the true burr is a rare growth on the tree where hundreds of tiny branches have started to grow. Burr walnut produces some of the most complex and beautiful figuring you can find.

Walnut "burrs" were often used to make fabulous furniture. Veneer sliced from walnut burl is one of the most valuable and highly prized by cabinet makers and prestige car manufacturers and is also a favourite material for shotgun stocks.

Inlay was commonly used in the production of decorative burr walnut furniture, where pieces of coloured veneers are inlaid into the surface of the walnut, adding delicate or intricate patterns and designs. Inlays normally use various exotic veneers, but other materials such as mother-of-pearl, brass or bone were also be used.

Marquetry
is decorative artistry where pieces of material (such as wood, mother of pearl, pewter, brass silver or shell) of different colours are inserted into surface wood veneer to form intricate patterns such as scrolls or flowers.
The technique of veneered marquetry had its inspiration in 16th century Florence. Marquetry elaborated upon Florentine techniques of inlaying solid marble slabs with designs formed of fitted marbles, jaspers and semi-precious stones. This work, called opere di commessi, has medieval parallels in Central Italian "Cosmati"-work of inlaid marble floors, altars and columns. The technique is known in English as pietra dura, for the "hardstones" used: onyx, jasper, cornelian, lapis lazuli and colored marbles. In Florence, the Chapel of the Medici at San Lorenzo is completely covered in a colored marble facing using this demanding jig-sawn technique.
Techniques of wood marquetry were developed in Antwerp and other Flemish centers of luxury cabinet-making during the early 16th century. The craft was imported full-blown to France after the mid-seventeenth century, to create furniture of unprecedented luxury being made at the royal manufactory of the Gobelins, charged with providing furnishings to decorate Versailles and the other royal residences of Louis XIV. Early masters of French marquetry were the Fleming Pierre Golle and his son-in-law, André-Charles Boulle, who founded a dynasty of royal and Parisian cabinet-makers (ébénistes) and gave his name to a technique of marquetry employing shell and brass with pewter in arabesque or intricately foliate designs.
Ormolu - (from French 'or moulu', signifying ground or pounded gold) is an 18th-century English term for applying finely ground, high-carat gold in a mercury amalgam to an object of bronze.The mercury is driven off in a kiln leaving behind a gold-coloured veneer known as 'gilt bronze'.
The manufacture of true ormolu employs a process known as mercury-gilding or fire-gilding, in which a solution of nitrate of mercury is applied to a piece of copper, brass, or bronze, followed by the application of an amalgam of gold and mercury. The item was then exposed to extreme heat until the mercury burned off and the gold remained, adhered to the metal object.
After around 1830 because legislation had outlawed the use of mercury other techniques were used instead. Electroplating is the most common modern technique. Ormolu techniques are essentially the same as those used on silver, to produce silver-gilt..
Angelica Kauffman, RA (1741 - 1807)
was a Swiss-born Austrian Neoclassical painter who had a successful career in London and Rome. Though born as "Kauffmann", Kauffman is the preferred spelling of her name in English; it is the form she herself used most in signing her correspondence, documents and paintings.
While Kauffman produced many types of art, she identified herself primarily as a history painter, an unusual designation for a woman artist in the 18th century. History painting, was considered the most elite and lucrative category in academic painting during this time period. Under the direction of Sir Joshua Reynolds, the Royal Academy made a strong effort to promote history painting to a native audience who were more interested in commissioning and buying portraits and landscapes.
Despite the popularity that Kauffman enjoyed in British society and her success as an artist, she was disappointed by the relative apathy that the British had towards history painting. Ultimately she left Britain for the continent, where history painting was better established, held in higher esteem and patronized.
The works of Angelica Kauffman have retained their reputation. By 1911, rooms decorated with her work were still to be seen in various quarters. At Hampton Court was a portrait of the duchess of Brunswick; in the National Portrait Gallery, a self-portrait. There were other pictures by her at Paris, at Dresden, in the Hermitage at St Petersburg, in the Alte Pinakothek atMunich, in Kadriorg Palace, Tallinn (Estonia).
Satinwood
is a hard and durable wood with a satinlike sheen, much used in cabinetmaking, especially in marquetry. It comes from two tropical trees of the family Rutaceae (rue family). East Indian or Ceylon satinwood is the yellowish or dark-brown heartwood of Chloroxylon swietenia.
The lustrous, fine-grained, usually figured wood is used for furniture, cabinetwork, veneers, and backs of brushes. West Indian satinwood, sometimes called yellow wood, is considered superior. It is the golden yellow, lustrous, even-grained wood found in the Florida Keys and the West Indies.
It has long been valued for furniture. It is also used for musical instruments, veneers, and other purposes. Satinwood is classified in the division Magnoliophyta, class Magnoliopsida, order Sapindales, family Rutaceae.
Our reference: 08963
Please feel free to email or call us (+44 20 8809 9605) to arrange a viewing in our North London warehouse.
Shipping:
We ship worldwide and deliver to Mainland UK addresses free of charge.
A shipping cost to all other destinations must be requested prior to purchase.
To request a shipping quote for the items in your cart, please click HERE.
Delivery and return policy:
We require that someone be home on the agreed delivery day if applicable, otherwise a redelivery fee will apply.
In accordance with Distance Selling Regulations, we offer a 14-day money back guarantee if you are not satisfied with the item.
The item must be returned in its original packaging and condition.
Unless the item is not as described in a material way, the buyer is responsible for return shipping expenses.
Buyers are fully responsible for any customs duties or local taxes that may be incurred on items sent outside of the European Union.