Antique Art Deco Burr Walnut Half Moon Cocktail Bar c.1930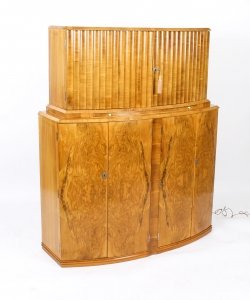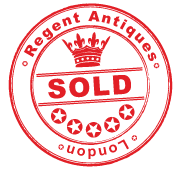 For weekly notifications of new arrivals in your categories of interest please click HERE.
This is a fantastic antique Art Deco burr walnut bow fronted cocktail cabinet, circa 1930 in date and in the manner of Epstein.
This beautiful cabinet's upper part comprises a pair of ripple panelled doors enclosing a striking fitted mirrored interior above a pull out mirrored mixing shelf. The lower part has a four door cupboard that opens to house bottles. It is fitted with lights that have been rewired so as to be in working order.
There is no mistaking the timeless appeal of this highly collectable item. This cocktail bar would be a wonderful addition to your lounge or family room and is sure to get noticed wherever it is placed.
Please note that the glasses are not included.
Condition:

In excellent condition having been beautifully restored in our workshops, please see photos for confirmation.
Dimensions in cm:
Height 140 x Width 118 x Depth 43
Dimensions in inches:
Height 4 feet, 7 inches x Width 3 feet, 10 inches x Depth 1 foot, 5 inches
Walnut & Burr Walnut

Walnut is a hard, dense, tight- grained wood that polishes to a very smooth finish. It is a popular and attractive wood whose colour ranges from near white in the sapwood to a dark hew in the heartwood. When dried in a kiln, walnut wood tends to develop a dull brown colour, but when air-dried can become a rich purplish-brown. Because of its colour, hardness and grain, it is a prized furniture and carving wood. Walnut veneer was highly priced and the cost would reflect the 'fanciness' of the veneer – the more decorative, then the more expensive and desirable.

Burr walnut refers to the swirling figure present in nearly all walnut when cut and polished, and especially in the wood taken from the base of the tree where it joins the roots. However the true burr is a rare growth on the tree where hundreds of tiny branches have started to grow. Burr walnut produces some of the most complex and beautiful figuring you can find.

Walnut "burrs" were often used to make fabulous furniture. Veneer sliced from walnut burl is one of the most valuable and highly prized by cabinet makers and prestige car manufacturers and is also a favourite material for shotgun stocks.

Inlay was commonly used in the production of decorative burr walnut furniture, where pieces of coloured veneers are inlaid into the surface of the walnut, adding delicate or intricate patterns and designs. Inlays normally use various exotic veneers, but other materials such as mother-of-pearl, brass or bone were also be used.

Art Deco or Deco,
is an influential visual arts design style which first appeared in France during the 1920s, flourished internationally during the 30s and 40s.

It is an eclectic style that combines traditional craft motifs with Machine Ageimagery and materials. The style is often characterized by rich colours, bold geometric shapes, and lavish ornamentation.
Deco emerged from the Interwar period when rapid industrialization was transforming culture. One of its major attributes is an embrace of technology. This distinguishes Deco from the organic motifs favored by its predecessor Art Nouveau.
Historian Bevis Hillier defined Art Deco as "an assertively modern style...[that] ran to symmetry rather than asymmetry, and to the rectilinear rather than the curvilinear; it responded to the demands of the machine and of new material...[and] the requirements of mass production".
During its heyday Art Deco represented luxury, glamour, exuberance, and faith in social and technological progress.
Angelica Kauffman, RA (1741 - 1807)
was a Swiss-born Austrian Neoclassical painter who had a successful career in London and Rome. Though born as "Kauffmann", Kauffman is the preferred spelling of her name in English; it is the form she herself used most in signing her correspondence, documents and paintings.
While Kauffman produced many types of art, she identified herself primarily as a history painter, an unusual designation for a woman artist in the 18th century. History painting, was considered the most elite and lucrative category in academic painting during this time period. Under the direction of Sir Joshua Reynolds, the Royal Academy made a strong effort to promote history painting to a native audience who were more interested in commissioning and buying portraits and landscapes.
Despite the popularity that Kauffman enjoyed in British society and her success as an artist, she was disappointed by the relative apathy that the British had towards history painting. Ultimately she left Britain for the continent, where history painting was better established, held in higher esteem and patronized.
The works of Angelica Kauffman have retained their reputation. By 1911, rooms decorated with her work were still to be seen in various quarters. At Hampton Court was a portrait of the duchess of Brunswick; in the National Portrait Gallery, a self-portrait. There were other pictures by her at Paris, at Dresden, in the Hermitage at St Petersburg, in the Alte Pinakothek atMunich, in Kadriorg Palace, Tallinn (Estonia).
Satinwood
is a hard and durable wood with a satinlike sheen, much used in cabinetmaking, especially in marquetry. It comes from two tropical trees of the family Rutaceae (rue family). East Indian or Ceylon satinwood is the yellowish or dark-brown heartwood of Chloroxylon swietenia.
The lustrous, fine-grained, usually figured wood is used for furniture, cabinetwork, veneers, and backs of brushes. West Indian satinwood, sometimes called yellow wood, is considered superior. It is the golden yellow, lustrous, even-grained wood found in the Florida Keys and the West Indies.
It has long been valued for furniture. It is also used for musical instruments, veneers, and other purposes. Satinwood is classified in the division Magnoliophyta, class Magnoliopsida, order Sapindales, family Rutaceae.
Our reference: 08961