Antique Victorian Silver Plated WMF Shell Folding Biscuit Box C1900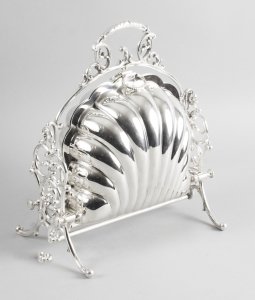 Click on image to zoom
For weekly notifications of new arrivals in your categories of interest please click HERE.
Our London showrooms
Open Mon to Fri 10am - 5pm
Open Sat 28th April 10am - 4pm
This is a beautiful Antique Victorian silver plated folding biscuit box the base bearing the mark of the renowned maker WMF, C1900 in date.

It has a plain shell-style body sitting in a cast frame, and with original interior hand-pierced dividers. The opening mechanism is as intricate as the shell decoration, it opens out into two halves and is held shut by gorgeous clasps at the top.

The interior is engraved "W.A.M. from D.W.M"
This container could house anything from sweets to biscuits or trinkets.

Whatever you choose to store in this lovely item you are sure to do it in style.

Condition:
In excellent condition, please see photos for confirmation.
Dimensions in cm:
Height 27 x Width 24 x Depth 15
Dimensions in inches:
Height 11 inches x Width 9 inches x Depth 6 inches
WMF
In 1853, Daniel Straub, a miller from Geislingen, joined forces with the Schweizer Brothers to form the "Metallwarenfabrik Straub & Schweizer" in Geislingen.
This was the second company to be founded by Straub - previously in 1850, from the nucleus of a small repair workshop, which he had set up to work on the construction of Geislingen's famous railway incline, he had founded Maschinenfabrik Geislingen. This company was involved mainly in manufacturing mill turbines and traded throughout Europe.
As early as 1862, the young company distinguished itself by winning a gold medal at the World Exhibition in London. In 1866, following the departure of the brothers Louis and Friedrich Schweizer, the company was renamed Straub & Sohn" (Straub & Son). The company showroom, built in 1868 in Berlin, gradually evolved to become the company's first retail outlet. Three years later, the company was already employing 60 workers. By 1880, the number of employees had grown to approximately 200 and the company was already producing 960 different items.

1880 saw the merger between Straub & Sohn and "Ritter & Co.", Esslingen, to form a public limited company under the name of Wurttembergische Metallwarenfabrik. At the time of the merger, Ritter & Co.'s Esslingen factory was already using the electroplating method of silver plating and had the more modern production facilities at its disposal. Straub's company, on the other hand, was the more profitable of the two.

1892 saw the development of a special technique for silver plating cutlery, whereby the silver is distributed in a way that, at the points of the cutlery most exposed to wear and tear, the coating is twice as thick as elsewhere. This process was patented and is still in use today. Known nowadays as 'Perfect Hard Silver plating' the technique remains exclusive to WMF.

Under Carl Hugele the company gained international standing. At the turn of the century the factory in Geislingen employed 3,000 workers. By 1910, this number had already grown to 4,000, making WMF the largest company in Wurttemberg at this time. Sales catalogues were printed in twelve languages. Subsidiary companies in London, Warsaw and Vienna opened up export markets.

Under the direction of Albert Mayer the WMF studio was influenced by the art nouveau style. The product range was modernized and considerably extended. In 1905 WMF acquired a majority holding of the Cologne company Orivit AG, which manufactured products from "Orivit", a tin alloy.

As of 1925, products created by the Contemporary Decorative Products Department (NKA) made their debut on the market. This department was set up under the direction of Hugo Debach in order to establish the name of WMF amongst consumers interested in art and design. This department was responsible for producing the special "Ikora" finish, which has earned an important place in the annals of art history. The "Ikora" brand name referred to a specific method of treating the surface of the metal, by which layers of coating were applied in a partly chemical and partly heat induced process. A host of newly developed hand-finishing techniques enhanced the possibilities for adding decorative flourishes to the products. Despite being mass produced, every item looked as if it had been individually crafted.

At the end of the war the company had lost its foreign assets, associated factories and retail outlets. The years following 1945 saw the start of a concerted effort to reconstruct in terms of personnel, organizational structures and technology in the remaining factory sites. The network of retail shops was rebuilt. Very soon, subsidiaries sprang up in the USA, Holland, Canada, Switzerland, Austria and Italy.

By 1950, WMF staff numbers had again swelled to 3,000. Silverplated tableware and cutlery accounted for two thirds of WMF's turnover, with shops specialising in clocks and watches, gold and silverware representing the company's main customers. A shift in emphasis occurred at the end of the 1950s and was marked by an increase in the importance of Cromargan cutlery and hollowware. This period saw the creation of classic products, such as designed by Wilhelm Wagenfeld, which still feature in or have been reintroduced into the WMF collection. It also saw an increase in the volume of trade in household and kitchenware items between WMF and specialist retail shops. A number of stemware collections completed the WMF catalogue, followed by the development of an extensive range of products for the hotel and catering industry.

By 1960, the Geislingen factory alone employed around 5,800 workers. A shortage of space and manpower at this site led to the setting up of additional branch factories, like the factory in Hayingen and Riedlingen.

Angelica Kauffman, RA (1741 - 1807)
was a Swiss-born Austrian Neoclassical painter who had a successful career in London and Rome. Though born as "Kauffmann", Kauffman is the preferred spelling of her name in English; it is the form she herself used most in signing her correspondence, documents and paintings.
While Kauffman produced many types of art, she identified herself primarily as a history painter, an unusual designation for a woman artist in the 18th century. History painting, was considered the most elite and lucrative category in academic painting during this time period. Under the direction of Sir Joshua Reynolds, the Royal Academy made a strong effort to promote history painting to a native audience who were more interested in commissioning and buying portraits and landscapes.
Despite the popularity that Kauffman enjoyed in British society and her success as an artist, she was disappointed by the relative apathy that the British had towards history painting. Ultimately she left Britain for the continent, where history painting was better established, held in higher esteem and patronized.
The works of Angelica Kauffman have retained their reputation. By 1911, rooms decorated with her work were still to be seen in various quarters. At Hampton Court was a portrait of the duchess of Brunswick; in the National Portrait Gallery, a self-portrait. There were other pictures by her at Paris, at Dresden, in the Hermitage at St Petersburg, in the Alte Pinakothek atMunich, in Kadriorg Palace, Tallinn (Estonia).
Satinwood
is a hard and durable wood with a satinlike sheen, much used in cabinetmaking, especially in marquetry. It comes from two tropical trees of the family Rutaceae (rue family). East Indian or Ceylon satinwood is the yellowish or dark-brown heartwood of Chloroxylon swietenia.
The lustrous, fine-grained, usually figured wood is used for furniture, cabinetwork, veneers, and backs of brushes. West Indian satinwood, sometimes called yellow wood, is considered superior. It is the golden yellow, lustrous, even-grained wood found in the Florida Keys and the West Indies.
It has long been valued for furniture. It is also used for musical instruments, veneers, and other purposes. Satinwood is classified in the division Magnoliophyta, class Magnoliopsida, order Sapindales, family Rutaceae.
Our reference: 08796
Please feel free to email or call us (+44 20 8809 9605) to arrange a viewing in our North London warehouse.
Shipping:
We ship worldwide and deliver to Mainland UK addresses free of charge.
A shipping cost to all other destinations must be requested prior to purchase.
To request a shipping quote for the items in your cart, please click HERE.
Delivery and return policy:
We require that someone be home on the agreed delivery day if applicable, otherwise a redelivery fee will apply.
In accordance with Distance Selling Regulations, we offer a 14-day money back guarantee if you are not satisfied with the item.
The item must be returned in its original packaging and condition.
Unless the item is not as described in a material way, the buyer is responsible for return shipping expenses.
Buyers are fully responsible for any customs duties or local taxes that may be incurred on items sent outside of the European Union.