Antique Oil Painting François Gérard 1770 - 1837 of The Colosseum Circa 1820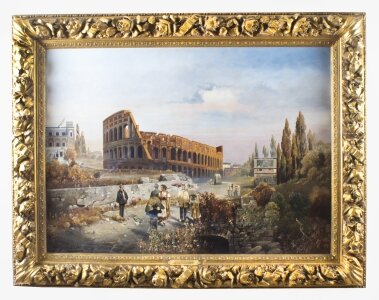 Click on image to zoom
For weekly notifications of new arrivals in your categories of interest please click HERE.
Our London showrooms
Open Mon to Fri 10am - 5pm
Open Sat 30th March 10am - 4pm
This is a beautiful oil on canvas painting of the Colosseum in the centre of Rome by the renowned French artist François Gérard (1770 - 1837) and signed lower left.
This beautiful landscape captures a striking view of the Colosseum, also known as the Flavian Amphitheatre, it is an oval amphitheatre in the centre of the city of Rome and it features people walking and enjoying the view.

Housed in it's original and magnificent gilt gallery frame decorated with carved and gilded roses and ribbons.
Several examples of his work have sold at top auction houses:

1. Auction house: Artcurial (S.V.V.) Paris France
Auction date 23 Mar 2017
Le sacre de Charles X à Reims
Hammer price £ 44,792 (€ 52,000)
https://www.artprice.com/artist/11108/francois-gerard/drawing-watercolor/12903015/le-sacre-de-charles-x-a-reims?lots_search_uniq_id=-1327225916676237410

2. Auction house K -Mondo Paris France
Auction date 10 Mar 2017
Portrati de l'Impératrice Marie-Louise en buste
Hammer price £ 15,798 (€ 18,000)
https://www.artprice.com/artist/11108/francois-gerard/painting/12856221/portrati-de-l-imperatrice-marie-louise-en-buste?lots_search_uniq_id=-1327225916676237410

3. Auction house: Delorme-Collin du Bocage Paris France
Auction date 08 Jun 2016
Caroline Murat et ses deux premiers enfants, Achille et Letizia
Hammer price £ 21,898 (€ 28,000)
https://www.artprice.com/artist/11108/francois-gerard/drawing-watercolor/10970178/caroline-murat-et-ses-deux-premiers-enfants-achille-et-letizia?lots_search_uniq_id=-1327225916676237410

4. Auction house: Delorme-Collin du Bocage Paris France
Auction date 02 Dec 2015
Marie-Amélie de Bourbon duchesse d'Orléans et future reine des Français
Hammer price £ 24,594 (€ 35,000)

Condition:
In really excellent condition, please see photos for confirmation.
Dimensions in cm:
Height 96 x Width 123 x Depth 9 - frame
Height 71 x Width 98 - painting
Dimensions in inches:
Height 3 feet, 2 inches x Width 4 feet, 0 inches x Depth 3 inches - frame
Height 2 feet, 4 inches x Width 3 feet, 3 inches - painting
French was born in Rome, on 4 Mау 1770, to J. S. Gérard and Cleria Matteï. At the age of twelve Gérard obtained admission into the Pension du Roi in Paris. From the Pension he passed to the studio of the sculptor Augustin Pajou which he left at the end of two years for that of the history painter Nicolas-Guy Brenet, whom he quit almost immediately to place himself under Jacques-Louis David.

In 1789 he competed for the Prix de Rome, which was carried off by his comrade Girodet. In the following year (1790) he again presented himself, but the death of his father prevented the completion of his work, and obliged him to accompany his mother to Rome. In 1791 he returned to Paris; but his poverty was so great that he was forced to forgo his studies in favour of employment which should bring in immediate profit. David at once availed himself of his help, and one of that master's most celebrated portraits, of Louis-Michel Le Pelletier de St Fargeau may owe much to the hand of Gérard. This painting was executed early in 1793, the year in which Gérard, at the request of David, was named a member of the revolutionary tribunal, from the fatal decisions of which he, however, invariably absented himself.

In 1794 he obtained the first prize in a competition, the subject of which was The Tenth of August, that is, the storming of the Tuileries Palace. Further stimulated by the successes of his rival and friend Girodet in the Salons of 1793 and 1794, Gérard (nobly aided by Jean-Baptiste Isabey, the miniaturist, produced in 1795 his famous Bélisaire. In 1796 a portrait of his generous friend (conserved today in the Louvre) obtained undisputed success, and the money received from Isabey for these two works enabled Gérard to execute in 1797 his Psyche et l'Amour (illustration). At last, in 1799, his portrait of Madame Mère established his position as one of the first portrait-painters of the day.

In 1808 as many as eight, and in 1810 no less than fourteen, portraits by him, were exhibited at the Salon, and these figures afford only an indication of the enormous numbers which he executed yearly; all the leading figures of the Empire and of the Bourbon Restoration, all the most celebrated men and women of Europe, sat to Gérard. This extraordinary vogue was due partly to the charm of his manner and conversation, for his salon was as much frequented as his studio; Madame de Staël, George Canning, Talleyrand, the Duke of Wellington, have all borne witness to the attraction of his society. Rich and famous, Gérard was stung by remorse for earlier ambitions abandoned; at intervals he had indeed striven with Girodet and other rivals, to prove his strength at history painting, still a more prestigious genre than portraiture; his Bataille d'Austerlitz (1810) showed a breadth of invention and style which are even more conspicuous in L'Entrée d'Henri IV à Paris (at Versailles), the work with which in 1817 he did homage to the returned Louis XVIII. After this date Gérard declined, watching with impotent grief the progress of the Romantic school.
Loaded with honors – baron of the Empire in 1809, member of the Institut on 7 March 1812, officer of the légion d'honneur, first painter to the king – he worked on, sad and discouraged; the revolution of 1830 added to his disquiet; and on 11 January 1837, after three days of fever, he died.

Gérard is best remembered for his portraits; the color of his paintings has suffered, but his drawings show in uninjured delicacy the purity of his line; and those of women are specially remarkable for a virginal simplicity and frankness of expression. His students included Heinrich Christoph Kolbe.

Angelica Kauffman, RA (1741 - 1807)
was a Swiss-born Austrian Neoclassical painter who had a successful career in London and Rome. Though born as "Kauffmann", Kauffman is the preferred spelling of her name in English; it is the form she herself used most in signing her correspondence, documents and paintings.
While Kauffman produced many types of art, she identified herself primarily as a history painter, an unusual designation for a woman artist in the 18th century. History painting, was considered the most elite and lucrative category in academic painting during this time period. Under the direction of Sir Joshua Reynolds, the Royal Academy made a strong effort to promote history painting to a native audience who were more interested in commissioning and buying portraits and landscapes.
Despite the popularity that Kauffman enjoyed in British society and her success as an artist, she was disappointed by the relative apathy that the British had towards history painting. Ultimately she left Britain for the continent, where history painting was better established, held in higher esteem and patronized.
The works of Angelica Kauffman have retained their reputation. By 1911, rooms decorated with her work were still to be seen in various quarters. At Hampton Court was a portrait of the duchess of Brunswick; in the National Portrait Gallery, a self-portrait. There were other pictures by her at Paris, at Dresden, in the Hermitage at St Petersburg, in the Alte Pinakothek atMunich, in Kadriorg Palace, Tallinn (Estonia).
Satinwood
is a hard and durable wood with a satinlike sheen, much used in cabinetmaking, especially in marquetry. It comes from two tropical trees of the family Rutaceae (rue family). East Indian or Ceylon satinwood is the yellowish or dark-brown heartwood of Chloroxylon swietenia.
The lustrous, fine-grained, usually figured wood is used for furniture, cabinetwork, veneers, and backs of brushes. West Indian satinwood, sometimes called yellow wood, is considered superior. It is the golden yellow, lustrous, even-grained wood found in the Florida Keys and the West Indies.
It has long been valued for furniture. It is also used for musical instruments, veneers, and other purposes. Satinwood is classified in the division Magnoliophyta, class Magnoliopsida, order Sapindales, family Rutaceae.
Our reference: 08569
Please feel free to email or call us (+44 20 8809 9605) to arrange a viewing in our North London warehouse.
Shipping:
We ship worldwide and deliver to Mainland UK addresses free of charge.
A shipping cost to all other destinations must be requested prior to purchase.
To request a shipping quote for the items in your cart, please click HERE.
Delivery and return policy:
We require that someone be home on the agreed delivery day if applicable, otherwise a redelivery fee will apply.
In accordance with Distance Selling Regulations, we offer a 14-day money back guarantee if you are not satisfied with the item.
The item must be returned in its original packaging and condition.
Unless the item is not as described in a material way, the buyer is responsible for return shipping expenses.
Buyers are fully responsible for any customs duties or local taxes that may be incurred on items sent outside of the European Union.