Antique Edwardian Inlaid Revolving Bookcase C1900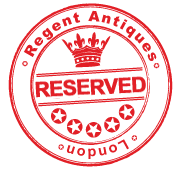 For weekly notifications of new arrivals in your categories of interest please click HERE.
This item has been reserved but we have thousands of items in our warehouse that are not online.
Email us to enquire about similar items that may not be online or call our experts on 020 8809 9605.
Be the first to hear when new items are added to our site!
This an exquisite antique revolving bookcase attributed to the renowned retailer and manufacturer Maple & Co., circa 1900 in date.

It is made of mahogany , revolves on a solid cast iron base, has inlaid boxwood lines to the top and bottom, the top with has an elaborate shell inlay to the centre as well as crossbanding and inlaid hatching around it.

The best quality Edwardian revolving bookcases had cast iron bases, as this meant that they would be sturdy and not tip when full of books, whereas the lesser versions had simple wooden bases.
The quality and attention to detail throughout is second to none.

Condition:

In excellent condition having been beautifully restored in our workshops, please see photos for confirmation.
Dimensions in cm:
Height 88 x Width 49 x Depth 49
Dimensions in inches:
Height 2 feet, 11 inches x Width 1 foot, 7 inches x Depth 1 foot, 7 inches
Maple & Co
the renowned furniture retailer of London, Paris and Buenos Aires, were famous for top quality furniture.

They were by Royal Appointment and became one of the leading furniture manufacturers of the Victorian and Edwardian eras. They used only the finest quality timber which was imported directly from all over the world.
Maple and Company were founded in 1841 in Tottenham Court Road, London and had premises there until 1997. By the 1880s they were the largest and most successful furniture makers in the world, their huge emporium having become a tourist attraction in its own right. In addition to their middle class clientele, they furnished Embassies, hotels, beautiful homes and palaces all over the globe, including Tsar Nicholas's Winter Palace, the Hoffburg Imperial Palace in Vienna, and many of Britain's country houses.

Mahogany
is probably one of the largest 'families' of hardwood, having many different varieties within its own species.
Mahogany has been used for centuries in ship building, house building, furniture making etc and is the core structure of just about every 19th century vanity box, dressing case or jewellery box. It became more of a Victorian trend to dress Mahogany with these decorative veneers, such as Rosewood, Kingwood, Burr Walnut and Coromandel, so that the actual Mahogany was almost hidden from view.
Mahogany itself is a rich reddish brown wood that can range from being plain in appearance to something that is so vibrant, figured and almost three dimensional in effect.
Although Mahogany was most often used in its solid form, it also provided some beautifully figured varieties of veneer like 'Flame' Mahogany and 'Fiddleback' Mahogany (named after its preferred use in the manufacture of fine musical instruments).

Cuban Mahogany was so sought after, that by the late 1850′s, this particular variety became all but extinct.
Edwardian Period (1900 - 1910)
The Edwardian era saw the beginning of a new century with a new king and a new style of interior design. The heavy, dark, cluttered look of the Victorian era was gone, and in its place, something much lighter and more cheerful.
Some of the most famous designer for this era include:
Thomas Sheraton -furniture
Louis Comfort Tiffany- lighting
René Lalique- glassware
Edwardian Style
This early 20th century style had an eclectic feel to it, and drew from elements of Georgian, Medieval and Tudor style. Light, airy, and simplicity of detail were key principles of this era.
Edwardian Furniture
Bamboo and wicker was the material of preference in Edwardian times. This added to the already delicate and breezy nature of the style. Other furniture was reproductions, drawing influence from baroque, rococo and empire style. The wing chair is a classic shape, and upholstery favoured chintz and damask in pale colours.
Edwardian Colour
Shifting away from the darkness of the Victorian interior, colours were fresh and light, with an informal feel. Patterns were feminine, with flowers and floral designs being highly favoured. Colours were predominantly pastels: blue, lilacs, greens, yellows and grays. The floral theme was complemented by the liberal use of fresh flower arrangements. Living rooms often took darker colours such as dark green for fabrics, complemented with cream walls.
Angelica Kauffman, RA (1741 - 1807)
was a Swiss-born Austrian Neoclassical painter who had a successful career in London and Rome. Though born as "Kauffmann", Kauffman is the preferred spelling of her name in English; it is the form she herself used most in signing her correspondence, documents and paintings.
While Kauffman produced many types of art, she identified herself primarily as a history painter, an unusual designation for a woman artist in the 18th century. History painting, was considered the most elite and lucrative category in academic painting during this time period. Under the direction of Sir Joshua Reynolds, the Royal Academy made a strong effort to promote history painting to a native audience who were more interested in commissioning and buying portraits and landscapes.
Despite the popularity that Kauffman enjoyed in British society and her success as an artist, she was disappointed by the relative apathy that the British had towards history painting. Ultimately she left Britain for the continent, where history painting was better established, held in higher esteem and patronized.
The works of Angelica Kauffman have retained their reputation. By 1911, rooms decorated with her work were still to be seen in various quarters. At Hampton Court was a portrait of the duchess of Brunswick; in the National Portrait Gallery, a self-portrait. There were other pictures by her at Paris, at Dresden, in the Hermitage at St Petersburg, in the Alte Pinakothek atMunich, in Kadriorg Palace, Tallinn (Estonia).
Satinwood
is a hard and durable wood with a satinlike sheen, much used in cabinetmaking, especially in marquetry. It comes from two tropical trees of the family Rutaceae (rue family). East Indian or Ceylon satinwood is the yellowish or dark-brown heartwood of Chloroxylon swietenia.
The lustrous, fine-grained, usually figured wood is used for furniture, cabinetwork, veneers, and backs of brushes. West Indian satinwood, sometimes called yellow wood, is considered superior. It is the golden yellow, lustrous, even-grained wood found in the Florida Keys and the West Indies.
It has long been valued for furniture. It is also used for musical instruments, veneers, and other purposes. Satinwood is classified in the division Magnoliophyta, class Magnoliopsida, order Sapindales, family Rutaceae.
Our reference: 08083