Antique Painting Boys Playing Dice After Bartolome' Murillo C1780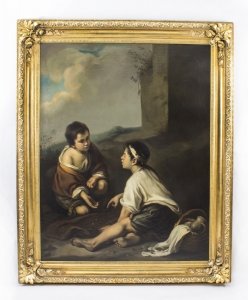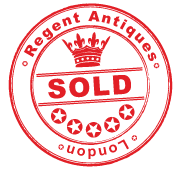 For weekly notifications of new arrivals in your categories of interest please click HERE.
This is a delightful antique Spanish oil on canvas painting of considerable size, after Bartolome' Esteban Murillo, depicting two peasant boys playing dice, Circa 1780 in date.

It features one boy crouching having just thrown the dice, the other boy is sitting opposite whilst staring at him, set within a classical landscape. This lively, realist portrait of street urchins constitutes an appealing record of everyday life at that time.
This superbly accomplished painting is executed in the style of Murillo's later works where he continued to evolve to the very end. In the last decade of his life, Murillo took Rubens's lesson even closer to heart, during this period his brushwork became looser and more visible than ever before, sometimes even to the point that the canvases appear unfinished.

Murillo also reduced his palette to the more sober hues of mauve, grey, brown, and carmine, making his late style more refined than in any previous period.
His style of painting the street children of his native Seville was unprecedented. He employed great naturalism, employing a sombre palette and strong chiaroscuro, contrasting lights and darks, and very little background detail. They are caught, like a photographic snapshot, playing or eating, but are very rarely aware of an onlooker.

This magnificent painting is housed in its substantial original decorative gilded frame.

It is beautifully executed and as such would make a lovely addition to your collection.

Provenance:

By descent Knowle Hall, Warwickshire

Condition:

In really excellent condition the painting and frame having been beautifully cleaned, please see photos for confirmation.
Dimensions in cm:
Height 177 x Width 145 x Depth 11 - Frame
Height 145 x Width 113 - Painting
Dimensions in inches:
Height 5 feet, 10 inches x Width 4 feet, 9 inches x Depth 4 inches - Frame
Height 4 feet, 9 inches x Width 3 feet, 8 inches - Painting
Murillo began his art studies in Seville under Juan del Castillo, who was a relative of his mother (Murillo's uncle, Antonio Pérez, was also a painter). His first works were influenced by Zurbarán, Jusepe de Ribera and Alonzo Cano, and he shared their strongly realist approach. The great commercial importance of Seville at the time ensured that he was subject to artistic influences from other regions. He became familiar with Flemish painting and the "Treatise on Sacred Images" of Molanus Ian van der Meulen or Molano. As his painting developed, his more important works evolved towards the polished style that suited the bourgeois and aristocratic tastes of the time, demonstrated especially in his Roman Catholic religious works.
In 1642, at the age of 26, he moved to Madrid, where he most likely became familiar with the work of Velázquez, and would have seen the work of Venetian and Flemish masters in the royal collections, the rich colours and softly modelled forms of his subsequent work suggest these influences. In 1645 he returned to Seville and married Beatriz Cabrera y Villalobos, with whom he eventually had eleven children.
Two women at a window, c. 1655–60, National Gallery of Art, Washington, D.C.In that year, he painted eleven canvases for the convent of St. Francisco el Grande in Seville. These works depicting the miracles of Franciscan saints vary between the Zurbaránesque tenebrism of the Ecstasy of St Francis and a softly luminous style as in Death of St Clare that became typical of Murillo's mature work. According to the art historian Manuela B. Mena Marqués, in the Levitation of St Giles (usually known as the "Angel's Kitchen", Paris, Louvre) and the Death of St Clare (Dresden, Gemäldegal. Alte Meister), the characteristic elements of Murillo's work are already evident, the elegance and beauty of the female figures and the angels, the realism of the still-life details and the fusion of reality with the spiritual world, which is extraordinarily well developed in some of the compositions."
Also completed c. 1645 was the first of Murillo's many paintings of children, The Young Beggar (Musée du Louvre), in which the influence of Velázquez is apparent. Following the completion of a pair of pictures for the Seville Cathedral, he began to specialize in the themes that brought him his greatest successes the Virgin and Child and the Immaculate Conception.
The Adoration of the Shepherds, c. 1650, Museo del Prado
After another period in Madrid, from 1658 to 1660, he returned to Seville. Here he was one of the founders of the Academia de Bellas Artes (Academy of Art), sharing its direction, in 1660, with the architect Francisco Herrera the Younger. This was his period of greatest activity, and he received numerous important commissions, among them the altarpieces for the Augustinian monastery, the paintings for Santa María la Blanca (completed in 1665), and others. He died in Seville in 1682 at the age of 64.
The first
Knowle Hall
was built to the design of Inigo Jones (1573-1652), the work being commissioned by Sir Fulke Greville, the first Lord Brook. It had two magnificent Oak staircases richly carved and decorated and an elaborately ornamented Oak wainscot in the hall. The rich plaster work of the ceilings was like that in Warwick Castle. In 1597 it was known as Knolle Haul.
Knowle Hall
, would have been part of Knowle Manor Estates and the hall was passed down to various families over the decades. In 1829 the families of Wilson and Wigley obtained an Act Of Parliament authorising the estate to be divided and the Knowle portion then passed to the Wilsons. The best known of the Wilsons was William Henry Bowen Jordan Wilson, who inherited the manor after his Fathers accidental death whilst out shooting. William Wilson became Lord of the Manor of Knowle and the owner of large estates in Gumley, Northamptonshire and was known as Squire 'Gumley' Wilson, the black sheep of the family! He was also master of the North Warwickshire and Aberston Fox Hounds and kept his horses at Knowle Hall where there was good stabling. In 1831 Squire Gunmley decided the Hall was to dilapidated to repair and the greater part was pulled down, He seemed to make and lose fortunes at will, but the present Knowle Hall was built in circa 1850 along with a row of cottages in Wilsons Road. The Wilsons Arms (formerly The Rising Sun Inn) also bears his name. The hall at that time was built as a new classical house set amidst terraced gardens designed to an Italianate mood.
Particular note at this time was the galleried hall complete with painted decorated and white marble statuary.
Squire Gumley Wilson was wildly extravagant and sold the Knowle Hall Estate in 1849 to Robert Emilius Wilson (no relation of Gumley) before bolting to America and for a time the estate became separated from the manorial rights. The estate was subsequently sold by the Wilsons and purchased by
Mr George Alan Everitt in 1865. He was descended from a North Yeoman family
and subsequently Knowle Hall was inherited by his Son, Major SG Everitt and grandson Horace. Interestingly, Mr Horace George Everitt wrote the words to the Solihull School song.
In 1994 a fragment of the Greville Crest was found during a dig carried out by the Solihull Archaeological Society at Knowle Hall and finds also included coins and pottery.
Angelica Kauffman, RA (1741 - 1807)
was a Swiss-born Austrian Neoclassical painter who had a successful career in London and Rome. Though born as "Kauffmann", Kauffman is the preferred spelling of her name in English; it is the form she herself used most in signing her correspondence, documents and paintings.
While Kauffman produced many types of art, she identified herself primarily as a history painter, an unusual designation for a woman artist in the 18th century. History painting, was considered the most elite and lucrative category in academic painting during this time period. Under the direction of Sir Joshua Reynolds, the Royal Academy made a strong effort to promote history painting to a native audience who were more interested in commissioning and buying portraits and landscapes.
Despite the popularity that Kauffman enjoyed in British society and her success as an artist, she was disappointed by the relative apathy that the British had towards history painting. Ultimately she left Britain for the continent, where history painting was better established, held in higher esteem and patronized.
The works of Angelica Kauffman have retained their reputation. By 1911, rooms decorated with her work were still to be seen in various quarters. At Hampton Court was a portrait of the duchess of Brunswick; in the National Portrait Gallery, a self-portrait. There were other pictures by her at Paris, at Dresden, in the Hermitage at St Petersburg, in the Alte Pinakothek atMunich, in Kadriorg Palace, Tallinn (Estonia).
Satinwood
is a hard and durable wood with a satinlike sheen, much used in cabinetmaking, especially in marquetry. It comes from two tropical trees of the family Rutaceae (rue family). East Indian or Ceylon satinwood is the yellowish or dark-brown heartwood of Chloroxylon swietenia.
The lustrous, fine-grained, usually figured wood is used for furniture, cabinetwork, veneers, and backs of brushes. West Indian satinwood, sometimes called yellow wood, is considered superior. It is the golden yellow, lustrous, even-grained wood found in the Florida Keys and the West Indies.
It has long been valued for furniture. It is also used for musical instruments, veneers, and other purposes. Satinwood is classified in the division Magnoliophyta, class Magnoliopsida, order Sapindales, family Rutaceae.
Our reference: 08075