Antique Pair Victorian 4 Light Candelabra H Woodward C1880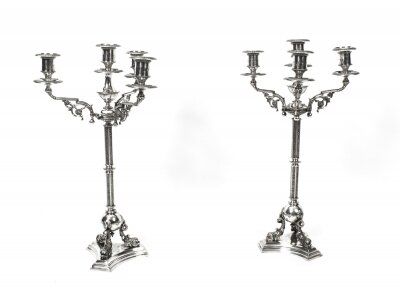 Click on image to zoom
For weekly notifications of new arrivals in your categories of interest please click HERE.
Our London showrooms
Open Mon to Fri 10am - 5pm
Open Sat 2nd March 10am - 4pm
We are delighted to be able to offer this lovely pair of silver plated antique Victorian candelabra for sale. These four light, three-branched table candelabra are dated from around 1880 and have the makers mark of the renowned silversmiths Horace Woodward & Co of Birmingham, England.
This pair of silver plated antique Victorian candelabra feature detachable sconces and have wonderful cast and engraved decoration with an additional special feature being the tripartite base raised on three dolphins adding that extra touch of class to these wonderful items.
They are in excellent condition as can be seen from the gallery of images we have provided for your perusal.
To See These Antique Victorian Candelabra in Person
It's a very good idea to view items such as these antique Victorian candelabra personally. With this in mind please try to visit our North London showroom to check out this pair of antique Victorian candelabra, together with our wide number of other silver collectibles and other decorative silver plate items that we have available. If you aim to make a special journey to see this object, please call first to make sure that this pair of antique Victorian candelabra is still available and has not been sold. Please be sure to give us the item reference number found above when getting in touch so we can identify which of our numerous items you are referring to.
Regent Antiques - Display Room Opening Hours:
Our London showroom is open Mon to Fri 10am – 5pm for you to view this pair of antique Victorian candelabra. We also open sometimes on Saturdays – but please call ahead before making the visit on a Saturday as we do not want you to be disappointed.
If You Want Some More Information
To ascertain more about this pair of antique Victorian candelabra and to get answers to any requests you might have, please don't hesitate to contact our in-house antiques consultants on the phone number given above. When calling please state the item number as seen above so we recognize which silver plate product you'd like to talk about.
Transport, Delivery and Returns
You're looking at wonderful pieces of silver which require skilled packing and transport so they actually get to your location securely and safely. We can transport this pair of antique Victorian candelabra to practically any location around the globe and we will be happy to look after the packing for you, but kindly do call or email for a transportation quote first, before selecting this pair of antique Victorian candelabra so that we can fully meet your delivery requirements. We ship entirely without charge to any mainland UK address.
If you are not happy with the piece, we offer a 14-day money back guarantee in compliance with the Distance Selling Regulations. You will be liable for the return transportation fees for this pair of antique Victorian candelabra, unless we have incorrectly defined the items in some crucial way and you do not receive the product as described. You must return these items in their original packing and condition.
You are also accountable for any customs duties or local taxes that fall due outside the European Union for the shipping of this pair of antique Victorian candelabra.
Some Guidelines on Investing In Antique, Vintage and Second-Hand Silver
Buying antique and second-hand silver is a immense subject which includes craftsmanship by some of the best master goldsmiths who were internationally renowned designers in their own right down to the most practical and ordinary of machine made common household items. In considering choosing this pair of antique Victorian candelabra we are pleased to offer a some ideas that might help you make a decision on the thing that is best for you.
Highly valued for thousands of years, silver has special characteristics that have made it both gorgeous and valuable and as a consequence people have collected and used it in a plethora of different forms. There is a huge volume of antique, vintage and second-hand silver available on the market today. So how do you know what to go for?
The major principle is that you need to pick what you actually like. Give some consideration to precisely why you like this pair of antique Victorian candelabra and if they appeal to your aesthetic sense then why hold off buying them? Gurus always say that you should opt for the very best you can afford, but this does not inevitably mean the earliest date or indeed the biggest item. Do take the time to understand the makers and the designs that attract you and this helps you determine the direction you need to go to build up a terrific personal silver collection. If you take pleasure in this pair of antique Victorian candelabra you will want to show it to friends and family and your pleasure will pass to them too.
A key matter is the condition of a silver item and how much restoration work has taken place. When picking out silver antiques that are over 200 years old they need to have what is called a 'patina' which is a combination of the colour and the wear. You cannot expect an old silver item to appear as if it just emerged from the workshop - if it really does then it has most likely been considerably restored which is not a positive thing for a piece of antique silver.
Remember that that in the silver antiques world a touch of restoration is acceptable where a small ding or dent may be very carefully removed. But be mindful of over plating, lead or silver solder, repaired seams, holes, erased inscriptions, patches and later additions or ornaments. All of these are inappropriate for a piece of great antique silver. The good news is that here at Regent Antiques we are careful to and provide only the finest unblemished silver pieces and if things like re-plating has been done we will inform you. We always provide you with ample photographs of our silver objects so you can see fully what condition they are in. Do take a couple of moments to look at the photos for this pair of antique Victorian candelabra to satisfy yourself of their condition. If you have any queries about it you are always very welcome to call or email us. We will be delighted to put your mind at rest about the condition of this pair of antique Victorian candelabra.
You should know that silver tarnishes and you will have to look after them by polishing them fairly frequently. It's a good notion to clean it with a long term polish and then then try to showcase them in a relatively airtight display case if this is appropriate. This will keep it gleaming for the greatest possible time. If you look after them well this pair of antique Victorian candelabra will practically last forever.
Dimensions in cm:
Height 48 x Width 28 x Depth 28
Dimensions in inches:
Height 1 foot, 7 inches x Width 11 inches x Depth 11 inches
Angelica Kauffman, RA (1741 - 1807)
was a Swiss-born Austrian Neoclassical painter who had a successful career in London and Rome. Though born as "Kauffmann", Kauffman is the preferred spelling of her name in English; it is the form she herself used most in signing her correspondence, documents and paintings.
While Kauffman produced many types of art, she identified herself primarily as a history painter, an unusual designation for a woman artist in the 18th century. History painting, was considered the most elite and lucrative category in academic painting during this time period. Under the direction of Sir Joshua Reynolds, the Royal Academy made a strong effort to promote history painting to a native audience who were more interested in commissioning and buying portraits and landscapes.
Despite the popularity that Kauffman enjoyed in British society and her success as an artist, she was disappointed by the relative apathy that the British had towards history painting. Ultimately she left Britain for the continent, where history painting was better established, held in higher esteem and patronized.
The works of Angelica Kauffman have retained their reputation. By 1911, rooms decorated with her work were still to be seen in various quarters. At Hampton Court was a portrait of the duchess of Brunswick; in the National Portrait Gallery, a self-portrait. There were other pictures by her at Paris, at Dresden, in the Hermitage at St Petersburg, in the Alte Pinakothek atMunich, in Kadriorg Palace, Tallinn (Estonia).
Satinwood
is a hard and durable wood with a satinlike sheen, much used in cabinetmaking, especially in marquetry. It comes from two tropical trees of the family Rutaceae (rue family). East Indian or Ceylon satinwood is the yellowish or dark-brown heartwood of Chloroxylon swietenia.
The lustrous, fine-grained, usually figured wood is used for furniture, cabinetwork, veneers, and backs of brushes. West Indian satinwood, sometimes called yellow wood, is considered superior. It is the golden yellow, lustrous, even-grained wood found in the Florida Keys and the West Indies.
It has long been valued for furniture. It is also used for musical instruments, veneers, and other purposes. Satinwood is classified in the division Magnoliophyta, class Magnoliopsida, order Sapindales, family Rutaceae.
Our reference: 08028
Please feel free to email or call us (+44 20 8809 9605) to arrange a viewing in our North London warehouse.