Antique Pair French Silver plated fighting cockerels C 1880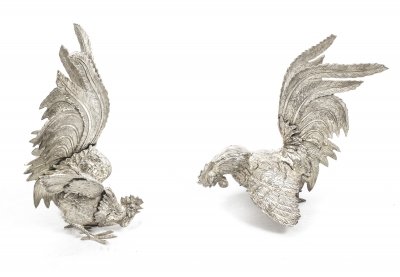 Click on image to zoom
For weekly notifications of new arrivals in your categories of interest please click HERE.
Our London showrooms
Open Mon to Fri 10am - 5pm
Open Sat18th August 10am - 4pm
This is a very attractive antique pair of French silver plated fighting cockerels, Circa 1880 in date.

These beautifully sculpted and hand-chased fine textured cockerels are in realistic aggressive and dynamic fighting poses with flowing plumage and open wings ready to attack.
They will add a touch of action to your dining table, game table or buffet.
Condition:
In excellent condition, please see photos for confirmation.
Dimensions in cm:
Height 20 x Width 16 x Depth 17 - 1
Height 26 x Width 19 x Depth 15 - 2
Dimensions in inches:
Height 8 inches x Width 6 inches x Depth 7 inches - 1
Height 10 inches x Width 7 inches x Depth 6 inches - 2
A cockfight is a sport between two roosters (cocks), or more accurately gamecocks, held in a ring called a cockpit. The history of raising fowl for fighting goes back 6,000 years. The first documented use of the word gamecock, denoting use of the cock as to a "game", a sport,pastime or entertainment, was recorded in 1646, after the term "cock of the game" used by George Wilson, in the earliest known book on the sport of cockfighting in The Commendation of Cocks and Cock Fighting in 1607. But it was during Magellan's voyage of discovery of the Philippines in 1521 when modern cockfighting was first witnessed and documented by AntonioPigafetta, Magellan's chronicler, in the kingdom of Taytay.
The combatants, referred to as gamecocks, are specially bred birds, conditioned for increased stamina and strength. The comb and wattle are cut off in order to meet show standards of the American Gamefowl Society and the Old English Game Club and to prevent freezing in colder climates (the standard emerged from the older practice of severing the comb, wattles, and earlobes of the bird in order to remove anatomical vulnerabilities, similar to the practice ofdocking a dog's tail and ears).
Cocks possess congenital aggression toward all males of the same species. Cocks are given the best of care until near the age of two years. They are conditioned, much like professional athletes prior to events or shows. Wagers are often made on the outcome of the match.
Cockfighting is a blood sport due in some part to the physical trauma the cocks inflict on each other, which is sometimes increased for entertainment purposes by attaching metal spurs to the cocks' natural spurs. While not all fights are to the death, the cocks may endure significant physical trauma. In some areas around the world, cockfighting is still practiced as a mainstream event; in some countries it is regulated by law, or forbidden outright. Advocates of the "age old sport often list cultural and religious relevance as reasons for perpetuation of cockfighting as a sport.
Angelica Kauffman, RA (1741 - 1807)
was a Swiss-born Austrian Neoclassical painter who had a successful career in London and Rome. Though born as "Kauffmann", Kauffman is the preferred spelling of her name in English; it is the form she herself used most in signing her correspondence, documents and paintings.
While Kauffman produced many types of art, she identified herself primarily as a history painter, an unusual designation for a woman artist in the 18th century. History painting, was considered the most elite and lucrative category in academic painting during this time period. Under the direction of Sir Joshua Reynolds, the Royal Academy made a strong effort to promote history painting to a native audience who were more interested in commissioning and buying portraits and landscapes.
Despite the popularity that Kauffman enjoyed in British society and her success as an artist, she was disappointed by the relative apathy that the British had towards history painting. Ultimately she left Britain for the continent, where history painting was better established, held in higher esteem and patronized.
The works of Angelica Kauffman have retained their reputation. By 1911, rooms decorated with her work were still to be seen in various quarters. At Hampton Court was a portrait of the duchess of Brunswick; in the National Portrait Gallery, a self-portrait. There were other pictures by her at Paris, at Dresden, in the Hermitage at St Petersburg, in the Alte Pinakothek atMunich, in Kadriorg Palace, Tallinn (Estonia).
Satinwood
is a hard and durable wood with a satinlike sheen, much used in cabinetmaking, especially in marquetry. It comes from two tropical trees of the family Rutaceae (rue family). East Indian or Ceylon satinwood is the yellowish or dark-brown heartwood of Chloroxylon swietenia.
The lustrous, fine-grained, usually figured wood is used for furniture, cabinetwork, veneers, and backs of brushes. West Indian satinwood, sometimes called yellow wood, is considered superior. It is the golden yellow, lustrous, even-grained wood found in the Florida Keys and the West Indies.
It has long been valued for furniture. It is also used for musical instruments, veneers, and other purposes. Satinwood is classified in the division Magnoliophyta, class Magnoliopsida, order Sapindales, family Rutaceae.
Our reference: 07898
Please feel free to email or call us (+44 20 8809 9605) to arrange a viewing in our North London warehouse.
Shipping:
We ship worldwide and deliver to Mainland UK addresses free of charge.
A shipping cost to all other destinations must be requested prior to purchase.
To request a shipping quote for the items in your cart, please click HERE.
Delivery and return policy:
We require that someone be home on the agreed delivery day if applicable, otherwise a redelivery fee will apply.
In accordance with Distance Selling Regulations, we offer a 14-day money back guarantee if you are not satisfied with the item.
The item must be returned in its original packaging and condition.
Unless the item is not as described in a material way, the buyer is responsible for return shipping expenses.
Buyers are fully responsible for any customs duties or local taxes that may be incurred on items sent outside of the European Union.