Antique Vienna Silver Gilt & Enamel Patch Box c.1860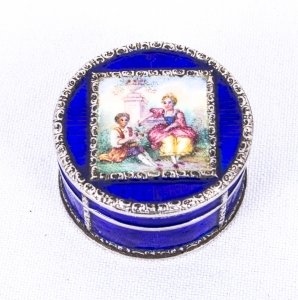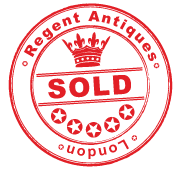 For weekly notifications of new arrivals in your categories of interest please click HERE.
Dating from around 1860, this is an absolutely exquisite antique silver gilt and enamel patch box, with silver marks for Vienna and bearing the maker's mark "SG" for SIMON GRUNEWALD.
The top lid of the patch box is finely decorated with a hand painted enamel scene of a relaxing lady and boy posing in a classical garden scene. The scene is surrounded by a rich border textured blue foliate enamel and silver scroll frame, the sides and base with similar guilloche enamel decoration. This is a rare opportunity to own such a magnificent piece. It is in excellent condition as can be seen from the gallery of photographs we have provided.
More About Patch Boxes
A fashion item that became all the rage for high fashion and high income ladies from the 1600s to the early 1800s was the face patch. They can be seen in portraits and caricatures, those tiny black (sometimes red) "beauty spots" that a lady and sometimes gentleman would add to their faces. They have also made comebacks in the 20th century, particularly the 1920's and late 1940's.
They had many uses from the more prosaic of covering up of blemishes and poc marks (so prevalent in the age of smallpox) to different placements signalling things such as political allegiance. They were also artfully used to as a contrast to highlight a brilliant complexion.
Since these patches were popular with the wealthy upper classes, beautifully decorated little boxes were manufactured to hold these tiny treasures. Often enamelled, these boxes were often given as love and friendship gifts with their design including sentimental messages.
Viewing This Antique Silver Gilt Enamel Patch Box in Person
As it's usually a great idea to view prior to buying, we are always glad to encourage you to see our inventory in our North London showrooms. So why not organize a trip to get a view of this antique silver gilt enamel patch box personally? When you are here you will also be able to to discover our selection of other attractive silver antiques and treasures.
Please get in touch with us ahead of making a trip to make sure that the antique silver gilt enamel patch box is still available to you and has not already gone. Also speaking to us first will mean we can ensure that we've the most appropriate specialist on hand to chat you through your purchase and reply to any queries you may well have. We are always glad to go over our products such as this antique silver gilt enamel patch box in detail and offer some other options should you want to compare it with other similar items. We think there is no such thing as a silly query and we fully respect that you will want to get your investment spot on so please feel free to ask about any issues you might have.
Make sure you take a note of the item reference number which appears on this page prior to getting in touch, so we identify which particular antique silver gilt enamel patch box you are speaking about.
Regent Antiques - Showroom Opening Hours
Our London salesroom is open Mon to Fri 10am – 5pm for you to look at this antique silver gilt enamel patch box. We also open sometimes on Saturdays – but please ring beforehand before making the trip on a Saturday to make sure we will be open.
Find out when we are next open on a Saturday here.
Getting Some More Details
If you are unable to arrange a visit, we will be still happy to respond to any points you might have about this antique silver gilt enamel patch box. To talk about these with us don't hesitate to get in touch by either email or telephone using the info on this page. We have a number of in-house consultants who will be glad to discuss this antique silver gilt enamel patch box and also chat about the intricacies of collecting and caring for exquisite silver antiques more generally. We are always happy to share our know-how with our customers and potential customers to make sure that you are perfectly happy with everything you are considering investing in. When you get in contact please mention the item reference number that you will also find on this page to be sure that we understand the particular antique silver gilt enamel patch box you are contemplating.
Shipping, Delivery and Returns
We are experts in the shipping and delivery of high-quality articles of silver such as this antique silver gilt enamel patch box. Exquisite pieces of silver like this necessitate trained handling to guaranteed that they come to you in the same perfect condition that they left us. We take great care with our packing and delivery service to make sure that items you purchase from us will reach you in perfect condition. We are happy to transport to nearly any location internationally and will take care of all the essential packing and shipping details. However, we ask that you get in touch first before acquiring this antique silver gilt enamel patch box as we want to be sure of all the particulars and that you have a full shipping quote before you purchase. Happily we transport totally free of cost to any mainland UK address.
If you are not satisfied for any reason with this antique silver gilt enamel patch box when you receive it, in line with the Distance Selling Regulations you can send it back to us within 14 days and we will send out a reimbursement. You will be needing to return it to us in its original package and condition. You will also be answerable for the return shipping fees unless we sent you an piece that is greatly different to the one you supposed you would be obtaining. Please note that you are fully responsible for any customs fees or duties that fall due as a result of transporting this antique silver gilt enamel patch box outside the European Union.
Dimensions in cm:
Height 1.5 x Width 3 x Depth 3 & Weight 1.05 troy oz
Dimensions in inches:
Height 1 inch x Width 1 inch x Depth 1 inch & Weight 0.03 kg
Angelica Kauffman, RA (1741 - 1807)
was a Swiss-born Austrian Neoclassical painter who had a successful career in London and Rome. Though born as "Kauffmann", Kauffman is the preferred spelling of her name in English; it is the form she herself used most in signing her correspondence, documents and paintings.
While Kauffman produced many types of art, she identified herself primarily as a history painter, an unusual designation for a woman artist in the 18th century. History painting, was considered the most elite and lucrative category in academic painting during this time period. Under the direction of Sir Joshua Reynolds, the Royal Academy made a strong effort to promote history painting to a native audience who were more interested in commissioning and buying portraits and landscapes.
Despite the popularity that Kauffman enjoyed in British society and her success as an artist, she was disappointed by the relative apathy that the British had towards history painting. Ultimately she left Britain for the continent, where history painting was better established, held in higher esteem and patronized.
The works of Angelica Kauffman have retained their reputation. By 1911, rooms decorated with her work were still to be seen in various quarters. At Hampton Court was a portrait of the duchess of Brunswick; in the National Portrait Gallery, a self-portrait. There were other pictures by her at Paris, at Dresden, in the Hermitage at St Petersburg, in the Alte Pinakothek atMunich, in Kadriorg Palace, Tallinn (Estonia).
Satinwood
is a hard and durable wood with a satinlike sheen, much used in cabinetmaking, especially in marquetry. It comes from two tropical trees of the family Rutaceae (rue family). East Indian or Ceylon satinwood is the yellowish or dark-brown heartwood of Chloroxylon swietenia.
The lustrous, fine-grained, usually figured wood is used for furniture, cabinetwork, veneers, and backs of brushes. West Indian satinwood, sometimes called yellow wood, is considered superior. It is the golden yellow, lustrous, even-grained wood found in the Florida Keys and the West Indies.
It has long been valued for furniture. It is also used for musical instruments, veneers, and other purposes. Satinwood is classified in the division Magnoliophyta, class Magnoliopsida, order Sapindales, family Rutaceae.
Our reference: 07482