Antique Edwardian Inlaid Desk Shoolbred c.1890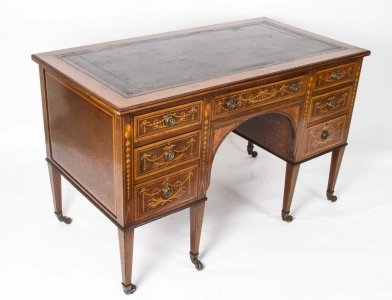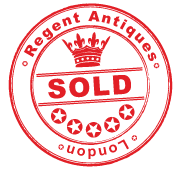 For weekly notifications of new arrivals in your categories of interest please click HERE.
This is a stunning antique Edwardian pedestal desk, circa 1890 in date.

The desk bears the impressed stamp of the renowned cabinet maker James Shoolbred & Co.

It has its original leather writing surface with hand tooled gold leaf decoration. It is made of solid mahogany and crossbanded with boxwood and ebony line inlay. It has seven drawers and the drawer linings are solid mahogany with hand cut dovetails.

It stands on its original brass cap castors and has its original handles and working locks and keys.

It has been masterfully inlaid with a floral marquetry of garlands, shells and urns, by a master craftsman and is a delight to behold.

It is finished all round so it is freestanding, instill the elegance of a bygone era to a special place in your home with this fabulous antique desk.
Condition:

In excellent condition having been beautifully restored in our workshops, please see photos for confirmation.
Dimensions in cm:
Height 76 x Width 122 x Depth 63.5
Height 60 x Width 44 - Kneehole
Dimensions in inches:
Height 2 feet, 6 inches x Width 4 feet, 0 inches x Depth 2 feet, 1 inch
Height 2 feet x Width 1 foot, 5 inches - Kneehole
James Shoolbred
started his company in Tottenham Court Road by purchasing number 155 in the 1820s. He was involved in supplying textiles to the burgeoning interior decoration market in London. He must have done well and quickly because he soon purchased numbers 154 and 156, either side of the original building. With his newly expanded premises, the shop was restructured and the stock was expanded. The new premises included a haberdashers and a carpet warehouse, as well as expanded accommodation for the stock of textiles, which included wool, silk and linen.
By the 1880s the company had expanded to such an extent that the business had to move again, this time into premises that functioned as an early department store. The new store was popular from the start. One aspect that proved popular with customers was the detailed displays of interior decorative schemes. Furniture, textiles, carpets and various accessories would be laid out as they would be seen in a real interior. This made it much easier for customers to perceive what their purchases would look like outside the constraints of the department store. It was also a good retail trick as it encouraged customers to buy whole ensembles, which they could reconstruct in their own home without having to hire an interior designer or sort out interior schemes themselves. This marketing trick is still used extensively today by such retail giants as Ikea.
By the 1870s, the company had started to design and manufacture their own furniture. This furniture, along with other interior accessories, were displayed in a series of catalogues that started to appear from about 1873 onwards. The catalogues were meant to expand the appeal of James Shoolbred & Co beyond their department store, and more importantly, beyond London.
Furniture design became an increasingly important aspect of the company and therefore played a large part in the catalogues that the company produced every year. All the major fashionable Revival movements were included, ranging from Gothic to Japanese, and included the numerous French styles.
Interestingly, because James Shoolbred & Co produced catalogues that were so detailed and wide ranging, many were used as literal pattern books in order to copy the latest London styles. This was a particular problem in far-flung British outposts like Australia and New Zealand where there was a brisk trade in James Shoolbred & Co furniture design, with details being worked out from the illustrations generously provided by the company. This furniture was then passed off as being part of a locally designed production.
The catalogues today are an intriguing view of interior tastes and styles of the later nineteenth century and are an invaluable tool, as are all catalogues, for any researcher, historian or anyone with an interest in the history of domestic interior design and decoration.
Despite James Shoolbred & Co's popularity and market presence, the company struggled after the market crash of 1929 and closed for good in 1931.
Marquetry
is decorative artistry where pieces of material (such as wood, mother of pearl, pewter, brass silver or shell) of different colours are inserted into surface wood veneer to form intricate patterns such as scrolls or flowers.
The technique of veneered marquetry had its inspiration in 16th century Florence. Marquetry elaborated upon Florentine techniques of inlaying solid marble slabs with designs formed of fitted marbles, jaspers and semi-precious stones. This work, called opere di commessi, has medieval parallels in Central Italian "Cosmati"-work of inlaid marble floors, altars and columns. The technique is known in English as pietra dura, for the "hardstones" used: onyx, jasper, cornelian, lapis lazuli and colored marbles. In Florence, the Chapel of the Medici at San Lorenzo is completely covered in a colored marble facing using this demanding jig-sawn technique.
Techniques of wood marquetry were developed in Antwerp and other Flemish centers of luxury cabinet-making during the early 16th century. The craft was imported full-blown to France after the mid-seventeenth century, to create furniture of unprecedented luxury being made at the royal manufactory of the Gobelins, charged with providing furnishings to decorate Versailles and the other royal residences of Louis XIV. Early masters of French marquetry were the Fleming Pierre Golle and his son-in-law, André-Charles Boulle, who founded a dynasty of royal and Parisian cabinet-makers (ébénistes) and gave his name to a technique of marquetry employing brass with pewter in arabesque or intricately foliate designs.
Mahogany
is probably one of the largest 'families' of hardwood, having many different varieties within its own species.
Mahogany has been used for centuries in ship building, house building, furniture making etc and is the core structure of just about every 19th century vanity box, dressing case or jewellery box. It became more of a Victorian trend to dress Mahogany with these decorative veneers, such as Rosewood, Kingwood, Burr Walnut and Coromandel, so that the actual Mahogany was almost hidden from view.
Mahogany itself is a rich reddish brown wood that can range from being plain in appearance to something that is so vibrant, figured and almost three dimensional in effect.
Although Mahogany was most often used in its solid form, it also provided some beautifully figured varieties of veneer like 'Flame' Mahogany and 'Fiddleback' Mahogany (named after its preferred use in the manufacture of fine musical instruments).

Cuban Mahogany was so sought after, that by the late 1850′s, this particular variety became all but extinct.
Angelica Kauffman, RA (1741 - 1807)
was a Swiss-born Austrian Neoclassical painter who had a successful career in London and Rome. Though born as "Kauffmann", Kauffman is the preferred spelling of her name in English; it is the form she herself used most in signing her correspondence, documents and paintings.
While Kauffman produced many types of art, she identified herself primarily as a history painter, an unusual designation for a woman artist in the 18th century. History painting, was considered the most elite and lucrative category in academic painting during this time period. Under the direction of Sir Joshua Reynolds, the Royal Academy made a strong effort to promote history painting to a native audience who were more interested in commissioning and buying portraits and landscapes.
Despite the popularity that Kauffman enjoyed in British society and her success as an artist, she was disappointed by the relative apathy that the British had towards history painting. Ultimately she left Britain for the continent, where history painting was better established, held in higher esteem and patronized.
The works of Angelica Kauffman have retained their reputation. By 1911, rooms decorated with her work were still to be seen in various quarters. At Hampton Court was a portrait of the duchess of Brunswick; in the National Portrait Gallery, a self-portrait. There were other pictures by her at Paris, at Dresden, in the Hermitage at St Petersburg, in the Alte Pinakothek atMunich, in Kadriorg Palace, Tallinn (Estonia).
Satinwood
is a hard and durable wood with a satinlike sheen, much used in cabinetmaking, especially in marquetry. It comes from two tropical trees of the family Rutaceae (rue family). East Indian or Ceylon satinwood is the yellowish or dark-brown heartwood of Chloroxylon swietenia.
The lustrous, fine-grained, usually figured wood is used for furniture, cabinetwork, veneers, and backs of brushes. West Indian satinwood, sometimes called yellow wood, is considered superior. It is the golden yellow, lustrous, even-grained wood found in the Florida Keys and the West Indies.
It has long been valued for furniture. It is also used for musical instruments, veneers, and other purposes. Satinwood is classified in the division Magnoliophyta, class Magnoliopsida, order Sapindales, family Rutaceae.
Our reference: 06329