Bespoke 7ft Regency Flame Mahogany Jupe Dining Table & 10 chairs 21st C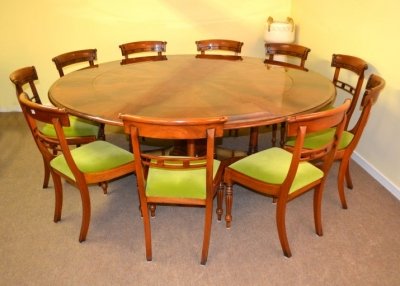 Click on image to zoom
For weekly notifications of new arrivals in your categories of interest please click HERE.
Our London showrooms
Open Mon to Fri 10am - 5pm
Open Sat 16th February 10am - 4pm
This is beautiful bespoke contemporary flame mahogany Regency style 'Jupe' dining table with a set of ten Bar Back dining chairs.

The flame mahogany veneers on the top have been arranged so as to give a sunburst effect and it is finished off by the elegant crossbanding on the outside edge.
The table is very solid as there is a large
centre
base flanked by four columns which give the table its superb stability.
There are slides on the the sides of the table which pull out and you fit the leaves on them by sliding them onto the slides and securing them with brass clips, which are located underneath.

It comes complete with a beautiful flame mahogany leaf holder which is lined with baize, to store the leaves when they are not required.

The superb set of ten English made Regency style dining chairs have been masterfully crafted in beautiful solid mahogany throughout, and the finish and attention to detail on display are breathtaking. They feature an attractive bar back design and "drop in " seats that are upholstered in a fine velvet fabric.

This fascinating table illustrates all the very best elements of English cabinet-making combined with the remarkable burst of inventiveness of the Industrial Revolution. It was not until John

Johnstone

and Robert

Jupe

patented their ingenious design in March 1835 for an expanding round table,that round dining tables, which had suffered from the problem of not offering flexibility of seating, could compete with the established rectangular extending dining tables.
Condition:
In excellent condition, please see photos for confirmation.
Dimensions in cm:
Height 80 x Width 212 x Depth 212 - With leaves
Height 80 x Width 156 x Depth 156 - Without leaves
Height 86 x Width 51 x Depth 55 - Chairs
Height 122 x Width 44 x Depth 53 - Leaf holder
Dimensions in inches:
Height 2 feet, 7 inches x Width 6 feet, 11 inches x Depth 6 feet, 11 inches - With leaves
Height 2 feet, 7 inches x Width 5 feet, 1 inch x Depth 5 feet, 1 inch - Without leaves
Height 2 feet, 10 inches x Width 1 foot, 8 inches x Depth 1 foot, 10 inches - Chairs
Height 4 feet, 0 inches x Width 1 foot, 5 inches x Depth 1 foot, 9 inches - Leaf holder
Thomas Sheraton
-
18th

century furniture designer, once characterized mahogany as "best suited to furniture where strength is demanded as well as a wood that works up easily, has a beautiful figure and polishes so well that it is an ornament to any room in which it may be placed." Matching his words to his work, Sheraton designed much mahogany furniture. The qualities that impressed Sheraton are particularly evident in a distinctive pattern of wood called "flame mahogany."

The flame figure in the wood is revealed by slicing through the face of the branch at the point where it joins another element of the tree.
In 1835 Robert Jupe was granted British Patent No. 6788 for an expanding table. The original Jupe expanding table includes a table top that is divided into a number of sections. Each section is connected to an underlying frame structure, such that when the table top is rotated, the sections move radially outward, increasing the effective size of the table top. Once the table top has been rotated to move the table top sections outward, leaves are inserted between the sections, so as to fill in the spaces created by the outward movement of the sections. Because the table top sections diverge and move radially outward from a central point, the Jupe table top retains its shape in its expanded configuration.
The Jupe table has now become one of the most valuable and sought after antiques. Original Jupe tables in good condition may sell for up to $350,000 at the time of writing. However, despite its popularity, the Jupe table has been very difficult to mass produce, because its workings are both extremely complex and entirely handcrafted.
For example, the frame structure that supports the table top sections in the Jupe table is comprised of many individual beam structures that are secured together to form the frame. Each of those beams must be individually made and assembled to exacting tolerances in order to ensure that the table top sections will move freely and mate in the center of the table top to form a substantially contiguous table surface in both the contracted and expanded configurations. The manufacture of such a structure is time-consuming and is not conducive to rapid production.
Other aspects of the Jupe table design also make the design difficult to implement. For example, in at least some of the existing examples of functioning Jupe tables, the pivot for the table top is a threaded rod that runs the entire length of the table pedestal. That is an extremely difficult and time-consuming configuration to replicate.
Angelica Kauffman, RA (1741 - 1807)
was a Swiss-born Austrian Neoclassical painter who had a successful career in London and Rome. Though born as "Kauffmann", Kauffman is the preferred spelling of her name in English; it is the form she herself used most in signing her correspondence, documents and paintings.
While Kauffman produced many types of art, she identified herself primarily as a history painter, an unusual designation for a woman artist in the 18th century. History painting, was considered the most elite and lucrative category in academic painting during this time period. Under the direction of Sir Joshua Reynolds, the Royal Academy made a strong effort to promote history painting to a native audience who were more interested in commissioning and buying portraits and landscapes.
Despite the popularity that Kauffman enjoyed in British society and her success as an artist, she was disappointed by the relative apathy that the British had towards history painting. Ultimately she left Britain for the continent, where history painting was better established, held in higher esteem and patronized.
The works of Angelica Kauffman have retained their reputation. By 1911, rooms decorated with her work were still to be seen in various quarters. At Hampton Court was a portrait of the duchess of Brunswick; in the National Portrait Gallery, a self-portrait. There were other pictures by her at Paris, at Dresden, in the Hermitage at St Petersburg, in the Alte Pinakothek atMunich, in Kadriorg Palace, Tallinn (Estonia).
Satinwood
is a hard and durable wood with a satinlike sheen, much used in cabinetmaking, especially in marquetry. It comes from two tropical trees of the family Rutaceae (rue family). East Indian or Ceylon satinwood is the yellowish or dark-brown heartwood of Chloroxylon swietenia.
The lustrous, fine-grained, usually figured wood is used for furniture, cabinetwork, veneers, and backs of brushes. West Indian satinwood, sometimes called yellow wood, is considered superior. It is the golden yellow, lustrous, even-grained wood found in the Florida Keys and the West Indies.
It has long been valued for furniture. It is also used for musical instruments, veneers, and other purposes. Satinwood is classified in the division Magnoliophyta, class Magnoliopsida, order Sapindales, family Rutaceae.
Our reference: 01393A
Please feel free to email or call us (+44 20 8809 9605) to arrange a viewing in our North London warehouse.
Shipping:
We ship worldwide and deliver to Mainland UK addresses free of charge.
A shipping cost to all other destinations must be requested prior to purchase.
To request a shipping quote for the items in your cart, please click HERE.
Delivery and return policy:
We require that someone be home on the agreed delivery day if applicable, otherwise a redelivery fee will apply.
In accordance with Distance Selling Regulations, we offer a 14-day money back guarantee if you are not satisfied with the item.
The item must be returned in its original packaging and condition.
Unless the item is not as described in a material way, the buyer is responsible for return shipping expenses.
Buyers are fully responsible for any customs duties or local taxes that may be incurred on items sent outside of the European Union.