Why You need these Victorian Balloon Back Chairs?

At Regent Antiques, we have just acquired some unique pieces of antique furniture to show you – all available to view online and at our north London showrooms. Among these treasures is a superb set of ten Victorian mahogany balloon back dining chairs, circa 1850 in date.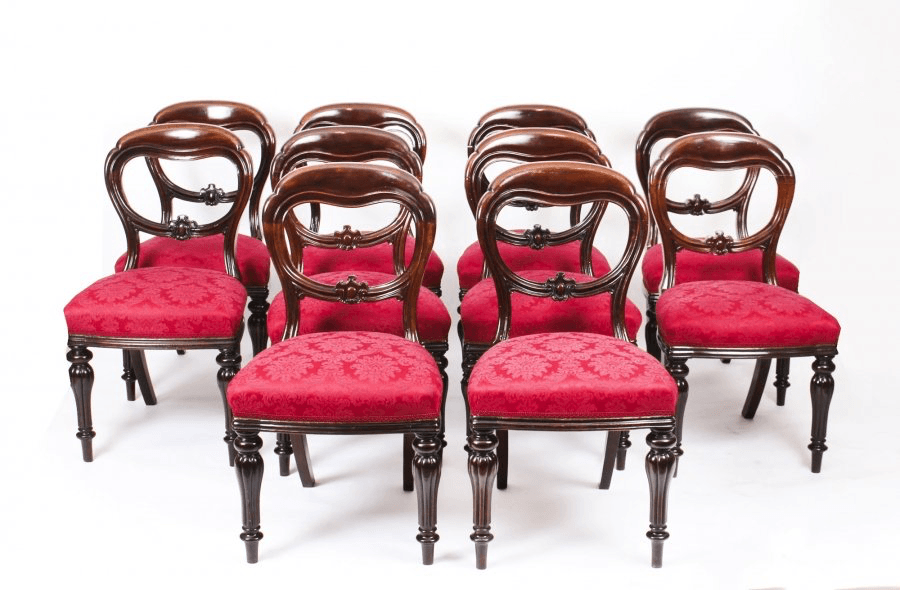 These chairs have been masterfully crafted in beautiful solid mahogany throughout, and the finish and attention to detail on display are truly breathtaking. The overstuffed seats have been reupholstered in a sumptuous claret damask fabric and they are raised on turned and reeded legs.
But, what are balloon dining chairs exactly? And, why should you consider displaying them in your home?
Well, balloon back dining chairs were the quintessential symbol of the Victorian era. The chairs were popular from the 1830s until the end of the 19th century. The term balloon refers to the rounded shoulders of the back with its nipped-in waist and curved crosspiece.
When the chair began in the 1830s, the front legs were straight, although the back ones curved out. No stretchers were felt to be necessary. British balloon back chairs were usually made from mahogany or walnut (as opposed to the Australian version which was made in cedar or sometimes Huon pine). Typical of the Regency style, the turnings of the front legs often incorporated an octagonal section with a bulbous knob at the top. In the second stage in the 1840s, the balloon shape has become more obvious due to the fully rounded crest rail. The seat shape is also curved in outline and is now heavily buttoned. However, the legs retain the late Regency turnings.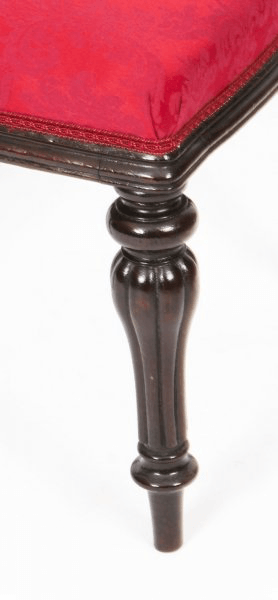 By the time of the Great Exhibition of 1851 during the third stage, the curves have taken over. The chairs become symbol of elegance and grace. They became very popular due to their ornamental scroll- work and foliage, if not the greater intricacy of detail.
These chairs are just as sought after today by Victorian antique collectors.
So, it is a honour for us to be able to offer you such a fabulous and comfortable set of Victorian chairs, and we are sure that they will enhance your dining table beautifully.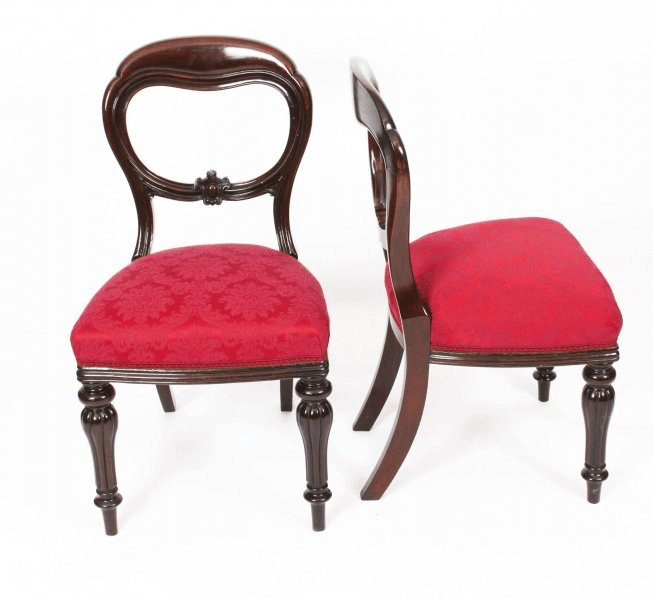 If you are looking to purchase a set of balloon back chairs do please check our website or indeed, come to visit our showrooms in London. And, if you are looking for a specific style, do please contact us as we can try to find the style you are looking for.