Vintage & Antique Clocks from Regent Antiques

From a Rolex dealer's promotional display piece to a seven foot tall mahogany antique longcase clock dating from the early 1800s, Regent Antiques are always on the lookout for antique clocks and other fine timepieces to offer to our customers.
Take, for example, this Rolex-Style Oyster Cosmograph Daytona Wall Clock:
This circular wall clock, in the style of a Rolex Oyster Cosmograph Daytona is 33cm in diameter, (one foot, one inch), and is battery operated. It would have been issued to a Rolex dealer for use in their showroom or shop. Interesting and very collectable, watch and clock enthusiasts should hurry and take a look because we don't expect it to be available for very long.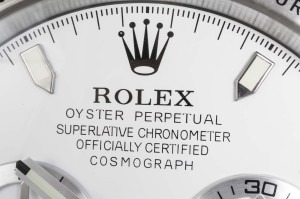 It is in excellent condition and full working order, and it can be your for just £220 – see more images of this rare item here.
Our next timepiece for you to consider is this unusual Bespoke Diamond & Gold De Laneau Ladies Islamic Watch which is believed to date from the mid to late twentieth century:
This lovely Swiss made watch features a yellow 18 carat gold casing with a pave diamond set face and has a strap which has been delicately crafted from seed pearls and jade.
The crescent moon buckles are also of 18 carat gold and set with diamonds. This is a typical Islamic style piece, by a major Swiss watchmaker, and is offered for just £5950.
We couldn't really write a feature about antique clocks without including something slightly larger than the two previous items so we're going to treat you to a look at this Antique Mahogany Longcase Clock by J Howden c.1800:
At around seven foot tall, this is a beautiful early 19th century inlaid flame mahogany antique long case clock with a 36 cm white arched dial, signed by a clock maker of some repute, J Howden, Edinburgh.
It has a subsidiary seconds and a date aperture, the corner spandrels of the dial are hand painted with baskets of fruit and leaves and there is a lunar calendar in the arch, painted with a castle in landscape and a masted galleon.
This fine clock chimes on the hour and has two weights a pendulum and of course, a winding key.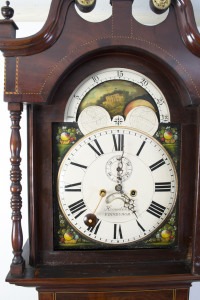 The attractive flame mahogany case is everything you would expect from a clock of this quality, it has an elegant swan neck cresting with gilt brass roundel`s above turned hood columns, and is beautifully inlaid with a satinwood urn, satinwood spandrels, the Prince of Wales feathers and classical crossbanding.
The longcase clock stands on a plinth base with ogee bracket feet. Dimensions are as follows, in centimetres: Height 235 x Width 60 x Depth 27 or, if you prefer inches, Height 7 feet, 8 inches x Width 2 feet x Depth 11 inches. It is on offer for £3050.
Antique clocks are always in demand so please check our clock listings regularly, here, or visit our London showroom, to see more.