Antique Bookcases – A Fitting Home For Your Special Books

If books are important to you, as they are to me, then storing them is a necessity that needs to be addressed. But with your special books it's more than just storage you want, isn't it? Antique furniture almost always shows your prized possessions off at their best and antique bookcases give your books a home where they can be good to read – and great to look at.
We've selected a few examples from our stocks of antique bookcases and other antique furniture to show you how a well chosen bookcase can keep your books in good condition and make people want to pick them up and read them.
First we'd like to show you this Antique English Victorian Burr Walnut Bookcase which dates from around 1850:
This lovely and spacious burr walnut bookcase was made around 1850 in England and has two glazed doors on top for displaying your favourite books. There are two paneled doors below which open to reveal a useful and spacious cupboard. The bookcase is supplied with its original locks.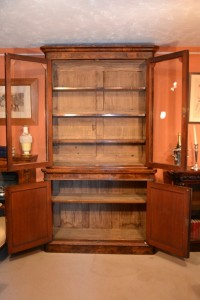 This bookcase measures: Height 234 x Width 134 x Depth 47 – these measurements being in centimetres. For those of you who prefer feet and inches, this is for you: Height 7 feet, 8 inches x Width 4 feet, 5 inches x Depth 1 foot, 6 inches.
We're offering this functional and capacious antique bookcase for just £4750 so why not take a closer look here or call in at our London showroom where you can see this, and a wide range of other antique bookcases, antique desks and other antique furniture.
Next up is this Antique Edwardian 3 Door Walnut Bookcase dating from around 1900:
Somewhat wider than the previous example, this beauty offers even more lovely display space for those books. The dimensions, in centimetres, are as follows: Height 211 x Width 194 x Depth 42 and for lovers of feet and inches, it goes like this: Height 6 feet, 11 inches x Width 6 feet, 4 inches x Depth 1 foot, 4 inches.
A very reasonable £ 1850 will make you the new owner of this Edwardian three door walnut bookcase, circa 1900 in date. The bookcase bookcase has a rich and striking grain, being made from walnut which has beautifully faded over the years by the sun and looks fabulous.
There is 13 pane astragal glazing to the doors and as a sign of quality the locks are by the eminent lock maker Hobbs & Co. Complete with original adjustable shelves, locks and glass, etc.
Our final offering this time around is this most impressive Antique Mahogany Dutch Marquetry Bureau Bookcase which dates from around 1800:
Everyone likes to save the best until last and we are no exception. This is the kind of antique furniture that many people dream of owning and there's no denying that this kind of quality an style comes at a price but feast you eyes on the detailed photographs we have for this item here or, better still, come and admire it in the flesh at our London showroom. Here's a taster: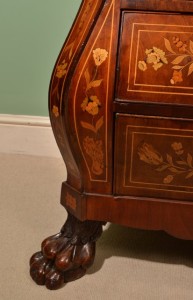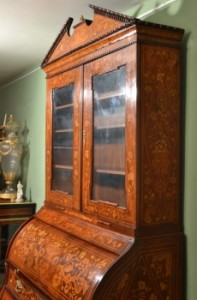 This is an important antique Dutch marquetry cylinder bureau bookcase, made from the finest mahogany with fabulous floral marquetry decoration of various exotic veneers and elegant ormolu handles and mounts. The top of the piece comprises of two glazed doors which open to reveal two adjustable shelves whilst the base has three oak lined deep drawers providing lots of storage.
The cylinder fall is raised as the writing surface is pulled out, for use as a desk, and the interior has small drawers, a small cupboard and secret compartments for storing pens, papers, etc. There is an inset green leather writing surface with blind tooling and a pair of pull out candle slides above the fall, for those occasions where you simply have to work by candlelight!
As if to provide the icing on the cake, the bookcase stands on beautiful, original lion's paw feet.
It's big, but not too big at just: Height 241.5 x Width 145 x Depth 72 (cm) or Height 7 feet, 11 inches x Width 4 feet, 9 inches x Depth 2 feet, 4 inches.
Offered at £25,000 this is one you should really come and see if you can – you won't regret it.
At Regent Antiques, quality antique furniture is our speciality so have a good look around the website and don't hesitate to email or call us if you need any help or advice.