More Desirable Desks From Regent Antiques – Antique Burr Walnut Pop Up Davenport Desk c.1860

This is a fine example of an Antique Burr Walnut Pop Up Davenport Desk which we have dated to around 1860.
The name "Davenport Desk" was said to have been derived from the fact that the original desk in this design was commissioned by a certain Captain Davenport from a very well-known furniture supplier called Gillow's of Lancaster towards the end of the 18th century.  There seems to be some doubt as to the actual details of this as there are, apparently no military records relating to a captain Davenport during that period in history. This fine example is offered for sale at just £2850.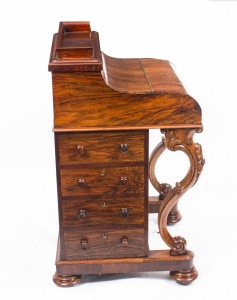 Nonetheless the name has stuck and  is used to describe a truly eye-catching style of desk at which to read, write and work as you see fit.  It has a Victorian walnut piano front  with a pop-up stationery compartment and there are four actual drawers as well as dummy drawers. There are cabriole legs to the front and the desk is crafted from beautiful burr walnut featuring a beautiful and original tooled and gilded leather inset as well as a secret compartment that pops up as needed.
Anyone who takes the time to visit our north London showroom to examine this fine desk will be satisfied that it has clearly been made by a master craftsman and that the burr walnut that has been used in the construction is of the highest quality. The desk is finished on all sides and can therefore stand freely in the middle of a room without the need to be placed against a wall. This not only makes it a fine looking piece of furniture but a very versatile one as well.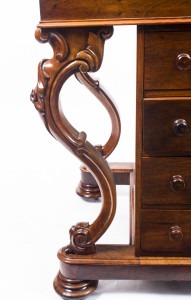 This Davenport desk has four drawers on one side which are perfectly proportioned to take all the stationery you could ever need as well as dummy drawers on the other side. There is also an interesting secret compartment at the back with three drawers and pigeonholes for pens and other accessories. This secret storage area is revealed when a hidden catch is operated, causing it to rise by an ingenious system of pulleys and a hidden weight.
Down below, this desk stands on beautiful bun feet all of which still have their original recessed brass and porcelain castors fitted and in working order which makes moving the item a breeze.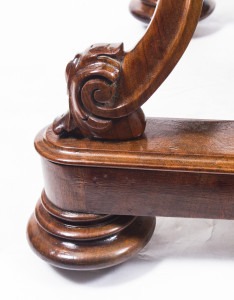 Condition
This Antique Davenport Desk is offered for sale in excellent condition as it has been lovingly and sympathetically restored in our own workshops and you are invited to check the photographs or pay us a visit in order to verify that to your satisfaction.
Will It Fit?
The dimensions of this desk, in cm, are:
Height 100 cm x Width 58 cm x Depth 60 cm when closed. If you prefer inches, that would be Height 3 ft, 3 in x Width 1 ft, 11 in x Depth 2 ft.
Shipping
Our team are able to carefully pack and ship this item to almost any destination worldwide but we would ask you to request a shipping quotation before placing an order. Please use this link in order to request a shipping quotation. Please note that customers located in mainland UK are offered free of charge delivery on this item.
As with all of our fine antique furniture, we are always happy to take your calls and emails in order to answer your questions and supply any information that you might require. We want you to be happy with any antique furniture, antique dining tables or any other items that you purchase from Regent Antiques so why not pay us a visit soon and take a leisurely look around?