Antique Dining Table – Do You Want To Go Large With That?

Regent Antiques are undoubtedly one of the UK's premier suppliers of antique dining tables but what is not so well known is our ability to supply tables with a seating capacity that far exceed the average family, even with a few mates round for supper. When it comes to large dining tables, antique, vintage or contemporary then there's only one place to go – our north London showrooms or online.
Of course, you may not want such a table for dining purposes, perhaps you want a stylish table for your boardroom or conference room. If so, Regent Antiques have a great selection for you to choose from and we've picked a few examples for you to see here.
First, let's go really large with this exceptionally large  11 metre, (35 foot), Dining or Conference table:
This giant of a table is beautifully crafted in the Victorian style from the finest burr walnut timber and is truly a feast for the eyes. It is capable of accommodating a feast for the body as well because at 35′ in length it can easily accommodate up to 36 people for a meal or a meeting, it will handle it all in its stride AND look fantastic into the bargain.
If you don't need the full capacity all the time it can be reduced by removing the extension panels, there are eight of them, in order to resize it to your needs. In its un-extended form it measures 11′ 6″ in length.
You don't see tables like this in your local furniture shop and IKEA don't have anything even remotely like it so – if it's big and beautiful that you need, Regent Antiques is the place to come. At £37,500 it's hardly an impulse buy so why not visit the showroom and see it for yourself – one of our team will be pleased to answer any queries you may have. We can also supply matching chairs if required.
If 35 feet is little too large, you will be relieved to know that we offer a very similar table at a somewhat more conservative 17ft and built to seat eighteen people in some considerable comfort.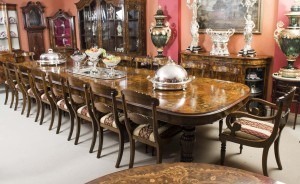 Changing styles now to a beautiful Antique 10ft Victorian Mahogany Dining Table c.1850:
Whilst it may not be a big as some of the previously mentioned tables, this is an antique mahogany alternative that offers seating for up to twelve people combined with the reassuring look and feel of a Victorian Antique Dining Table.
The mahogany finish is highly desirable – this is anot a wood that can be easily obtained these days – if at all – so you are unlikely to see contemporary tables with this kind of finish. If you have a good sized dining room this could be the one for you but it would be equally useful in a boardroom or anywhere that its lovely looks are likely to be appreciated.
The table has its four original leaves which can be added or taken away to seat up to  and can comfortably seat twelve people in comfort whilst being able to reduce in size to just over four feet in length when not required.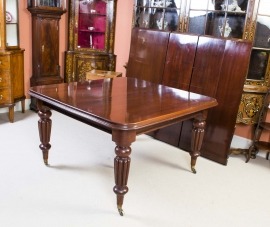 This table is offered for sale at just £5250 and can be shipped almost anywhere – call us for a quotation.
Finally, if Oak is more to your liking then you will appreciate this Antique Victorian Oak Dining Table & 12 Chairs c.1870:
This is an English antique Victorian Scottish oak dining or conference table which dates from around 1870 and is offered with the original set of twelve matching dining chairs at just £12850. All beautifully restored in our own workshop and ready for delivery worldwide.This table is very versatile with its five original leaves which can easily be added or removed as required to suit the occasion. The legs are turned and fluted and sit on their original brass and brown porcelain castors.
We can do small tables as well, of course, but if you need more capacity at home or at the workplace, contact us for up to date stock availability on +44 20 8809 9605 or email info@regentantiques.com