Antique Dining Chairs – Here's the Pick of Our Stock

Comfortable, elegant, well-made, attractive – all adjectives that could be used to describe the ideal antique dining chair. Selecting the right chair for your dining room or other space is very important and, if you are looking for fine quality antique dining chairs, its even more important to make the right decision.
Here at Regent Antiques we pride ourselves on having an extensive stock of antique and period style dining chairs. From Hepplewhite to Chippendale, Regency to Art Deco; we try to offer you examples in every style and period, to suit your needs, your surroundings and of course, your budget.
Let's start this roundup of our current antique dining chair stock with this set of 8 Antique English Hepplewhite Dining Chairs c.1900.
This is a fine antique English-made set of eight Hepplewhite style dining chairs dating from around 1900. The chairs have been masterfully crafted from beautiful solid mahogany throughout and the finish and attention to detail can only be described as wonderful. The set comprises six chairs and two armchairs, and they have been beautifully upholstered in stylish brown leather with brass studs.
The condition of these chairs is excellent and they have been fully restored in our workshops.
The fine set is on offer at just £2550.00
Next we have another fine set, this time it is a set of six antique Art Deco burr walnut dining chairs, circa 1920 in date.
All six chairs  have been reupholstered in fabulous white leather with red piping and chrome studs, the backs are beautifully veneered in burr walnut.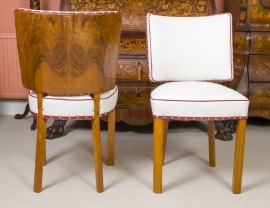 This set is a fabulous example of the Art Deco period and will enhance any room in which it is placed. Art Deco furniture is very popular once again so we advise an early viewing of this fine set.
Our third selection is this set of 6 Antique Victorian Balloon Back Dining Chairs c.1840.
Recently restored in our workshops and finished in Damask, this set of chairs was crafted from, what was, the finest quality mahogany available at the time – Cuban Mahogany. Very dark and dense, just oozing quality, this sought after timber is now all but impossible to acquire so a lovely antique set of chairs like this take on a special value all of their own and deserve to be looked after.
Just £1750 will buy you this fine set so take a look at the other pictures or, better still, get along to our London showroom and see for yourself before someone else beats you to it.
When you are looking for fine quality dining chairs, antique or period style, its always worth giving Regent Antiques a ring on +44 20 8809 9605. +44 20 8809 96+44 20 8809 9605+44 20 8809 9605