A Short Guide to Choosing the Perfect Antique Desk

At Regent Antiques, we offer our clients many styles and sizes of antique desks – all available for purchase from our website or London showrooms. Here is a short guide to finding the right antique desk for your needs.
Choosing the right antique desk for your interiors
There are many things to consider when choosing an antique desk such as the size and shape of the room where it is to be placed and how much storage space you need.
If you are only going to use it occasionally then maybe it doesn't need to be as large as you first thought. On the other hand, if you must be chained to it between the hours of 9 and 5, then perhaps a bit more space would be a good thing to make the working day more pleasurable.
Also, give some thought to what actually needs to be on your desk. Nowadays it is usually necessary to accommodate a laptop or desktop computer and probably a large screen, not to mention a printer. All of these items take up space and it is a certainty that, in the case of an antique desk, there are not going to be any convenient cable management facilities to help keep the operation tidy.
Many antique desks offer the comfort and convenience of having a leather writing surface and these are often embellished with tooled design work to enhance the appearance of the desk.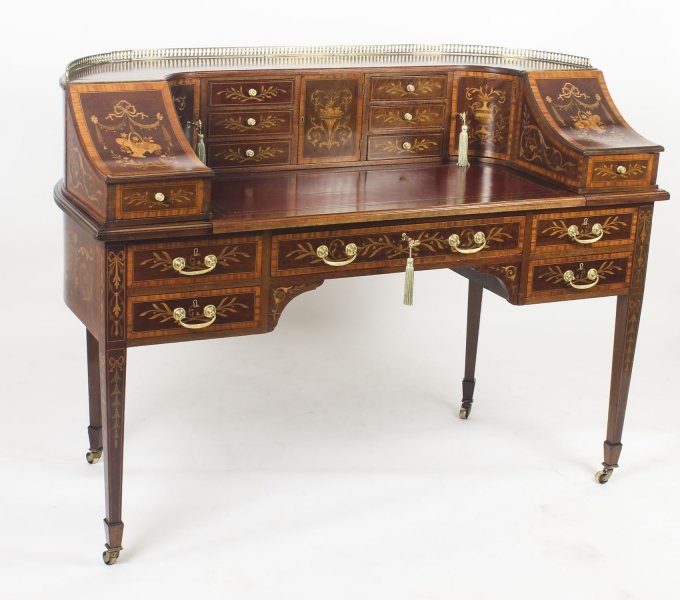 (A beautiful mahogany, satinwood and marquetry antique Carlton House desk by the renowned London retailer and cabinet maker Druce & Co, circa 1880).
Which style?
There is a great variety of antique desks to choose from. At Regent Antiques, we provide our clients with different options including pedestal desks, partners desks, writing tables, Bonheur de Jour, (typically a "ladies writing desk"), bureau plat, and secretaire desks. 
Each style brings its own benefits. For example, if you want a desk that can be placed anywhere in a room and not necessarily against a wall, then a partners desk could be right for you as these are finished on both sides, whereas for more occasional use, a more straightforward writing table may well be sufficient. There are usually several antique partners desks to be seen and tried at our showroom and we also have a wide range of writing tables.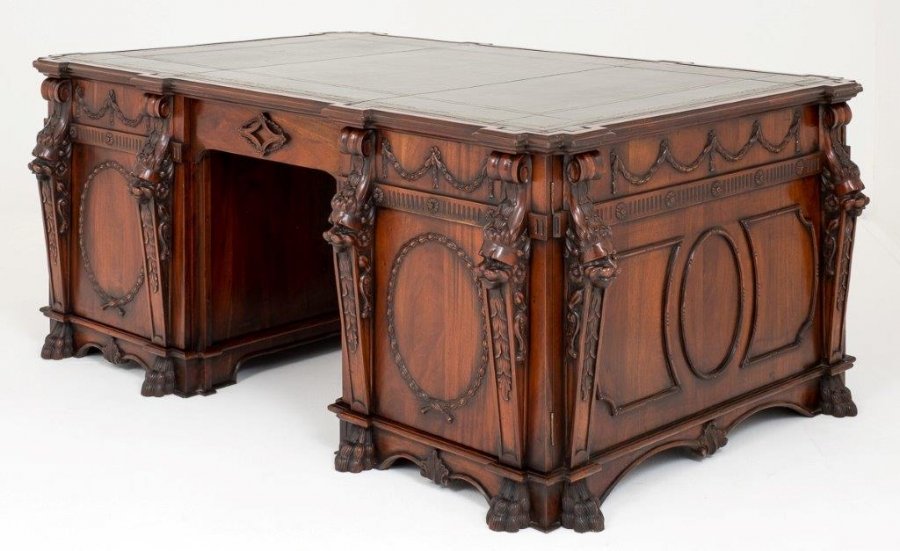 (A magnificent flame mahogany lion's head Chippendale partners desk).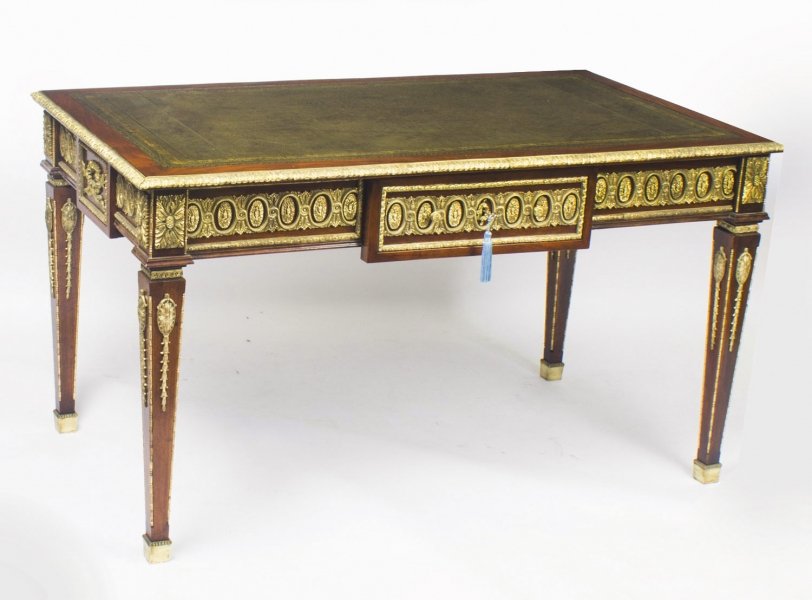 (A fine French antique Empire Revival writing table).
Bonheur du jour are also very popular. A bonheur du jour (in French, bonheur-du-jour, meaning "daytime delight") is a type of lady's writing desk, which was introduced in Paris around 1760 and speedily became intensely fashionable. 
The bonheur du jour is always very light and graceful, with a decorated back, since it often did not stand against the wall but was moved about the room. Its special characteristic is a raised back, which may form a little cabinet or a nest of drawers, or open shelves, which might be closed with a tambour or fitted with a mirror. The top, often surrounded with a chased and gilded bronze gallery, serves for placing small ornaments. Beneath the writing surface there is usually a single drawer, often neatly fitted for toiletries or writing supplies. 
Early examples were raised on slender cabriole legs under the influence of neoclassicism, while examples made after about 1775 had straight, tapering legs.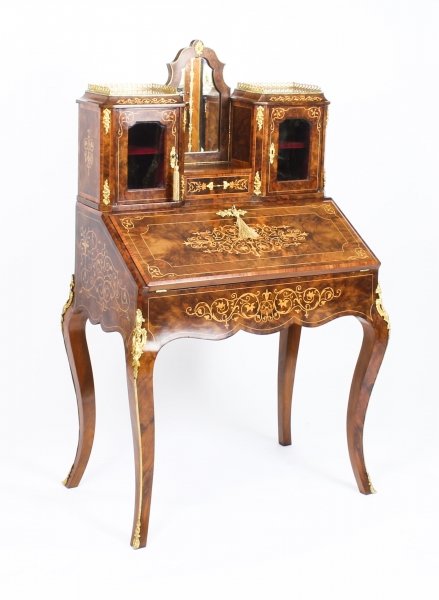 (A beautiful antique Victorian burr walnut and inlaid Bonheur Du Jour, or ladies writing desk, circa 1860 in date). 
A fine antique desk needs a fine antique desk chair
It's a fact that you will not get the best from an antique desk if you cannot sit comfortably at it and work, often for quite a long period. Don't make the mistake of finding a superb antique desk and then spoiling the experience with a chair that isn't really designed for the job. We have a great range of antique desk chairs to complete the set.
At Regent Antiques, many of our antique desk chairs have been skillfully reupholstered and restored by craftsmen in our own well-equipped workshops. Our buyers only select antique desk chairs that are sturdy and well-built using choice materials that looked good when first made, look great now, and will still look good in hundreds of years with just a little care and attention.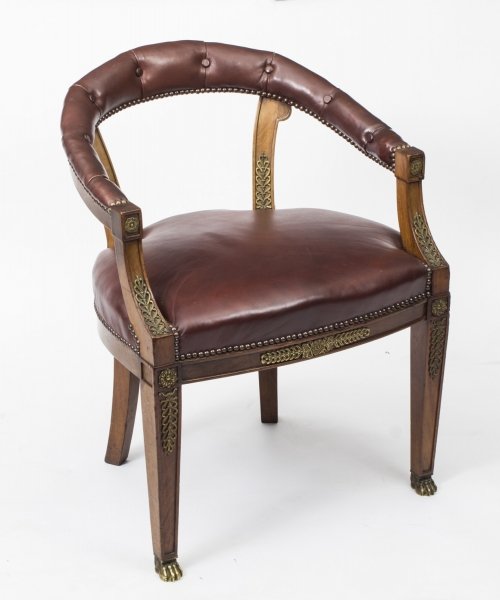 (A beautiful antique French mahogany Second Empire "fauteuil du bureau", desk chair, circa 1850 in date).
We appreciate that everyone has their own idea of the perfect antique desk and desk chair combination. This is why at Regent Antiques, we make it as easy as possible to match one with the other. So please don't hesitate to contact us and request further information from our expert team.