A Fine French Antique Writing Table

When you want to sit right down and write yourself a letter, where better to do it from than a fine looking French antique writing table?
Here at Regent Antiques we offer an impressive range of antique writing tables and desks to suit authors, playwrights, philosophers, copywriters, journalists and, of course, those who just want to write a letter.
These days of course you're much more likely to be composing an email than you are writing with one of those old fashioned pen things but it doesn't matter, we are concenred with proving you with an inspiring, comfortable, attractive and versatile writing surface on which to compose your masterpiece, or your shopping list, or whatever the case may be.
Bearing that in mind, lets turn to the subject of this piece, written at my humble, yet very large, writing table, namely this French ormolu mounted marquetry rosewood and burr walnut bureau plat or centre table, circa 1860 in date:
Offered for sale at £3750 and currently available to view at our north London showroom, along with many other fine writing tables and antique desks, this fabulous table features some very attractive marquetry decoration fashioned in kingwood and purple heart with elegant ormolu borders. The table top is crossbanded in satinwood with boxwood and has ebony inlaid lines.
The central panel is particularly fine with delicate and inlays featuring an arrangement of musical trophies on a floral burr walnut ground, as can be seen from the following photograph.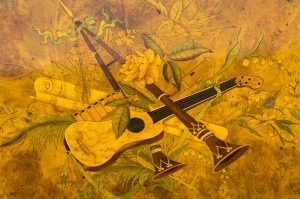 The frieze is crossbanded with floral marquetry inset all the way round.
There is a useful and capacious frieze drawer which is fitted with the original lock and key.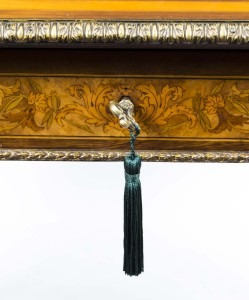 The table is fitted with turned and fluted legs which are joined by X-stretchers and terminated with elegant ormolu feet.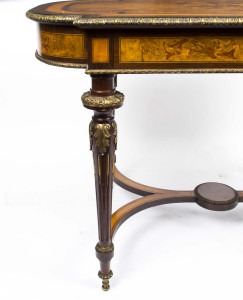 Will It Fit?
Always an important consideration of course so here are the dimensions of this versatile and attractive antique writing table:
In inches, the table stands at 2 feet 5 inches high and 3 feet 8 inches wide. It is 2 feet 2 inches deep. In centimetres that becomes 74cm high x 111cm wide x 66cm deep.
Shipping
If you like this table, and who wouldn't? and you would like it to be carefully packed and shipped to wherever you are in the world, please request a shipping quote and we will get back to you. Customers in mainland UK can avail themselves of free delivery.
Help & Advice
Our antiques experts are always available to help with any queries that you may have about this or any of our other items so please feel free to call us on: +44 20 8809 9605 or email: info@regentantiques.com.